The quietest bathroom fan with light is essential for controlling moisture and mold levels. But, excessive noise levels are certainly distracting when you're trying to take a relaxing bath or shower.
Luckily, whisper quiet bathroom fans exist for just this reason. You can have all the benefits of effective air circulation without the irritating noise.
In this article, I provide my top picks for the best quiet bathroom fan with light. I also provide a comprehensive guide so you can make an informed decision about what'll best suit your needs.
Top Picks for Quiet Bathroom Fan with Light
Aside from noise level, I've picked these whisper quiet bathroom fans based on functionality and ease of use. Be prepared to pay slightly more for a high-quality fan. But, once you realize the difference this makes to noise levels, it shouldn't be an issue.
Top Pick: Kaze Quiet Bathroom Exhaust Fan
Air Volume (CFM): 120
Noise (Sones): 0.3
Light: Yes (LED at 2700K)
Heater: No
Duct Diameter: 4″ or 6″
Warranty: 3 years
This fan from Kaze Appliance lives up to its ultra-quiet name. Rated at only 0.3 sones, this is essentially the quietest a fan can be. In real-world terms, this means you won't hear it running at all.
Even so, it's capable of moving 120 cubic feet of air per minute. This is enough for a 120 sq. ft. bathroom. It does come in other sizes, so it shouldn't be difficult to find one suitable for your space.
But, bear in mind that the ones with a higher CFM rating are louder. The loudest is 4 sone, which is the equivalent of standard TV noise.
In terms of design, the fan measures 11.4 x 10.5 x 7.6", meaning you might need to resize your fan housing if choosing this model. It's not a difficult job, but measure everything before buying.
It comes with a 6" metal exhaust duct that includes a damper, and there's a 4" adapter too. This means it should fit most standard bathroom exhaust setups.
Some users stated they were disappointed with the built-in light. It's a warm light but doesn't get very bright. While it won't be enough to fully light a bathroom on its own, it should be enough for a nightlight. Bear this in mind if you wanted to use this as a vanity light, for example.
PROs
Rated at 0.3 sones.
120 CFM is enough for small-to-mid bathrooms.
Easy to install and comes with an exhaust adapter.
CONs
Built-in light is too dim to light a bathroom on its own.
Top Budget Pick: Broan NuTone Bathroom Exhaust Fan
Air Volume (CFM): 80 / 110
Noise (Sones): 0.7 / 1.0
Light: Yes (LED at 3000K)
Heater: No
Duct Diameter: 4″
Warranty: 3 years
If you need a more budget-friendly pick for a quiet bathroom fan with light, this might be the one for you. But, it's the perfect example of cost impacting quality.
It's noticeably less expensive than other models on this list (such as the Panasonic), but at a price. Its airflow is 80 CFM and its noise rating is 0.7 sones. While this is higher than some other models, it's still quiet enough for you to not notice it too much.
This fan is suitable for bathrooms up to 75 sq. ft., although Broan makes a more expensive model with 110 CFM. Hopefully, this means you'll find a budget-friendly model that fits your bathroom.
It comes fitted with damper seals around the exhaust, which eliminate noise leakage and make it more efficient. Importantly, too, it's Energy Star rated and comes with a 3-year warranty. These are great features to find on a budget product.
At 9.25 x 10", it's a more compact model than others on this list. It's also designed to install easily and requires minimal adjustment to the existing setup. Also, the manufacturers claim you can do it all from inside the bathroom, meaning you don't need to access the attic.
Users confirmed this, generally stating it was easy to fit.
That said, some users reported having great difficulty fitting the cover into the clips. The best fix seems to be using spare spring clips from recessed lighting, which you can buy online. Apparently, these do the job fine.
PROs
Higher sone rating, but still very quiet.
Energy Star rated.
3-year warranty.
Very bright LED light.
CONs
Cover spring clips are difficult to handle.
Panasonic FV-0511VQCL1 DC Ventilation Fan
Air Volume (CFM): Speed selector from 40 up to 110
Noise (Sones): [0.3 – 0.9]
Light: Yes (LED at 3000K)
Heater: No
Duct Diameter: 4″ or 6″
Warranty: 6 years
You can expect high product quality from a company like Panasonic, and this quiet bathroom with light is no exception. It has some useful features that aid installation and air circulation.
For example, it comes fitted with dual sensor technology. Unlike some other fans, which only switch on due to moisture, this has sensors for moisture and motion. This means it'll run when it detects movement and/or moisture levels, giving you superior odor control.
It also has variable airflow, which is a nice feature. You can set it at 50, 80, or 110 CFM. While its maximum setting isn't as high as the Kaze Appliance fan, it's enough for bathrooms up to 110 sq. ft.
Plus, having the different settings means you could turn it down when taking a shower or using the sink, and crank it up to full when having a bath. Depending on the speed, the fan will reach a rating of just 0.3 sones up to 0.9 for the max CFM setting.
While it's bigger than some of the other quietest bathroom ventilation fans (13" square), it's easy to install. It uses a flex bracket that you screw into place and clip the fan in. That said, you might still need to widen the fan housing before installation.
It's also Energy Star rated, which, as I've explained in another post, means it's very energy efficient according to American Standard. So, you can operate it for a long time and not see a big hit to your energy bill.
In contrast to the Kaze bathroom fan, some users reported this fan's light is too bright! But, in terms of the product's cons, this is a very minor one. If you want a dimmer light on your quiet bathroom fan, consider another model.
PROs
Airflow is adjustable.
Dual sensor technology improves odor and moisture control.
Excellent sone ratings.
Energy Star rated.
Delta BreezIntegrity Bath Fan with Dimmable Light
Air Volume (CFM): 100
Noise (Sones): 1.5
Light: Yes (LED at 3000K)
Heater: No
Duct Diameter: 4″
Warranty: 3 years
One of the main critiques of the quietest bathroom ventilation fans I've mentioned so far is the lighting. They're either too dim or too bright. Well, this fan might solve the problem, as it has a dimmable light.
In fact, the light is much more of a central feature on this fan. It's edge-lit by LEDs and covers the whole bottom surface of the housing. This should give you plenty of illumination in your bathroom, even though it's only 17 W.
At 11.8" square, it's a fairly compact model. You can easily retrofit it into your current setup, and it includes an exhaust adapter. Bear in mind, you'll need switches for this fan: one for the light and one for the fan.
Its CFM rating is 100, making it suitable for bathrooms around 100 sq. ft. This fan is Energy Star rated, meaning you have good airflow and don't have to pay loads for it.
But, my major critique is that this fan's noise output is 1.5 sones. While this still isn't particularly loud, it's more than twice as loud as the budget model above. A sone rating of 1.5 isn't far off the level of background office noise.
It's debatable whether this is too loud or not, but if we're looking for the quietest bathroom exhaust fan, we should be looking at less than 1 sone.
Some users stated this was their main criticism of the product. But, they also stated that it balances against the soft, dimmable light that's superior to some other products. So, it's just a case of deciding if you'd rather have a silent fan or dimmable bathroom light.
PROs
Dimmable LED light.
Easy to install.
Energy Star rated.
CONs
Noise rating (1.5 sones) is superior to its competitor.
Broan NuTone Bathroom Fan, Heater, and Light
Air Volume (CFM): 120
Noise (Sones): 0.9
Light: Yes
Heater: Yes – 1500W
Duct Diameter: 6″
Warranty: 3 years
Unlike other models on this list, this quiet bathroom fan with light also includes a heater. The heater is a real game-changer in winter. At 1500 W, it should be enough to warm bathrooms of 110 sq. ft. or smaller. What's more, you can use it independently of the fan.
As the bathroom size might suggest, this fan has a CFM rating of 110. It includes a 6" exhaust connector but no adapter. So, make sure you check your current setup and order an adapter if necessary.
Its noise level is 0.9 sones, which is very middle-of-the-road. It's on the louder end of quiet but is still low enough that you'd struggle to hear it unless you were really listening for it.
This fan comes with 2 lights: a 120 W bulb and a 7 W nightlight. You'll find this useful if you don't want to be blinded on those midnight bathroom trips.
Some users reported that installation is complicated. This is mainly because you have to wire up 3 separate things and need a special switch. Luckily, you can buy these directly from Nutone.
A handy DIYer shouldn't have much problem, but consider calling an electrician otherwise.
PROs
Includes a heater.
2 light settings.
Compact model that'll fit most current setups.
CONs
Heating element makes it more complicated to install than other fans.
What Makes a Bathroom Fan Noisy?
A bathroom fan works like any other fan, except it's housed in a venting system. Even so, here's a brief explanation of how a bathroom fan works:
A bathroom exhaust fan uses suction to draw air from the room.
This pulls with it moisture and odor present in your bathroom.
It then passes this air through ducting to a vent outside your home.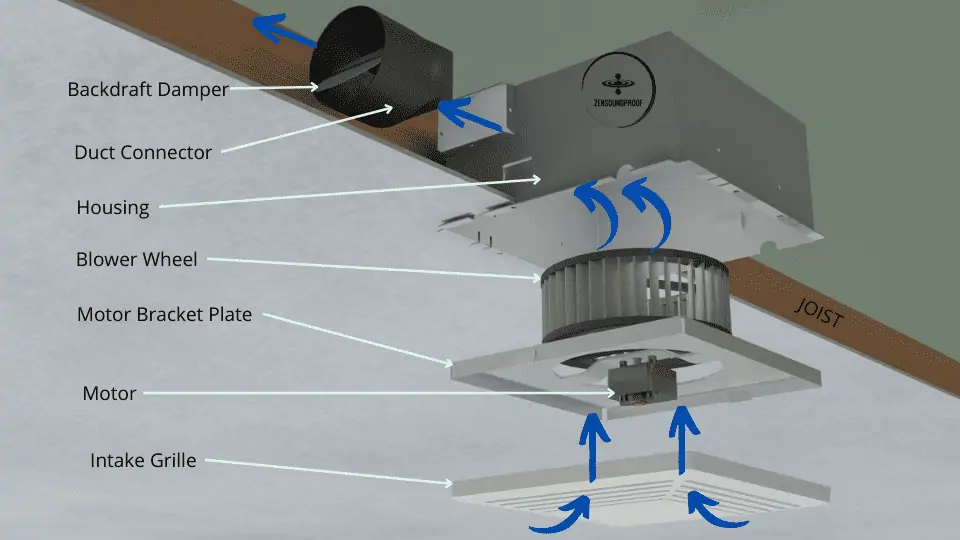 The main difference between a bathroom fan and the ceiling fan you might have in your bedroom is that they work in opposite directions.
Your ceiling fan pushes air at you, whereas a bathroom fan pulls air into the ductwork. The joy of a bathroom fan is its sheer simplicity. Some homes use an axial fan, which is connected directly to the outside wall.
But, in the USA, most homes already have ducting. This makes a centrifugal fan (the types listed above) a more sensible choice.
Sources of Noise
Like any moving thing, a fan will always produce some noise. This might be as minor as air passing over the blades or through the ducting, but it's still noise. I've written a dedicated article about the sources of noise in a bathroom fan and how to fix a noisy unit. You can check it out here.
Motor noise
The motor itself when rotating will emit airborne noise. It's true even without load on its shaft. A higher load, say, a heavy fan, will increase further noise emission. A cheap motor will emit more noise than a premium one. You should favor brushless motors as they're the quietest types you can find.
On another note, a motor generates vibration under operation. It means those vibrations can transfer through the housing to the structure of the ceiling. In that case, we're not talking about airborne noise but structure-borne noise. The way to deal with this is to decouple the bathroom fan with the rest of the structure by using resilient materials.
The Blower or Fan
As air goes through the fan (or blower wheel), there's noise generation. The amount of noise produced by a fan is related to 2 factors:
the airflow.
the static pressure discharged by the fan.
With the 2 above metrics plus the wattage of the motor, you can calculate the emission of noise (in dB) by using an empiric formula. The key takeaway is that every single model of fan (or blower) produces different airflow and static pressure. The higher those 2 metrics, the higher the noise emission.
Maintenance and Wear
Age is another important consideration. Fans can work quite hard, and over time the moving parts will wear down. Lubrication's effectivity decrease as well. This can lead to excess noise and the only real solution is maintenance and even sometimes replacement of some components. Plus, advances in technology mean newer units will be much quieter than older models.
Exhaust Vent Compatibility
A final common issue is the size of the exhaust vent. Fans blowing air through a 6" vent will do so under less speed than a 3 or 4" vent. This is due to the Venturi Effect: airflow going through a smaller section speeds up and decreases pressure. Smaller vents mean more speed, which means more noise.
In short, the reasons for a noisy bathroom fan are fairly logical. So, to find the quietest bathroom ventilation fans, you need a high-quality, energy-efficient model with a good-sized exhaust vent.
How to Pick the Quietest Bathroom Fan with Light
Choosing the best quiet bathroom fan with light means juggling a few important factors.
Sone Rating
A sone rating is a measurement of noise level, much like decibels. But, unlike decibels, it's a linear scale. This means that 2 sones are twice as loud as 1 sone. Generally, this makes it much easier to understand.
Whereas a decibel measures the perceived loudness of noise, sone measures loudness in relation to speed or cubic feet per minute. This is why we use it for something like a quiet bathroom fan.
Here's a chart to give you some examples of sone ratings:
| Sone Rating | Noise Example | Decibel Equivalent |
| --- | --- | --- |
| Under 0.3 | Almost imperceptible | 10 |
| 0.3-0.9 | Whisper | 20 |
| 1.0 | A standard refrigerator | 30-40 |
| 2.0 | Office noise | 50 |
| 3.0 | Direct face-to-face conversation | 60 |
| 4.0 | Typical TV volume | 65 |
| 5.0 | Busy restaurant | 70 |
| 6.0 | Live concert | 120 |
So, we use a sone rating for things like bathroom fans, cooker hoods, and other appliances with airflow. It's generally a much easier scale to understand because it's linear.
Where possible, I'd recommend choosing a fan with a sone rating of less than 1. While a higher rating still won't be that loud, it would make looking for a quiet bathroom fan redundant.
Airflow (CFM)
We measure airflow in Cubic Feet per Minute (CFM). This is as simple as it sounds: it's a measurement of how many cubic feet of air the fan can move in a minute.
It's important to get the right CFM rating for your room, as too little or too much can cause problems. Too little airflow causes the system to overwork, whereas too much can cause ventilation and circulation problems.
Luckily, CFM almost directly correlates to room size. For example, a 110 sq. ft. bathroom would need a fan with a CFM rating of 110.
Most manufacturers will state the optimum room size for their product, so be sure to measure your bathroom in advance if you're unsure.
Housing Unit
Bathroom fans unfortunately don't have standardized housing unit sizes. This means you'll need to find one the same size as your existing model or resize the area.
The fan's housing will determine the cutout size in your ceiling. While it's easy to make this larger, it's obviously much harder to make it smaller. So, try to find one that's the same size or larger than your current fan.
You'll also need to consider the joists used in your room's ceiling. These will be either 2 x 6 or 2 x 8. Most ceiling fans are designed for 2 x 6 constructions, but it's not hard to find ones for 2 x 8 joists.
This matters because it impacts the height of the fan's housing. For example, a fan designed for 2 x 6 joists will have a housing height of 6". The width of your ceiling joists will determine how much clearance you have in the ceiling cavity.
Again, most manufacturers will state what size their whisper quiet bathroom fans are designed for.
Installation
Aside from the housing unit, you'll also need to consider the installation method. Some require you to install from above, while others can be done directly in the bathroom.
The main difference is whether the fan has detachable mounting clips. Some come with a frame that you screw to the joists and then clip the fan in. This option is better for people in apartments or anyone else who might not have access to the ceiling cavity.
Light
We're looking at quiet bathroom fans with a light, so it's worth talking about lighting briefly.
First, decide whether you want this as your main bathroom light or a supplement. Many include a night-light setting for this reason. Others include a dimmable light.
We measure light "heat" in Kelvin. Generally, we consider white light to be cool and yellow-toned light to be warm. For example, 1000k is candlelight and 10,000k is a bright blue sky.
Light warmth and brightness are entirely a matter of preference. Use the chart linked above to understand it in more detail. Alternatively, check out this video.
While watts don't have the traditional correlation to brightness when discussing LEDs, most manufacturers don't provide a lumen rating. It's still enough to assume that low-watt LEDs will be dimmer than high-watt ones.
Heater
A heater feature can be especially useful for small bathrooms where you can't hang on a wall heater or drop a space heater. The range of heating power you can expect from bathroom fans with heater is 1000 – 1600 watts. For instance, 1500 watts is enough to heat an area of around 150 square feet.
It's worth noting that heating components can add some complexity when installing the fan and wiring everything up.
The Broan-NuTone QTX110HL is the only fan equipped with a heater on my list.
Another model you can consider is the Panasonic FV-0511VH1; its spec does mention it has a higher sone rating of 1.5, though. So, more noise emissions from the Panasonic compared to the Broan-Nutone model. It's mainly the reason why the Panasonic bathroom fan is not on my list.
Cost
When choosing a product like the quietest bathroom fan with light, cost is important. Unlike other things where you might try to save money, you should splash out on a higher-end ceiling fan.
As I mentioned earlier, quality and noise level is closely tied to material quality. So, cheaper fans are usually louder and won't work as efficiently.
For this reason, I'd never look at a silent bathroom fan that costs less than $100. Models that cost $250-$350 should provide the right balance of quality, functionality, and noise reduction.
How to Install/Replace a Bathroom Fan
Providing you've got a bit of knowledge on electrical wiring, installing a new bathroom fan shouldn't be too hard. Here's a brief rundown on the process.
Remove the old fan. You might need access to the ceiling cavity for this.
Detach wiring using wire cutters (after turning off the power, of course).
Attach the enclosure/frame of your new fan to the ceiling joists.
Run the power cable from the wall switch to the ceiling fan.
To install a fan with a light and/or heater, you'll need a specialist light switch. It also requires a 3-wire power cable.
Connect the wiring to the plug and fan using the manufacturer's instructions.
Mount the fan into its housing.
Of course, this sort of thing is much easier to follow visually. So, I recommend watching this video for more detail on how to install a bathroom fan.
If your new fan is bigger than your old one, you'll need to cut a larger hole. The easiest tool for this job is a reciprocating saw. Just be sure to tidy up the edges before you install the new fan.
Installing a brand new fan is a more complicated job, as you need to run ducting and cut a hole in your home's exterior. You can check out this video for more information on lining up the ductwork.
Final Thoughts on Whisper Quiet Bathroom Fans
Hopefully, this guide has helped you to pick out a suitable quiet bathroom fan with light.
My top pick is the Kaze Appliance Ultra Quiet Bathroom Exhaust Fan. It has a CFM rating of 120 and a noise rating of 0.3 sones. Also, it's surprisingly cost-effective for this level of performance.
But, if you're on a budget, the Broan NuTone Bathroom Exhaust Fan is also a good pick. It's slightly noisier, but not enough to be a problem.
If none of these is suitable, the information in the guide should point you in the right direction.
Are you on the lookout for solutions to make your bathroom quieter? If yes, check out this resource on quiet toilets.
Do you swear by a quiet bathroom fan I haven't included in this list? Let me know in the comments below!