Finding a whisper quiet space heater luckily isn't too difficult. Unlike AC units and HVAC systems, there isn't much in space heaters that makes noise.
However, finding the quietest space heater that's also energy efficient is more of a challenge.
So, that's what I'll be looking at in this article. Below, I review my top picks for quiet space heaters with a particular focus on large rooms and, of course, energy efficiency.
Our Top 7
Where possible, I've included a decibel rating for these quiet space heaters. After all, it's the best way of confirming whether or not they're actually quiet!
Top Pick: Dr. Infrared 1500W Portable Space Heater
The Dr. Infrared is my top pick for the quietest space heater because, at 39dB, it's pretty quiet. Sure, you might find ones slightly quieter, but they'll inevitably cost more money.
It's mainly a ceramic heater that emits some light in the infrared spectrum. As you'd expect from a ceramic heater, it converts 100% of electricity into heat and circulates this around the room with a small blower. You get high and low settings that top out at 39dB.
The heater also comes with auto energy-saving and eco modes, allowing you to cut down on energy usage. It also has a 12-hour timer, which you can control using the remote.
The Dr. Infrared is rated at 5200 BTUs, which corresponds to a surface coverage between 100 and 150 sq. ft. The best way to estimate the right heating capacity is to check a heater's heat output in BTUs. 
Some users claim the blower isn't particularly powerful, which is expected from 5200 BTUs. They say it'll do a good job of heating what's immediately in front of it. So, if you need fast heating in a larger space, consider looking at a different model.
PROs
Energy efficient.
Noise level of 39dB.
Timer, remote, and safety features.
CONs
Blower isn't too powerful.
Top Budget Pick: GiveBest Portable Space Heater
At 45dB, this GiveBest space heater will be noticeably louder than the Dr. Infrared above. But at around a quarter of the cost, a difference in quality is to be expected.
That said, the actual heater itself seems to perform pretty well. It has adjustable power settings, up to 1500W, and a built-in fan to circulate air. There's also a cool fan setting, so you could use it in the summer.
It uses a ceramic heating unit, which is another form of resistive heater and therefore one of the more energy-efficient options. It features automatic shutoff and tip functions but doesn't have an eco mode. But, again, you can't expect loads from a space heater in this price bracket.
The heater is quite light (2.9lbs.) and stands just over 10" tall (versus 16" for the Dr. Infrared above). As such, it's a good portable model that you could move between rooms as you need it. It claims to heat rooms up to 1,000 square feet., but this is again debatable.
One downside is that the heater lacks an air filter. While not a massive issue, it does mean you might smell burnt dust after eventually. Plenty of others have filters, but you won't typically find them on lower-end models.
It does feature a thermostat but it's not a proper digital thermostat. It'll require you to dial the thermostat knob on the left to set the max temperature at which the device turns off. It's not very accurate and it needs some experimentation until your reach your comfort point.
PROs
Different power settings.
45dB operation.
Lightweight and portable.
CONs
Lacks air filter.
Thermostat knob is difficult to use
Top Pick for Large Rooms: DeLonghi Oil Radiator
This DeLonghi is my top pick for large rooms simply because it's an oil filled radiator. While it's still a 1500W space heater, it's more convenient for larger spaces because it doesn't use a convection heating system. In short, it means you just leave convection air currents to transfer heat within the room.
Also, because it doesn't have a blower, it's the quietest space heater you'll find. The only noises it makes are the adjustable thermostat clicking on and occasional ticks from the metal expanding and contracting.
Oil filled heaters aren't necessarily more energy-efficient than convection heaters, as they all use the same amount of power. However, they've got a larger surface area for putting heat into the room, so you should feel their effects quicker.
It's got a thermostat and multiple heat settings, giving you good control over its heat output. There's also heat overload protection but not anti-tip shutoff. However, this isn't a massive issue because it doesn't have any exposed heating elements.
In terms of maintenance, the manufacturer states that the oil doesn't need replacement or fill ups. It's guaranteed to work for the lifetime of the unit.
Some users state that it smells when you first use it. It's pretty standard for space heaters like this, so just run it for a day or two in a room with the door shut, and you should be fine.
PROs
Convenient heating for large rooms.
No need to add more oil.
Multiple heat settings.
CONs
Smells when you first use it.
Top Pick for the Office: Segoal Small Space Heater
This Seagoal heater is 1000W, so is the least powerful on this list so far. 1000W is more than enough power output for an office or cubicle, though, and plenty of users state they've bought it for exactly this purpose.
While it claims to be quiet, there's no specific dB rating. That said, it's quite a small fan, so there's no real danger of it being loud. Again, users state they run it in an office and don't really notice that it's on.
It has 2 heat settings but no proper thermostat. While this is less than other models, it's still enough control. You'll also find a standard fan setting, meaning you can use it in the summer, too.
The fan uses a ceramic heating unit and has tip-over and overheating protection. While not overloaded with features, it's more than enough for hiding under your desk to keep your feet warm!
Users state that it's not very powerful and that you won't feel the fan if you're more than 3ft. away. It shouldn't be a big deal if you're buying it to heat an office, as they're typically fairly small spaces.
PROs
Ideal for offices.
Heats up quickly.
Features several heat settings.
CONs
Fan isn't that powerful.
No thermostat setting.
5. Dreo Oscillating Space Heater
What sets the Dreo space heater apart from others on this list is that it oscillates. It has a 70-degree oscillation arc, which helps to better distribute heat around the room. But, it does give the potential for more noise, as oscillating features can be loud if the construction is cheap.
That said, the heater claims to have a maximum noise output of less than 40dB. While it's a bit vague, it's enough for us to conclude this is a fairly quiet space heater.
It's a 1500W ceramic heater, putting its efficiency on par with the GiveBest model above. This one comes with plenty more features, though, and isn't much more expensive.
You'll find a 12-hour timer, 3 heat modes and a cool fan mode. A remote would be great, but the built-in touchscreen buttons work fine. Having a digital thermostat means you can be more exact with your temperature choice than on other models.
It's worth noting that there's a washable filter mesh that's easy to remove and clean.
Some users had issues with the auto shutoff function. After 24 hours of operation, it completely turns off. It's not a massive complaint, but does mean you need to manually reset the heater if this happens.
PROs
Oscillates.
Noise output of less than 40dB.
Built-in timer.
CONs
Auto shutoff after 24 hours.
6. Aikoper 1500W Oil Radiator
This Aikoper oil filled radiator is another one that comes about as close to silent as you'll get. Like the DeLonghi, it's because it doesn't have a fan or any moving parts. Again, you'll hear the occasional click and tick, but it's nothing major.
It has 3 heat settings, ranging from 600W to 1500W, and a thermostat that goes up to 95 degrees F. It heats the room via radiation rather than forced convection (with a fan), so works well at heating larger spaces.
You'll find several safety features that make it suitable to have around kids and pets. The surface temperature remains surprisingly low, reducing the risk of injury. It also has a stable wheeled base, meaning it's pretty difficult to tip over.
Controlling it is super easy. It has a thermostat dial and another for the power setting. There's no assembly required either, so you can basically get it out of the box and get going.
As far as maintenance goes, the heater's oil doesn't need replacement. It's meant to work for the lifetime of the unit.
Some users claim it doesn't feel like it heats up a room very efficiently. This might be a side effect of the cool surface feature, as it seems to only emit heat from the inner grooves. It'd be useful around kids, but if you want a quick heater, consider the DeLonghi model or a forced air heater.
PROs
Suitable around kids and pets.
Numerous heat and power settings.
Wheeled base means it's easy to move around.
CONs
Doesn't feel like it heats up a room that fast.
7. Dreo 24" Space Heater
This Dreo space heater is the first tower heater on this list. It uses the same technology as the other Dreo heater but basically makes it vertical. Not only does this decrease its footprint but it also makes it better for circulating air around larger rooms. You can find more information about the differences in my article on outdoor fans.
It uses a ceramic heating element and 1500W of power. The fan has a maximum speed of 2,500RPM, which is decent for circulating air. Combine this with the claim that you'll feel hot air within 2 seconds and you've got a good space heater.
Like the other Dreo space heater, this one has a maximum noise level of less than 40dB. It also has an eco mode for energy-efficient heating and 2 other power settings. You also get a remote control, which you can use to set the timer and temperature.
This heater has overheat and tip-over protection. The latter is more helpful here than elsewhere, as a taller fan with a smaller base is more prone to tipping over. While it'll shut off if this happens, it might not be the best model to have around kids or pets.
Some users state its thermostat isn't reactive enough and that the ambient temperature needs to drop by 5 degrees before it turns back on. It's a notable downside if it's really cold but will be less of a problem if you're supplementing your home's heating system.
While still a major downside, a way around some users found was to offset their thermostat value 5 degrees down. It can be a solution if you don't mind tweaking.
PROs
Tower heater helps circulate air.
Noise level of 40dB or less.
Plenty of heat settings.
CONs
Thermostat isn't that reactive.
Buying Guide
If a space heater has moving parts, aim for a noise level of less than 50dB. This is about the level of noise a refrigerator makes, so anything more will be too distracting. Of course, if you want a space heater for while you sleep, 40dB or less is best.
To understand more about space heater noise levels, let's look at the common sources of noise:
Fan
A space heater's fan is the most obvious noise source. Like any fan, it makes noise as it rotates. Depending on the size and speed of the fan, it could be noise emissions in excess of 50dB.
Oscillation
Not all space heaters oscillate, and not all oscillating heaters are noisy. Oscillation simply means it rotates in an arc to better distribute air around a space.
If built well, it shouldn't add loads of noise to the space heater. But cheap models can click and squeak, particularly after continuous use. That said, oscillation isn't a super necessary feature, so avoid it if you're concerned about noise levels.
Thermostat
The thermostat in a space heater will click when it turns on and off. You can't do much about this, but luckily it's not a super irritating noise. I explain more about thermostat technology in my article on quiet wall heaters, so check that out.
Casing
Some space heaters have a metal casing, which can be beneficial for heat distribution. It's more common in oil filled space heaters but some forced air heaters are metal.
When metal heats and cools, it expands and contracts. This makes noise, typically a clicking or ticking sound. Again, it's not super loud but might be distracting in an office or bedroom. So, look for plastic casing if you think it'll be an issue.
Choosing a Quiet Space Heater for Home or Office
Choosing the best space heater for your home or office generally involves the same factors, but there are a few possible differences worth considering:
Office
For an office space heater, you'll probably want to prioritize noise levels over everything else. Considering you won't need as much power, this shouldn't be too difficult.
An office heater could be 1000W or lower, based on the assumption that your office is smaller than your home. Aim for the quietest space heater possible, which would theoretically be an oil radiator.
But you'll probably also want to think about size. That's why I chose the Seagoal – it's small but still efficient.
Home
For your home, you'll want to prioritize power level/room size over everything. That said, most of the space heaters out there are 1500W, although heating technology also factors into how efficiently they heat the room.
Along with this, you'll probably want more functionality in your home space heater. Things like a remote, timer, and auto shutoff are more important if you plan to use it in your bedroom, for example.
Are Ceramic Heaters Silent?
Ceramic heaters themselves are pretty close to silent, as they use electricity to heat a ceramic component. This process typically doesn't create noise. But the heating unit makes noise because it uses a fan to circulate warm air. As mentioned, this is a major culprit of noise pollution in electric heaters.
The bottom line is that the heating element isn't your concern when thinking about noise levels. Instead, you should focus on how it circulates heat around the room (i.e. whether it uses a fan).
Features to Consider
Along with noise level, there are other things you should think about when making your pick. Here are the most important.
Technology
Space heaters use one of 3 heating technologies:
Infrared
Positive Temperature Coefficient – PTC (also called resistive heaters). Ceramic heaters are part of this family
Oil
Infrared Radiation Type
The first one relies on light radiation to transfer heat, while the last 2 use convection heating (creating convection currents of air around the room). PTC generally uses forced air convection. It's another way of saying it has a fan.
Infrared red light is a specific range of the light spectrum. When touching matter, the light waves heat up the matter. You can find infrared light in heat lamps (in saunas for example). They are recognizable thanks to their red incandescent glow. But these kinds of lamps are not effective at heating large spaces (in comparison with PTC heaters). On the other hand, they don't need fans, therefore they're quieter.
PTC / Ceramic Type
PTC is a term used for materials that heat up when a current passes through them (via Joule heating). Ceramic is a type of PTC. The PTC resistors will transmit the heat to aluminum fins via physical contact. A fan then blows the stored energy into the room. 
While fans help circulate air more efficiently around a room, they add a lot of extra noise. There are differences in efficiency between infrared and ceramic heating elements, but I discuss these below.
Oil Type
Oil radiators are pretty straightforward. They have a heating element submerged in a reservoir of oil. The heating element turns on and heats the oil, which creates convection currents within the heater.
The heat is then transferred to the radiator's casing, where the convection cycle begins again, just on the outside. Cold air being less dense remains close to the ground. In contact with the oil radiator, air warms itself. In turn, the created hot air will rise. It's called a natural convection cycle. As such, oil heaters are perhaps the least intricate designs but they're pretty decent at heating rooms, providing you don't mind it taking a while.
Power
Electric space heaters have a watt rating, which is a measure of their power output. Most are 1500W, although you'll find heaters with higher and lower watt ratings. We can use a heater's wattage to calculate both its heat output and energy consumption.
One watt produces 3.412BTUs of heat output. BTU stands for British Thermal Unit, which is a standard measure of heat. A higher BTU rating means a heater will warm a larger space, but could also heat a smaller space faster than a lower BTU rated heater.
You can use a BTU calculator to figure out what you need for your desired space. Of course, you'll be limited by the heater's wattage for larger rooms. If so, you'll either need to run more than one heater or switch to a different method.
The other aspect of power we must consider is voltage. That said, space heaters generally plug into a standard power outlet, so run on 120V. Always check, though, as some might need 240V, meaning you'd need a special outlet wiring up for them.
Efficiency
Most space heaters have a comparable base efficiency. We can calculate this using their wattage. For example, a 1500W heater running on full for an hour has a power consumption of 1.5kw/h.
To find out how much it'll cost to run, you simply multiply this by your base kW/h rate. For example, your rate is 15 cents per kilowatt-hour, so the heater will cost 22.5 cents an hour to run. It's then up to you to decide whether this is cheaper than your other heating options.
But you should also look out for built-in efficiency settings, such as eco mode. This'll limit the temperature range of the heater, put the fan on its lowest setting, or reduce the temperature drop before it kicks in again.
The lower settings can force the heater to run at a lower wattage. Some of the units above, like the Dreo, will run at 900 W on low and at 1500 W on high. Lower wattage means lower bills.
Finally, consider the heating technology. Infrared heaters and PTC heaters are theoretically 100% energy efficient, although it depends on the heater's quality and construction. But generally, the conversion ratio of current into radiant heat (infrared) and current into heat (in PTC via Joule heating) is 100%.
As you can see, there's not a significant difference in efficiency between the two. But if you're after the most efficient unit possible, infrared is the way forward.
Safety Features
Safety features are always worth considering on space heaters, particularly if you plan to use them overnight or around kids. Overheating protection is a must regardless, as it prevents the heater from catching fire.
Then there's tip-over protection, which is self-explanatory. The heater shuts off if it falls over to prevent contact with flammable materials. You won't find this on oil filled heaters because they don't have exposed heating elements.
Finally, look out for cool surfaces. It means the heater's casing won't warm up, usually because the heating element is suspended. You should look for this feature if you have pets or kids, as it'll stop them from getting burnt.
Warranty
Getting a space heater with a warranty is a no-brainer, and luckily most come with one. At the very least, you'll want a 1-year warranty, but some offer 5 years or more.
I've said this before, but a warranty is usually a good sign of a manufacturer's confidence in the product. Shorter warranties imply less confidence, as they hint something will break sooner.
If you're concerned about the longevity of your space heater, look out for a 5-year warranty. Alternatively, buy an inexpensive model that won't cost a bomb to replace when it does break.
Alternatives to Space Heaters?
Space heaters certainly have their place, but they're not the only option for heating rooms. Here's a quick introduction to some alternatives that you might want to consider.
Electric Wall Heaters
Electric wall heaters are the most similar product and generally use the same technology. The biggest difference is that you mount them on (or in) a wall. As such, they're less portable.
Their biggest advantage is their higher power output and, by extension, more powerful heating. Some are still 1500W, but you'll find others that go up to 3000W. They can be much quieter, too, thanks to improved build quality.
Mini Split Air Conditioners
A mini split air conditioner is a good middle ground between a central HVAC system and window ACs or portable heaters. Despite being AC units, they have heater settings, too.
Mini splits can be much quieter (dropping as low as 28dB) and are also more powerful. Sure, they're more expensive, but the build quality and longevity is also much higher.
They use more power than a space heater but have stricter regulations for energy efficiency. As such, you might not notice a drastic change in your electricity bill if you switch to one.
You can check out my top picks for quiet mini split ACs for more information.
Central HVAC Systems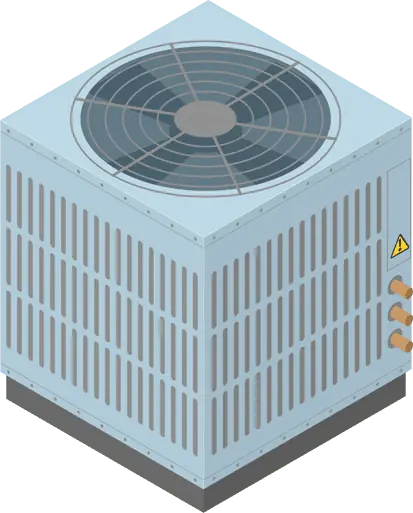 Central heating systems are generally considered to be the least efficient methods of heating a home. But this is mainly because they'll heat all rooms rather than just the one you're in.
By extension, they'll be more expensive to run than a space heater but are obviously more powerful. You can find some almost silent HVAC systems if you're willing to spend a bit of money.
Central HVAC systems are less portable, but space heaters are fine for picking up the slack with central heating. Most people buy them so they don't have to run their central heating or to use in places that might not have it (such as RVs).
Final Thoughts
I hope you've now got enough information to pick the best quiet space heater for your needs.
My overall top pick is the Dr. Infrared 1500W Portable Space Heater. It's fairly quiet, heats quickly, and has good functionality. Of course, check out my other picks for specific rooms, too.
What do you look for when picking a space heater? Do you prioritize efficiency over noise levels or vice versa? Let me know in the comments below!