Flushing the toilet is something that we just have to deal with. For some, the thought of having others know they're flushing is enough to cause embarrassment.
Luckily, this is where a quiet flush toilet comes in. By choosing the right system, you can flush as much as you want without others knowing.
In this article, I review the best quiet flush toilets. I also provide a clear guide to help you make a decision.
So, whether you're buying for an apartment, a shared house, or somewhere else, hopefully you'll find a quiet flush toilet that's perfect for your needs.
Our 5 Best Quiet Flush Toilets
While the flush system is the most important factor when choosing the quietest toilet, there are other things to consider.
Water efficiency is one, as is ease of cleaning.
I consider these factors in my selections below to round up the best products in this category.
1. Top Pick: Woodbridge T-0019 White Toilet
This toilet from Woodbridge uses a siphon flush system. In simpler terms, this is a gravity flush, arguably the quietest toilet flush system.
In terms of visuals, it's a sleek, modern toilet that'll suit most contemporary bathrooms. It might look out of place in more classic bathrooms, though.
It comes as an elongated one piece toilet, making installation much easier. What's more, the pack includes everything you need for installation, including water fitting, floor bolts, and a hand wrench.
The flushing mechanism is about as quiet as you'll get because it uses gravity to move water. Unlike other models, there's less pressure involved, which helps to keep the noise down.
But, it's still an efficient system. It removes 1000g of waste in a single flush, which is the highest score possible on the MaP rating. What's more, the Woodbridge allows you to save water with its dual flush system. The most water efficient of the two uses 1.0 Gallons Per Flush.
Also, it features a soft-close toilet lid. While this isn't directly related to a quiet flushing system, it means it won't make a loud bang if you accidentally drop the seat.
Some users reported that installation can be a bit tricky if you don't know what you're doing. Plus, as it's a single unit, it's quite heavy. It might make sense to call a plumber to install it and lend them a hand when lifting.
PROs
Gravity flush system is very quiet.
Maximum MaP rating.
Modern, sleek design.
Soft-close lid and easy-clean design.
CONs
Difficult to install for amateurs.
Very heavy as it's a single piece.
2. Top Budget Pick: Toto Ultramax ADA One-Piece Toilet
The Toto quiet flush toilet uses something called the G-Max flush system. In simple terms, this is a gravity flush system with a wider flush valve. At 3", it's 125% wider than standard flush valves.
This means it can move water at a higher volume with less pressure, equating to less noise when flushing. So, while not specifically designed as a quiet flushing system, it doesn't make much noise.
In terms of design, it's a very standard looking toilet that'll suit any bathroom. This also means it's a more budget-friendly model too, as it doesn't have any fancy extra features.
The seat is 17.25" high, which is suitable for most adults. It also conforms to ADA regulations for height and so is suitable for those with mobility issues. It includes a soft-close seat made from high-impact plastic, meaning it's very hardwearing.
This quiet flush toilet features the traditional lever design that uses 1.6 gallons of water per flush.
Some users reported issues with the water flushing too energetically. This led to the toilet needing to be cleaned along the back more regularly. But, considering you should clean your toilet at least weekly anyway, this shouldn't be too much of an issue.
PROs
Seat height conforms to ADA regulations.
Wide flush valve means more water and less pressure.
Standard design suitable for most bathrooms.
Only uses 1.6 gallons of water per flush.
CONs
Energetic flush means regular cleaning is necessary.
3. Kohler K-3946-RA-0 One-Piece Toilet
If you're looking for an unusual design for your toilet, this might be the model for you. Kohler claims it's inspired by the "windswept rock formations of Sedona, Arizona", which is interesting for a toilet.
In real terms, this translates to a one-piece toilet with a more rounded tank. But, it makes no real difference to the performance.
That said, it has plenty of good features. The quiet toilet flush system uses gravity, like others on this list, but it's supported by an AquaPiston system. This means water is distributed more evenly around the bowl, making waste removal more efficient.
It's also very water-efficient – it only uses 1.28 gallons per full flush. This is one of the most efficient designs available and could save you up to 16,500 gallons of water a year.
The seat is soft close, great for reducing noise. Also, it has a grip-tight system, meaning it's not bolted down. You can remove it for cleaning much more easily. The seat is around 17", which is high enough for most adults.
This toilet is a compact design, making it suitable for en-suites and smaller spaces. However, this does mean it's more difficult to find replacement seats, so bear this in mind if choosing this model.
PROs
Quiet flush system that's water-efficient.
Soft close seat that's removable for easier cleaning.
Ideal height for most adults.
Compact design is suitable for smaller spaces.
CONs
Difficult to find replacement seats and parts.
4. Toto Entrada Two-Piece Universal Height Toilet
Toto is one of the world's largest toilet manufacturers, so it's not a surprise to see them appear twice on this list. This model is very similar to the previous one, except it features an eco-flush system.
It's almost identical to the G-Max quiet toilet flush system. This time, it's called the E-Max because it uses 1.28 gallons of water per flush. It's still a gravity flush with a widened flush valve.
Also, it's a two-piece design, meaning the bowl and tank are separate pieces. This makes very little difference other than installation might take a bit longer.
As with the previous Toto quiet flush toilet, this one conforms to ADA height regulations so is suitable for people with mobility issues. Its seat height of 17.25" is ideal for most adults, too.
Some users reported that the compact design results in a weaker flush with less water flow. This might also be because of the wider flush valve, as it releases more water with less pressure. While this is a good system, it might not suit the eco-flush setup.
So, if you think you need a toilet with more flushing power, consider looking at a different model.
PROs
Eco-flush uses 1.28 gallons per flush.
Quiet gravity flush system.
Budget-friendly model.
Classic design that'll suit most bathrooms.
CONs
Compact design results in weaker flush.
Doesn't include a seat.
5. American Standard Studio S Low-Profile Toilet
Dimensions: 29.5 x 15.88 x 16.75 inches
Material: Porcelain
Single Flush: 1.0 Gallons Per Flush
One-Piece
Unlike other models on this list, this toilet from American Standard uses pressure-assisted flushing. Dubbed PowerFlo, it helps to reduce the noise level and also means you don't need a water tank on the back.
As a result, it has a much sleeker and more modern design that'll perfectly suit minimalist bathrooms. It still connects to a standard toilet inlet water connection, so don't worry too much about installation.
It's a skirted design that hides the toilet's trapway. Looks aside, this makes it much easier to clean because it cuts out the crevices where bacteria and dirt can build up.
What's more, the quiet toilet flushing system uses 1 gallon per full flush, which is less than the more efficient gravity flush quiet toilets.
It has a lower profile than other toilets – the seat is 16.75" high. While only half an inch lower than others, this might be an issue for those with mobility issues. If you need a higher seat, consider a different model.
Some users reported difficulty with the flush button, which is found on the left-hand side of the toilet. It's not a massive issue but does mean you must bend down to flush.
Also, the design means it only takes dedicated seats. It does come with a seat, but bear this in mind if you want to change it at a later date.
PROs
Tankless design that uses pressure-assisted flushing.
Very efficient water use.
Still connects to standard water inlets.
Suitable for modern, minimalist bathrooms.
CONs
Slightly inconvenient flush button.
Only takes model-specific seats.
What to Look for When Choosing a Quiet Flush Toilet
Choosing the best quiet flush toilets depends on several factors. The most important, of course, is the flush mechanism. But, this impacts water use, which is important for many users.
Then, we also have to think about design and installation, although these are arguably secondary factors.
So, here are my top considerations when choosing the best quiet flush toilets.
Type of Flush System
There are 4 main toilet flushing systems, but we're more interested in 2 when talking about quiet toilet flush systems. Even so, the main types are:
Gravity Flush
The gravity flush system is the oldest flushing mechanism and hasn't really changed much since the flushing toilet was invented in 1591.
As the name implies, it uses gravity to move water from the tank into the bowl. You press the handle, which opens the flapper valve, forcing water into the toilet bowl.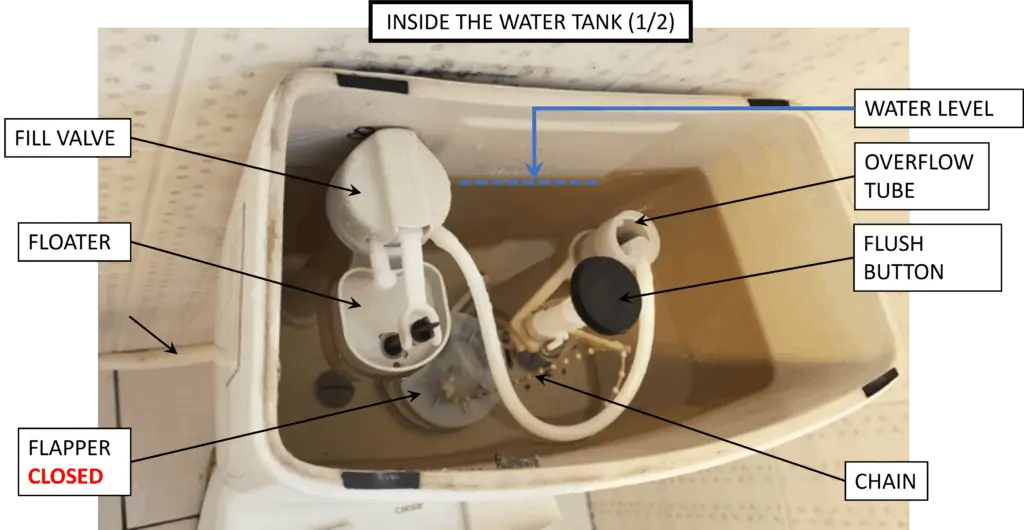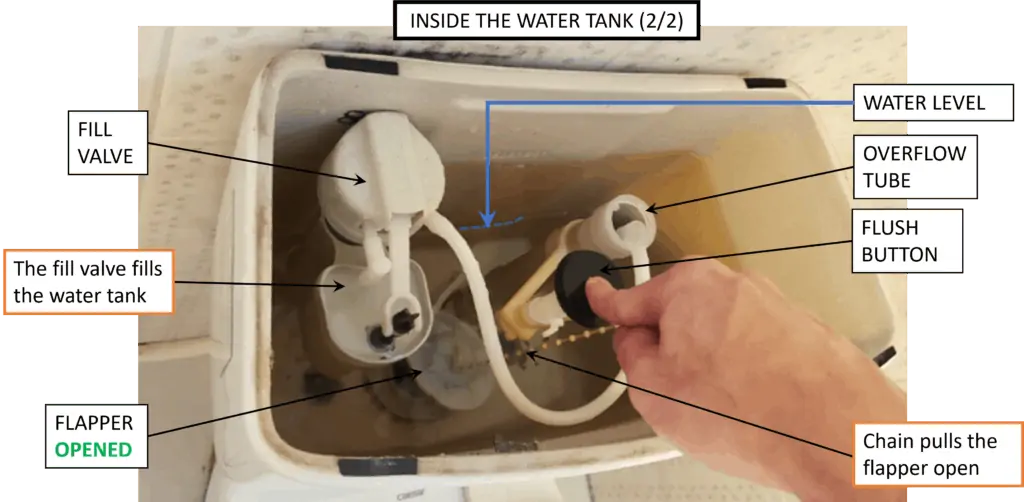 The added water in the bowl fills the S-trap creating a syphon effect. This action pushes waste into the trap and then into the drain. It's simple and effective.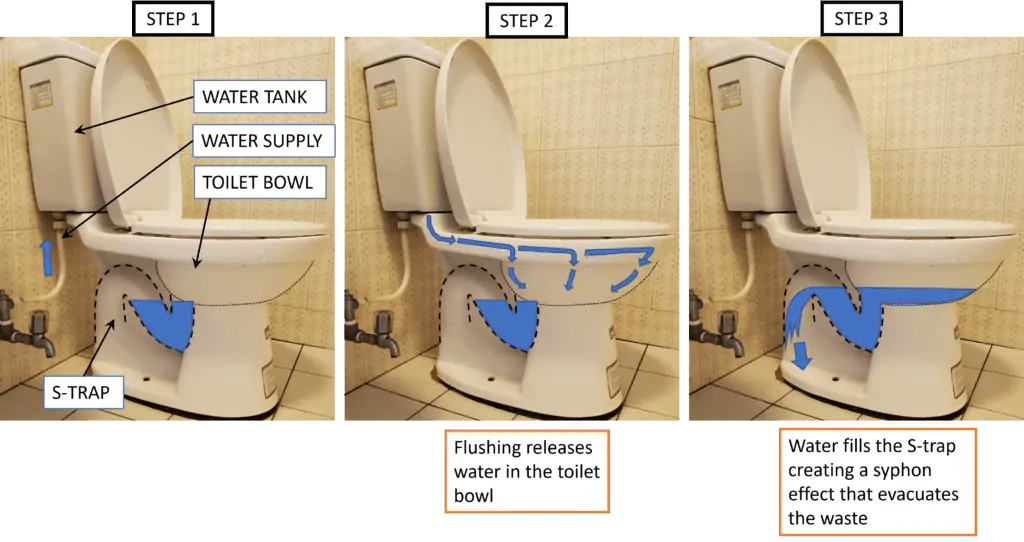 It's the best for quiet flush toilets because it doesn't need any mechanical or electrical assistance and uses relatively little water pressure. So, there's not really much to make noise other than water flowing through the system.
Pressure-Assisted Flush
As the name implies, this flushing system uses added pressure. It's similar to the standard gravity flush but uses compressed air. This forces water through the toilet with more power and can clear waste much quicker.
Along with the standard water tank, it includes a secondary tank. This is the pressure vessel where water and air mix to increase pressure. The pressurized water is then shot into the toilet.
Tankless toilets often use pressure-assisted flushing. Rather than separate tanks, the system pressurizes the water directly from the inlet valve. Everything else works the same.
A pressure-assisted toilet is slightly louder than a gravity flush due to the extra pressure.
Check out this video for a quick visual of a pressure-assisted toilet in action.
Dual Flush
Dual flush toilets are becoming more standard in homes due to their more efficient use of water. Instead of a flush handle, the toilet has 2 buttons on top. When pressed, these open the flapper valve and let gravity do the work.
The buttons release different amounts of water: less for liquids and more for solids.
The half-flush option can be incredibly quiet and often uses less than a gallon of water. But, they're more prone to leakage than flush handles, as it's easier for debris to get trapped in the flushing mechanism.
This makes any water-saving efforts redundant unless you get the system maintained regularly.
Double Cyclone Flush
The double cyclone flush is quite a fancy flushing system. The toilet has 2 side-facing nozzles under the rim and this forces the water to swirl in the bowl. The result is a cyclone, which is effective for removing waste.
It doesn't necessarily rely on more pressure than a gravity flush but is noisier due to the greater movement of water.
The cyclone system was invented by Toto, which also came up with the tornado flushing system.
It's a development of the cyclone but uses 3 jets instead of nozzles. This creates even more water pressure, hence the step-up from cyclone to tornado.
But, it's louder again, so probably isn't suitable for this list.
Type of Flush
The type of flush is worth considering for quiet flush toilets. This is simply because less water usually equals less noise. We have 2 types to choose from:
Single Flush
In a single flush toilet, you have one option for how much water flows through the toilet. Efficient models will use around 1.6 gallons of water per flush.
As you'd imagine, a single flush toilet makes a set amount of noise. For modern systems, this can be anywhere from 40 to 80dB.
Dual Flush
This is the dual flush I mentioned above. It has 2 flushing options: half and full. The benefit is that you can flush away liquids with less water, theoretically making them more efficient.
Although manufacturers claim a dual flush can save up to 67% water compared to single flush, this might not always be the case. Design issues can lead to significant water waste through leakage.
From a noise perspective, though, a dual flushing system is preferred for quiet toilets. This is mainly because the half flush uses less water and so is slightly quieter.
Noise Considerations for Quiet Toilets
The flush is probably most people's first thought with noisy toilets. But, there are other factors to consider, such as:
The seat. Soft-close seats eliminate the bang caused by you dropping a seat.
Leaks. A leaky system creates noise, which might not be loud but can be irritating.
Malfunctioning parts. A broken fill valve whistles and can be very loud.
Air in the system. This can sound like anything from whistling to screaming and can be very unpleasant.
Build-up in pipes. In hard water areas, calcium build-up in pipes affects water flow. This can make your toilet whoosh.
Most of these shouldn't impact your decision when settling on a quiet flushing toilet. But, it's important to maintain your system regularly and replace worn parts if they're making a noise.
Things like rubber seals should be replaced every few years because being in water causes them to perish.
As mentioned above, a standard toilet can be anywhere from 40 to 80dB when flushing. In one study, the loudest even went up to 96dB!
In real terms, toilet noise can range anywhere from a whisper (around 40dB) to nearly a chainsaw (around 100dB).
So, you can see there's plenty of scope for quiet flush toilets. The best models should fall at the lower end of the scale, although most manufacturers don't provide a dB rating for their systems.
The best advice is to choose a gravity flush system that's water-efficient. Simply put, less water and less pressure means less noise. Bear in mind, this might come at the sacrifice of efficient waste removal.
Is it possible to have a silent toilet?
It's not possible to have a silent toilet because it's always going to make some noise when flushing. Between water flow and the few moving parts, a toilet will always make noise. The closest thing you'll find to silent is a composting toilet, but they're not standard in a residential property.
Toilet Design
The type of toilet design you choose won't have much impact on noise levels; the flush system is more important.
That said, models with skirting might help with noise levels simply because the system is more enclosed.
When choosing the quietest toilet, consider the following points:
One Piece System
A one-piece system is self-explanatory. The bowl and tank come as a single formed unit.
While designs are sleeker and more modern, one-piece systems present more of a challenge for installation. This is because they're heavier.
Also, it gives you less adjustability with the rough-in. This is the distance between the wall and the toilet's mounting holes. A 12" rough-in is the most common in the USA.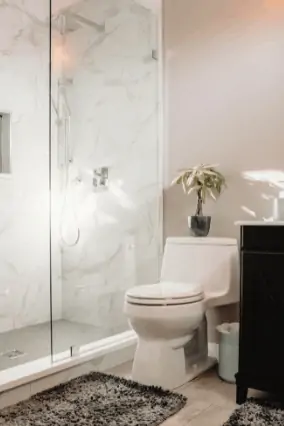 For one-piece systems, you can't adjust the toilet based on issues with wall dimensions.
Two Piece System
A two-piece toilet consists of a separate tank and bowl. Installation is easier because you can move the pieces on their own.
Also, it's easier to adjust the rough-in based on the installation area. If necessary, you can reposition the tank and bowl to fit better.
A two-piece is the second-best design for compact spaces because they're often tall rather than long.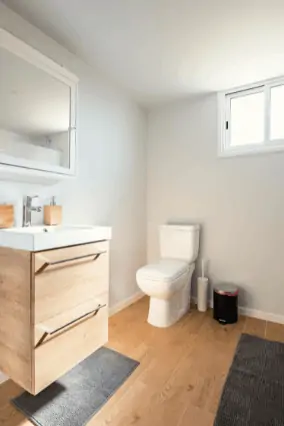 Wall-Mounted System
A wall-mounted toilet usually houses the tank and flushing system in the wall, meaning only the bowl is exposed.
So, they're best for compact spaces because there's less toilet in the room. But, they're much harder to install and are usually more expensive.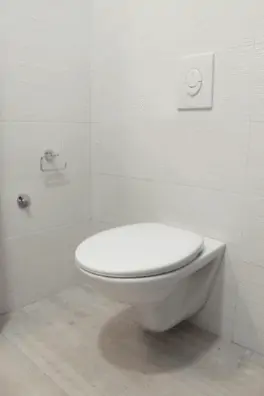 Shape and Dimensions
Toilets come in 2 standard shapes: round and elongated. The main difference is the type of seat you buy. Elongated bowls are 2" longer than rounded ones and are more comfortable. But, this also means they take up more space.
A toilet seat should ideally be between 16" and 19". Higher seats are better for people with mobility issues, but some people prefer lower seats because it puts them in a better position.
Some tall toilets have ADA certification. This is the Americans with Disabilities Act and means the toilet's height conforms to its standards. An ADA compliant toilet has a seat height between 17" and 19".
If you're limited by a taller toilet, consider buying a toilet stool to achieve a better position.
Color
Color has no bearing on toilet noise and is purely a design choice. As you probably know, the standard color for a toilet is white or off-white.
This ranges between cotton, linen, and bone depending on your preference.
Sure, colored toilets exist (think avocado bathroom sets from the 70s), but these are harder to find. Plus, they're harder to keep clean because dirt doesn't show up as easily.
Final Thoughts on the Quietest Toilet
Hopefully this article has helped you to pick out the best quiet flush toilet for your needs. While it's impossible to get a silent flush toilet, some of these models come very close.
But, what is the best flushing toilet on the market?
My top pick for the best flushing toilet on the market is the Woodbridge T-0019 White Toilet. It's sleek and modern and, most importantly, is very quiet.
If you're on a budget but still want a quiet flush toilet, opt for the Toto Ultramax ADA One-Piece Toilet. It comes from an industry leader and does everything you need it to.
Do you have any other advice for picking out a quiet flush toilet system? Let me know in the comments below.