Electric wall heaters are an efficient way of spot heating your home. After all, if you're only going to be in one room, it doesn't make much sense to heat everywhere.
That said, energy-efficient heating shouldn't mean noisy operation. In this article, I'll review my top picks for the best electric wall heaters, along with listing the important factors when making a decision.
Hopefully, by the end, you'll know exactly what kind of wall mounted heater you need.
Our Top 6 Picks
Where possible, I've included a dB rating, as this is the easiest way to tell whether something is quiet. Not all electric wall heaters state noise levels, though, so I'll offer the most relevant information possible.
1. Top Pick: Heat Storm HS-1500-PHX-WIFI
Power: 1500W
Heating cap.: 5200 BTUs
Thermostat: Yes (Digital)
Timer: Yes (via the App)
Fan airflow: NC
Wifi connectivity: Yes
The Heat Storm electric wall heater is my top pick because it's about as quiet as heaters can be. It uses infrared radiation, and it uses a fan to spread heat. Granted, it'll still make a bit of noise, users reported the fan is quiet and not a source of nuisance.
It's 1500W and 5200 BTUs, which is suitable for rooms up to 150sq. ft. It's obviously best suited for small spaces, but luckily you won't lose any floor space (because it's wall-mounted).
The heater has a floating heat exchanger, which improves efficiency and stops the housing from getting hot. It means it's fine to have around kids and pets, as the risk of injury is very low.
It comes with auto eco mode and a digital thermostat to improve efficiency. It's also got Wi-Fi connectivity and a smartphone app, meaning you can control it even when you're not in the room!
Installation is fairly easy too. You only need to drill and insert 4 screws in your wall. The unit includes a level template that will help you mark the drilling location on your walls.
Alternatively, you can install it on feet, which you can buy separately here.
The only real downside is the size. 1500W isn't amazing but is fairly standard for electric wall heaters. If your room is bigger than 150sq. ft., consider installing more than one or hop to a class above by installing say a mini split Air Conditioner.
PROs
Fanless heat technology.
Safe around kids and pets.
Wi-Fi connectivity and smartphone app.
2. Top Budget Pick: Cadet Com-Pak CSC151TW
Power: 1500W
Heating cap.: 5120 BTUs
Thermostat: Yes (Knob)
Timer: No
Fan airflow: 55 CFM
Wifi connectivity: No
To consider this Cadet wall heater a budget model is a bit of a stretch, as it's not that much cheaper than the top pick. It's also a 1500W model but has a 55 CFM fan to circulate air. Its BTU output is 5120 which is 1.5% lower than the above Heat Storm, but it's still on par with other 1500W devices.
While it's labeled as a quiet centrifugal fan, Cadet doesn't give an explicit noise rating. But users back-up this statement, stating it's a bit of white noise in the background. As such, you should be fine to run it in a bedroom or living room, for example.
Rather than fixing to the wall, this heater sits in the wall. That said, it claims to be easy to install, even if you do need to cut a big hole (8" x 10.25")! The manufacturer recommends you position the hole 6" from the adjacent wall and 12" from the floor. These figures should give you an idea whether you have enough clearance in your setup.
It's not overloaded with features. There's an adjustable thermostat but no timer or filter. However, it does come with a ceiling-mounting apparatus, which is something.
PROs
Budget-friendly option.
Claims to operate quietly.
Heats up quickly.
CONs
Lacking some useful features.
3. TPI HF4320T2RPW Low Profile Wall Heater
Power: 2000W
Heating cap.: 6826 BTUs
Thermostat: Yes (Knob)
Timer: No
Fan airflow: 70 CFM
Wifi connectivity: No
Much like the Cadet above, this TPI electric wall heater claims to be quiet but doesn't give a dB rating. Users back this up, claiming it's generally quiet, although you do get a whirring sound from the fan. This is to be expected.
It's a 2000W heater and 6826 BTUs, making it the most powerful one so far. Again, it's still not for big rooms, but it's got a slight edge over the others. Its CFM rating is 70, so its air circulation power might get a bit lost in larger rooms.
This heater sits in the wall, much like the Cadet. It's easy to install if you're replacing an old heater, but will take more work if it's a new project. Plenty of users state that replacing an old heater is easy, as it slips right into the existing hole.
It's got a built-in adjustable thermostat but no timer. The main drawback is that it runs off 240V mains power, meaning you'll need to wire up your circuit breaker. Of course, it'll be best to get an electrician in for this. If it sounds like too much work, stick with one of the 120V models above.
PROs
2000W heater.
Easy to install – comes with ceiling mounting frame.
2200RPM fan is apparently quiet.
CONs
Runs off 240V mains electricity.
4. Stiebel Eltron 230345 Electric Wall Heater
Power: 1500W
Heating cap.: 5118 BTUs
Thermostat: Yes (Knob)
Timer: Yes (Max heat for up to 60min)
Fan airflow: 106 CFM
Wifi connectivity: No
Finally, an electric wall heater with a noise rating! The Stiebel 230345 has a maximum operation level of 49.7dB. This is roughly the same as rainfall, so it isn't super loud. Of course, we don't have any point of comparison so far against other quiet wall heaters.
It's a 1500W heater with a heat output of 5118 BTU. This is fairly standard considering its wattage. The fan blows 106 CFM which is the highest in this list so far. It does contribute to the 49.7 dB rating. However, users appreciate the fan's white noise in the background.
Like the Heat Storm, it's a surface-mounted design. As such, it's the closest to easily installation you'll get with a wall heater. You attach brackets to the wall, screw it on, and you're done. This makes it a better option for those who don't have all the right DIY tools.
It has an adjustable thermostat and frost protection setting. There's also a heat booster timer, which ramps up the heating for up to 60 minutes, allowing you to heat the space faster.
To help with this, it uses a down-draft design to improve heat convection currents in the room. In short, it blows hot air out the bottom, which then rises in the room.
Despite being easy to install, the heater doesn't come with a power cord. It means you'll need to wire it in yourself, which can be difficult. If in doubt, get an electrician to do it.
PROs
Max heat timer setting convenient to heat room faster
Quiet operation.
Easy to mount on the wall.
CONs
Doesn't come with a power socket – not plug and play.
5. Broan Nu-Tone 3000W Wall Heater 194
Power: 3000W
Heating cap.: 10240 BTUs
Thermostat: Yes (Knob)
Timer: No
Fan airflow: NC
Wifi connectivity: No
At 3000W with a 10240 BTU output, this Broan wall heater is the most powerful electric wall heater on this list. It's suitable for rooms up to 300 sq. ft., giving it a clear lead over the competition.
But you have to balance this against it needing a 240V power supply. As with the TPI model, it means you'll need to wire up your circuit breaker specifically for this heater. While you can convert it to a lower voltage, it only drops down to 208V.
It's quite a compact wall heater, but it mounts in the wall rather than on the surface. Again, it should be fine if you're replacing an existing wall heater but will be a lot of work if you're installing from new.
There's a built-in thermostat for temperature control, although it doesn't have a timer or any other features. Users state the fan is quiet, but, as usual, we don't have a specific dB rating. As I state in my bathroom fan article, Broan fans are generally quite quiet.
Users state it kicks out a lot of heat but that its thermostat is difficult to control. One user says that level 1 (of 10) is too hot, meaning it needs to be turned off completely. So, only go for this one if you like it warm or have a large space to heat.
PROs
Most powerful heater in the list with 3000W.
Fairly quiet.
Compact design.
CONs
Requires 240V power supply.
Thermostat is difficult to use.
6. EconoHome Wall Mount Space Heater Panel
Power: 400W
Heating cap.: 1364 BTUs
Thermostat: Yes
Timer: Only in Wifi model
Fan airflow: N/A
Wifi connectivity: In option (here)
Although this EconoHome wall heater is only 400W, it claims it's suitable for spaces up to 120 sq. ft. It includes a radiator panel rather than a heating unit with fan. It means it has a much larger surface area for radiating heat.
The consensus from users is that although advertised to heat up to 120 sq.ft., it's best suited for smaller rooms like a bathroom or small bedrooms (under 100 sq.ft.). The poor BTU output (1364) of the product cannot realistically cover more than 100 sq.ft. Obviously, you can also choose to pick the 600W variant which should provide at least 50% more heating coverage.
The inclusion of a radiating panel means there's no fan, so it'll be pretty quiet. Like the Heat Storm, it'll still make some noise, but you won't have a whirring fan to distract you. It's also surface-mounted, meaning installation is a breeze.
The base model comes with an external thermostat, although there are plenty of add-ons. For example, you can get Wi-Fi connectivity, a heat guard, or swap for a 600W model.
While not a massive deal, one benefit of this wall heater is that it's less noticeable than others. It's thin, so won't take up as much space in small rooms. Granted, few people will buy wall heaters for looks alone, but it's worth mentioning.
The biggest downside users state is the smell when first used. Like many products, it requires off-gassing. It's not always practical with a heater, but consider running it somewhere before installing it to avoid the worst of this problem.
PROs
Low-profile heater.
Fanless technology.
Easy to install.
A lot of options available at an attractive price
CONs
Smells bad when first used.
Heat ouptut lower than expected
Buying Guide
Choosing the quietest wall heater should ideally be based on its noise level. But, as we've established, very few state this explicitly. As such, we need to look at the parts that make noise.
Fan
The biggest culprit for noise in wall heaters is the fan. Fans have no direct impact on heating power but instead circulate heat around the room. Not all wall heaters have fans, though, as it depends on their design.
An electric wall heater with a fan will arguably circulate heat more efficiently in larger spaces but won't be as necessary for small rooms. For example, a small bedroom would be fine with a fanless heater because it'll radiate heat efficiently enough.
There's no benchmark for noise limits for a quiet electric wall heater. Instead, we could look at other fan-based products (such as AC units) and say that anything above 50dB will definitely be too loud.
Thermostat
A heater's thermostat will click on and off during operation; there's no avoiding this. However, it's not an awful noise, but some people might find it distracting at night.
Unfortunately, the only solution would be to turn the wall heater off.
Casing
Wall heaters typically have metal casing, which expands and contracts as it gets hot. You might hear it clicking and clanking when it does this, and, again, there's not much you can do about it.
One solution is to focus on infrared space heaters, such as the Heat Storm model above. This radiates heat out the front and the body remains cool, meaning, in theory, the metal won't expand and contract.
The other solution is to look in a higher price bracket, so the heater uses a smooth power control rather than a two-point control. It means the power increases/decreases gradually rather than flicking between on and off. Hopefully, this should prevent any sudden temperature changes in the casing.
Other Features to Consider
Of course, noise level isn't the only consideration for buying the best wall heater. Here are some other factors to bear in mind when making your selection.
Power Level
We measure a heater's power in watts, the standard unit of power flow. As a general rule, you need about 10 watts of power for every square foot of floor space.
So, a 1500W heater will perform best in rooms up to 150sq. ft. It means wall heaters are best for smaller spaces. For larger spaces, you'll obviously need to install more than one.
Then there's power supply. Most wall heaters are fine with 120V, but some more demanding ones need 240V. This is because power equals voltage times intensity (P = U *I). So, more power means more voltage.
American homes should have access to 240V power, although it might take an electrician to wire it up. If this is an issue, stick to a 120V heater.
While watts are a measure of the heater's power, we measure actual heat output in BTU, British Thermal Units. I discuss them in more detail in my article on quiet air conditioners. The logic of BTUs is the same for warm air and cool air.
Below is a table of the wattage and BTUs for the electric heaters reviewed above. BTUs are almost directly proportional to wattage. However, BTUs and heating technology together are the most accurate measure of an electric heater's efficiency.
| Heater | Wattage | BTUs |
| --- | --- | --- |
| Heat Storm | 1500 | 5200 |
| Cadet | 1500 | 5120 |
| Stiebel Eltron | 1500 | 5118 |
| TPI | 2000 | 6826 |
| Broan | 3000 | 10240 |
Technology
Wall heaters are generally either convective heaters or radiant heaters. Those with fans are convective heaters. It means they heat an element, and then a fan blows hot air into the room.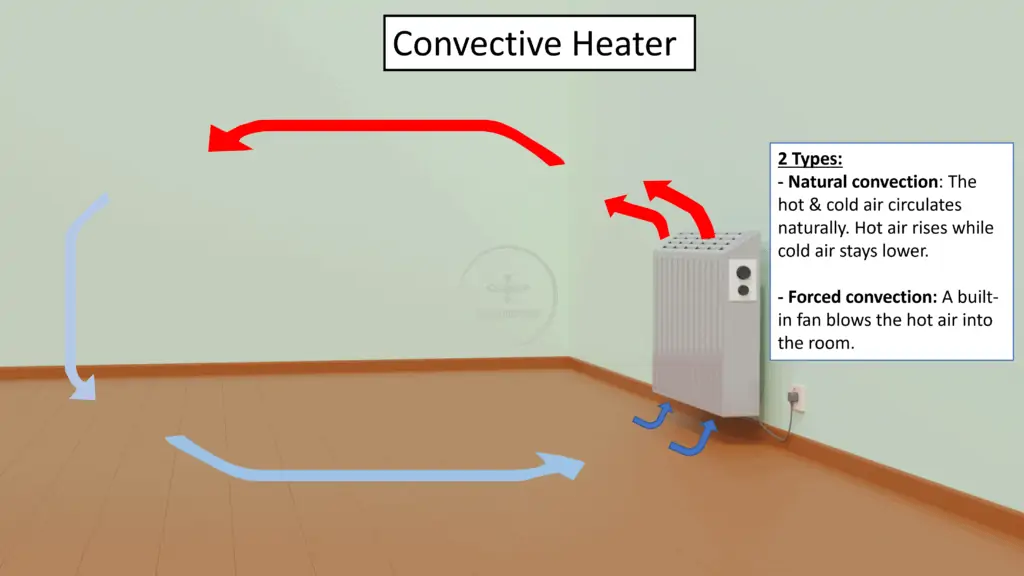 Radiant heaters use infrared heating. In short, they still heat an element but don't use fans to circulate said heat. Instead, it radiates into the room, hence the name.
Some infrared heaters also rely on convection.
They radiate heat with infrared emission on a surface within the heater.
Then, the heat is transferred to the room via:

Natural convection.


E.g.

: The Econohome above uses infrared as the heat source. There's no fan, so natural convection happens with air circulating at the back of the panel.
Or with a built-in fan (forced convection).


E.g.

: The Heat Storm uses infrared as the heat source. It includes a fan to transfer heat to the room.
Convective heaters with fans will be better in larger spaces, as they create convection currents. But, as mentioned above, they'll be louder. A radiant heater is generally less efficient in larger rooms but will be fine in small rooms.
Safety
We can't overlook the importance of safety features with wall heaters, as there's a lot that can go wrong. How safe you need it to be will depend on your home and its occupants (e.g. kids or pets). That said, there are some standard features you won't want to overlook.
The first is overload protection. It simply trips the motor if it gets too hot, preventing permanent damage. Most heaters will come with it as standard. Another good feature is an internal tip over switch. It turns the heater off if it falls over, preventing fires.
Then there's heat protection. You can solve this in different ways. Models like the Heat Storm have a floating heat unit, so the casing doesn't get hot.
Alternatively, plenty of models have heat guards. You can buy model-specific ones or use a generic freestanding heat panel. The aim is to stop kids or pets from touching it and burning themselves. 
As for explicit safety standards, look out for ETL or UL certification. Both involve testing the product to ensure it meets a minimum standard for safe operation.
Warranty
Warranty is always an important consideration when buying electric products, particularly pricey ones. Wall heaters will generally come with a warranty of between 1 and 5 years.
There's no right answer to what warranty you need, although longer is obviously better. If you're concerned that the warranty seems short, spend some time researching the product online.
Look at user reviews, particularly bad ones. These should show problems people had with the wall heater, such as broken parts. People who have warranty issues are usually quite vocal about it, so this can be a valuable source of information.
Extra Features
There are a few extra features worth mentioning when buying a quiet electric wall heater:
Wi-Fi Connectivity
While not a must, it can be a convenient addition. Controlling your heater remotely means you can have it heating up a room before you get there. Some even link to home voice assistants, making it easier than ever.
Also, this feature usually means you can set up timers and other settings, giving you a lot more control.
Timer
On that note, a timer is a useful extra for a wall heater. It's slightly different from the thermostat, which will turn it on and off at certain temperatures.
Having a timer is beneficial because it means you could have the wall heater on before you go to bed but not keep it running all night. Again, it's not a must, but can make your life easier.
Extra Mounting Setups
Some wall heaters come with extra brackets for different mounting options. For example, you might be able to install them horizontally or in the ceiling. It could be a helpful feature if you're struggling to find a heater that fits in your space. Most of the models reviewed above come with these extra brackets.
Consider a quiet space heater if you don't fancy drilling holes into your wall. You get decent calories in your room and way more freedom of positioning.
Final Thoughts
I hope you've now got enough information to go out and find the best wall heater for your needs.
My top pick for the quietest wall heater is the Heat Storm HS-1500-PHX-WIFI. It's infrared and fanless, so is about as quiet as you'll get. Plus, it has Wi-Fi connectivity.
But if you need better air circulation, any of the fan heaters would be a great pick.
Have you had experience picking out a quiet wall heater? Let me know in the comments – I'd love to hear your tips!