Mini split systems are a great way to upgrade your air conditioning without installing the infrastructure needed for a central HVAC system. Of course, there's no reason why such a unit should add unnecessary noise to your life.
So, if you're looking for the quietest mini split air conditioner, you're in the right place. In this article, I review my top picks for the best ductless mini splits and provide a guide on how to make your selection.
How Do Mini Splits AC Work?
Ductless mini splits works much like a larger HVAC system just, unsurprisingly, without the ducting. It consists of one outdoor unit that deals with the cooling and then one or more indoor units that circulate cool air around a room.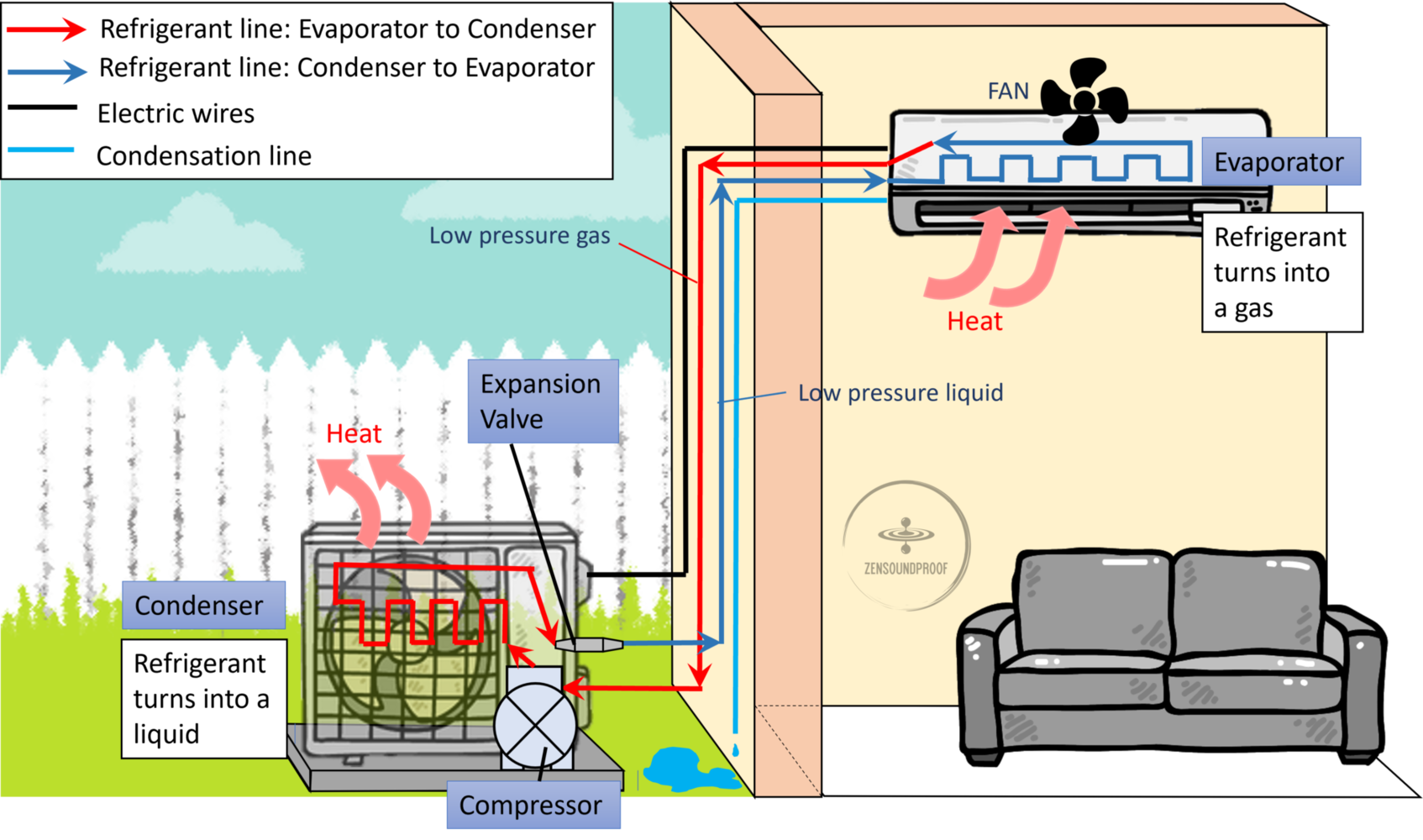 A mini split system consists of the following parts:
Outdoor Unit
As mentioned, the outdoor unit cools the air. It holds the compressor to turn the refrigerant from a gas to a liquid. It then expels the hot air, much like a normal HVAC compressor unit. It's typically located on the outer wall of a building.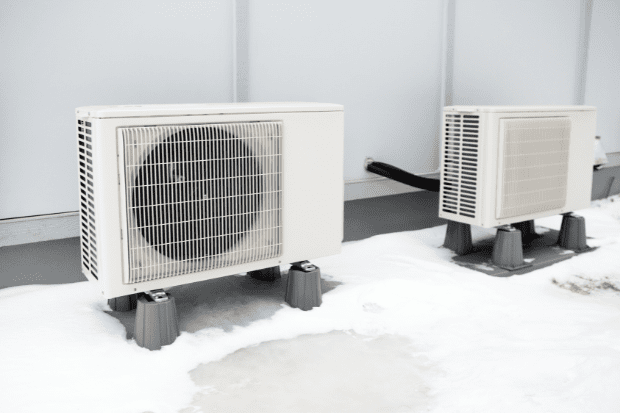 Indoor Unit
The indoor unit gets mounted on a wall indoors and contains a blower, cooling coils, and an air filter. It sucks in warm air, passes it over the cooling coils, and then blows out cool air. You can have up to 5 indoor units connected to the same condenser unit.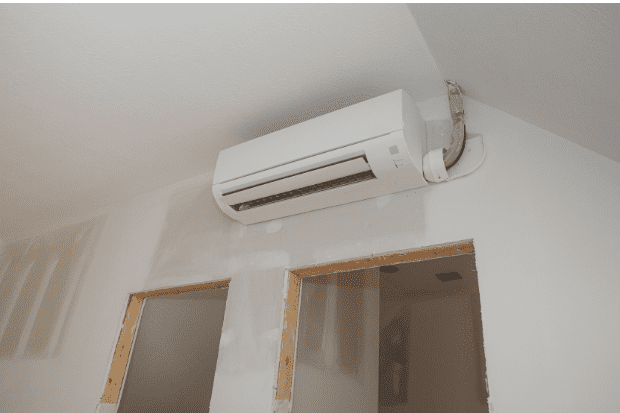 Refrigerant Lines
The refrigerant lines in a mini split system connect the indoor and outdoor unit. It's through these lines that the refrigerant passes to be converted from a gas to a liquid. As you can imagine, installing these means drilling a few holes in your wall.
Temperature Control
A mini split system will include some kind of temperature control. It might be mounted on the indoor air handler, be it a remote control or a smartphone app. Whatever it is, you use this to set the temperature on the indoor unit.
How Loud are Mini Splits
Ductless mini splits are some of the quietest air conditioners on the market. For a quiet mini split, you can expect a noise level between 26dB and 50dB. As a comparison to everyday sounds, this range falls between a quiet whisper and normal conversation.
Part of the reason why ductless systems are quieter than central HVAC is that the ducting acts as an echo chamber, amplifying and carrying even minor noises from the outdoor compressor unit.
But that's not to say that mini splits are silent. You can still expect some noise from the following components:
Fans
Compressor
Condenser
Like central HVAC systems, the loudest components are outside, but the difference here is that there's no ducting connecting them to indoor vents. As such, you won't hear much even from a loud mini split.
Our Top 9
As part of reviewing the best mini splits, I've tried to include decibel ratings where possible. Other than that, I also consider ease of installation, number of indoor units, and power. Hopefully, you should find one that perfectly suits your needs.
1. Top Pick: Bosch Ultra-Quiet 12,000 BTU Ductless Mini Split
Cooling Cap.: 12,000 BTU/hr
Heating Cap: 12,000 BTU/hr
Energy Rating: 20.7 (SEER)
Heating Eff.: 9.6 (HSPF)
Noise Level: 28 dB min
Voltage: 230V
Timer: Yes
Remote: Yes
Wi-Fi Feature: No
Living up to its name, the Bosch Ultra-Quiet operates between 28dB and 39.5dB. For a 12,000 BTU unit, this is exceptionally quiet. Considering this is my main selection criteria, it easily wins top pick. Also, its SEER rating is 20.7, making it one of the most efficient on this list.
Importantly, the installation process is super easy and it comes with all the necessary hardware. You'll just need to drill a few holes for the refrigerant line and indoor air handler, and you're done. It includes a full DIY installation guide, too.
There are 3 AC modes and a silent mode, which reduces noise emissions to as little as 28dB. You'll also find a 24-hour timer, energy-saving mode, and a remote controller. The 12,000 BTU unit can cool spaces up to 600 square foot, making it suitable for most rooms.
Some users state it needs a clear outlet pipe for the condensation, as it creates a lot of excess when cooling. This won't impact the unit itself but is worth knowing when it comes time to install it.
As with most of the other units on this list, it runs on a higher voltage than standard mains power (230V). So, you'll probably want a professional to sort out the breaker for you regardless of whether you install the units yourself.
PROs
Exceptionally quiet – as little as 28dB.
Easy to install and maintain.
Includes heating unit.
CONs
Creates a lot of condensation when cooling.
2. Daikin 9,000 BTU Wall-Mounted Ductless Mini Split Air Conditioner
Cooling Cap.: 9,000 BTU/hr
Heating Cap.: 9,400 BTU/hr
Energy Rating: 17.0 (SEER)
Heating Eff.: 9.0 (HSPF)
Noise Level: 23 dB min
Voltage: 230V
Timer: Yes
Remote: Yes
Wi-Fi Feature: Yes
This Daikin unit includes a fan setting below the "low" setting. At the "Super Low" speed setting, it has a minimum noise level of 23dB . It's significantly lower than the Bosch but if we compared them at the same speed/airflow setting, the Daikin would emit 30dB against 28 dB for the Bosch.
It contains all the necessary parts for installation, including 15ft. refrigerant lines and power cables. Providing you're handy with a drill, it shouldn't be too difficult to fit the units.
The unit's SEER rating is 17, which makes it decently energy efficient. At 9,000 BTU, it can cool rooms up to 400 sq. ft. While less powerful than the Bosch, it's still enough for most indoor spaces.
The remote controller has settings for quiet, eco, and powerful operation, and also includes a sleep timer. The indoor unit includes an air-purifying and deodorizing filter, and the condenser has hydrophilic coated fins. While not a massive benefit, it ensures condensation runs off efficiently, which improves their lifespan.
Some users state the included installation guide isn't easy to understand. If you've installed a mini split system before, it shouldn't be too much of an issue. But if you haven't, consider paying for professional installation. Alternatively, check out this video.
PROs
Includes an additional speed setting (Super Low) for reduced noise
Includes all parts needed for DIY installation.
Hydrophilic fins improve lifespan of outdoor unit.
CONs
Instructions are confusing.
SEER rating of 17 is among the lowest in this list.
3. MRCOOL 12,000 BTU Ductless Mini Split
Cooling Cap.: 12,000 BTU/hr
Heating Cap.: 12,000 BTU/hr
Energy Rating: 22.0 (SEER)
Heating Eff.: 10.0 (HSPF)
Noise Level: 37 dB min
Voltage: 120V
Timer: Yes
Remote: Yes
Wi-Fi Feature: Yes
This ductless mini split system from MRCOOL comes with smart features as standard. In short, it means it's Wi-Fi enabled and that you can control the unit using your home's voice assistant. While not a completely necessary feature, it makes it super easy to change the temperature.
It's got a SEER rating of 22 (which is pretty high) and is Energy Star certified. This translates to efficient cooling of rooms up to 500 sq. ft. and a nice bit of money saved when compared to less energy efficient models.
The kit has all the necessary installation parts included, such as mounting brackets and a line set. It runs on 120V, too, whereas the Bosch model above is 200V. More than anything, it means this MRCOOL model is about as DIY as you can hope to get with this kind of unit.
Unfortunately, there's no decibel rating included, but users state it's so quiet that they had to check it was actually running! When we're lacking a decibel rating, this is about the best feedback we can hope for. There are some good extra features built in, too, such as a low refrigerant warning.
Some users state the copper pipes in the line set are a bit cheap and are very long. But this isn't a big issue, as you can just buy a separate, better quality line set to use instead.
PROs
Cools quickly and efficiently.
Includes heater function.
Wi-Fi connectivity and voice activation.
CONs
Line set kit isn't great quality.
4. Senville AURA Series 24,000 BTU Mini Split Air Conditioner
Cooling Cap.: 24,000 BTU/hr
Heating Cap.: 24,000 BTU/hr
Energy Rating: 20.5 (SEER)
Heating Eff.: 9.6 (HSPF)
Noise Level: 36.5 dB min
Voltage: 230V
Timer: Yes
Remote: Yes
Wi-Fi Feature: Yes
This AURA series Senville mini split is both powerful and quiet. The indoor noise level ranges from 36.5dB to 47.5dB, and the outdoor unit sits at 60dB. It's therefore slightly quieter than the Daikin, despite being twice as powerful.
The AURA series is more energy-efficient than the LETO Series below. If you're looking for a more budget-friendly option for the same cooling capacity, check out the LETO Series reviewed below. The LETO series is slightly quieter and sacrifice some energy efficiency to drop the price down.
It states that it has an easy installation kit, but you'll still need professional installation. This is because it runs off 230V power, and setting up your home's breaker can be difficult (and dangerous).
The unit has a SEER rating of 20.5, which is pretty good. While not as efficient as the MRCOOL model, it's well above the required minimum standards. It works at ambient temperatures down to -22°F, making it suitable for pretty much all homes.
There are 3 fan settings and a built-in heater, so it works all year round. It has a timer and cleaning functions, all of which you control using the remote. It does include a built-in dehumidification function, although the product's datasheet doesn't specify the moisture removal rate.
One major point mentioned by a lot of reviewers is the unit's Wi-Fi connectivity. The app's interface appears cheap and only allows for basic controls. For instance, it's not compatible with Smart Home systems and most third-party thermostats are not compatible. If you want to integrate it into your smart home, consider the MRCOOL model above.
PROs
Low noise emissions.
Good SEER rating of 20.
Built-in heat pump and timer.
CONs
Cheap Wi-Fi app interface.
No integration with Smart Home systems.
5. Commercial Cool 18,000 BTU Ductless Mini Split
Cooling Cap.: 18,000 BTU/hr
Heating Cap.: 19,000 BTU/hr
Energy Rating: 17.0 (SEER)
Heating Eff.: 9.0 (HSPF)
Noise Level: 45 dB min
Voltage: 220V
Timer: Yes
Remote: Yes
Wi-Fi Feature: No
Commercial Cool's mini split AC has a minimum noise level of 45dB. While this is louder than others on this list, it's still quiet enough to not cause too much disruption. The outdoor part emits 52dB of noise, but this is pretty standard.
At 18,000 BTU, it's a nice middle ground between the Bosch unit and the more powerful Senville unit. It'll be suitable for rooms up to 1,000 sq. ft., and, luckily, the built-in heater works for rooms of the same size.
It has 3 fan settings and air vents that you can point in 4 directions. There's also a dehumidifier, which can remove up to 67 pints of water from the air in 24 hours. While not a necessary feature, it's certainly helpful for more humid environments.
The manufacturer claims that installation is easy. However, it runs off 220V power, so you might need an electrician to set up your home's breaker. That said, the unit itself is pretty simple to set up and has an installation kit included.
Perhaps the only downside is the unit's SEER rating. At 17, it's higher than the required minimum (which I explain below) but lower than some other units on this list. However, if that's the worst thing we can say about this mini split AC, we shouldn't complain.
PROs
18,000 BTU is a nice middle ground between other units on this list.
Includes a dehumidifier.
Relatively quiet operation.
CONs
SEER rating could be better.
6. Bosch Gen 2 Ultra-Quiet Multi-Room Mini Split AC
Heating & Cooling cap: 27,000 BTU/hr

2 x 9,000 BTU/hr
1 x 18,000 BTU/hr
Energy Rating: 22.0 (SEER)
Heating Eff.: 10.4 (HSPF)
Noise Level: 28 dB min
Voltage: 220V
Timer: Yes
Remote: Yes
Wi-Fi Feature: No
While the outdoor unit on this is the same as the Bosch above, I included this one because it has multiple indoor units. In fact, it has 3, meaning you can cool 3 rooms using the same condenser unit.
It comes with 2 x 9,000 BTU units and 1 x 18,000 BTU unit, giving you flexibility over the rooms you use them in. Of course, you could use both 9,000 BTU units in the same room or split them across 2 smaller rooms.
The noise levels are the same as the Bosch set above (ranging from 28dB to 39.5dB). The SEER rating is also the same – 22. As such, it's level with my top pick in terms of energy efficiency and noise rating.
It has 3 fan speeds, heating and cooling modes, a timer and a Follow Me function. In short, this means that the remote has a temperature sensor and functions as the thermostat.
With the difference of temperature within a room, the sensor on the remote allows you to identify where the AC needs to heat/cool more. You press the button and it sends a signal every 3 minutes to keep the temperature consistent. It's particularly useful on a multi-room setup for obvious reasons.
A downside of a multi-room system is the installation. While a single indoor unit isn't difficult to set up, installing 3 arguably triples the job. Anyone without a standard layout in their home might find it difficult to fit the units in the most appropriate locations.
PROs
Easy way to get multi-room heating and cooling.
Superb energy efficiency.
Quiet operation.
CONs
Harder to install than a single-room mini split.
7. Everwell 12,000 BTU Mini Split AC
Cooling Cap.: 12,000 BTU/hr
Energy Rating: 20.0 (SEER)
Heating Eff.: No Heater
Noise Level: 30 dB min
Voltage: 220V
Timer: Yes
Remote: Yes
Wi-Fi Feature: Yes
The Everwell mini split has noise emissions (30 dB) on par with the Bosch model and many reviewers praised how quiet this model is. It didn't make top pick because its SEER rating is 20, although this is still pretty good.
It has an Eco mode for efficient operation, and also includes a sleep timer. If you combine this with the unit's Wi-Fi connectivity, you have plenty of control over when you set the temperature, and for how long.
Much like the Daikin unit, this one also has coated fins. This time, it's gold, which prevents corrosion resulting from the humidity. Among other things, it means your unit should last longer. The self-cleaning mode helps prolong its lifespan, too.
This unit doesn't have a built-in heater, which might be an issue for some people. Of course, if you need a heater, there are plenty of other units to choose from on this list.
There isn't much else bad to say about this mini split unit. It comes with all the necessary parts for DIY installation but, due to the voltage, you'll likely need a professional to fit it.
PROs
Quiet operation.
Coated fins help improve lifespan.
Plenty of operation modes and Wi-Fi connectivity.
8. Senville LETO Series 24,000 Mini Split
Cooling Cap.: 24,000 BTU/hr
Heating Cap.: 24,000 BTU/hr
Energy Rating: 17.0 (SEER)
Heating Eff.: 9.5 (HSPF)
Noise Level: 34 dB min
Voltage: 220V
Timer: Yes
Remote: Yes
Wi-Fi Feature: Compatible but not included
This Senville unit is a cheaper option with less airflow (706 CFM vs. 794 CFM max airflow) than the Senvile AURA listed above. Along with a heater and AC, it also features a dehumidifier but no Wi-Fi kit.
It only has a 6dB increase for twice more cooling capacity than the 12k BTU Bosch. At 34dB, it's the quietest 24,000 BTU air conditioner on this list.
The heat pump is essentially an inverted AC. It's a useful function to have if you're ditching (or don't have) central HVAC, as it means you can both heat and cool a room as needed.
It's worth noting that its SEER rating is 17, which is lower than the other Senville model and among the lowest on this list. That said, it's still higher than the minimum standard, so you'll still make savings. It's just not as efficient as some other models.
This is a 220V unit and, while DIY installation is possible, you might want a professional to do the wiring parts. It comes with all the main components, which users claim are pretty high quality.
However, some users state the instructions aren't very clear. They say some steps appear to be missing, meaning you could do something wrong if you're unfamiliar with the process. Luckily, there's an installation video online, so I recommend watching that.
Unlike the Senville AURA, it doesn't include a Senville Wi-Fi dongle to make the device smart. You'll need to buy it separately. The Wi-Fi kit included in the AURA series can't connect to Smart Home assistants. Senville updated their separate Wi-Fi kit to correct this issue. So buying a separate dongle solves this problem.
PROs
Includes 4 different functions.
Quietest 24,000 BTU unit reviewed so far.
Powerful fan speeds.
CONs
SEER rating of 17.
Included instructions aren't very clear.
Wi-Fi kit is not included.
9. Daikin Multi-Zone Air Conditioning System
Cooling cap.: 18,000 BTU/hr
Heating cap.: 18,900 BTU/hr
Timer: Yes
Remote: Yes
Wi-Fi Feature: No
Much like the Bosch multi-room, I've included this Daikin set for those who want several indoor units. This one comes with one 18,000 BTU condenser and 2 indoor air handlers; each of the latter rated at 12,000 BTU.
Note that the 18,000 BTU condenser bottlenecks the system:
– at 18,000 BTU when cooling (9,000 BTU for each indoor air handler).
– at 18,900 BTU when heating (9,450 BTU for each handler)
Therefore, you won't be able to extract 24,000 BTU out of this setup in spite of the 2 x 12,000 BTU indoor units.
The device includes 4 fan speed settings: High / Medium / Low / Super Low. When run in Super Low setting, the indoor emission records 23dB. It means each 12,000 BTU unit is as loud as the 9,000 BTU Daikin unit listed above. At low speed, the noise emission reaches 29 dB.
It comes with basically all the same functionality: a remote controller, different fan modes, a sleep timer, and a heater.
At this price point, we can regret the absence of Wi-Fi connectivity. But it seems that the 2 major brands, Bosch and Daikin, don't focus on this feature for their products' lineup.
The SEER rating on this unit is 18.9. As such, it's a bit better than the 9,000 BTU Daikin, and is on par with some of the more efficient models I've featured here.
The main downside stated by users is that it's difficult to install. As I mentioned in the Bosch multi-room review, it's mainly because you're dealing with multiple indoor units. Of course, if you get a professional in, this isn't something you need to worry about!
PROs
Better SEER rating than the less powerful 9,000 BTU Daikin.
Includes 2 indoor units.
Super Low speed setting for reduced noise (23 dB)
CONs
The condenser caps each indoor unit at 9,000 BTU (cooling).
Difficult to install.
No Wi-Fi feature.
Other Features to Consider
While noise level is obviously important when picking the quietest mini split air conditioner, there are other things to consider relating to its overall performance. Here's what I believe are the most important factors when making your selection.
BTU
BTU stands for British Thermal Unit and is used to measure heating (or cooling) power. It's the amount of heat needed to raise the temperature of 1 pound of water by 1 degree Fahrenheit.
The same reasoning applies to AC units, just in reverse. The most important thing to know when picking mini split systems is that a higher BTU rating means it can cool a larger room. So, knowing the equivalence between BTU and room size is vital.
Most ductless systems will state both the BTU rating and room size it'll work in. Buying a slightly more powerful unit can mean more efficient (and quieter) cooling because it won't take as long for the unit to reach the desired temperature.
You can use this BTU calculator to determine what size unit you need for your room. Alternatively, here's a chart to give you a rough idea of BTU ratings and room sizes.
| Room Size (sq. ft.) | BTU rating |
| --- | --- |
| 150 | 5,000 |
| 250 | 6,000 |
| 300 | 7,000 |
| 350 | 8,000 |
| 400 | 9,000 |
| 450 | 10,000 |
| 550 | 12,000 |
| 700 | 14,000 |
| 1,000 | 18,000 |
| 1,400 | 23,000 |
| 1,900 | 28,000 |
| 2,700 | 36,000 |
Energy Efficiency
Considering how hard mini splits work, it's worth finding an energy-efficient model. For AC units, we use a measurement called SEER – Seasonal Energy Efficiency Ratio. A higher SEER rating means lower energy costs when compared to a similarly powerful unit.
It's calculated by comparing the cooling output to the electrical input during a standard cooling season. The important thing to know is that a higher SEER rating means a more efficient unit.
The Department of Energy has minimum SEER ratings for different parts of the country. In the north, it's 13 and in the south, it's 14. Almost all modern mini splits will conform to this minimum rating, and some will go as high as 23.
To be Energy Star certified, a mini split system only needs a SEER rating of 15.0. The BTU rating doesn't impact the system's SEER rating, as it's a ratio of the unit's cooling output and energy input.
Voltage
Some smaller mini splits (9,000-12,000BTU) can run off 110V, but most need 220V. Of course, this is double the standard American mains voltage, meaning the unit must be hardwired into the breaker panel. By extension, you must ensure it's capable of handling the higher voltage.
Units also require particular wire gauges depending on the current they need. You'll also need a breaker with the correct amperage, and knowing your way around these factors can be challenging.
This is where hiring a professional becomes the logical choice. While drilling holes in a wall is a standard DIY job, you shouldn't handle wiring unless you're trained in it. Even a minor mistake can cause massive problems.
Installation Kit
Most mini splits will come with an installation kit, which typically consists of wall brackets, screws, and other parts needed to fit the indoor and outdoor units.
While this is useful, it's not entirely necessary. Either you can buy a separate kit online or you can ask your installer to provide one. Most HVAC engineers will have a recommended brand or product that they can provide during installation.
One thing to look out for is the unit's line set. A line set is a flexible copper tube that's used to connect the two units. Included kits will have a set length of tube that manufacturers consider appropriate.
You can buy rolls of line set, although they are expensive. Also, bear in mind that a condenser will have enough refrigerant for the included line set. So, if you increase its length, you'll need to add more refrigerant to the unit.
Warranty
All mini splits will come with some kind of warranty, even if it's just to repair defects. Ideally, look for a warranty of at least 5 years, although some leading brands will offer 10 years or more.
A warranty is often a good indicator of a manufacturer's confidence in their appliance. Longer warranties imply a better product, as the company is confident it'll last for longer. Of course, you can always buy extended or third-party warranties if you're not happy with what the company offers.
Some larger brands might include specifications in their warranties, such as only using labeled parts. While this can seem helpful, you might find it limits who'll repair your AC. As such, sometimes it can be better to take a risk on a non-branded AC in the hopes that you can use third-party parts.
Are Mini Split ACs the Quietest Cooling Option?
Many believe mini splits to be the quietest form of cooling currently available. The reason for this is that, unlike every other type, you're as disconnected from the condenser as you can be.
On portable and window AC units, for example, the condenser is built into the main unit. With central HVAC systems, the long ducting acts as an echo chamber for sounds the condenser creates.
As stated at the beginning of this article, the condenser is the main source of noise in any AC unit. Mini splits use thin copper tubing to transport the refrigerant, meaning they carry much less noise than the other options.
Which Type of AC is Right for Me?
For many, noise emissions are an important factor when buying an air conditioner. But it's not the only thing you must consider. For example, would a portable AC or window unit be more appropriate for your needs?
I've written an article on quiet window ACs, so you can check that out for more information on that specific type.
If you just want some quick facts, here's a handy comparison table.
| Type of AC | Number of Rooms | Noise Emissions | Energy Efficiency (ranked) | Ease of Installation | Price |
| --- | --- | --- | --- | --- | --- |
| Portable | 1 | Moderate | 4th | N/A | Low |
| Window | 1 | Low-moderate | 3rd | Easy | Low |
| Mini Split | Up to 5 | Lowest | 2nd | Easy-moderate | Medium |
| Central HVAC | Unlimited | Moderate-high | 1st | Difficult | Very high |
The general consensus is that ducted HVAC systems are the most efficient, providing the ducts are suitably insulated. That said, a ductless air conditioning system will generally mean lower costs, as you're only cooling a few rooms.
For portable and window air conditioners, their design limits their energy efficiency. While you'll find very efficient models, compacting an entire AC unit into a single piece means smaller condensers and fans. It means that they won't circulate air as efficiently as a more powerful mini split.
Finally, there's the cost. Traditional HVAC systems cost thousands to install if you don't already have it, meaning and savings on operation will take a while to show. Mini splits, however, are one of the more expensive options but are much easier to install. As such, you should see savings much sooner.
Overall, a ductless mini split is a good balance between central HVAC and portable units. If you only need to cool a few rooms in your house, it's definitely the way forward.
Final Thoughts
I hope you now have a much clearer picture of what to look for in a quiet mini split air conditioner.
My top pick is the Bosch Ultra-Quiet 12,000 BTU Mini Split Air Conditioner. It has the lowest noise emissions, one of the highest SEER ratings, and ticks plenty of other boxes, too.
Let me know in the comments below whether you have a go-to company or product I haven't featured here. I'm always on the lookout for great (and quiet) air conditioners.