Finding the best quietest air conditioner is about more than just noise level. While this is important, it must also be functional, easy to use, and powerful enough to properly cool your room.
I consider all these factors in this article on my top picks for the best quiet window air conditioners. Before my list of top picks, I'll go through the main factors influencing noise emission and what kind of noise level to expect.
How Do Window ACs Work?
Before defining which parts of a window unit makes noise, it's important to highlight how it works and where the components are located.
Window air conditioners work like most cooling appliances (ex: refrigerators, mini split air conditioners, etc.). It consists of circulating a refrigerant fluid that takes heat from the indoor air and drives it outdoors. The refrigerant runs through 4 key components:
A compressor (1).
An evaporator (3). That's where the indoor air cools down by transferring its heat to the refrigerant lines.
A condenser (6). It's where the outdoor air takes away the heat from indoors.
An expansion valve (4).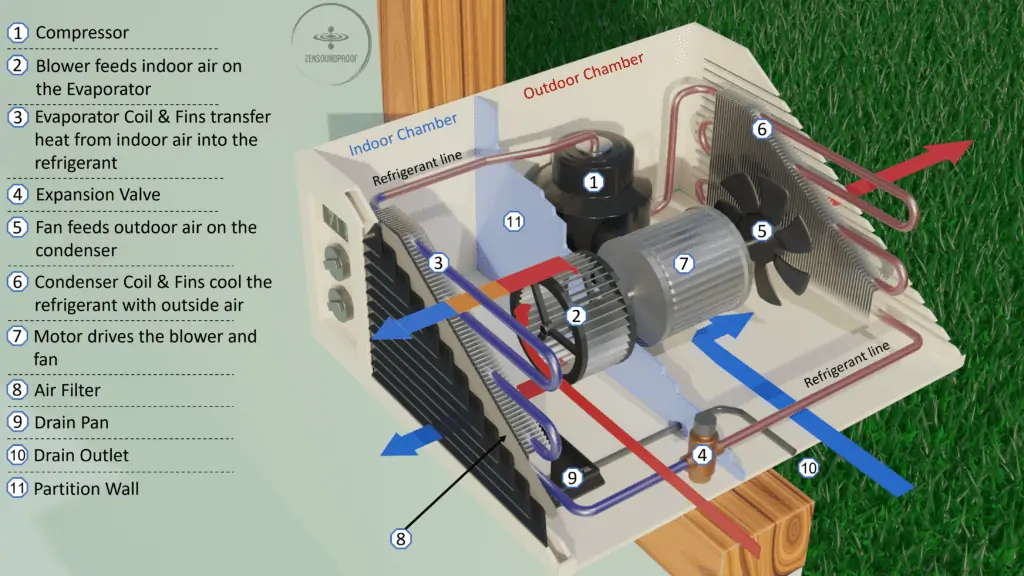 Within a window AC, you'll find a partition wall (11) that separates the whole unit into 2 distinct chambers.
The outdoor chamber will contain all noisy elements like the compressor, the motor, and the fan.
On the other hand, the indoor chamber only has the blower that outputs some noise.
The Noise Sources in a Window AC Unit
As with any other electronic device with moving parts, some common factors influence an AC unit's overall noise emissions. I'll explain some noise factors that aren't the typical things you look for when buying a window air conditioner.
Compressor Technology
Traditional air conditioner compressors are non-inverter. It means the motor driving the compressor either runs at full speed or is off.
In contrast, an inverter window air conditioner can regulate the compressor's speed when adjusting the room's temperature. Once it reaches the desired temperature, it slows down rather than turns off.
Importantly, this reduces noise levels because a slower motor is quieter than a faster one. It helps save money, too, as it's a more efficient and accurate way of powering the air conditioner.
Fan Speed
The fan blowing on the condenser coil is one other major source of noise. Some window air conditioners come with fans with different speed settings. The role of the fan is to extract heat from the refrigerant to the outside air.
The motor driving the fan is also source of noise and correlates directly with the fan speed. It's located in the same partition as the compressor (outdoor chamber). Simply keep in mind that the lower the fan speed, the lower the RPM of the motor, the lower the noise.
Vibrations
Rotating components such as the compressor, fan, or blower lead to vibrations. Those can transfer from the housing of the window air conditioner to the windows frame/sill. This kind of noise is called structure-borne noise. You can prevent this noise type by decoupling the AC's housing from the window by adding a soft layer between.
Insulation
AC units have insulation because it's essential for the refrigerant's cycle. This is true regardless of whether it's a window unit or a building-wide central AC system.
Luckily, thermal insulation usually provides decent acoustic insulation, too.
Plenty of window air conditioners use polystyrene foam as insulation, which can help muffle motor noises and prevent sound cavity resonance.
Again, insulation isn't something commonly advertised when buying an AC unit. Just know that higher-end or more energy-efficient models typically have better insulation than cheaper models. As such, they often do a better job of insulating sound.
How Quiet Can a Window Air Conditioner Be?
The acceptable noise level for a quiet window air conditioner is anything below 52dB. Levels between 50dB and 55dB are about average for a window air conditioner, but are still on the quieter side.
Anything below 45dB is a truly quiet unit. The quietest window air conditioner on this list is 42dB, but you can find some higher-end (therefore very expensive) models that go as low as 30dB.
Considering 42dB is around the noise level you'd find in a library, it's probably quiet enough for most people's needs.
Top Picks for Quietest Window Air Conditioner
Where possible, my picks for the best quiet window air conditioner include a decibel rating. After all, it's the easiest way to know whether a unit is actually quiet. Where that's not possible, we can rely on user ratings for practical guidance.
1. Top Pick: Midea 12,000 BTU U-Shaped Quiet Window Air Conditioner
Capacity: 12,000 BTU/hr
Energy Rating: 15.0 (CEER)
Dehumidifier: Yes (not specified)
Fan Speed: Variable
Timer: Yes
Remote: Smartphone App
Noise Level: 42 dB min
Window Size:
Width between 22″- 36″
Min height 13.75″
The Midea 12,000 BTU window air conditioner is a very quiet and functional model. At 42dB, it's one of the quietest models on the market but is also pretty energy efficient. With a CEER rating of 15, it's been awarded the Energy Star Most Efficient Certification 2022 (The higher the CEER, the higher the energy efficiency). What more do you need to know about its energy efficiency?
One great feature about the Midea is that you can actually close your window while it's installed. This might not sound like much, but it doesn't have an installation plate like other AC units. Instead, it's U-shaped in the middle, allowing the window to function normally. Each unit comes with foam to seal gaps around the AC. It requires some cutting, but it's definitely a positive for noise and thermal insulation between indoors and outdoors.
But this also helps with noise levels. Sure, a window sash isn't the best sound blocker, but it's more effective than a plastic sheet because it's heavier and thus is better at sound blocking. Closing your window means you can block street noise from your room, and even some of the outdoor unit's noise!
The 12,000 BTU model can cool rooms up to 550 sq. ft. and is strong enough for the breeze to be felt 20ft. away. It's Wi-Fi enabled and you control it using a smartphone app. Rather than speed settings, it's got variable controls, giving you much greater flexibility. The app (and voice controls) also provides a timer feature.
Some users mention that the installation process is complicated. You must drill holes in your window frame to install the brackets. You'll also need to cut the seals to fit in between the AC and window sash. While this isn't a massive issue, it might limit renters from buying this model because it requires some DIY work.
PROs
Very energy efficient.
One of the quietest window ACs.
Wi-Fi functionality.
CONs
Installation is more complicated than traditione window AC.
2. Top Budget Pick: Haier SEAQ406T 6,000 BTU Quiet Window Air Conditioner
Capacity: 6,000 BTU/hr
Energy Rating: 12.1 (CEER)
Dehumidifier: Yes (1.5 Pints/hr)
Fan Speed: 3
Timer: Yes
Remote: Yes
Noise Level: 44 dB min
Window Size:
Width between 26.07″- 39.25″
Min height 13.38″
Granted, the Haier SEAQ406T isn't the cheapest window air conditioner on the market, but at 44dB, it strikes the right balance between noise levels and price. Less expensive models will typically be louder, and at least with a brand like Haier, you can trust the build quality.
It has 4 functions, including dehumidifier and fan modes, and a 24-hour timer. You control it all using either the remote or the LED panel. Although it's a minor feature, you can turn off the backlight on the LED panel, which is useful for when you want to go to sleep.
This window AC has a CEER rating of 12.1, which, while not the most efficient, is still high enough to earn it an Energy Star rating. The unit also has 4-way air direction, allowing you to direct the breeze wherever you want it.
At 6,000 BTU, it's suitable for rooms up to 250 sq. ft. Again, this isn't top of the line, but it should be enough for bedrooms or living rooms in small apartments. Haier does window ACs with higher BTUs, but they're obviously more expensive.
Some users state that its cooling capacity isn't as fast as some cheaper models. But, as I said above, you're paying a bit more for a quieter model. So, if you want faster cooling and aren't as fussed about noise, consider a different model. The GE AHEE06AC, for example, is less expensive but has a noise rating of 55dB.
PROs
Quiet AC at 44dB.
Removable dust filter.
Fairly easy to install.
CONs
Doesn't cool a room as quickly as some cheaper models.
3. Top Pick for Functionality: Windmill 8,300 BTU Air Conditioner
Capacity: 8,300 BTU/hr
Energy Rating: 11.9 (CEER)
Dehumidifier: No
Fan speed: 3
Timer: Yes (via the app)
Remote: Yes
Noise Level: 50 dB
Window Size:
Width between 23″- 37″
Min height 14″
The Windmill 8,300 BTU window air conditioner wins on functionality because it has numerous features that make it super easy to use. Perhaps my favorite is that it's Wi-Fi enabled, meaning you can control it using an app or your home's voice assistant.
While not Energy Star rated, it's not far off. To receive Energy Star Certification, an air conditioner of 8,000 BTU must have an Energy Efficient Ratio (EER) of 12 or above. The higher the EER, the more energy efficient the AC is. The Windmill's EER is 11.9, which is almost as if it was Energy Star rated.
The company does other things to offset this, such as using R32 refrigerant, which is more environmentally friendly than the more common 410a. It also has a dimming LED display so it won't keep you up at night.
It cools rooms up to 350 sq. ft., making it ideal for bedrooms, home offices, and apartment living spaces. The included side panels mean it fits windows up to 37", which is wider than most window AC units.
Unfortunately, it doesn't come with a decibel rating, but users state it's quiet and well insulated to help keep noise levels down. It has 3 cool and 3 speed settings, and the output fans blow air up for more efficient room cooling.
Users state that one of its biggest downsides is the lack of a dehumidifier option. It won't be a problem for everyone, but if you live somewhere humid, you'll already know the difference it can make to a hot room. If you need a dehumidifier, consider a different unit.
PROs
Sleek, modern design.
Users state it's very quiet.
App available to control remotely via smartphone.
Customized On/Off schedule via the app.
Compatible with Voice Assistant.
CONs
Doesn't have a dehumidifier option.
4. GE PHC08LY 8,100 BTU Ultra Quiet Window Air Conditioner
The GE PHC08LY can go as low as 43dB in quiet mode. While it's close to being the quietest window AC on this list, it didn't make my top pick for a few reasons. First, the Midea has a higher BTU and isn't much louder. Second, the Midea allows you to close your window completely.
That said, the GE is cheaper (because it's a lower BTU model). A 12,000 BTU GE does exist. In quiet mode, it operates at an impressive 40 dB, but in exchange for a significantly higher price tag. And it's currently not in stock.
The 8,100 BTU model is suitable for rooms up to 350sq. ft, so should be fine for most bedrooms.
In terms of functionality, it has 3 fan speeds and a dehumidifier. You can control it using a smartphone app, and it's also voice command enabled. The GE has a CEER rating of 11.4, meaning it is Energy Star certified. However, it's considerably lower than the Midea model.
Installation is fairly easy, and, for once, instructions are clear on how to do it. You can set up the AC through Wi-Fi or just use the included remote, whichever is easier.
Some users state that the decibel rating is a bit misleading. The unit has a loud compressor, and it's only 43dB when the compressor isn't active. However, a quick fix is to remove the drain plug from the water chamber, as this is apparently a big contributor to the noise.
PROs
Operates very quietly.
Decent cooling for mid-sized rooms.
Smartphone app can be helpful.
CONs
Compressor is quite loud.
5. LG 8,000 BTU Window Air Conditioner
Capacity: 8,000 BTU/hr
Energy Rating: 12.0 (CEER)
Dehumidifier: Yes (2.2 Pints/hr)
Fan Speed: 3
Timer: Yes
Remote: Yes
Noise Level: 53 dB min
Window Size:
Width between 22″- 36″
Min height 13″
This LG window AC has a noise rating of 53dB. While this is the loudest so far on this list, it's still marginally quieter than a standard window air conditioner. Plus, with a company like LG, you know you're getting a certain standard of build quality.
It has a CEER rating of 12, which is high enough for it to be Energy Star certified. It can cool rooms up to 350 sq. ft., but running it in smaller rooms will obviously help keep the noise levels down because you can operate it at lower speeds.
On that note, it has 3 fan speeds along with an auto function. This adjusts the speed based on the temperature. So, while this isn't the most energy-efficient, it helps keep your room cool throughout the day.
The unit has a removable air filter, which is washable. Also, it has a check filter light, so you don't even have to remember when it needs cleaning. This is one of those minor features that just improves quality of life with little impact on the AC's actual functionality.
A minor issue with this unit is that it's held in place with brackets. This means you need an outer windowsill so you can attach the brackets. It's not a massive deal if your windows have outer sills, but you won't be able to install it if they don't.
PROs
Variable fan speed is useful.
Fairly efficient window AC.
Washable air filter.
CONs
Difficult to assemble.
Not compatible with windows that don't have an outer sill.
6. Paris Rhône 8,000 BTU Window-Mounted AC
Capacity: 8,000 BTU/hr
Energy Rating: 12.0 (CEER)
Dehumidifier: Yes (2.43 Pints/hr)
Fan Speed: 4
Timer: Yes
Remote: Yes
Noise Level: 43 dB min
Window Size:
Width between 24″- 40″
Min height 18.9″
The Paris-Rhone window AC is yet another 8,000 BTU unit that's in the 40dB range. At 43dB min, it beats the LG's minimum noise emission by 10dB. At 8,000 BTU, you have other options that are at 43 dB, like the GE above and the Tosot below. However, this Paris-Rhone has better user reviews regarding noise than its competitor.
It uses 2 separate motors for its fan and blower, which means they can run asynchronously (i.e., at different speeds). This contributes to its comparatively quieter operation. Normally the fan and blower will share the same motor and thus the same shaft.
Another useful point is that it fits larger windows than most other ACs. It'll fit into windows up to 40" wide, which is 4" more than the Midea above. Although this is outside the range of 'normal' sized windows, it helps to have one that fits if needed.
In terms of functions, the unit has 4 fan speeds and a dehumidifier. Its energy rating is 12, so, while not as efficient as other models, it's enough to get it an Energy Star certification. However, in 2022, this is the minimum standard you really expect.
The major downside is the seals that come in the package. They are easily twisted or deformed, so you might struggle to fill some air gaps. The Paris-Rhone simply doesn't hold up the comparison with the Midea, as far as window sealing goes. And we all know how important window sealing is for the performance and efficiency of a window AC.
Cooling and noise-wise, the Paris-Rhone offers a competitive package, but because it's more expensive than the other 8,000 BTU units on this list, it is a bit of a disappointment.
PROs
Easy to install.
Dehumidifier works great.
Fits in larger windows.
Quiet for an 8,000 BTU AC.
CONs
Seals quality is disappointing .
Pricey for an 8,000 BTU unit.
7. Keystone 8,000 BTU Window Mounted AC
Capacity: 8,000 BTU/hr
Energy Rating: 12.0 (CEER)
Dehumidifier: Yes (1.9 Pints/hr)
Fan Speed: 3
Timer: Yes
Remote: Yes
Noise Level: 52 dB min
Window Size:
Width between 18.5″- 48″
Min height 12.5″
The Keystone window air conditioner has a noise level of 52dB on its lowest setting. This isn't as quiet as some other models on this list, but it's not far off. 52dB still falls within the sound bracket of library noise, so it shouldn't be too distracting.
This model is 8,000 BTU, which is suitable for rooms up to 350 sq. ft. However, it comes in a range of 5,000 to 18,000 BTU, so you should be able to find one that's appropriate for your room size.
It comes with a remote control, which has a 'Follow Me' function. In short, it's got a thermostat built in, so it can always measure the temperature where you are. This prevents the unit from thinking the room is cool enough if you're sat away from its air stream.
Like the Paris-Rhone, it has an CEER rating of 12, so is Energy Star Certified. But its dehumidifier only removes 1.9 pints of moisture an hour, although it's a smaller AC unit. Either way, this is still a good feature, particularly in humid areas.
Some users state this unit doesn't have particularly powerful fan speeds. However, it's decent for gentle cooling if that's what you prefer. If not, choose a lower BTU of the Midea unit, as that specifically has a powerful air blower.
PROs
Follow Me function is useful.
Comes in a wide range of BTUs.
Fairly quiet operation.
CONs
Doesn't have a powerful blower.
8. Tosot Tranquility 8,000 BTU Window Air Conditioner
Capacity: 8,000 BTU/hr
Energy Rating: 12.0 (CEER)
Dehumidifier: Yes (2.43 Pints/hr)
Fan Speed: 3
Timer: Yes
Remote: Yes
Noise Level: 42 dB min
Window Size:
Width between 26″- 41″
Min height 19″
The TOSOT Tranquility is a top contender for the quietest window air conditioner. At 42dB, it rivals the Midea in terms of noise output, but it loses out on the top spot due to its lower CEER rating. That said, it still has an Energy Star rating, so you don't have to worry about it being inefficient.
Unlike other window air conditioners, it has a pretty strong air blower that can be felt up to 20ft. away. This is another comparable feature with the Midea and stands in contrast to the Keystone.
This unit has a dehumidifier that can extract 2.43 pints of moisture per hour. There's also a removable dust filter, 3 functions, and smart temperature control. Like the Keystone unit above, it has a Follow Me function on the remote, so it knows exactly what the temperature is where you are.
It's pretty easy to install – the company claims you can do it within 15 minutes of opening the box. This claim is backed up by users, many of whom claim it essentially slots into the window and gets going.
The only real negative mentioned by users is that the unit sometimes makes a dripping sound. This is simply the condenser doing its job and is nothing to worry about. It's not the most annoying sound in the world, but if you think it'll bother you, consider another model.
PROs
Low noise operation of 42dB.
Dehumidifier is fairly efficient.
Easy to install.
CONs
Can sometimes make a dripping sound.
9. LG 9,500 BTU Dual Inverter Smart Window Air Conditioner
Capacity: 9,500 BTU/hr
Energy Rating: 13.8 (CEER)
Dehumidifier: Yes (2.9 Pints/hr)
Fan Speed: 4
Timer: Yes
Remote: Yes & Smartphone app
Noise Level: 44 dB min
Window Size:
Width between 20.5″- 36″
Min height 13.5″
This LG window AC has a dual inverter motor. Among other things, it means it can keep the noise levels down as low as 44dB. It's also 15% more efficient than the requirements for Energy Star certification at this BTU rating, which will do your wallet a favor.
The above numbers are confirmed on the Energy Star website: This unit consumes 26.6% less than the US Federal Standard, and 16.6% less than the Energy Star requirements.
It's another Wi-Fi enabled window air conditioner, and is also compatible with voice assistants. While these aren't super necessary features, they do mean you can get your room nice and cool before you need to use it.
The unit has the standard 3 fan speeds but also comes with auto cool. As mentioned with other models above, this varies the fan speed and temperature based on the room's temperature. Again, it's not the most efficient setting, but it does give you plenty of flexibility over the AC's functionality.
It's fairly easy to install and comes with all the features you'd expect from a company like LG. For example, there's a washable filter, 24-hour timer, and sleep mode. Overall, this is one of the better window ACs you could buy, providing you're willing to spend a bit more money.
That said, one downside is that the sleep mode isn't great. First, it can only be programmed for 7 hours, which isn't that long. Second, it raises the temperature by several degrees within the first hour, so you might find yourself waking up because it's too warm. The fix for this would be to not use the sleep mode, which is a shame.
PROs
Low noise (44dB) for high cooling capacity.
Very energy efficient window air conditioner.
Wi-Fi functionality.
Plenty of programmable features.
Worth the high-end price.
CONs
Sleep mode isn't very useful.
10. Frigidaire 8,000 BTU Window Air Conditioner
Capacity:
8,000 BTU/hr (AC)
3,500 BTU/hr (Heater)
Energy Rating: 9.8 (CEER)
Dehumidifier: Yes (1.7 Pints/hr)
Fan Speed: 3
Timer: Yes
Remote: Yes
Noise Level: 52 dB min
Window Size:
Width between 26.88″- 36″
Min height 16.5″
Although this Frigidaire window AC has an operating level of 52dB, it might be worth picking over other models on this list. It's the only one featured to have a heater function, meaning you can use it all year round.
There's also an eco function and variable fan speeds, meaning you've got plenty of control over temperature and energy usage. However, this model doesn't have an exceptional CEER rating and, by extension, isn't Energy Star certified. So, if you want a heater, it's a bit of a tradeoff.
That said, you can program a timer, and it has sleep mode as well. As such, you've got plenty of control over when it turns on and off, even if you don't have the guarantee of it being an energy-efficient model.
It fits most windows and is pretty easy to install. Unlike other units, it has a slide out chassis, which simply means you don't need to install the whole AC unit as a single piece. You install the outdoor unit first and then slot the indoor unit in. Considering AC units can be heavy, this makes it easier to do on your own.
The unit uses a heat pump for its heat function. While it does have a resistance heater, too, the heat pump can take a while to get going. However, if you're using it as a supplemental heater (all it's meant for) then it should be fine.
PROs
Built-in heater.
Easy to install.
Programmable features.
CONs
CEER rating is pretty average.
What Features Matter When Picking Quiet Air Conditioners
It's important to thoroughly assess a window AC unit's suitability for your room before buying it. To help you out, here are what I consider to be the most important factors.
Noise Level
I've already mentioned what's an acceptable noise level for a window air conditioner. Ideally, a unit marketed as quiet will state a decibel level, as this is the easiest way to know if it's actually quiet.
Be wary of any that don't state it. I've included some that don't have decibel levels, but they have reviews stating they're quiet. If you can't find a decibel rating, user reviews should be your next stop.
BTU
BTU stands for British Thermal Unit. It's a measurement used to state how much heat is needed to raise the temperature of a pound of water by 1 degree Fahrenheit over 1 hour.
You can check out this video for a brief description. The video shows how BTU goes from a theoretical concept and translates into heating power for our heating/cooling appliances.
In short, an AC unit's BTU rating states how powerful it is and, by extension, what size rooms it can cool. You measure the room's square footage and use this to work out the minimum BTU rating for your unit.
Use this calculator to input the values to find out a suitable BTU rating. Bear in mind that the British Thermal Units' rating on an AC unit is the maximum room size it can cool.
For peak efficiency, I recommend going slightly higher than the suggested BTU for your room size. Doing so means it'll cool the room quickly but will still work as a dehumidifier or cause too much wear to its motor. Conversely, an undersized window air conditioner will run too hard and so won't cool a room effectively.
Here's an example. The Windmill 8,300 BTU unit above states its maximum room size is 350 sq. ft. I'd use it in a room that's a maximum of 300 sq. ft. but I'd probably even use it in a 250-sq. ft. room.
Window Size
A window air conditioner will have unit dimensions and window dimensions. You'll obviously want it to fit in your window; most come with attachable fins for larger windows.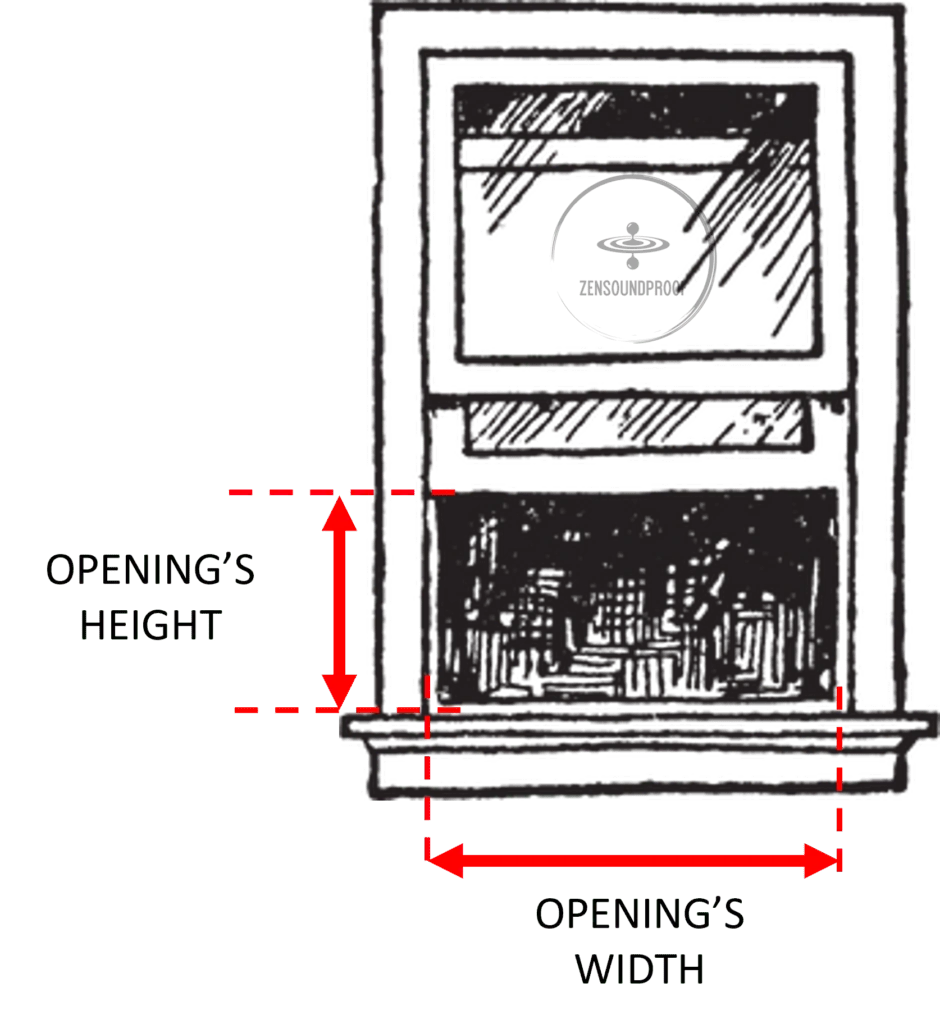 As a general rule, the smallest windows they'll fit are 21". The standard sash window width in the USA is 24". So, it makes sense that most window air conditioners will fit a standard window.
If your windows are considerably bigger, your options might be more limited. The largest unit on this list fits windows up to 41", which is pretty big. If you're having problems finding a suitable unit, you could probably DIY some extra fins.
Make sure you measure your windows before you start searching. Product listings should tell you a minimum and maximum window size for the unit, so check if your window is within these measurements.
Speed and Cooling Settings
As with all air circulation devices, it helps to have different speed settings. Not only does it give you flexibility over output level, it also means you can run it on a lower (and quieter) setting if you pick a more powerful unit.
Most window AC units will have at least 2 settings: high and low. Some will have 3 and maybe even an eco or sleep setting. However, if quiet operation is your main buying consideration, extra modes aren't as necessary on a silent window air conditioner.
The main benefit of an eco setting is that it adds another level of efficiency on top of the inverter motor. It'll help with noise levels, but more importantly with running costs.
Sleep mode is less common and is designed to keep you comfortable at night. It gradually increases the room temperature by small amounts, so you don't feel too cold. Again, it's not super necessary but can be a useful addition.
Energy Efficiency
One of the main selling points of window air conditioners is their energy efficiency when compared to central AC. So, it helps to know what to look for when making your pick.
The obvious rating is Energy Star certification. For an AC unit to receive this, it needs a CEER rating of at least 12 (for a capacity between 8,000 BTU and 13,999 BTU).
CEER stands for Combined Energy Efficiency Ratio. All you need to know is that a higher CEER rating means a more efficient unit. Greater energy efficiency means cheaper running costs, particularly if your AC unit has an energy saver mode.
Of course, units with higher BTU ratings will always cost more than units with lower BTU ratings. It's more useful to compare 2 units of the same BTU rating if you want predicted usage costs.
For example, a 14,000 BTU AC with a CEER rating of 14.7 costs around $68 a year to run. The CEER rating is directly inversely proportional to the annual cost. Therefore, a similar model with a CEER rating of 9 costs around $111 a year. A minimum difference of $43 a year is quite a lot in the long run.
Air Filter
An air filter should be a no-brainer when picking any air circulation device that draws air from outside. While it might not matter as much in a rural location, would you really want city air being drawn into your apartment?
It's much like the difference between drinking normal tap water and filtered water. Sure, both are (probably) fine, but filtered water is often nicer.
A standard dust filter in a window air conditioner will trap large airborne particles. You can find filters that trap up to 75% of the smallest airborne particles, a scale measured by the MERV rating.
You can also find HEPA filters for AC units, which are better for people with allergies.
Whatever filter you have, ensure you clean or change it regularly. Higher-end models have a reminder function. Either way, you should remember to change or clean it after around 250 hours of use as a maximum.
Budget
Budget is subjective, so there's not loads of advice I can give. That said, I generally wouldn't drop below $200 unless you really have to.
The budget-friendly model I've picked is less than this, but it's a good choice compared to similarly-priced units. That said, it's lacking major functionality compared to units that are around $100 more expensive.
If you're going to be using your quiet air conditioner a lot, you can easily justify splashing out a bit more on a good quality unit.
For example, you could spend $400 on a good unit and have it last 5 years, during which time you might buy 3 cheap units at $150, all of which break.
Plus, higher-end models usually have more energy efficiency features, helping you save more money in the long run. Going back to the above example, a high quality build could cost 4400$ at purchase but save you $50 per year on your electricity bill. This results in $250 savings after 5 years.
Extra Features
Everything I've mentioned so far could be considered an essential feature for a window air conditioning unit. Obviously, it depends on your budget and definition of essential, but the following are beneficial (but unnecessary) features for a window air conditioner.
Remote Control
A remote control isn't strictly necessary for most people, but is a big help. Controlling settings from your bed or couch is just more useful. Luckily, most AC units come with a remote control, so it shouldn't be difficult to find one.
Wi-Fi Connectivity
Now we're talking really extra. Wi-Fi connectivity means you can control your air conditioner either through a smartphone app or voice assistant. So, if you lose the remote, at least you've got a backup option.
The only time this really shows its worth is when you want to cool a room before using it, such as when you're traveling home from work.
Outlet Pipe
All window air conditioners will have somewhere to let out or collect water if they have a dehumidifier function. Drip trays are fine if you don't live somewhere very humid, but can fill up quickly otherwise.
So, if you live somewhere humid, consider a unit with an outlet hose. You can then position these over a bucket or houseplant, or stick them out the window.
When to Consider a Quiet Window Air Conditioner
Sometimes, a quiet window air conditioner can be a more sensible option than the alternatives.
Benefits Over Central Air Conditioner
Most properties come with central air conditioning, which is useful for cooling down multiple rooms.. But, doing so can cost a bomb depending on the size of your home and how long you run it for.
If you just want to cool a single room while you're in it, such as a bedroom at night or a home office during the day, a window AC unit is a more cost-effective option.
The upfront cost is lower, running costs are lower, and they're more energy-efficient. Of course, if you need to cool more than 5 rooms at the same time, central air conditioning becomes the more cost-effective option. If you'd like to learn more about how a central HVAC works and the quietest models, check out my separate article here.
Benefits Over Mini-Split Air Conditioner
A mini-split AC unit is essentially central air conditioning but smaller. It's a ductless system, making it much easier to install than a central HVAC. Like a window air conditioner, it's designed to cool individual rooms but a mini-split will always be quieter because the compressor sits outdoor.
A split system can be connected to several rooms while still giving you control over their individual temperatures.
The benefit of a window AC unit, along with cost, is easier installation. A mini-split still requires a qualified HVAC technician to install it, which can bring the price up massively.
But, if you need something more powerful than a window unit and don't want to install ductwork, a mini-split system is a good compromise.
Benefits Over a Window Fan
I discussed window fans in a previous article. They're cheaper than a window AC unit, both the upfront cost and running cost. Installation is much the same, though.
The benefit of a window air conditioner should be obvious: cool air. A window fan simply circulates air into the room, while AC cools it down. Plenty of window AC units have fan functions if you just want air, so you get the best of both worlds by buying one of these.
When Wouldn't Quiet Window Air Conditioners Be Suitable?
Overall, window air conditioners are flexible and useful cooling units. The main disadvantage is that they often lack the same cooling power as a central or mini-split system.
A window air conditioner wouldn't be suitable if you have multiple rooms that need cooling at once. For example, the cost of installing and running 5 window units ends up about the same as a central system. So, if you have a large home, central air is the way forward.
Similarly, if you own your apartment or condo, a mini-split is often a better option. Renters are limited by installation, and many will be limited by the cost, too.
However, mini-splits are typically more efficient and more powerful than window units, making them a good choice if you have the money.
Should I Consider a Portable AC Over a Window AC?
If you're after a convenient alternative to central AC, your main choices will probably be window and portable air conditioners. But which is better?
Benefits of Portable Air Conditioners
The biggest advantage of a portable air conditioner is in its name: it's portable. They can be mounted on wheels or static, but are designed to move between rooms as needed. As such, they're a good option if you want to cool different rooms at different times.
Portable air conditioners are also easier to install, which is saying something. You just need to clip the exhaust to a window and you're ready to go. Window air conditioners need installing, which can be a pain.
Finally, portable AC units win on price, being comparatively cheaper for like-for-like BTUs than window air conditioners. However, one article found that you need a more powerful portable air conditioner to cover the same area as a window air conditioner. You might end up spending more on a higher BTU model as a result.
Drawbacks of Portable Air Conditioners
You might be asking the all-important question: are portable air conditioners quieter? Yes, but we return to the power issue mentioned above. A portable model can be less efficient, meaning you need a more powerful unit for the same size room.
And, as we've concluded, more power typically means more noise. So, you might not be gaining anything by opting for a portable air conditioner over a window unit.
Then, the biggest drawback for most people is the required floor space. Sure, a small AC unit might not take up loads of floor space, but a window unit takes up none. It can make all the difference in small rooms, which is where a window AC unit really comes into its own.
When to Choose a Portable Air Conditioner
There are 2 main situations in which a portable air conditioner is the favorable option. First is if you need to cool different rooms in your home, making portability a benefit.
For example, you want to cool your living room in the day and your bedroom at night. A portable unit would make much more sense here.
Second is if you rent your home and your landlord doesn't want you installing a window unit. A portable AC just sits on the floor and requires no installation, unlike a window AC unit.
But, if neither of these is a concern, a window air conditioner is generally the better choice.
How Can I Make My Window AC Quieter?
If buying a quiet window AC unit isn't an option, and if you're looking to improve the noise emission of your current unit, here are some brief solutions for making your window air conditioner quieter. For an in-depth guide, check out my go-to tips on how to quiet a noisy window air conditioner here.
1. Check the internal components
If you can access the internal components easily, check them over for loose screws and the like. It's worth checking the screws at least twice a year and tightening them, as they can cause annoying rattling noises.
2. Dust the coil fins
Window ACs have cooling fins usually located at the back of the unit. If you can access them, make sure you dust them regularly. Bent fins can cause noise, but you can straighten them with a comb.
3. Check the fan blades
Blades are an obvious area for noise, so check them if they're not difficult to access. There might be something loose caught in the blades, but you'll definitely know about this by the sound it makes.
Bent or misaligned blades can also create noise, but these aren't problems you can fix easily. If you notice damaged blades, get a technician to look them over for a potential replacement.
4. Dampen the frame
Window air conditioners can pass vibrations into the surrounding structure, which creates annoying noise. Most installation kits have some kind of padding included, but you can dampen them further using foam weather stripping or EVA foam sheets.
5. Level the unit
Your window AC should be as level as possible to avoid misalignment, which creates noise. Use a spirit level to ensure the windowsill is level. If not, use some foam or similar to prop it up. This is more of a preventative measure, but is worth it for long-term functionality.
Final Thoughts
I hope this article has helped you narrow down your choices for the quietest window air conditioners.
My top pick is the Midea 12,000 BTU window air conditioner. It stands out from the competition with its U-shaped design. It does seem to give the edge on efficiency and insulation. Moreover, it's packed with all the features you could be asking for in an AC.
Of course, if you need a less expensive or more powerful model, one of the other options should suit.
What do you consider to be the most important factors when choosing the quietest air conditioners? Let me know in the comments below.