I find mini fridges are versatile appliances to have in your home. Whether you're entertaining at a cookout, kitting out your home theater, or stocking up your office, a mini fridge has you covered.
But the last thing you need is a noisy mini fridge that's going to disturb you. This was a problem I faced, so went on a hunt for the quietest mini fridge.
In this article I review my top 5 quiet mini fridges. I also provide a buying guide so you know exactly what to look for when making your selection.
Top 5 Quiet Mini Fridges
I've chosen these as my top quietest small refrigerators because they offer a good blend of functionality and low noise level.
1. AstroAI 4 Liter Mini Fridge
The AstroAI 4 Liter Mini Fridge is a fairly compact model. Surprisingly, it easily fits 6 x 12oz cans and only measures 5.5" x 5.3" x 8.07". This makes it a great choice for spaces such as offices and dorms because it doesn't take up much space.
The refrigeration unit is freon-free, so it's environmentally friendly. It uses thermoelectric cooling to reach up to 32F below ambient temperature, or up to 150F.
What's more, its insulation technology means you can unplug it and use it as a cooler, which is perfect for traveling.
Importantly, its average noise level is 25dB, which is next to nothing. In short, it's incredibly quiet and is affordable too.
PROs
Includes both wall outlet and in-car power adapters.
3-year warranty.
Can reach -37F in 3 hours.
Incredibly low noise level.
CONs
More effective at keeping things cold than actually chilling them.
2. Midea WHS-87LB1
If you're looking for a quiet undercounter refrigerator, the Midea WHS-87LB1 might be a good choice for you.
It has 2.4 cubic feet of storage capacity, which is more than enough for some drinks, snacks, and a small meal or two.
You can manually adjust the temperature between 32F and 35F. While this isn't much, it has the added advantage of not being based on the ambient room temperature.
Its noise level is around 42dB. Overall, it's not a silent fridge, but it's still quiet enough to not be much of a distraction.
PROs
Adjustable door can be opened from left or right.
Has a small freezer compartment.
Energy efficient and low noise.
Large internal storage area – suitable for dorms or offices.
High build quality.
CONs
Only a 1-year warranty.
Higher price point.
3. Crownful 10L Mini Fridge
I've long found myself needing a quiet small refrigerator to take on camping trips. After a bit of research, the CROWNFUL 10 Liter Mini Fridge seemed to fit the brief. What we really like is the handle on the top that makes the 9.3 lbs. easy to transport.
It has both AC and DC power adapters, meaning you can use it in the house and in the car. This makes it a good choice for keeping drinks cool on driving trips.
The fridge has both heating and cooling functions between 35F and 149F so it's suitable for transporting hot food too. Be wary of switching between heating and cooling around 30 minutes after turning it off. This recommendation comes from the manufacturer. It's understandable as the components may not appreciate going from cold to hot (and vice versa) too suddenly.
Importantly for us, it has only emits around 25dB. This makes it as quiet as the Astro AI 4 L mini fridge above, except that the Crownful has twice more capacity.
Although it's advertised to fit 12 cans, you'll be able to store only up to 8 normal sized cans. Some users reported it could struggle to reach the cooling temperature of 35F. Indeed some users reported reaching only 45F. But overall and regarding the affordable price point, users were very satisfied about how fast it cooled and how silent it was.
PROs
Compact but has 6 liters internal storage space.
DC adapter means you can use it in the car.
Also functions as a coolbox.
Low noise thermoelectric cooler.
CONs
Doesn't exactly cool to 35F depending on the ambient temperature
Can store up to 8 cans and not 12 as advertised
4. Euhomy 20 Liter Mini Fridge
The Euhomy 20 Liter Mini Fridge is a compact yet functional model with plenty of space. It's an almost silent mini fridge, as it emits as little as 28dB.
Perhaps one of my favorite features is the LCD control panel. While not completely necessary, it does make adjusting the temperature really simple and clear.
It uses compressor cooling technology to chill down to 16F and heat up to 149F. This is great because it gives you flexibility over how you use the product.
Also, it has both AC and DC power adaptors, so is ideal for use at home, in the car, and while camping. What's more, its 20-liter capacity gives you plenty of storage space in a compact model.
PROs
Compact with loads of storage space.
Low noise level of 28dB.
LCD control panel is easy to use.
Wide temperature range.
CONs
Fan noise is noticeable when it kicks in.
5. Ivation 62 Can Beverage Fridge
As I host a lot of cookouts, I was on the lookout for a good-sized beverage fridge that was still super quiet. The Ivation 62 Can Beverage Fridge appears to tick all the boxes.
It holds up to 62 cans of various sizes, which makes it ideal for dorms or parties. But as the shelves are adjustable, you can set it up to store whatever you want.
This quiet mini refrigerator only emits 36dB of noise, so it won't be a distraction. Its low noise level makes it ideal for dorms, gaming rooms, home theaters, and so on.
It uses compressor technology to bring the temperature down quickly and efficiently. The temperature range is 34F-65F, so it's great for drinks. If you want built-in heating technology, look for a different model.
PROs
Large internal capacity (1.7 cubic feet).
Adjustable shelves and reversible door.
Low noise level of 36dB.
CONs
No inside light.
Only a 1-year warranty.
What to Look for in a Quiet Mini Fridge
Of course, when choosing a quiet mini fridge, the most important buying factor is noise level.
But after this, it's worth considering things like functionality, storage size, and cooling method. Here's my buying guide for choosing the quietest small refrigerator that suits your needs.
Cooling Technology: Compressor or Thermoelectric?
You'll generally find 2 types of cooling technology in mini fridges: compressor and thermoelectric. Note that some other appliances such as dehumidifiers use the same technology.
Compressor coolers
This is the most common technology used for fridge systems. It relies on the principle of a heat pump. Compressor coolers use an open system that contains a cooling fluid, called the refrigerant. The refrigerant is cycled between states of liquid and gas to control the fridge's temperature. Its cycle goes through 4 main components: a compressor, a condenser, an expansion valve and an evaporator.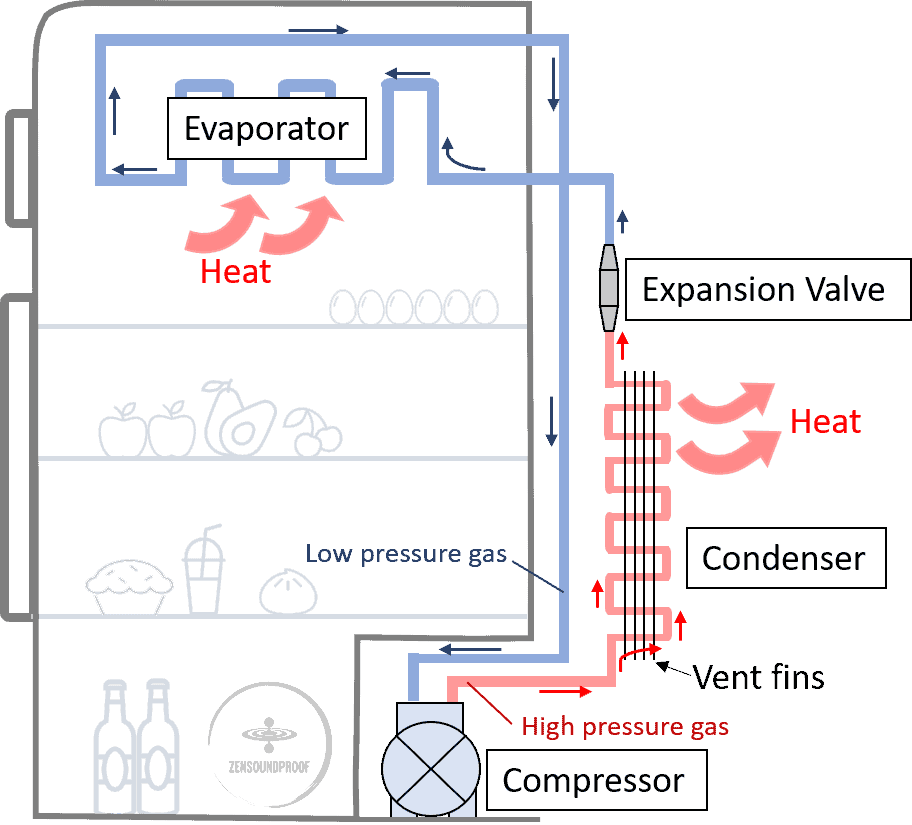 The PROS are:
Can reach lower temperatures than thermoelectric coolers.
Larger internal capacity.
Better control over ambient temperature changes.
The only real con is that compressor fridges have many rotating parts (compressors) and generate more vibrations. Therefore, they are louder than thermo-electric coolers.
Thermoelectric coolers (TEC)
Thermoelectric fridges use something called the Peltier effect. Peltier discovered that running a current between two different metals caused a thermal imbalance.
One junction between the two metals gets hot while the other gets cold. Importantly for a fridge, the cold side is used for cooling the fridge chamber. The energy of the hot side is extracted out with the help of a fan.
PROS include:
It's more compact.
No vibrations.
Fewer moving parts, thus quieter.
Less expensive.
Requires less energy.
Its only downside is that a thermoelectric cooler is more affected by ambient temperature changes. Specifically, it can't cool more than 20F below ambient temperature so the system might get overwhelmed if you place it in a warm room or near a heat source.
If you think this might be a problem, I'd suggest opting for a compressor cooler instead.
In short, cost, capacity and noise level will impact your decision. If you don't need as much space, choose a thermoelectric cooler for your quiet mini fridge.
Where Will You Use Your Mini Fridge?
Where you decide to use your mini fridge will largely affect your decision. Choosing a fridge for a dorm, mancave or bedroom will require a more compact model.
A fridge for a home theater or cookout area, however, can be a bit larger.
If you need versatility, look for one with a reversible door. This gives you more flexibility over placement.
Internal capacity clearly plays into this. It's usually given in cubic feet or number of drinks cans. For example, 2.5 cubic feet will hold at least 30 x 12oz cans.
A freezer compartment can be convenient but don't expect to be able to put a lot of aliments inside. Generally, you can fit a little more than an ice tray like one pizza and a few candy bars. Note as well, that mini fridges with a freezer compartment use the compressor cooling system to reach such freezing temperature.
Also, if you want something designed for transportation, some models come with a 12V DC power cable.
Things to Look for in a Quiet Mini Fridge
There are a few other important factors to consider when choosing the right mini fridge. These include:
Energy Efficiency
If you want to lower your electricity bills, energy efficiency will be important. This is particularly true for a fridge, which is on all the time.
A thermoelectric cooler is up to twice as efficient as a compressor cooler.
Look out for Energy Star certification on your chosen fridge. For a fridge to have this rating it must use 10% less energy than the minimum federal efficiency standards.
For a mini fridge to achieve this rating, it must use less than 239kW/h per year.
Ease of Use
Your mini fridge should have clear temperature adjustment – either a dial or panel. Most of the time, the thermostat, which allows you to control the temperature, is located in the refrigerator section. Some trendy quiet mini fridges offer a digital control panel on the front door. Futuristic touch guaranteed!
A fridge shouldn't need anything more than to be plugged in. But look out for:
Adjustable shelves.
Reversible doors.
Easy to clean.
Low maintenance (no need to defrost).
Warranty
Your quiet mini fridge should have at least a 1-year warranty, but some brands offer 3 years or more.
Final Thoughts
Hopefully this guide has given you some detailed information on the top 5 quiet mini fridges.
My top choice is the Euhomy 20 Liter Mini Fridge. It's the second quietest on the list, but has great functionality. What's more, its internal storage capacity is very impressive.
While it relies on compressor cooling, it's much quieter than even the thermoelectric cooling models on this list.
If you've got a quiet mini fridge that you think others should know about, leave a comment below!