While in college, I lived in a small dorm room that had a kitchen built in. It came equipped with a mini fridge and freezer combo. There were plenty of nights (at least in the early days) when I was kept awake by the distracting buzzing noise.
With that experience in mind, I decided to scour the internet for the quietest mini fridge models currently available. My hope is that, based on my reviews below, you'll be able to find some mini fridges that won't keep you up at night!
Top 5 Quietest Mini Fridges
In my reviews, I'll look to answer the question, what is the quietest mini fridge? But along with noise levels, I'll also consider energy efficiency and usability, as these are equally important metrics.
While I've previously done a roundup of the best quiet mini refrigerator, I decided it was time to reassess the market and update my options. It's a market that changes surprisingly quickly, and there are now some great quiet models out there.
1. Best Quiet Mini Fridge: Black+Decker BCRK17W Mini Fridge
Noise rating: 45dB
Capacity: 1.7 cu.ft (48 L)
Compressor cooling
Freezer: Yes
Energy efficiency: 201 kWh/yr
Dimensions:
18.5″ Depth
17.5″ Width
19.7″ Height
This Black+Decker BCRK17W Mini Fridge is my top pick because it ticks plenty of boxes. At 1.7 cu. ft., it's about mid-range when it comes to size, but it's enough to store some drinks or small meals. And, at 45dB, it's not too loud either.
It has door storage like a normal refrigerator, which is enough to hold a couple of bottles or cans. Inside, there's a glass shelf, giving you 2 shelves of storage space. Helpfully, it also has a small ice shelf for frozen items.
This fridge measures 17.5" x 18.5" x 19.7". While it's not the smallest mini fridge on the market, it's a good compromise between space-saving and storage capacity. It'd be a good option for dorm rooms, offices, etc.
It's Energy Star certified and is rated at 70W with an annual consumption of 201kWh per year. It has a reversible door and leveling legs, making it suitable for pretty much any space. The fridge uses standard compressor technology and can cool down to 33.8 degrees Fahrenheit.
There's not much bad to say about this mini fridge. Its only real downside is that 45dB isn't far off a normal fridge. However, it's not a distracting volume or type of noise, so it shouldn't be an issue for most people.
---
PROs
Good compromise between size and storage space.
Energy Star certified.
Reversible door helps it fit in different spaces.
CONs
45dB is about average for a normal refrigerator.
2. Top Pick for Bedrooms: Cooluli Mini Fridge
Noise rating: 50dB
Capacity: 0.35 cu.ft (10 L)
Thermoelectric cooling
Freezer: No
Energy efficiency: 170 kWh/yr
Dimensions:
10″ Depth
11.4″ Width
13.4″ Height
The Cooluli 10L Mini Fridge is suitable for bedrooms if you only want to store a few soda cans, skincare or medication. Its internal capacity is 10 liters, which equates to 2 small shelves. While this won't be enough for a dorm room, it's fine if you just want to store some small things.
This model has a noise output of 50dB, which is the same as a normal refrigerator. Sure, it's not the quietest option on this list, but it shouldn't be too distracting. It's reviewed positively for its noise level, and some users describe it as a small amount of white noise in the background.
It uses thermoelectric cooling technology (which I explain below). The bottom line is that it's more sensitive to ambient temperature than compressor technology, but this hopefully won't be an issue in most bedrooms. It'd be more noticeable in an RV or outside, though.
The fridge is rated for 60W and has an annual consumption of around 170kWh per year, so it's ahead of the already efficient Black+Decker BCRK17W. You can plug it into the mains, but it also comes with a 12V DC cable for vehicles and RVs, making it a flexible option. It also has an eco mode, which helps save on energy usage.
The biggest downside mentioned by users is that it does collect water at the bottom. It isn't much, and it takes a while to become noticeable, but it does mean you need to mop it up every few days.
---
PROs
Has both AC and DC power cables.
Ideal for medication, skincare, etc.
Energy efficient.
CONs
Collects water at the bottom of the storage compartment.
3. Best Quiet Mini Fridge with Freezer: Bodare Compact Mini Fridge
Noise rating: 38dB
Capacity: 3.2 cu.ft (90.6 L)
Compressor cooling
Freezer: Yes
Energy efficiency: 270 kWh/yr
Dimensions:
11.12″ Depth
18.23″ Width
36″ Height
Generally, a compact fridge skirts the line between mini fridge and small refrigerator. That's exactly what this Bodare Compact Mini Fridge does. With an internal capacity of 3.2 cu. ft., it's nearly twice the size of the Black+Decker model. But at 36" tall, it doesn't add loads of extra height.
Its size makes it suitable for bedrooms with a bit more space, or for RVs and caravans where you need a bit more capacity. Helpfully, it has a separate small freezer compartment that keeps your frozen stuff colder than a freezer tray.
The cooler section has 2 shelves and there's door storage and a veg drawer too. The freezer compartment has a separate door, improving the model's energy efficiency. It's rated to use 270kWh per year. While this looks a lot more (34% more) than the Black+Decker model, it's a bigger fridge, so it's proportionally still efficient.
This fridge produces 38dB of noise, which is fairly quiet. While you might still notice it, it's really not a distracting level of noise. This is only when the compressor is running, too, and it shouldn't need to do this very often because it's well insulated. Also, the refrigerator can cool down to 23 degrees F.
Some users comment that the price is higher than they'd expect for a mini fridge. However, this is partly because it's a compact refrigerator, meaning it's bigger and has more "normal" fridge features. If you're willing to spend a bit extra, this could be a great option.
---
PROs
38dB of noise emissions – pretty quiet.
Plenty of storage space.
Separate freezer compartment.
CONs
On the pricey side for a mini fridge.
4. Best Mini Fridge for Camping: Caynel 4 Liter Mini Fridge
Noise rating: 25dB
Capacity: 0.14 cu.ft (4 L)
Thermoelectric cooling
Freezer: No
Energy efficiency: 137 kWh/yr
Dimensions:
9.95″ Depth
7.2″ Width
10.83″ Height
The Caynel 4 Liter Mini Fridge is a good option for camping or tailgating or other situations where you don't need much storage space. It can fit 6 normal-sized cans, which is fine if you're just having a few drinks. Helpfully, it has a 12V DC cable, meaning it can be run off a generator or vehicle battery.
It uses thermoelectric cooling, which is more susceptible to ambient temperatures. It also means it can only cool down to 40 degrees F below ambient temperature, but this is enough to cool drinks or snacks. While it's also in the acceptable temperature range for meat and other foods, it's best to avoid these because you can't guarantee it'll sit at this temperature.
Part of the reason it's good for camping is that it's compact and lightweight. Its dimensions are 7.2" x 9.95" x 10.83", and it weighs 4lbs. It's rated at 25dB for its noise output, which is about as close to a silent mini fridge as you'll find. This is arguably one of the main benefits of a thermoelectric fridge: they're much quieter.
While the manufacturer states this fridge is energy-efficient, we don't have any figures to verify this. Similar models (such as this AstroAI mini fridge) are rated between 32 and 48W, so we can assume the Caynel is similar and uses around 137kWh per year.
The AstroAI mini fridge was my top pick in my previous roundup. However, in the last year or so, numerous users have complained about its reliability and quality. While it's still a good choice in terms of noise output and size, its quality seems to have degraded over time.
As with the Cooluli fridge above, the major downside is that water gathers in the bottom of the fridge. It's fairly typical with thermoelectric refrigerators, but it takes a while before it becomes a problem. Provided you clean it up every few days it shouldn't be an issue.
---
PROs
Easy to transport.
Holds up to 6 cans – fine for camping, RVs, etc.
Comes with 12V DC cable.
CONs
Water collects in bottom of storage compartment.
5. Best for Offices: Black+Decker BCRK25V Mini Fridge
Noise rating: 45dB
Capacity: 2.5 cu.ft (70.8 L)
Thermoelectric cooling
Freezer: Yes
Energy efficiency: 212 kWh/yr
Dimensions:
17.5″ Depth
18.5″ Width
26.6″ Height
The Black+Decker BCRK25V Mini Fridge is a good compromise between my top pick and the Bodare model. At 2.5 cu. ft., it's what many people see as a mini fridge. The extra 0.8 cu. ft. of space gives you a larger freezer compartment and more cooler space too.
At 45dB, it's on the louder end of the quiet mini fridge scale, but it's still not enough to be distracting. It'd be ideal for an office or mini kitchen where you might need to store a few lunches, drinks, milk, etc.
It has a reversible door and stands 26.6" high. While this isn't the smallest mini fridge, it should be fine under counters or tucked in corners out of the way. It cools down to 32 degrees F using compressor technology, so isn't affected by ambient temperatures.
As with the top pick model, it's Energy Star certified and is rated to use 212 kWh of energy a year. This is pretty good, especially considering how cold it can keep food.
One downside mentioned by a few users is that there's not enough temperature separation between the cooler and freezer spaces. This can result in food on the top shelf being frozen if left for too long. The only thing you can do about this is to turn the temperature down or ensure you don't leave anything in there for too long.
---
PROs
Decent amount of storage capacity.
Compact enough to fit in offices, bedrooms, etc.
Reversible door and recessed handle.
CONs
Food on top refrigerator shelf can be frozen if left for too long.
What to Look for in a Quiet Mini Fridge
I've mentioned my main criteria above, but let's dive a bit deeper into what factors you should consider when choosing the most suitable mini fridge for your needs.
Noise Level
Noise levels of mini fridges are subjective and ultimately depend on the room in which you're storing it. In terms of actual decibel ratings, quiet mini fridges can range from 25-50dB. For a real-world comparison, this is anywhere from a whisper to a normal refrigerator.
The fridge in my student apartment was at least 50dB. I could hear a humming sound when the compressor was running. However, my mini fridge was under a counter and encapsulated in a cabinet. This typical setup means you'll be less exposed to direct sound waves versus a freestanding installation.
In bedrooms, dorms, etc., you'll arguably want the quietest mini fridge you can find. However, even one operating at 45dB isn't too distracting, as it'll only produce a quiet background hum when the compressor is running. If you're a light sleeper or don't like background noise, aim for 30dB or below.
Thermoelectric cooling units are typically quieter than compressor coolers, so these can be a better option if you want something for your bedroom. But as I discuss below, there are some downsides.
Cooling Technology
Mini fridges use either thermoelectric or compressor cooling technology. The differences are as follows:
Compressor
A compressor cooling system is what you'll find in any normal refrigerator. Just like an air conditioner, it contains a refrigerant that moves between liquid and gas states as it runs through the system. It absorbs heat from the refrigerator compartment, which is then ejected from the unit using a fan.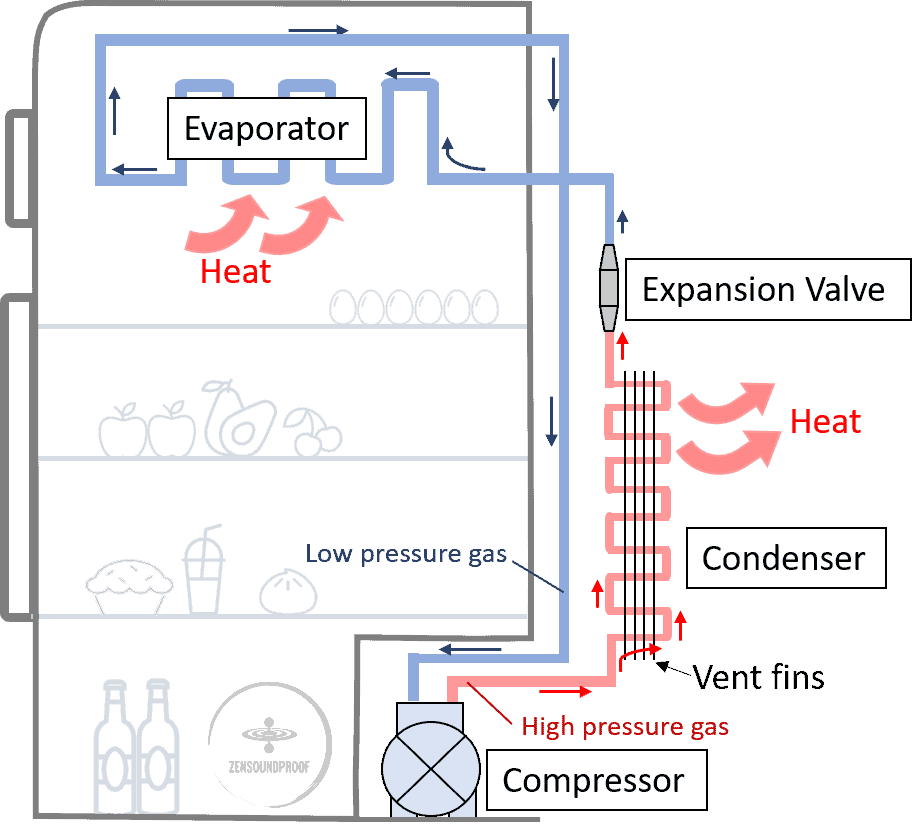 Compressor fridges can reach colder temperatures and generally have a larger internal capacity. However, they're slightly louder because they have more moving components. A compressor mini fridge is generally the better option if you have space because it can maintain a more consistent temperature.
If you need storage space for actual food (rather than snacks or drinks), a compressor cooler mini fridge is the best option.
---
PROs
Can reach lower temperatures.
Larger internal capacity.
Better control over ambient temperature changes.
CONs
More expensive.
Louder.
Less energy efficient.
Thermoelectric
Thermoelectric coolers (TEC) operate using something called the Peltier effect (more details in the video below). In simple terms, an electrical current passes through 2 different metals and creates a thermal imbalance.
As a result, one side gets hot while the other gets cold. The cold side, unsurprisingly, helps cool the inside of the fridge, while a fan extracts heat from the hot side and ejects it from the fridge.
The downside of thermoelectric fridges is that they're more affected by ambient temperatures, as they can only cool a certain amount below. For example, a TEC mini fridge might be able to cool up to 40 degrees F below the ambient temperature. But if this is 90 degrees, the inside of the fridge will still be around 50 degrees.
Provided you have some control over the ambient temperature and don't need much space, a TEC mini fridge is arguably the best option.
---
PROs
More compact.
No vibrations.
Fewer moving parts – quieter.
Uses less energy.
Less expensive.
CONs
Affected by ambient temperatures.
Size and Capacity
We typically measure a fridge's capacity in cubic feet, which refers to the internal storage. It's common for a mini fridge to range from 1.7 to 3.5 cu. ft.
But portable models are often measured in cans instead. For example, a 4-liter mini fridge can hold 6 cans.
Where you plan to use your refrigerator and what you want to store in it play into this decision. For example, a mini fridge in a dorm might need to hold actual food, whereas a bedroom mini fridge might just be for skincare, a few drinks, etc.
There's a general correlation between internal capacity and refrigerator size. Unsurprisingly, a fridge with more internal space needs to be bigger. Even large mini fridges should fit under counters. Portable models, however, are usually very small and lightweight and come with a handle, making them suitable for tabletops.
Freezer Compartment
Compressor mini fridges can have freezer compartments. In some models, these are little more than a shelf at the top of the refrigerator. However, in others (such as the Bodare), these are actual freezer compartments.
Don't expect much space in these – they're generally at most a third of the overall internal space. However, it can be enough for an ice cube tray, some frozen dinners, etc.
Mine could fit exactly three 8" frozen pizzas (without the packaging). Fortunately, I've improved my eating habits since my student days!
Also, if there isn't complete separation between the freezer and fridge compartments, you might find that some of your chilled food gets frozen. If this happens, you'll need to turn the temperature down or rotate foods.
Energy Efficiency
Energy efficiency is an important metric because it dictates how much you pay to run the refrigerator. Considering this is something you'll generally have on 24/7, it can add up to a lot of money.
We calculate a unit's energy efficiency using its wattage. We convert this into kilowatt hours (kWh), but some manufacturers express this as either daily or yearly measurements.
Some models are Energy Star certified, meaning they're the most efficient and must use less than 239kWh per year. For example, the Black+Decker BCRK25V Mini Fridge above uses 212kWh of energy a year. At a rate of $0.06 per kWh, this equates to an annual cost of $12.72. As you can see, it's really not a lot. Even if a mini fridge isn't Energy Star certified, they typically don't use much energy. It shouldn't cost you considerably more than the figures above to run a mini fridge. Also, TEC fridges can be up to twice as energy efficient as compressor models.
Extra Features
Some helpful extras for a mini fridge include:
Reversible door. This allows you to install the fridge wherever and have the door open in the most convenient direction.
DC cable. A 12V power cable allows you to run the mini fridge off a generator or vehicle battery. It's most common in TEC fridges.
Adjustable shelves. A no-brainer – gives you flexibility over storage space.
Low maintenance. No manual defrosting.
Temperature adjustment – a dial is most convenient.
Warranty. This can range from 1 year for the compressor unit to 3 years for the whole refrigerator. Look for a 1-year warranty as an absolute minimum.
Alternative to Mini Fridges: Beverage Cooler
If you plan to store potentially harmful foods, such as meat and dairy, a mini fridge is the best option. But if your main goal is to chill drinks and you want something more visually appealing, a beverage refrigerator is a decent alternative.
While they're arguably the same thing, there are some differences:
A beverage cooler is often more visually appealing – it has a glass door, LED lights, etc.
They're designed to be either built in or freestanding.
Beverage coolers have different internal structure – more shelves for storing drinks rather than fewer shelves with more space on them.
Beverage coolers have a wider temperature range, making them suitable for wines, beers, sodas, etc.
If you'd like to know more, check out my article on quiet wine coolers or quiet beverage coolers, depending on your needs!
Final Thoughts
I hope this guide has given you some helpful advice on choosing the best quiet mini fridge.
My top pick is the Black+Decker BCRK17W Mini Fridge. It's a good compromise between storage space, size and noise emissions. Of course, some other smaller models in my list are quieter but, in my opinion, don't offer the same noise-volume and price balance. That said, it ultimately depends on your needs.
Do you have any other suggestions for a decent mini fridge? Let me know below!