When living in France, I worked in a wine store for a few years (arguably the best place to do so). After a year or so, I suggested to my boss that we install some of the quietest wine fridges we could find, so customers could sample wine in-store. Of course, the coolers needed to be both attractive and quiet to match our store's vibes.
This experience led me to realize the importance of fitting the quietest wine coolers available if you always want drinkable wine on hand. It's especially important because not many of us have the luxury of a wine cellar in our homes!
As such, I've scoured the internet for some of the best (and quietest) models currently available. I discuss them below, along with other important information you need to make a decision.
How Loud is a Wine Fridge?
A wine cooler refrigerator is generally quieter than a normal fridge because of their build quality, among other factors. A normal refrigerator usually emits between 35–50dB of noise, whereas a wine fridge ranges from 30–40dB.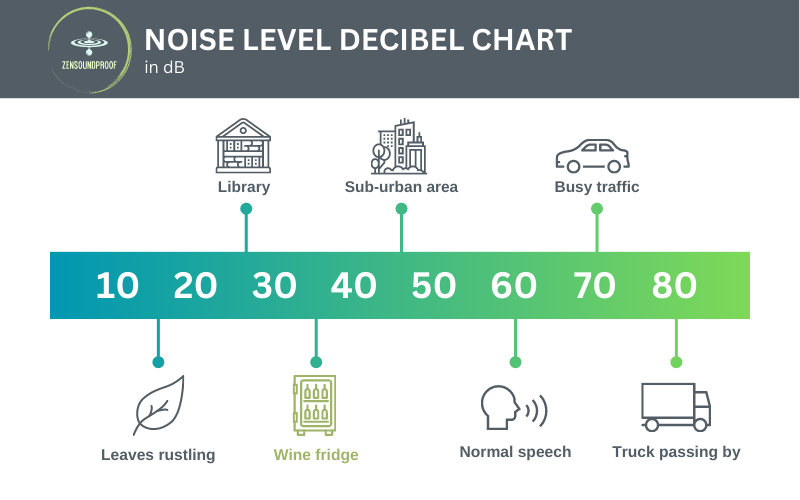 This might not sound like a major difference, but decibels are logarithmic. In short, it means a doubling of sound intensity corresponds to an increase of 3dB. But the sound intensity is not the same as how our ears perceive sounds. To achieve a doubling of perceived loudness, it would roughly represent an increase of 10dB.
For real world examples, 40dB is equivalent to light rain, whereas 50dB is the same as background noise in a quiet office.
Do Noise Emissions Matter?
Disturbance
The main concern with noise emissions is the level of disturbance they cause. While 50dB isn't going to be a noise level that keeps you up at night, dropping down to 40dB will make a noticeable difference.
Vibrations
But perhaps a more important factor – at least with fine wine – is the vibrations caused by noisy fridges. Sound waves are vibrations, whether through objects or the air. In a refrigerator, most of this vibrational energy comes from the compressor system, which is what keeps the fridge cool.
Surprisingly, "micro-vibrations", which include sound waves, can impact the flavor profile of wine. A recent study found that wine stored in an environment exposed to vibrations resulted in less desirable flavors.
Sure, this might not matter too much for the average bottle of plonk from the supermarket, but if you're spending on a quiet wine cooler, the chances are you're buying relatively high-quality wine. If so, the impact of micro-vibrations on your wine collection is definitely something to consider.
Our Top 5
Along with noise level, the other criteria I use below are energy efficiency and appearance. While functionality definitely overrides looks, I also think it's important to have a fancy fridge for displaying your fancy wine!
Top Pick: Vinerie 46 Bottle Wine Cooler
Noise level: 40dB
Cooling zone: 2
Temperature range: 41°F-73°F
Compressor cooling
Max bottles: 46
Capacity: 120 L (4.24 cu.ft.)
UV-resistant tint: Yes
Energy efficiency: 220kWh/year
Dimensions:
23.5" Width
22.7" Depth
34.5" Height
This Vinerie Wine Cooler can hold 46 standard-size wine bottles across 6 shelves. Despite not being the largest wine fridge on the market, it's still a dual zone wine cooler, meaning you can store reds on the bottom and whites on the top at different temperatures.
Its noise emissions are rated at 40dB. While this is the top of my scale, it's still quiet enough that it won't really be noticeable. This fridge's annual energy consumption is 220kWh, making it pretty efficient.
The top section cools between 41 and 54F, while the bottom section cools between 54 and 73F. As you can imagine, you need to stack your wines on the appropriate shelf, as the fridge ranges from warmest at the bottom to coolest at the top. It's also rated for low vibration and humidity control, meaning it keeps your wines tasting their best.
The door features UV-protective glass, which is a necessity for protecting your wine. It stands 34.5" tall, meaning you could fit it under a counter or keep it freestanding. Although not a functional aspect, I think it's also a nice-looking wine cooler.
In terms of downsides, some users state some shelves are too narrow for wine bottles. However, the shelves are designed for standard Bordeaux bottles, meaning thicker bottles (e.g., Sparkling wine) might require you to shuffle the fridge around. Luckily, the shelves slide out, making this job pretty easy with enough care.
---
PROs
Dual cooling sections for red and white wines.
Decently quiet wine cooler.
Energy efficient.
CONs
Shelves are laid out for skinny wine bottles.
Top Budget Pick: Antarctic 24 Bottle Wine Cooler
Noise level: 38dB
Cooling zone: 1
Temperature range: 40°F-61°F
Compressor cooling
Max bottles: 24
Capacity: 65 L (2.3 cu.ft)
UV-resistant tint: Yes
Energy efficiency: 205kWh/year
Dimensions:
16.93″ Width
18.11″ Depth
29.13″ Height
As a budget pick, the Antarctic Wine Cooler still offers plenty of functionality. It's designed for 24 standard wine bottles, and this even leaves some space at the bottom for cans to be stood up. Sure, it might not be the largest wine cooler out there, but it should be enough for most people.
That said, the clearest indicator of its budget price point is its cooling range. The temperature can be set between 40 and 61F, meaning it won't be suitable for medium- or full-bodied red wines. In fact, you'll probably only want to use it for whites and summer reds. It also doesn't have dual zone technology, but it'll generally be colder at the bottom.
It features a glass door that's slightly tinted for UV resistance. The door's seal also helps control humidity, which is necessary for preserving corks. Inside is a blue LED light, which is designed to not impact the wine through light exposure.
At 38dB, it's marginally quieter than the Vinerie above. It also features low-vibration technology, and its rubber feet help prevent it from transferring vibrations into the floor. Like the others, it uses compressor cooling, but its lower noise level is likely due to its lower power rating.
We don't have an explicit energy efficiency rating, but we can estimate it at around 205kWh/year. That's based on a comparison with the Vinerie:
The Antarctic has a 7% lower power rating (65W vs. 70W)
And we make the assumption that their thermal insulation is similar.
Some users state that changing the temperature control system can be erratic. Some had to unplug the fridge and change the temperature as it's turning back on. Provided you're storing just white wine, you should be fine to set it at the lowest temperature and forget about it.
---
PROs
Good budget-friendly model.
Holds up to 24 bottles in a compact wine cooler.
TEC cooler helps keep noise level down.
CONs
Temperature control can be erratic.
Top Premium Pick: Velivi 24" Wine Refrigerator
Noise level: 40dB
Cooling zone: 1
Temperature range: 40°F-65°F
Compressor cooling
Max bottles: 190
Capacity: 447 L (15.8 cu.ft)
UV-resistant tint: Yes
Energy efficiency: 238kWh/year
Dimensions:
27.2" Width
23.5" Depth
76.7" Height
The Velivi Wine Refrigerator can hold up to 190 bottles, making it an ideal pick for a true wine connoisseur. At 76.8" tall, it's obviously a freestanding model, but it would look great tucked in an alcove in your kitchen or pantry.
Its rated noise emissions are up to 40dB, putting it on par with the Vinerie model above. It uses compressor cooling, which is why it's on the louder end of the scale. However, this means you have better control over the temperature and that it's less affected by ambient temperatures.
The fridge cools between 40 and 65F and unfortunately doesn't feature dual zone technology. Considering this cooler's capacity, this is a bit of a downside. However, you can expect there will be some natural temperature variation due to warm air rising. As such, you'll want to store white wines on the bottom, but don't expect the top to be warm enough for most reds.
Due to its price point, it has several features you won't find on other models. There's a carbon air filter to remove odors and a digital temperature control panel. You also get a UV-resistant glass door with safety lock to keep all your wine protected!
The fridge's annual energy consumption is 238kWh, meaning it's fairly energy efficient for its size. Considering it is almost quadruple the capacity of the Vinerie (447 L vs. 120L) and has barely an 8% "worse" energy efficiency.
Its major downside is that the temperature can apparently fluctuate slightly. This is mainly due to the compressor turning on and off, but it doesn't seem to be a constant issue across the product's reviews. If you find yours does this, consider contacting the manufacturer, as it's not meant to do it.
---
PROs
Impressive energy efficiency for the capacity.
Has shelf space for larger/non-standard bottles.
Carbon filter and low vibrations features keep your wines tasting great.
CONs
Some users mention fluctuating temperatures.
No dual zone technology.
Top Pick for Small Cooler: NutriChef PKCWC12 Wine Cooler
Noise level: NC
Cooling zone: 41°F-64°F
Temperature range: 1
Compressor cooling
Max bottles: 12
Capacity: 32.9 L (1.16 cu.ft)
UV-resistant tint: Yes
Energy efficiency: 100kWh/year
Dimensions:
9.9" Width
17.7" Depth
31.2" Height
The NutriChef PKCWC12 Wine Cooler holds up to 12 standard wine bottles, making it a decent option if you don't need a massive refrigerator. At 31.2" tall, you could tuck it under a counter, on a counter, or have it freestanding depending on where you have space.
While it doesn't have a decibel rating, it scores highly in reviews for its noise level. Users rated its noise level with 4.5/5 stars, which is better for example than the Vinerie above rated at 40dB. Numerous users state it's barely noticeable, so we can assume it's roughly on par with other compressor-cooled wine fridges on this list.
Its temperature range is similar, too. You can set it between 41 and 64F or switch to Celsius if you'd rather. Unsurprisingly, it doesn't have dual zone technology because it's too small. As such, you'll want to only keep red or white in it (I'd suggest white). With an annual energy consumption of 100kWh per year, it's on par with Energy Star certified mini fridges.
Despite being at a budget price point, it still has all the important features. The glass door is UV-resistant and has a childproof lock. There's a blue interior LED and humidity control. Overall, it's a pretty good wine cooler for the size and price.
That said, some users report having problems setting the wine cooler up. One notable issue is fitting the door handle, which requires you to remove the door seal. It's not a massive problem but is something to bear in mind for the less DIY-savvy wine amateurs.
---
PROs
Decent compact wine cooler.
Very energy efficient.
Comes with all the necessary features at an attractive price point.
CONs
Setup can be challenging.
Top Pick for Wine & Softs: Smeta 19 Bottle Wine Cooler
Noise level: 39 dB
Temperature range: 39°F-64°F
Cooling zone: 1
Compressor cooling
Max bottles: 19
Capacity: 62 L (2.2 cu.ft)
UV-resistant Tint: Yes
Energy efficiency: 175kWh/year
Dimensions:
17.1" Width
18.7" Depth
25.6" Height
While portability isn't often top of the list for wine storage, the Smeta 19 Bottle Wine Cooler is a good compromise between size and storage capacity. It can hold up to 19 bottles and has adjustable shelves for different sizes.
It emits only 39dB of noise, putting it comfortably in our range for quiet wine fridges. You can install it under a counter or have it freestanding, meaning it's suitable for a range of applications.
The temperature range is pretty standard – 39.2-64.4F. It doesn't have dual zone cooling, but that's not a surprise for a fridge of this size. As with other models, it has a blue internal LED and UV-resistant glass.
It doesn't display any energy efficiency numbers. But with a power rating of 85W, we can use the Vinerie, rated at 70W, as a reference to estimate its kWh/year. Doing so means the Smeta would be in the range of 175 kWh/year.
One useful feature is the reversible door, meaning you can be flexible with its placement. At 46.3lbs., it's not the most portable thing in the world, but it should be possible to move it around if you want to change your wine's storage location.
Some users mention that the cooler's temperature can fluctuate, specifically dropping below the set temperature. In theory, it's not a massive problem for cooling white wines, beer and soft drinks, but is something to bear in mind if you plan to store reds.
---
PROs
Fairly quiet wine cooler.
Good balance between size and storage capacity.
Theoretically portable model.
CONs
Temperature can drop below the desired level.
What Generates Noise in a Wine Cooler?
Wine coolers use either compressor or thermoelectric (TEC) cooling technology. I've discussed both of these at length in my article on mini fridges, so check that out for more information.
All models listed above use compressor cooling.
Compressor coolers (the most standard type) work by running refrigerant around a closed system. This changes from a liquid to a gas as it extracts heat, which is then removed from the unit via a fan. As such, the noise-generating components include:
Compressor
Fan next to the condenser coils to circulate warm and cold air
The expansion/compression of internal components
While TEC coolers are quieter (as they don't have as many moving parts), they're less desirable for wine coolers because they can't reach as low temperatures. Also, they're affected by ambient temperatures, meaning they can't cool as low in warmer spaces.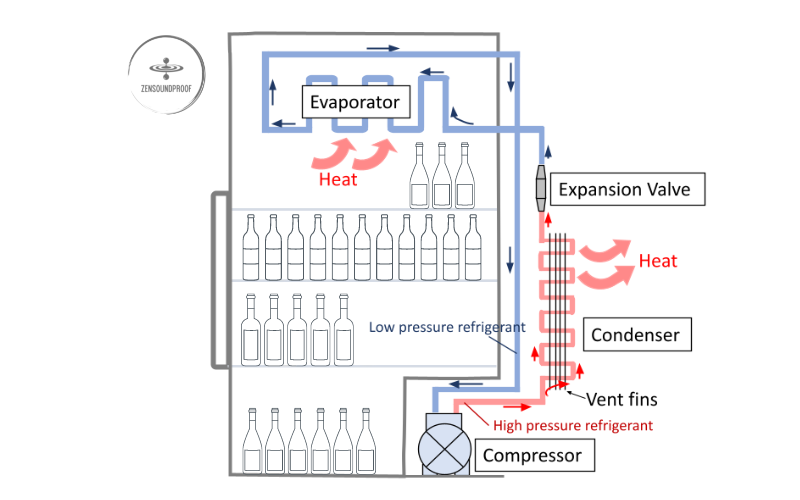 The 4 Major Factors for Wine Storage
When I worked in a fancy wine store (often called a cave in French), the owner taught me the main principles of wine storage. He was a sommelier grade 3, which in layman's terms corresponds to "Advanced Sommelier". According to the basic level Sommelier training, there are 4 major factors affecting wine storage:
1. Wine Temperature
This is some beginner-level stuff for any wine enthusiast: wine tastes different at different temperatures. We won't bother getting into the science of it, but this is why red wines are served at higher temperatures than whites.
What's important to know, though, is that even red wine has an appropriate storage temperature. Depending on the wine's lightness (body), reds need to be kept as low as 54F. Generally, full-bodied reds need to be kept at the warmest temperature, and this decreases depending on its lightness. Serving temperature is generally a few degrees higher.
The bottom line is that, for the best-tasting wine of any color, you'll want a fridge to store wine.
2. UV Protection
Sunlight has a negative effect on wine's flavor compounds – this is why most wine bottles are made from colored glass. UV light impacts the riboflavin and pantothenic acid in wine, which produces sulfur. Unsurprisingly, this makes it taste unpleasant.
Interestingly, wine bottles have colored glass and the tint can filter off some UV. As such, they already have some degree of protection. ISO 9001 requires wine bottles to filter at least 70% of UV. Some types of glass go far above this threshold, reaching up to 99% UV protection.
We could argue that UV-resistant glass is not a necessity but since it's very standard and it can't hurt to have this feature, I'd recommend choosing a wine cooler with a UV-resistant double pane glass door.
3. Humidity Control
Humidity is an important factor for cork preservation more than the actual wine. If your storage environment is too dry, the cork will shrivel, allowing air into the bottle. When this happens, the wine oxidizes and goes bad.
The recommended wine storage humidity sits between 50% and 70% at 55°F (12.8°C). However, commercial wine coolers don't create humidity, just like kitchen fridges don't. Typical wine coolers have a relative humidity of around 50%.
You can monitor the humidity level with a hygrometer placed inside the wine cooler. If it dips you can add a source of water, like a wet sponge or a glass of water and check a few hours later.
4. Vibrations
It's well-known in the wine industry that vibrations during transportation affect a wine's flavor. During training, this is what my boss focused on, as it's pretty common knowledge. These are what we refer to as macro-vibrations. But as I mentioned above, micro-vibrations also have an effect.
It's important to consider because the workaround for transportation vibrations is to let the wine settle. However, micro-vibrations can be constant if they come from your wine cooler, meaning you can't really avoid them unless you choose a low-vibration model. Luckily, all the coolers I've reviewed here have this feature.
Buying Guide
While the 4 features above are the most important for the actual preservation of your wine, there are plenty of other factors to consider relating to the wine cooler's functionality. Here's a list of what else you should think about when making your decision.
Capacity
There's not much to say about capacity that isn't obvious. If you have lots of wine to store, make sure you choose a larger wine fridge.
Bear in mind, though, that the maximum stated capacity is based on a standard, 750ml Bordeaux bottle. However, wine bottles can range from 11.5" to 13" in height and up to 3.5" in diameter depending on the type. For example, sparkling wine bottles are usually wider.
As such, you'll find that wine fridges usually hold fewer bottles than the stated maximum. You might want to upgrade your capacity slightly if you primarily drink varieties including Burgundy, pinot noir, and Champagne because these types have bottles with larger diameters.
A workaround for this is a larger unit with bottom-shelf storage. These are typically larger, meaning you can fit magnums and wider bottles on them.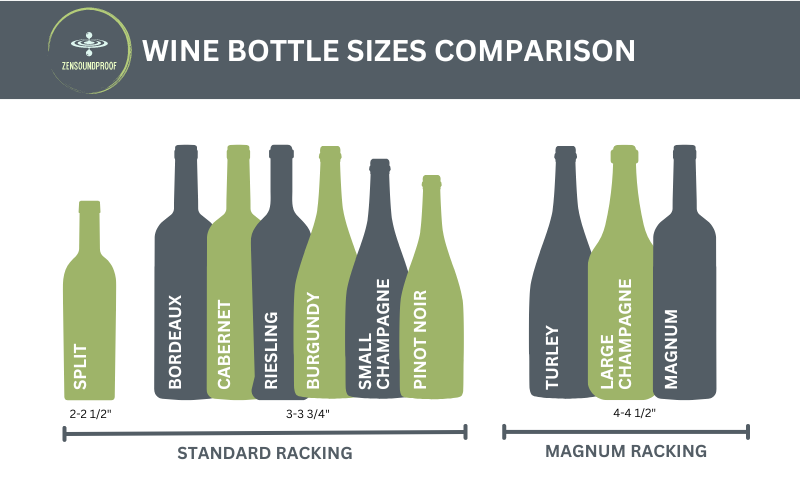 Shelves and Arrangement
Perhaps a better way of looking at this is via the internal shelves and arrangement setups. Ideally, a wine cooler should have removable shelves so you can accommodate bottles of different sizes.
The number of shelves will vary by capacity, and the width will vary depending on the cooler's size. A shelf that fits up to 6 wine bottles is pretty standard.
Some models will have wine rack shelves, which have dips for keeping the bottles in place. This isn't a necessity, but it helps protect your wine when you remove a bottle!
Inverter Compressor
An inverter compressor is a type of compressor cooler. Whereas a normal compressor is either on or off, an inverter compressor varies its speed to maintain the desired temperature. This is beneficial for:
Energy efficiency – controlled speeds mean less energy use
Noise output – varying fan speeds mean quieter operation
Durability – less wear on the system
Temperature control – internal temperature is more consistent
While inverter compressors are more expensive, they're arguably worth it for high-end wine storage. Of course, if you're only storing "normal" wine, a standard compressor should be fine.
Vibration Reduction
Wine fridges can feature a range of vibration-reducing features. These might include compressor insulation, rubber feet, compressor mounting setups, and vibration reduction blankets.
While it's unlikely that a manufacturer will list the specific features, if it says low or no vibration, it likely has one of these technologies. You might see a manufacturer mention compressor insulation, as that's the most common.
As mentioned, this helps with both noise levels and wine preservation. While you might have to spend a bit more for some of the fancier features, it's arguably worth it.
Energy Efficiency
Energy efficiency is always worth considering when buying a refrigerator because it runs 24/7. We measure a fridge's energy consumption in kilowatt hours (kWh) per year.
While we don't have specific Energy Star ratings for wine coolers, we have ratings for other kinds of refrigerators. For example, mini fridges only need to use 239kWh per year, while a normal fridge can use 350kWh or less depending on its size.
As you can see, the energy consumption ratings for wine coolers sit somewhere in the middle. They typically don't need to go as low as normal fridges (especially if these include a freezer), although many will reach the same chilled temperature.
The bottom line is that a lower kWh per year rating means a more efficient wine cooler. While you need to consider capacity in this calculation, it's a fairly relative scale.
Dual Zone Cooling
Dual zone cooling is a self-explanatory feature. It means a wine cooler has a warmer area and a cooler area. This makes it suitable for storing reds and whites at the same time.
Dual zone cooling can also lead to temperature variations within each space. This can be both a benefit and a drawback depending on what wine you're storing. For example, if you have reds ranging from light to full-bodied, you'll want different storage temperatures.
It's not a feature you'll find on smaller wine coolers, as they don't have enough internal space. If you need a small cooler, you'll have to prioritize either whites or reds for storage (probably whites).
Lighting and Appearance
In my experience, wine coolers are as much a display tool as they are a storage space. When I was selling wine, we often used coolers to impress prospective buyers, as they can be very aesthetically-pleasing appliances.
So, there's no shame in wanting a wine cooler that makes your collection look pretty. After all, this is why so many of them have glass doors!
Just make sure you consider the following:
Blue internal LEDs. While blue light is closer to UV on the spectrum, it's favored for its ability to inhibit bacteria and mold growth. Plus, LEDs are often dark enough to not have an impact on wine flavor.
UV-resistant glass. There's not much more to say about this – just make sure your chosen wine cooler has it.
Freestanding or built-in. A freestanding wine cooler should have a completed exterior, making it nicer to look at. Built-in coolers are made to go under counters, meaning the sides might not be finished in the same way.
Extra Features
Some other (less important) features you might want to consider include:
Carbon air filter – removes odors that could impact your wine.
Digital display – a touchscreen digital display offers greater functionality.
Reversible door – allows you to be more flexible over your cooler's location.
Related Questions
Can Noise Affect the Quality of Wine?
Noise can affect the quality of wine due to its vibrational energy. In short, the vibrations affect the flavor compounds in the wine, often negatively. But the study also reveals that the first preponderant factor is time over noise vibrations. While the actual impact is probably only noticeable to advanced sommeliers and wine connoisseurs, it's worth bearing in mind.
To another extent, noise can affect the wine tasting experience. A study of over 3000 participants showed that the noise environment can directly influence how we appreciate wine, with noise exposure negatively affecting the taste and aroma perception of wine.
How Do I Quiet a Noisy Wine Cooler?
Generally, a noisy wine cooler can be quieted in the same way as a standard refrigerator. The first step will be to troubleshoot potential issues causing noise. For this, I recommend checking out my full article on how to quiet a noisy refrigerator compressor. All its tips can be applied to wine coolers too.
Beverage Cooler vs. Wine Fridge: Which Do I Need?
The main difference between a beverage cooler and a wine fridge is the internal capacity and shelf arrangement. Specifically, a beverage cooler will typically have smaller shelves for cans or soda bottles. A wine fridge is designed to hold, unsurprisingly, wine bottles.
Also, a beverage cooler will have a lower maximum temperature, as it's designed to refrigerate cold drinks. A wine fridge, on the other hand, can reach an equivalent to room temperature if it's meant for cooling reds.
To understand more about the differences so you can make an informed decision, check out my article on quiet beverage coolers.
Final Thoughts
I hope this article will help you to choose the best wine cooler for your needs. In my experience, it makes a massive difference to the quality of your wine over storing it in a standard refrigerator.
My overall top pick is the Vinerie 46 Bottle Wine Cooler. It's a good balance between noise output, storage size, and price, making it ideal for most people's wine storage requirements. Of course, any of the other models will be great if you have more (or less) wine to store.
Do you have any other hot tips for storing wine? If so, let me know in the comments.