A quiet refrigerator might not be at the top of everyone's priority list. But, considering this appliance runs 24/7, it makes sense to choose one that won't be too disruptive.
In this guide, I review my top picks for the best quiet refrigerators and provide some useful tips for choosing a functional (and quiet) model.
How Many Decibels is a Quiet Fridge?
Thanks to modern technology, most refrigerators have a noise output of 32-47dB. A quiet refrigerator is any model that emits less than 42dB. In real terms, this is about the same as a library or a quiet office.
An explicit decibel level is by far the easiest way to compare products in the quiet fridge market. After all, if a manufacturer labels its refrigerator as quiet, it should have the facts to back it up.
Which Type of Refrigerator is Less Noisy?
The quietest type of refrigerator is absorption fridges, which are typically used in hotel rooms. They don't have a motor, so are the closest to silent that you'll find. However, most people will have a compressor fridge in their homes, which are slightly louder.
I'll only consider compressor refrigerators in this article, as they're the typical choice in home kitchens. Within this bracket are 3 main types:
Stacked
French door
Side-by-side
Quality (and price) varies between types, and this has an effect on noise levels. For example, a French door refrigerator is usually the most expensive but has high-quality parts, meaning they typically make less noise than lower-end models.
There are some more important factors to consider when thinking about refrigerator sound levels. These include:
Ice makers – these create potentially unnecessary noise.
A more energy-efficient fridge will work less, meaning less fan noise.
Despite hot air rising, a top freezer is more efficient than a bottom freezer because of its distance from the compressor.
Maintenance is key to keeping your refrigerator quiet. Without regular cleaning, even the most silent fridge will eventually start making noise.
The bottom line is that the best quiet refrigerators cost a bit more money. Better build quality generally means better insulation, more efficient parts, and better design. Of course, this does come at a price.
What is the Quietest Refrigerator?
Where possible, my quietest refrigerators have a decibel rating for convenience. I've divided my reviews into different refrigerator types so you can narrow your search more easily.
Quietest Top Freezer Refrigerator: Galanz Retro Refrigerator
Top Freezer
Capacity: From 7.4 to 12.0 cu. ft
Noise Level: 42 dB
Energy Use: 292 kWh/yr
Dimensions:
Depth: 27.48″
Width: 23.74″
Height: 61.81″
Warranty: 1 Year
This top freezer refrigerator has an operating level of 42dB. While this is at the top of the quiet fridge range, it's practically unnoticeable around other household noises.
It comes in 4 different cu. ft. options, ranging from 7.4 to 12. The overall storage space is divided between the fridge and freezer. For example, the 12 cu. ft. model has a 9.36 fridge and a 2.35 freezer. Although not massive, it should be enough for most smaller homes.
Although not related to its functionality, the retro style is nice and there are various color options available. It's a compressor fridge that's Energy Star rated, meaning it's both attractive and efficient.
It has adjustable glass shelves and manual control dials, meaning you can always keep it at the right temperature. There's also a crisper drawer for keeping all your veg fresh.
Users' main critiques relate to the fridge handles. They're plastic but designed to look like chrome. While opening the door doesn't put much pressure on them, they cheapen the overall look somewhat. But, if they do break, you're covered by a 1-year warranty.
PROs
Sleek retro design.
Noise emissions of 42B.
Suitable for smaller homes or as a secondary refrigerator.
Energy Star rated.
CONs
Plastic handles feel a bit cheap.
Quietest Bottom Freezer Refrigerator: Haier 16 cu. ft. Refrigerator
Bottom Freezer
Capacity: 16.4 cu. ft
Noise Level: NC
Energy Use: 448 kWh/yr
Dimensions:
Depth: 26.5″
Width: 32.75″
Height: 71.0″
Warranty: 1 Year
Although not the most energy-efficient models, a bottom freezer refrigerator is more suitable for some people, particularly if you'll struggle to reach a top freezer. This model offers convenience by using a French door refrigerator design.
Inside the fridge are 2 adjustable glass shelves and 2 humidity controlled crisper drawers. Although not as large as some other models, it's enough space for a family of 2. It has an overall storage capacity of 16 cubic feet.
The freezer is divided in half, meaning you only need to open one door to access a drawer. It's ideal from an energy-saving standpoint, but it does make it harder to store large frozen items.
It's can also be installed as a counter-depth refrigerator with its 26.5" depth. Most kitchen counters and cabinets sit with a depth between 24″ – 29″. If you need a specific counter-depth model, you can also check out the Smad model below.
The main issue is that the doors don't seal as easily as on other models. After a while, you'll get used to pressing them quite hard. Just be aware of this before you buy this refrigerator.
A nice addition that helps with this problem is the door alarm. In short, it beeps if the doors are left open, so should stop any major defrosting accidents. While there's no specific decibel rating, users comment on how quiet it is, so you shouldn't find it at all distracting in your home.
PROs
Bottom freezer is divided in half for convenience.
Ideal for a small family.
Energy Star certified.
CONs
Doors don't seal very tight.
No dB rating.
Quietest Side-by-Side Refrigerator: Kenmore 36" Refrigerator and Freezer
Side-by-Side
Capacity:

15.46 cu. ft

Noise Level: 42 dB
Energy Use: 702 kWh/yr
Dimensions:
Depth: 33.81″
Width: 35.5″
Height: 69.25″
Warranty: 1 Year
A side-by-side refrigerator is a good choice if you need equal fresh and frozen food storage. This one from Kenmore has a combined 25 cu. ft. of storage space. But, at 35.5" wide, it's a compact model ideal for smaller kitchens.
The refrigerator has 15.46 cu. ft. of storage space, including adjustable shelves, a dairy shelf, and door bins. The freezer is smaller at 9.11 cubic feet, but it still offers plenty of storage space.
It operates at 42dB, although its built-in icemaker can raise this. If noise is a concern in your home, just don't run it. There's plenty of room in the freezer for ice trays instead.
Although not Energy Star rated, customers state it's fairly energy-efficient and doesn't stay on for long periods. You can manually adjust the temperature to suit, too.
Users mainly comment on the ice maker, saying it's loud and a bit inconvenient. But, we've already mentioned a solution to that (buy an ice tray). Others say it could do with more storage space, but it's designed as a compact model.
PROs
Compact side-by-side refrigerator.
Operates at 42dB.
Acceptable storage space for smaller kitchens.
Comes with all the necessary features.
Quietest Under-Counter Refrigerator: HCK 24" Under-Counter Drawer Fridge
Under Counter
Capacity:

5.3 cu. ft

Noise Level: 39 dB
Energy Use: 304 kWh/yr
Dimensions:
Depth: 23.6″
Width: 23.6″
Height: 34.1″
Warranty: 1 Year
At only 39dB, this is one of the quietest refrigerators you'll find. Its drawer design is primarily for drinks, but there's nothing stopping you from storing food in it.
It has a fridge and a freezer, each with 5.3 cubic feet of storage space. The freezer is divided into 2 drawers, allowing you to store more things in it. Also, this helps keep everything organized.
There's a small LED touchscreen that you can use to adjust the temperature. Rather than the traditional dial, it gives you specific temperatures, meaning you can be more exact.
Due to its size, it lacks standard features like shelves and a crisper drawer. But, it's ideal for using in an outdoor BBQ area, den, or small apartment kitchen. It might not have as much storage as a conventional fridge, but it suits most small applications.
Some users comment that it's quite expensive for a small fridge. While this is true, it's partly because it's designed for outdoor use, meaning it's water-resistant. If you're on a tight budget and need an indoor refrigerator, look for a different model.
PROs
Easy-to-use compact fridge.
Costs around 9 cents a day to run.
Low noise – 39dB.
Simple to install under counters.
CONs
Quite expensive.
Drawer design won't suit everyone.
Quietest Beverage Refrigerator: NewAir Beverage Cooler
Beverage Mini Fridge
Capacity:

3.4 cu. ft

Noise Level: 35 dB
Energy Use: 260 kWh/yr
Dimensions:
Depth: 19″
Width: 18.25″
Height: 33.13″
Warranty: 1 Year
This model is perfect for using in rooms where you don't want a noisy fridge, such as an office, dorm, or bedroom. It operates at 35dB, making it one of the quietest refrigerators.
Unlike the other models on this list, it doesn't have a freezer. This is typical for drinks coolers, although if you want a small fridge with a freezer, go for the HCK above.
It can hold up to 126 standard-size cans, although you can remove the shelves for larger items. This equates to 3.4 cubic feet. The glass door is double paned, which helps to keep it insulated, and you can reverse the handle for convenience.
Some users state that it's quite a temperamental fridge and has thermostat issues if boxed in. The easiest solution is to keep the back well ventilated and ensure the feet are always level. Consider at least 2" clearance at the back and around 4" clearance at the top to optimize heat exchange.
PROs
Compact beverage fridge ideal for dorms and offices.
Low noise – 35dB.
3.6 cubic feet of storage space.
Manual thermostat for temperature control.
CONs
No freezer.
Must be kept level and well ventilated.
Quietest Portable Refrigerator: Twing Mini Fridge
Portable Mini Fridge
Capacity:

0.14 cu. ft (4 L)

Noise Level: 38 dB
Energy Use: NC
Dimensions:
Depth: 11.9″
Width: 11.6″
Height: 8″
Warranty: NC
A portable refrigerator is ideal for use in the car or for storing beauty supplies, among many other uses. This model has up to 4 liters of storage space, equal to a couple of cans or small snacks. Obviously, it won't be your main refrigerator, but it's ideal as a road trip model.
It comes with AC and DC cables, meaning you can power it from the mains or in the car. Its energy consumption is low, which isn't surprising for such a small model. But, it's not as well insulated as larger refrigerators, so ambient temperatures more easily affect it.
Its maximum sound emissions are 38dB. This won't be too noticeable in larger rooms, but you might hear a slight hum if, say, it's near your bed while you're sleeping.
This fridge is a thermoelectric cooler, so it keeps things hot or cold. Its temperature range is 32F to 150F. I've already explained how thermoelectric technology works in my article about quiet mini fridges.
The main downside is that, because it's a semiconductor fridge (i.e Thermoelectric Cooler), your items should be close to the right temperature before you put them in. For example, if you want a cold soda, it should already be cold. It's essentially a powered cooler, but that's what you get for this kind of model.
PROs
Compact with plenty of storage space.
Keeps items hot or cold.
Includes AC and DC power cables.
Operates at up to 38dB.
CONs
Items must be close to the right temperature already.
Quietest French Door Refrigerator: Smad Counter-Depth French Door Refrigerator
French Door Refrigerator
Capacity:

22.5 cu. ft

Noise Level: 42 dB
Energy Use: 588 kWh/yr
Dimensions:
Depth: 29″
Width: 35.8″
Height: 69.9″
Warranty: 1 Year
This quiet refrigerator combines 2 big categories: counter-depth and French door. A counter-depth refrigerator (unsurprisingly) means it's the same depth as standard kitchen counters.
It has glass shelves in the refrigerator and a crisper drawer. Overall, the fridge has 15.87 cu. ft. of storage space, and the freezer has 6.61. You get 2 freezer drawers (at the bottom) for storage convenience.
The French door design makes it easy to access food and provides more flexible door storage. Also, the glass shelves are spill-proof, meaning they have a raised lip. While not a massive feature, it does stop liquids dripping down the back if you don't clean them up in time.
At 42dB, it's on par with the Galanz and Kenmore models. However, the Smad has more storage space, making it a good choice for medium-sized family kitchens.
The main downside mentioned by users is the bottom crisper drawer. It's the full fridge width, meaning you must open both doors to access it. This isn't a massive problem, but the point of 2 doors is greater flexibility.
PROs
Plenty of storage – ideal as a family fridge.
As quiet as other larger refrigerators.
Includes moderate bottom freezer.
Spill-proof shelves.
CONs
Bottom crisper drawer is inconvenient.
What Features to Look for When Choosing the Quietest Refrigerators
When looking for a quiet refrigerator, sound emissions are obviously the most important factor. Aside from this, there are other things to consider.
Cubic Feet
We measure a refrigerator's size in cubic feet, which is its internal capacity. As a general rule, a 2-person family should have 8-10 cubic feet of storage in their refrigerator and 4 in the freezer. You should add up to 2 more cubic feet for each extra family member.
Size
Of course, a refrigerator's external measurements are just as important when picking the right model. The best place to start is by measuring your current fridge and the space it sits in.
A counter-depth refrigerator is probably the only one where size really matters. As standard, they're 30 inches deep, which is the same as normal kitchen counters. This measurement doesn't include handles, though.
All refrigerators list their dimensions, so it shouldn't be difficult to find the right one.
Energy Efficiency
An energy-efficient refrigerator will generally make less noise because it doesn't have to run the compressor as much. We measure energy usage in kilowatt hours (kWh), and the price you pay depends on your energy provider.
The easiest way to know if your refrigerator is energy-efficient is with the Energy Star rating. It's a government rating that has specific standards for appliances, including refrigerators.
In short, the Energy Star rating means you're buying a product that's (almost) as efficient as possible. Not only will it save you money but it should also cut down on sound.
Warranty
Manufacturers usually offer a 1-year warranty on a refrigerator, although they sometimes go up to 5 years. Considering a well-made fridge can last a decade, it's worth finding one with a decent warranty.
For an expensive refrigerator, consider covering it through your home warranty. This can cost up to $600 a year but usually covers all major appliances. If you're investing in a decent quiet refrigerator, it makes sense to keep it covered.
Setup
As mentioned, your options for refrigerator style include French door, stacked, or side-by-side. They're generally self-explanatory.
A stacked model (with the freezer on top) is the most budget-friendly option and is more energy-efficient than a bottom freezer refrigerator. You sacrifice freezer space, though, as it equates to at most 40% of the total storage capacity.
A side-by-side is best if you want almost equal storage in each. As the name suggests, the fridge and freezer are next to each other.
A French door refrigerator usually has a bottom freezer drawer, although some have a French door instead. According to the Energy Star guidelines, fewer doors mean better energy efficiency.
But, a French door refrigerator is one of the biggest models on the market, making them suitable for larger families.
You have fewer options with compact or portable refrigerators. These are simpler models, often designed to cool drinks or store medication/beauty supplies. They're also usually the quietest refrigerators because they use slightly different cooling technology.
Technology
For home refrigerators, your main option is compressor cooling technology. It works the same as an AC unit. You can check out my other article on mini-fridges to understand how compressor fridges work.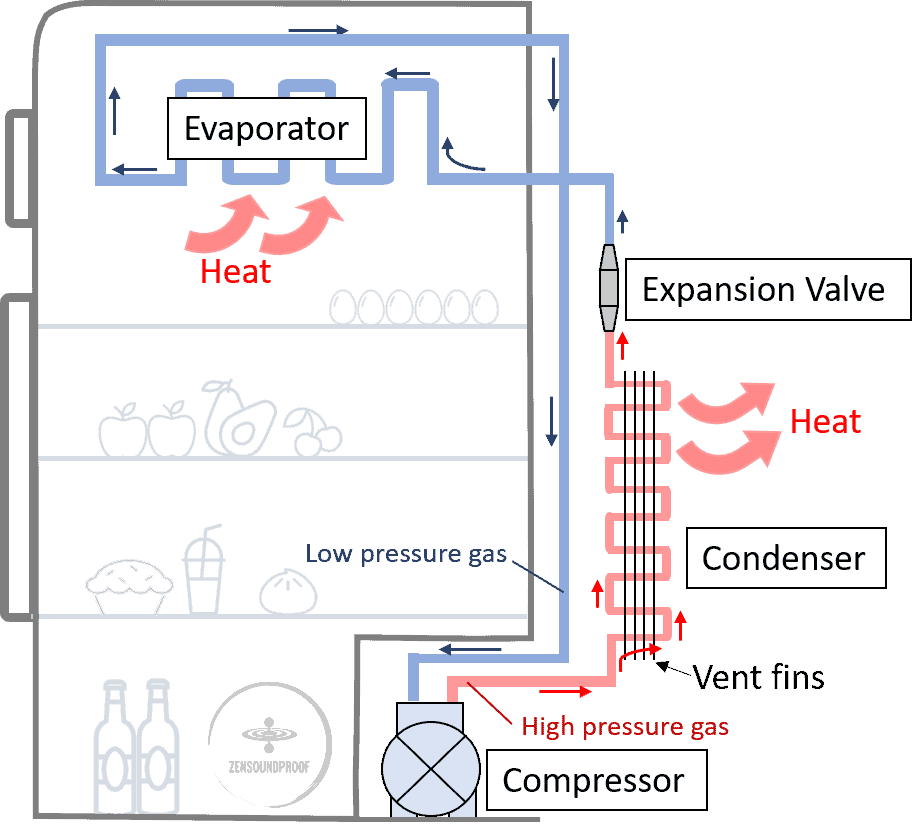 Portable fridges use semiconductor/thermoelectric cooling. The technology is quieter than a compressor as I explained in another article here. That's why the portable model I review above can go as low as 25dB.
Over time, your refrigerator's compressor might start making noise. I've written an article about how to quiet a noisy refrigerator compressor, so check that out if you need more information.
Features
Aside from keeping food cool, what else does a refrigerator need to do? Well, that largely depends on preference, as everything else is an extra feature.
Water Cooler
At the most basic level, this is a tank in the fridge door that stores water (or wine). You pour the water in, it chills, and then you dispense it through the front of the fridge.
More complex models connect to your mains water supply, drawing water directly into the fridge. Although not a noisy process, it does add another thing that can make noise if it goes wrong.
If you're willing to just top the water up when needed, a tank is a better option.
Ice Maker
Many fridge-freezers feature an automatic ice maker. Again, these usually connect to your mains water supply. The fridge draws in water, freezes it, and then dispenses it into a holder.
Overall, this can be a very noisy process, even if the noises are normal.
If you're looking for a quiet refrigerator, steer clear of an ice maker. Plus, there's nothing too difficult about filling some ice trays and doing it the old-fashioned way.
Shelves and Salad Crisper
Obviously, shelves are a fundamental feature in a refrigerator. Most use glass shelves, which are easy to clean and sanitize. Ideally, the crisper should be humidity controlled otherwise it won't keep things fresh.
Look for shelves that have a lip. It prevents spills from running down the back of the fridge where they can start to smell. Some models call it spill-proof shelving, so keep an eye out for that.
Thermostat
Granted, this isn't an extra feature, but it's worth mentioning. Your refrigerator should have some sort of internal temperature control. Along with energy consumption, this'll affect sound.
The most basic version is a dial that you turn, but others have LED temperature displays. Dials without a temperature scale are fine but might take some trial and error to find the right temperature.
Final Thoughts on the Best Quiet Refrigerator
I hope this article has narrowed down your choices for the best quiet refrigerator for your needs.
Usually, I recommend my top pick, but I've tried to provide a suggestion for each main category of refrigerator. The most suitable one for you will depend on space, family size, and budget.
If you're looking for more options for a mini fridge, check out my other article on my Top 5 Quiet Mini Fridges.
Do you have suggestions for other good quiet refrigerators? Let me know in the comments below.