When I was designing my home bar setup, I decided to look for the quietest beverage cooler possible. After all, no one wants excess humming from a loud fridge while they're trying to enjoy a drink.
As part of my research, I dug into the differences between a beverage cooler and a wine cooler to understand which would be relevant for my needs.
I found that there were several worthwhile quiet beverage coolers, so I've collected them in this article to pass on my findings. Before jumping into the reviews, let's look at the differences between a beverage cooler and wine fridge to help you decide which you need.
The Difference Between a Wine Fridge & Beverage Fridge
Wine is a type of beverage, so can there really be many fundamental differences between these types of refrigerators? Surprisingly, yes, although a few only become obvious when you start looking at higher-end models.
Some of the main distinctions between a wine fridge and a beverage cooler are:
Layout. Wine fridges have racks for storing wine bottles horizontally, whereas beverage coolers are designed to hold anything from cans to large soda bottles.
Temperature range. A beverage cooler will typically mimic a normal fridge's temperature range. A wine fridge often has a higher max temperature for red wine.
Size. Wine coolers can be big enough to store nearly 200 bottles of wine, while a beverage cooler is usually small enough to fit under a counter.
Design. A beverage cooler may or may not have a glass-paned door, whereas a wine fridge will generally always have glass.
Location. Beverage coolers can be outdoor rated, making them ideal for a BBQ area or bar. On the other hand, wine fridges are for indoor use, as UV exposure can ruin your wine.
Both devices can use either compressor or thermoelectric (TEC) cooling technology, meaning they generally have similar noise ranges (30-55dB).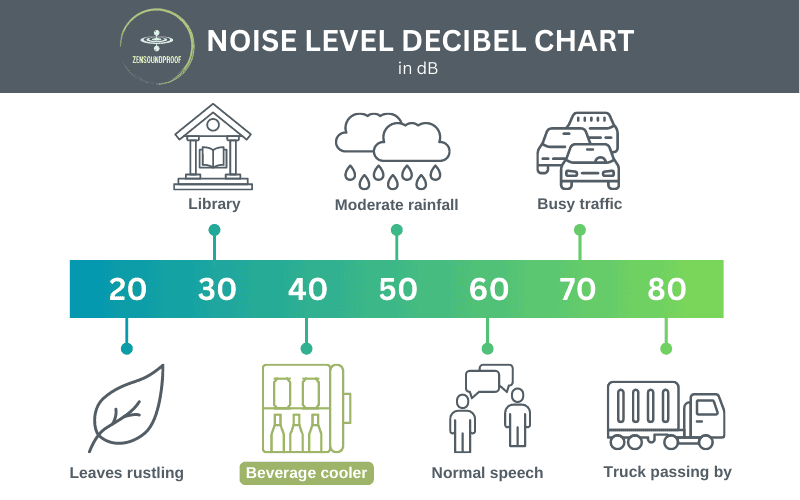 Of course, we can't forget the third option: mini fridges. Mini fridges have wider applications, including makeup and medication storage, food, and a freezer compartment. I've rounded up my favorite mini fridges elsewhere, so check that article out.
Our Top 5
While noise level is an important factor in these reviews, it needs to be balanced against others. For example, we can't overlook energy efficiency, capacity, and, of course, functionality. These are all what I consider in my reviews below.
1. Top Pick: Vremi 120 Can Beverage Cooler
Noise level: 42dB
Temp. range: 34°F – 50°F
Compressor cooling
Max 12oz. cans: 120
Capacity: 90.6 L (3.2 cu.ft.)
Energy Eff.: 288kWh/year
Dimensions:
18.9" (Width)
17.3" (Depth)
33.3" (Height)
The Vremi 120 Can Beverage Cooler is my top pick because it's a good balance between noise emissions, price, functionality and efficiency.
Build
This beverage cooler holds up to 120 standard-sized cans across 3 adjustable shelves. You can also use the bottom of the fridge for storing larger bottles if needed. Although a minor feature, the shelves have raised edges, which helps stop your drinks from rolling out of the fridge.
You could use it either freestanding or undercounter, as the sides are finished to a high enough standard that they can be visible. It features a glass door with reversible hinge, so it's fairly nice to look at.
Noise Level
This beverage fridge is rated at 42dB, which is presumably when the compressor is running. Based on my experience handling other similar-sized beverage coolers, I can reasonably assume it sits at around 38dB when the compressor is off.
Cooling Performance
The Vremi uses compressor cooling and has a temperature range of 34-50F, which you control using a touchscreen. It runs cooler than some other models on the list, meaning it won't be suitable for drinks like red wine. However, it'll be ideal for beer, soda, and white wine.
With 75W of power consumption, its estimated annual energy consumption is 288kWh per year. It's rated very highly by consumers for its energy efficiency, which is always a good sign. A major benefit over the budget model below is the internal convection fan. This helps distribute cool air more evenly, keeping all your drinks cold.
Downsides
Some reviewers state they had issues with the thermostat's calibration, saying it could be as much as 10F higher than its setting. However, this appears to be an issue with the thermostat itself and is covered under the cooler's warranty.
---
PROs
Fairly energy efficient.
Internal fan helps distribute cool air evenly.
Quiet enough to not be annoying.
CONs
Some users had thermostat calibration issues.
2. Top Budget Pick: Comfee CRV115TAST 115 Can Refrigerator
Noise level: 42dB
Temp. range: 33.8°F – 50°F
Compressor cooling
Max 12oz. cans: 115
Capacity: 90.6 L (3.2 cu.ft.)
Energy Eff. 288kWh/year
Dimensions:
18.9" (Width)
17.3" (Depth)
33.2" (Height)
The Comfee CRV115TAST 115 Can Refrigerator is slightly smaller than the Vremi above and comes with fewer features. Regardless, it makes a great budget-friendly pick.
Build
This fridge has a 115-can capacity, meaning it's marginally smaller than the Vremi. With 3 adjustable shelves, you've got plenty of options for holding larger bottles if needed.
It's a freestanding model, which is most evident in the fact that it's only 19" wide. However, it offers decent capacity considering it's up to 5" narrower than an undercounter model.
The door hinge is reversible, and there's an interior LED, although you have to turn this on manually rather than it coming on when you open the door.
Noise Level
The Comfee is another compressor cooling model rated at 42dB. Some users state its noise is noticeable but not distracting, which fits this kind of noise output.
Cooling Performance
The temperature range for this cooler is 33.8-50F. This is fairly standard and is enough to keep your sodas and beers cold. The glass door is double paned for better insulation, too. Its energy efficiency is 288kWh per year, which is, based on my observations, typical of beverage fridges of this size.
Another sign of its price point is that you control the temperature using a manual dial. It's a fairly standard feature in most refrigerators, but obviously means you don't have the same level of accuracy as you do with the Vremi. For sodas, beer and water, this doesn't really matter though.
Downsides
Users state that there's noticeable temperature variation inside the cooler, as there's no fan to circulate cold air evenly. To compensate for this, you'll need to rotate your drinks if you want them all to be as cold as possible (the fridge is coldest at the bottom).
---
PROs
Good range of features for a budget model.
Freestanding, compact design.
Quiet – should be suitable for most rooms.
CONs
Noticeable temperature variation within the fridge.
3. Top Premium Pick: HCK 161 Can Beverage Cooler
Noise level: 45dB
Temp. range: 33.8°F – 50°F
Compressor cooling
Max 12oz. cans: 161
Capacity: 145 L (5.1 cu.ft.)
Energy Eff.: 304kWh/year
Dimensions:
23.6" (Width)
23.6" (Depth)
34" (Height)
The HCK 161 Can Beverage Cooler doesn't offer loads of features over the Vremi model, but its price is justified in the superior construction and appearance if nothing else.
Build
Unlike the other models on this list, the HCK has a metal door. We could argue that this improves its insulation, but the difference might not be super noticeable. It can be used as either freestanding or undercounter thanks to its front-end ventilation panel.
Arguably its best feature over other beverage coolers is that it's rated for outdoor use. The fridge is IPX4 rated, meaning it can withstand splashes, including rain. That said, you'll still want to install it under cover for extra protection.
This fridge holds up to 161 cans and has 3 adjustable shelves. There's also a lock to keep your drinks safe.
Noise Level
The HCK is rated at 45dB when the compressor is running and 39dB when it's off. While this is one of the louder beverage fridges, it'll be far less noticeable outdoors. Plus, its compressor-off noise level is only 1dB higher than the Vremi.
Cooling Performance
The HCK is compressor cooled, which we'd expect for an outdoor-rated model. Its temperature range is 32-50F, so it can cool lower than the other options (although 2 degrees isn't a massive difference). Like the Vremi, it uses an LED panel to control the temperature, giving you great accuracy.
Its annual energy consumption is 304kWh per year. This is good, but not the best we reviewed so far. But this can be partly explained by it being an outdoor-rated model, as it'll need to use more energy to stay cool when the ambient temperature is higher.
Downsides
Despite having a reversible door, some users state it's difficult to change it over. In fact, one reviewer said some parts didn't seem to fit and recommended not trying the job at all. Considering this model's price point, this is a bit disappointing.
---
PROs
Sleek, modern look with stainless steel exterior.
Outdoor rated (IPX4 Waterproof rating).
Door features a lock for extra protection.
CONs
Very difficult to switch the door's opening side.
4. Top Pick for Compact Design: Bodega 100 Can Beverage Cooler
Noise level: 45dB
Temp. range: 37°F – 64°F
Compressor cooling
Max 12oz. cans: 100
Capacity: 100 L (3.5 cu.ft.)
Energy Eff.: 150kWh/year (Est.)
Dimensions:
15" (Width)
23" (Depth)
33.5" (Height)
With a width of only 15", the Bodega 100 Can Beverage Cooler is a good option for anyone who wants to maximize their drink storage without taking up too much room. Most beverage coolers are closer to 19" or above in width.
Build
The Bodega can hold up to 100 cans across 3 adjustable shelves. This is 15 fewer cans than the Comfee model, which is in line with it being 4" narrower.
Like the HCK, it's completely stainless steel and has a foam-insulated door. Its rather small capacity, only 100L, and the foam insulation are some of the reasons it's so energy efficient. It consumes around 0.413kWh per day, which translates to an impressive 150kWh per year. This is twice more efficient than the Bodega model above (304 kWh per year).
Noise Level
It's rated at 50dB, putting it at the top end of the scale for quiet beverage fridges (it's about the same as a normal refrigerator). However, this noise level is when the compressor is running – we can assume it's around 45dB when it's off.
It's listed as having noise reduction features, which presumably include compressor insulation. It's rated fairly well for noise level, and most reviewers describe its output as acceptable.
Cooling Performance
Unsurprisingly, we're looking at another compressor cooler. Unlike the budget model, this fridge has a fan inside to help circulate the air, which keeps it at a more consistent temperature. Its range is 37-64F. While this is the warmest minimum temperature, it's still pretty cold.
Again, we get a touchscreen control for the temperature, which can be set to Fahrenheit or Celsius.
Downsides
Some reviewers state that the shelves feel a bit flimsy, although no one mentions having any problems with them. Provided you're not trying to store anything heavier than the shelf's can capacity, it shouldn't be an issue.
---
PROs
Narrow fridge is suitable for awkward spaces.
Energy efficient.
Features noise-reduction insulation.
5. Top Pick for Beer and Wine Bottles: Tylza Wine and Beverage Refrigerator
Noise level: 42dB
Temp. range: 35°F – 50°F
Compressor cooling
Max 12oz. cans: 57
Bottles of wine: 18
Capacity: 150 L (5.3 cu.ft.)
Energy Eff.: 461kWh/year (Est.)
Dimensions:
34.3" (Height)
23.6" (Width)
22.6" (Depth)
If you can't decide between a wine or beverage cooler, why not get both? The Tylza Wine and Beverage Refrigerator has separate sides for more effective storage.
Build
This cooler mimics normal American refrigerators in that it has 2 swing doors for its separate compartments. On one side, you have space for cans (which has wire rack shelves). On the other side, you can store wine on wood shelves – its capacity is 57 cans and 18 bottles of wine.
At 24" wide, it's still compact enough to be fitted under a counter, or you could have it freestanding. It has glass doors, although there's unfortunately no mention of them having UV resistance.
Noise Level
This refrigerator is rated at 42dB when the compressor is running and 38dB when it's off. This puts it in line with the first 2 picks. However, we can give it the title of best quiet wine cooler, as it's the only wine cooler on the list!
Cooling Performance
Helpfully, the Tylza features compressor dual zone cooling. The left side (for beverages) cools between 35 and 50F, while the right side (for wine) cools between 41 and 64F. Unfortunately, this means it's not ideal for storing red wine, as this needs warmer temperatures. However, it'll be fine for whites and roses.
We don't have an explicit energy consumption rating, but we can make an educated guess. Based on its 120W rating, it'll use around 461kWh per year if we use the Vremi's stats as a base. This isn't great for a more premium model, as we should expect greater insulation and higher efficiency.
Downsides
Some reviewers state there can be a slight temperature variation between what the display reads and their thermometer picks up. However, this is typically only 2 degrees, which won't be an issue for beer, soda, or white wine.
---
PROs
Dual cooling for wine and beverages.
Surprisingly compact.
Has some nice design features, such as wood shelves.
CONs
Some temperature discrepancy.
Assumed energy efficiency isn't great.
Do Quiet Beverage Coolers Exist?
Quiet beverage coolers do exist, as demonstrated above. The quietest one I reviewed emits 42dB of noise, which is roughly equivalent to the sound of light rain. As such, it shouldn't be too much of a bother once you're a few feet away.
One thing to consider when thinking about noise levels is where you install your beverage cooler. Undercounter models, surrounded by cabinets, walls, etc., can reduce airflow to the compressor. In turn, this can force it to work harder, making more noise. A quick solution is to opt for a freestanding model.
Buying Guide
When it comes to most of the important buying factors for a beverage cooler, they're almost identical to those of a wine fridge. As such, I recommend reading through my article on wine coolers, as I discuss the criteria in more depth there.
I'll still mention the important factors here, but only briefly.
Noise level
There's not much more to say about noise levels of quiet beverage coolers. All the models I've reviewed have a noise output range of around 40dB. However, a 3dB increase is the same as a doubling in sound intensity. This might sound like quite a difference, but it's not as much as it appears.
Our ears don't follow a linear (or logarithmic) scale in terms of how they hear sound. Specifically, this means a doubling in sound intensity only really equates to a 20-30% increase in perceived loudness.
Cooling Technology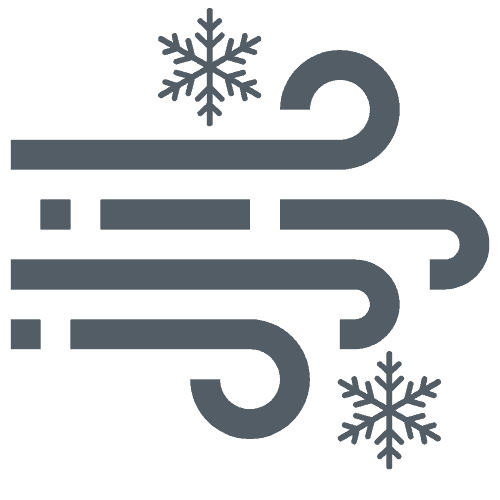 All the models I've reviewed use compressor cooling technology. It's the same thing you'll find in standard refrigerators and AC units. We can also get TEC fridges, which are quieter but not as energy efficient.
Energy Efficiency
Energy efficiency refers to how much power a beverage cooler needs to operate. We express it as a value of kilowatt-hours (kWh) per year. Around 75-120W is the standard power level for a beverage cooler.
As with wine coolers, it's not common for beverage coolers to have Energy Star ratings. I only found 1 during my research, which consumes 169kWh per year.
However, a mini fridge only needs to use 239kWh per year to be Energy Star certified. As you can see from some of the figures above, a beverage cooler can be a lot lower (but also a lot higher) than this.
Beverage coolers can be lower due to their superior insulation and cooling power. If you want an efficient beverage cooler, look out for one with a non-glass door.
If not, look for a model with at least a double-paned stainless steel glass door.
Temperature range
The necessary cooling range for a beverage fridge is only between 38 and 55F, which covers the ideal storage temperatures for soda and beer. Most coolers go lower than this, which is helpful for storing water and to compensate for some temperature fluctuation.
Internal air circulation
Ideally, you'll want a beverage cooler with an internal fan to help regulate the compartment temperature. This might sound like a standard feature but, as shown with the Comfee fridge, it's not always included. Luckily, it's more common for it to be included.
Dual zone
If you plan to store wine in your beverage fridge, you'll want a higher maximum temperature. As I explain in my wine cooler article, reds should be stored at 54F as a minimum. It means most beverage coolers won't be warm enough for storing reds, so you'll want to switch to a dedicated product (or wine cellar!) if this is your plan.
That said, you could opt for a dual zone wine cooler. In short, this is where a refrigerator can cool 2 sections almost independently, allowing you to keep some drinks warmer than others. However, it's not as common with beverage coolers, so this could be another reason to go with a wine cooler.
Temperature control
For temperature control, a digital touchscreen display is best. It means you can set an exact temperature rather than going with the rough range you get with a manual dial. For most people, the latter would be fine, but you'll want accuracy if you plan to store craft beers or wine.
Shelf Setup
All the beverage refrigerators on this list feature 3 shelves, which is fairly standard. This gives you 4 storage spaces if we include the bottom of the fridge.
You'll want them to be adjustable so you can store larger bottles. Most beverage coolers are set up based on 12oz. cans, which can either be stood up or laid down. Therefore, if you want to store wine bottles or large sodas, you'll need to move shelves around.
Extra Features
A few extra features you might want to consider in a quiet beverage cooler include:
Reversible doors. This simply gives you flexibility over where you install your refrigerator.
Outdoor rating. Pretty self-explanatory: this lets you use the cooler outdoors.
Safety locks. Generally used to prevent children getting into the fridge, locks can also help protect your drinks if using the cooler outdoors.
Glass door. Glass doors are basically only for looks, as they don't serve any real functional purpose.
Vibration damping. Features include compressor insulation and rubber feet to reduce the amount of vibrations that can exit the cooler. This helps keep noise emissions down.
Final Thoughts
I hope this article has helped you to decide on the best quiet beverage cooler currently available.
My top pick is the Vremi 120 Can Beverage Refrigerator. It's a decent balance of internal capacity, noise output and functionality. However, if your requirements are compact design or lower noise output, any of the other models will be suitable.
Have you used a quiet beverage cooler that you think other people should know about? If so, drop it in the comments below.