A quiet gaming laptop is an ideal balance between portability and raw performance. Although desktops still have the upper hand, a laptop can be a convenient option if you're short on space or want something that consumes less power.
In this article, I share the top picks I found when prospecting for the best quietest gaming laptop. I focus on 2022 models, as the latest 2023 RTX 40-series hasn't justified yet to be on this list.
In this post, I cover all the points I personally went through before purchasing my gaming laptop (a Legion 5). You can actually see my Legion 5 popped open in this section when I went on to upgrade the RAM.
Factors Influencing Noise in Gaming Laptops
The main source of noise in a gaming laptop, as in desktops, is the fans. Technically called blowers, they're what keep the laptop cool, specifically the GPU and CPU. Laptop fans are smaller than in desktops, simply because the internal components are more compact.
How Many dB is a Quiet Gaming Laptop?
While the specific answer depends on the fan mode and level of performance, I consider a gaming laptop to be quiet if it produces less than 50dB of noise in balance mode, and less than 43dB in quiet mode. Although you'll never get a silent gaming laptop, 43dB is pretty quiet.
Gaming laptops generally have 3 fan modes (excluding idle). These are:
Quiet. Quiet mode caps the power consumption (in watts) of the CPU and GPU. It favors noise emissions over raw performance – lower FPS and less heat emitted.
Balance. Balance mode, unsurprisingly, balances heat extraction (fan speed) and CPU and GPU performance. Frame rates (or FPS) are better, but the blowers are noisier.
Performance. Performance mode prioritizes gaming quality over noise emissions. Fans can run pretty much at full power to extract more heat. In turn, this makes them much louder.
Some models will also have a manual fan mode, which allows you to set the fan speed yourself. Where these are mentioned below, it's with the assumption that the fan is running at maximum capacity. As such, this mode will have the highest decibel rating and will be the loudest the fan will go.
Our Top 7
Of course, noise levels are the most important factor I consider below. All noise levels expressed are issued from stress test on both the CPU and GPU.
I balance these against performance, build quality and price, as these are crucial when choosing the best gaming laptops. After all, low noise emissions mean nothing if it can't handle the games you want to play!
Also, it's worth noting any models I reviewed below are the models with the highest-tier GPU and CPU. If you go for other gaming laptops with a lower-tier GPU or CPU, the noise emission should remain below the ones given in my reviews.
1. Best Quiet Premium Gaming Laptop: ASUS Scar 17 SE
CPU: Intel i9 12950HX (8 P-cores, 8 E-cores)
RAM: 32GB (DDR5 – 4800 MT/s)
GPU: RTX 3080Ti
VRAM: 16GB
TGP: 175W
Noise @ idle: 36dB
Noise @ Quiet Mode: 40.8dB
Noise @ Balance Mode: 44.9dB
Vapor chamber: Yes
Display: 17.3" IPS
Res: 1440p @240Hz (16:9)
Color accuracy: 100% DCI-P3
Mux Switch: Yes
Storage: 1TB M.2 PCIe 4.0 SSD
Battery: 90Whr
Ports:

2x USB-A 3.2 gen2
1x USB-C 3.2 gen 2
1x USB-C Thunderbolt 4
1x 3.5mm Audio Jack
1x HDMI 2.1
1x 2.5GB Ethernet Port

Laptop only: 6.43 lbs (2.91kg)
Laptop + charger: 8.78 lbs (3.98kg)
The ASUS Scar 17 SE is my top pick for premium gaming laptop because it's a great balance of power, build quality and noise emissions. It ranges between 36dB at idle and 52.5dB in performance mode (refer to the video below). Importantly, it sits at 44.9dB in balance mode, putting it firmly below the cap for a quiet gaming laptop.
It features a 12th-gen Intel i9 12950H processor and a Nvidia GeForce RTX 3080ti GPU that can reach the max power limit of the 3080Ti (TGP at 175W). The Scar 17 SE has good exploitation of its GPU as it's topping gaming and productivity benchmarks for 2022 laptops. To get this amount of fantastic gaming performance, you could consider the MSI Titan GT77, but expect to give up quietness.
There's also a GPU MUX switch, which allows the GPU to communicate directly with the display. In short, this means better performance and lower latency. You also get 32GB of RAM and a 17.3" 1440p display.
The body is pretty sturdy, which translates to a weight of 3kg. While this is on the heavier side, it's arguably worth it for the extra performance and screen size. You also get a 1TB SSD, meaning it's very responsive when loading games or programs.
Its biggest downfall is that some major components feel a bit flimsy. For example, its touchpad feels a bit loose and its lid hinges feel a bit weak. Considering this is a premium laptop, these design features feel a bit lower-end. However, it shouldn't be an issue as long as you're careful with it. Also, it's worth noting that it can eat through its 90Whr battery in less than an hour when running a demanding game.
---
PROs
Plenty of ports (HDMI, USB, audio jack).
Impressively powerful gaming laptop.
Decent display size and image quality.
CONs
Some design features feel a bit cheap.
2. Alternative Premium Pick: Lenovo Legion 5 Pro
CPU: AMD R7 6800H (8 cores)
RAM: 16GB (DDR5 – 4800 MT/s)
GPU: RTX 3070Ti
VRAM: 8GB
TGP: 140W
Noise @ idle: 36.4dB
Noise @ Quiet Mode: 38.7dB
Noise @ Balance Mode: 48.5dB
Vapor chamber: No
Display: 16" IPS
Res: 2560x1600p @165Hz (16:10)
Color accuracy: 100% sRGB
Mux Switch: Yes
Storage: 1TB M.2 PCIe 4.0 SSD
Battery: 80Whr
Ports:

3x USB-A 3.2 gen1
3x USB-C 3.2 gen 2 (1 port supports UBS-C charging)

1x 3.5mm Audio Jack
1x HDMI 2.1
1x RJ45 Ethernet Port
Laptop only: 5.65 lbs (2.56kg)
Laptop + charger: 7.94 lbs (3.60kg)
The Lenovo Legion 5 Pro is a decent alternative for a premium gaming laptop. Although its hardware is slightly lower than the ASUS Scar, this is reflected in its noticeably lower price point. Importantly, it's not drastically louder, either. At idle, it's 36.4dB, in balance mode, it's 48.5dB, and in performance mode, it's 53dB (noise measurement in the video below).
It features the Nvidia GeForce RTX 3070ti (with a power limit of 140W), which is a decent GPU for 1440p gaming. You might notice some frame rate differences at really high settings, but for most games, it shouldn't be an issue. The same is true for its CPU (6800H). It packs 8 cores, which will give you enough headroom for gaming and any content creation tasks
You still get a 1TB SSD, with an amazing 16" screen. Lenovo started this trend of 16"display with a 16:10 aspect ratio, which translates into more vertical space that's great for content creation tasks (but not as useful for gaming). As a consequence, the screen has an unorthodox 2560 by 1600 pixels resolution.
The laptop I've reviewed packs 16GB of RAM but you can upgrade up to 64GB provided you have proper prying tools. The port selection is the same as on the ASUS. In short, it won't offer the same raw performance, but it's really not far off. If you want a laptop that's in the same range as the ASUS but with a bit more portability, the Lenovo Legion 7i could be the model for you.
Battery is once again a big issue. It's an 80WHr battery, but it offers the same kind of lifespan as the ASUS. Also, the laptop's charging brick is 1.1kg, which is quite a lot to carry around in addition to the laptop itself. For gaming, you might be better sticking with the 2021 model, as this one doesn't offer massive improvements despite updated hardware.
---
PROs
Premium hardware at a lower price point than the ASUS.
Decent sound emission levels for performance.
Excellent 16:10 display.
CONs
Heavy charging brick.
Not a massive performance upgrade for gaming over the 2021 model.
3. Best Quiet Mid-Range Gaming Laptop: Lenovo Legion 5
CPU: AMD R7 6600H (6 cores)
RAM: 16GB (DDR5 – 4800 MT/s)
GPU: RTX 3060
VRAM: 6GB
TGP: 130W
Noise @ idle: 35.6dB
Noise @ Quiet Mode: 36.9dB
Noise @ Balance Mode: 47.3dB
Vapor chamber: No
Display: 15.6" IPS
Res: 1920x1080p @165Hz (16:9)
Color accuracy: 100% sRGB
Mux Switch: Yes
Storage: 512GB M.2 PCIe 4.0 SSD
Battery: 80Whr
Ports:

3x USB-A 3.2 gen1
3x USB-C 3.2 gen 2 (1 port supports UBS-C charging)
1x 3.5mm Audio Jack
1x HDMI 2.1
1x RJ45 Ethernet Port
Laptop only: 5.52 lbs (2.50kg)
Laptop + charger: 7.44 lbs (3.37kg)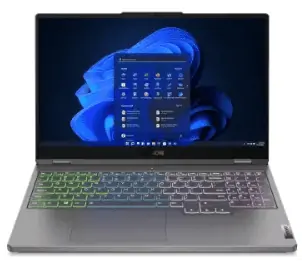 The Lenovo Legion 5 is the mid-range version of the Legion 5 Pro reviewed above. The difference, once again, mainly comes down to the hardware's power. Rather than the 3070ti and 6800H, it features the Nvidia GeForce RTX 3060 and the AMD 6600H CPU.
However, some consolation is that this translates to marginally quieter emissions. At idle, it's 35.6dB and in balance mode, it's 47.3dB. Finally, in performance mode, it's 52dB. While this isn't as quiet as the ASUS, it's quieter than the Legion 5 Pro.
I've linked the video of the Legion 5's noise measurement below.
That said, the Legion 5 has a good reputation as it optimizes gaming performance by pushing the GPU to its max power limit (here 130W). That's the kind of feature you expect from a more budget-oriented option.
The laptop features a 15.6" 1080p screen and 16GB of RAM. Its SSD is 512GB, which is obviously far less than the premium models above. However, this is not a problem as it's easy to pop off the hood and slot in an additional M.2 SSD.
It's got you covered with all the ports you could need, and like all the Legion models, they're all at the back of the laptop, meaning the cables don't get in the way of your mouse. These include 4 x USB-A and a USB-C. You also get an HDMI port and an audio jack. The latter is helpful because the speakers are lacking in bass quality. While this is often the case with gaming laptops, it's noticeable here more than on other models.
If you want a comparable model that's slightly cheaper (and more likely to have promotional deals active), check out the ASUS TUF A15. It features the same hardware and has a manual fan speed mode that tops out at 56dB.
---
PROs
Good balance between performance and price.
Display quality is very high for price range.
Noise levels are comparable to premium version.
CONs
Speaker quality isn't great.
No manual fan control.
Almost no improvement over the 2021 Legion 5.
4. Alternative Mid-Range Pick: Acer Predator Helios 300
CPU: Intel i7 12700H (6 P-cores, 8 E-cores)
RAM: 16GB (DDR5 – 4800 MT/s)
GPU: RTX 3060
VRAM: 6GB
TGP: 140W
Noise @ idle: 35.4dB
Noise @ Quiet Mode: 42dB
Noise @ Balance Mode: 47.2dB
Vapor chamber: No
Display: 15.6" IPS
Res: 1920x1080p @165Hz (16:9)
Color accuracy: 100% sRGB
Mux Switch: Yes
Storage: 512GB M.2 PCIe 4.0 SSD
Battery: 90Whr
Ports:

1x USB-A 3.2 gen1
2x USB-A 3.2 gen 2
1x USB-C Thunderbolt 4
1x 3.5mm Audio Jack
1x HDMI 2.1
1x Mini Displayport 1.4
1x RJ45 Ethernet Port
Laptop only: 5.54 lbs (2.51kg)
Laptop + charger: 7.76 lbs (3.52kg)
The Acer Helios 300 is a good alternative in the mid-range price bracket. Importantly, it features the same GPU as the Legion 5 (Nvidia GeForce RTX 3060). It's also cheaper than the Lenovo models and the Asus A15.
At idle and in balance mode, it's quieter than the Legion 5 (35.4dB and 47.2dB, respectively). However, in quiet and performance modes, it's quite a bit louder (42dB and 60.5dB). While it's still within my bracket for a quiet gaming laptop, the performance mode output is the loudest by far on this list.
You can check out the noise test performed by Jarrod's tech.
This is arguably because you're running a notably more power-hungry CPU in a mid-range laptop, which translates to the fans having to work harder. Indeed the Intel 12700H delivers more performance but generates more heat than its counterpart the AMD 6800H. But if you're willing to put up with a bit of extra noise, it's still a good pick.
You get a full HD, 15.6" screen, 16GB of RAM, and a 512GB SSD. Like the Legion 5 above, it's relatively easy to upgrade the RAM or add a second M.2 SSD. One downside is only certain models of SSDs (those without chips on their back) can fit.
The other downsides are pretty standard for gaming laptops: bass on the speakers is non-existent, and battery life isn't amazing. Luckily, it's Bluetooth enabled and has an audio jack, so make sure you've got some decent headphones. Plus, if you wear these, the extra noise emissions from the fans won't matter!
---
PROs
Good middle ground between premium and mid-range models.
Features all the necessary ports for working and gaming.
Build quality of body is fairly high – aluminum casing and RBG backlighting.
CONs
Speaker bass is non-existent.
Certain M.2 SSDs won't fit.
The boot sound is a bit obnoxious.
5. Best Budget Pick: Lenovo IdeaPad Gaming 3i
CPU: Intel i7 12700H (6 P-cores, 8 E-cores)
RAM: 8GB (DDR4 – 3200 MT/s)
GPU: RTX 3050Ti
VRAM: 4GB
TGP: 85W
Noise @ idle: 35.7dB
Noise @ Quiet Mode: 37.3dB
Noise @ Balance Mode: 45.6dB
Vapor chamber: No
Display: 15.6" IPS
Res: 1920x1080p @120Hz (16:9)
Color accuracy: 67% sRGB
Mux Switch: No
Storage: 512GB M.2 PCIe 4.0 SSD
Battery: 90Whr
Ports:

2x USB-A 3.2 gen1
1x USB-C Thunderbolt 4
1x 3.5mm Audio Jack
1x HDMI 2.1
1x RJ45 Ethernet Port
Laptop only: 5.11 lbs (2.32kg)
Laptop + charger: 6.37 lbs (2.89kg)
The Lenovo IdeaPad Gaming 3i is a viable option for a budget gaming laptop if you don't plan to play the highest-end games at their highest specs. This isn't to undersell its performance or noise emissions, but the differences are noticeable once you dig into its hardware.
It features the Nvidia GeForce RTX 3050ti GPU and the Intel Core i7 12700H CPU, which are effectively the budget versions of the ones mentioned so far. Its GPU power limit is 85W (max power limit of a 3050Ti), which is by far the lowest on this list so far.
Most games at 1080p will run on high settings, but games heavily packed with textures will struggle as the 3050Ti only packs 4GB of VRAM. In short, this translates to restricted performance when trying to play anything above 1080p, but this is the price you pay for a budget model.
Noise emissions, however, are pretty low. At idle, it's 35.7dB and in balance mode, it's 45.6dB. In performance mode, it's 51.3dB, so it's quieter than all the premium laptops. This is because its hardware is less powerful and its GPU power limit is lower.
You can find the noise test in the video below.
While its battery life is decent, the budget aspect becomes obvious when you look at its body, screen, RAM and lack of MUX switch:
The body is all plastic, but it's still sturdy, and this does help bring its weight down to 2.1kg.
The display is a 1080p panel with a 120Hz refresh rate but lacks color accuracy as it only covers 67% of the sRGB gamut. It's fine for gaming but for content creation, we wouldn't recommend that.
The 8GB of RAM makes itself known when you try to run demanding games.
Because it doesn't have a mux switch, connecting an external display is the only solution to avoid bottlenecks from your iGPU and get additional FPS.
My recommendation if you're on a budget is to buy a separate stick of 8GB or more of DDR4 RAM. The main reason is that not only 16GB is the sweet spot for gaming, but having 2 sticks of RAM allows you to run in dual channel memory. If you don't, you can expect 10-15% less FPS.
An alternative budget laptop is the Acer Nitro 5. It's arguably at the top end of the budget price point, but its hardware is on par with the Acer Predator Helios 300 and Legion 5. However, it tops out at 60dB in performance mode and 42.4dB in quiet mode, so it's noticeably louder than the IdeaPad.
---
PROs
Sturdy build considering it's plastic.
CPU performance is good for the price.
Lightweight build and decent construction.
CONs
Graphics power is lacking for price point.
The display has mediocre color accuracy.
RAM is only 8GB.
6. Best Thin & Light Gaming Laptop: Razer Blade 15
CPU: Intel i9 12900H (6 P-cores, 8 E-cores)
RAM: 32GB (DDR5 – 4800 MT/s)
GPU: RTX 3080Ti
VRAM: 16GB
TGP: 110W
Noise @ idle: 35.4dB
Noise @ Quiet Mode: 39.3dB
Noise @ Balance Mode: 43.7dB
Vapor chamber: Yes
Display: 15.6" IPS
Res: 4K @144Hz (16:9)
Color accuracy: 100% sRGB
Mux Switch: Yes
Storage: 1TB M.2 PCIe 4.0 SSD
Battery: 80Whr
Ports:

3x USB-A 3.2 gen2
1x USB-C Thunderbolt 4
1x 3.5mm Audio Jack
1x HDMI 2.1
1x SD reader, UHS-II
Laptop only: 4.64 lbs (2.1kg)
Laptop + charger: 6.5 lbs (2.95kg)
If you want a premium ultra slim gaming laptop that cuts down on some of the bulk, the Razer Blade 15 might be the one for you. At just under 2kg, it's far lighter than the premium models I've reviewed above. This makes it far easier to take on the go, which is arguably one of the main advantages of a laptop.
Luckily, this doesn't mean compromising on hardware or performance. It features the Intel Core i7 12900H and the Nvidia 3080ti, which isn't far off the ASUS Scar and Legion 7i. However, its GPU power limit is 110W while the max TGP is 150W, so you might notice some difference in performance levels.
But let's look at noise levels to know where we stand. At idle, it's 35.4dB and in balance mode, it's 43.7dB. It doesn't have a performance mode, but its manual mode tops out at 50.4dB. This makes it the quietest so far, but this is partly because of its lower GPU power limit. The GPU simply can't draw as much power, meaning it won't produce as much heat. In turn, the fans don't need to spin as fast.
Refer to this video for the dB rating of the Razer Blade 15.
The display is a 4K 15.6" panel, with a refresh rate of 144Hz. Color accuracy is excellent with a 100% DCI-P3 color gamut. You also get 32GB of RAM, a 1TB SSD, and all the ports you might expect on a gaming laptop. The Blade 15 also features vapor chamber cooling, which essentially means it can cool more efficiently than traditional heat pipes (another reason the fans are quieter).
It's only the 1440p version of the Blade that has advanced Optimus and G-sync, and its thin & light design does restrict its performance capabilities for both the 4K and 1440p models. What's more, the 1440p version still has a color-accurate screen and needs less GPU computing power to get decent FPS than the 4K model. The bottom line is that 4K is great, but the 1440p version is a better financial decision.
---
PROs
Very quiet for a premium laptop.
Lightweight – easily portable.
Excellent build quality.
CONs
4K version arguably isn't the best value for money.
7. Alternative Thin & Light Pick: ASUS M16
CPU: Intel i9 12900H (6 P-cores, 8 E-cores)
RAM: 16GB (DDR5 – 4800 MT/s)
GPU: RTX 3070Ti
VRAM: 8GB
TGP: 120W
Noise @ idle: 36dB
Noise @ Quiet Mode: 40.3dB
Noise @ Balance Mode: 49.6dB
Vapor chamber: No
Display: 16" IPS
Res: 2560x1600p @165Hz (16:10)
Color accuracy: 100% sRGB
Mux Switch: Yes
Storage: 1TB M.2 PCIe 4.0 SSD
Battery: 90Whr
Ports:

2x USB-A 3.2 gen2
2x USB-C Thunderbolt 4
1x 3.5mm Audio Jack
1x HDMI 2.1
1x SD reader, UHS-II
Laptop only: 4.59 lbs (2.08kg)
Laptop + charger: 6.22 lbs (2.82kg)
The ASUS M16 is a viable alternative to the Blade 15 if you don't fancy spending as much money. It's considerably cheaper and features similar hardware. Plus, its GPU power limit is 10W higher (120W). However, this comes at the cost of higher noise emissions.
At idle, it's 36dB, which isn't much more than the Blade 15. However, in balance mode, it's 49.6dB and in manual mode, it's 55.1dB (check the video below). This puts it right on the limit of a quiet gaming laptop, and is noticeably louder than the Blade 15.
You get the same 12900H CPU but the Nvidia 3070ti. This is the same GPU used in the Legion 5 pro, but running its GPU 20-30W lower than these two. It's worth noting the Legion 5 Pro has a standard gaming laptop capacity, whereas the ASUS M16 is considered a thin and light model, hence the compromise in GPU power limit.
That said, it still runs demanding games at 1440p. For instance, the game "Control" can run at 60 FPS (average) on high settings, without DLSS or ray tracing.
It's got a 16", 2560×1600 display and 16GB of RAM, so the screen has a 16:10 ratio that gives it this sweet extra vertical real estate for content creation. However, its SSD is 1TB, which is plenty. Moreover, you can always open the hood and slot in an additional SSD in the second M.2 slot.
One downside is G-sync can work only when optimus is on (meaning the integrated GPU is not bypassed). Another more minor downside is that the RAM is soldered to the motherboard. While you can still add a stick of RAM, it also means you can't change what's already soldered.
If you want a thin model that's more on par with the Blade 15 in terms of noise level, but in the same price bracket as the M16, the Lenovo Legion Slim 7 is a good option. It features a 12700H, an Nvidia GeForce RTX 3060, and tops out at 48.6dB in balance mode.
---
PROs
Lower price point than the Blade 15.
16:10 display is great for content creation.
Decent hardware and range of ports.
Same weight and build quality as the Blade 15.
CONs
Soldered RAM on the motherboard.
G-sync only works with optimus on.
Lower GPU power limit.
What Matters before Buying
Balancing the required features in a gaming laptop takes a bit of thought. Below is my roundup of what matters when making your pick, so you can make an informed decision about which model will be best.
CPU
The central processing unit (CPU) is essentially the computer's brain. Unsurprisingly, it's what processes instructions from the operating system, programs, and so on. For gaming laptops, you want a CPU that can handle processing high-quality games, which can quickly become demanding.
All the CPUs I've featured are Intel 12th-gen or the AMD 6000 series equivalent. Considering how quickly things like CPUs move, this is about the lowest level you'll want to go. Premium models will have more powerful CPUs, but none of the ones featured here are low-end.
The key thing to remember about CPUs is that if they don't have enough processing power, they can become the bottleneck of your gaming setup. It means if you have a powerful GPU that a CPU can't handle, your CPU chokes your system. As a rule of thumb, you'll want to go for 6 cores or more for a gaming CPU: Intel 12700H or above, AMD 6600H or above.
GPU
Arguably, GPUs are more important for gaming. While games require CPU power, most are more dependent on GPU capability. More often than not, your bottleneck will be your GPU.
All the models featured here have Nvidia 30-series GPUs. Of course, the more powerful the GPU, the higher framerates and resolutions you can achieve.
GPU Tier
Here's a simplified breakdown of the GPU tier currently available from both Nvidia and AMD:
| Nvidia RTX | Nvidia RTX | AMD RX | Tier |
| --- | --- | --- | --- |
| | 3050 | 6500M | Entry-level |
| | 3050 Ti | | Entry-level |
| | | 6600M | Mid-range |
| 4050 | 3060 | 6700M | Mid-range |
| 4060 | 3070 | | Mid-range |
| 4070 | 3070 Ti | | High-end |
| | 3080 | 6800M | High-end |
| | 3080 Ti | 6850M | High-end |
| 4080 | | | High-end |
Tier classification of NVIDIA and AMD mobile GPU
You'll get enough FPS for 1080p gaming with an RTX 3060. For higher resolutions like 1440p, I'd recommend spending more and getting at least an RTX 3070.
GPU VRAM
Whereas RAM is the temporary memory used by the CPU, VRAM acts more or less the same but dedicated to the GPU. It's especially important for games with a lot of textures. The more you ramp up the game settings (Low / Medium / High) the more VRAM you'll need. For the most part, 6GB is fine.
There are interesting benchmarks comparing 4GB vs. 6GB of VRAM. Check out this video here:
GPU Power Limit
GPUs have power limits, which is essentially a cap on how much power it can draw. For example, a 140W GPU, running at full load, will consume 140W of power. Adjusting the load will reduce power consumption.
Here you can find the max power limit of Nvidia's RTX 30 series for laptops. Laptop manufacturers generally find a way to push 15-25 W on top of the rated max power limit of Nvidia.
But what does this mean for gaming laptops? First, it impacts battery life. After all, a GPU consuming more power will run the battery down more quickly. Second, it impacts heat emissions and, by extension, fan speed. A higher power limit means more heat output, which means faster fans or more efficient (more expensive) cooling setups.
MUX Switch
Short for multiplexer, an MUX switch connects the GPU directly with the laptop display to avoid bottlenecks and framerate drops. This can occur because laptops have 2 GPUs: the iGPU and dGPU. The former is linked to the CPU and works for things like streaming and running the GUI.
The latter is the dedicated GPU, and is the component we mean when we discuss things like the Nvidia 3080, 3070, etc. It handles video or 3D rendering and gaming. The MUX switch allows us to manually switch on or off the iGPU. In turn, this can improve framerate and graphics quality or improve battery life (depending on whether it's on or off).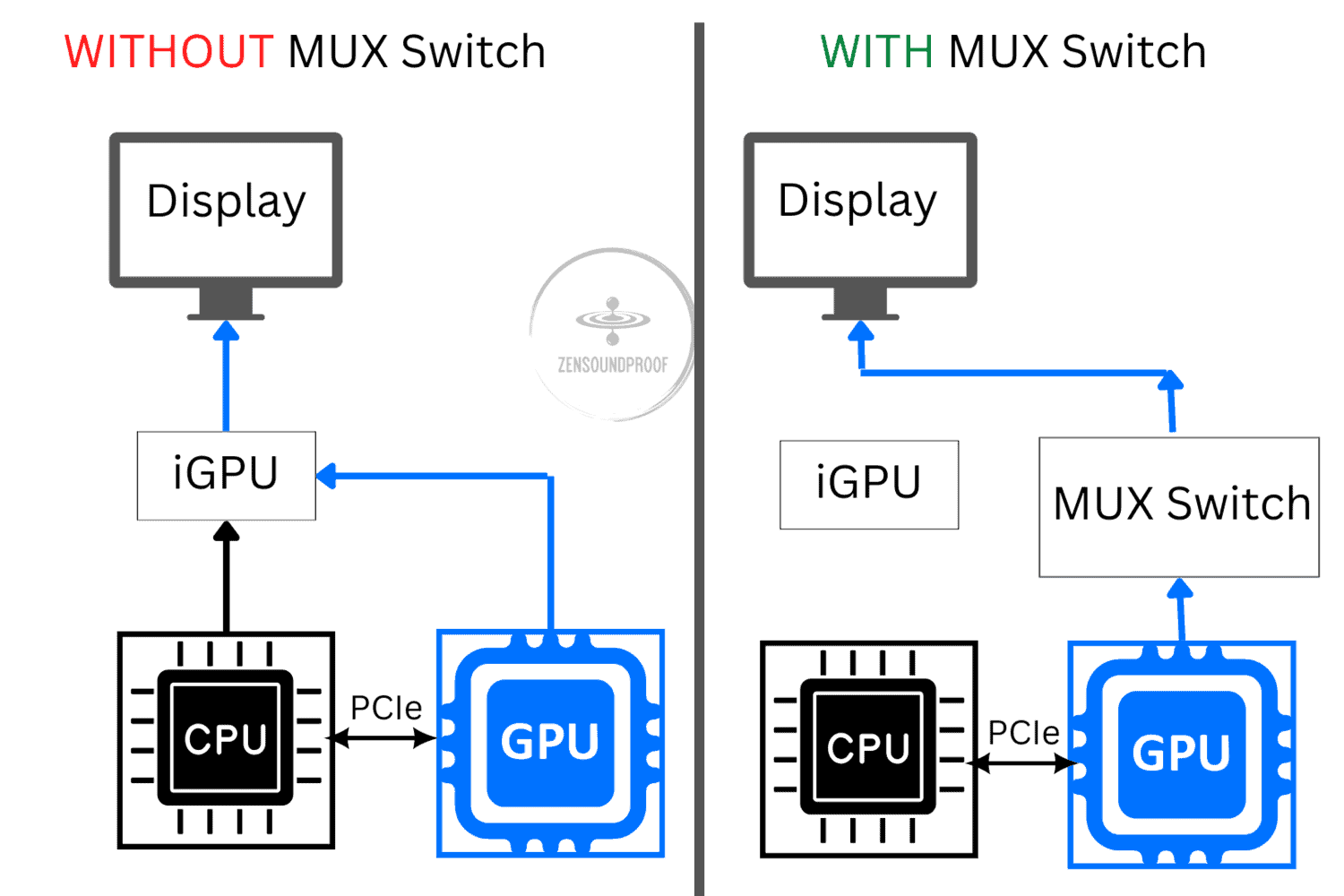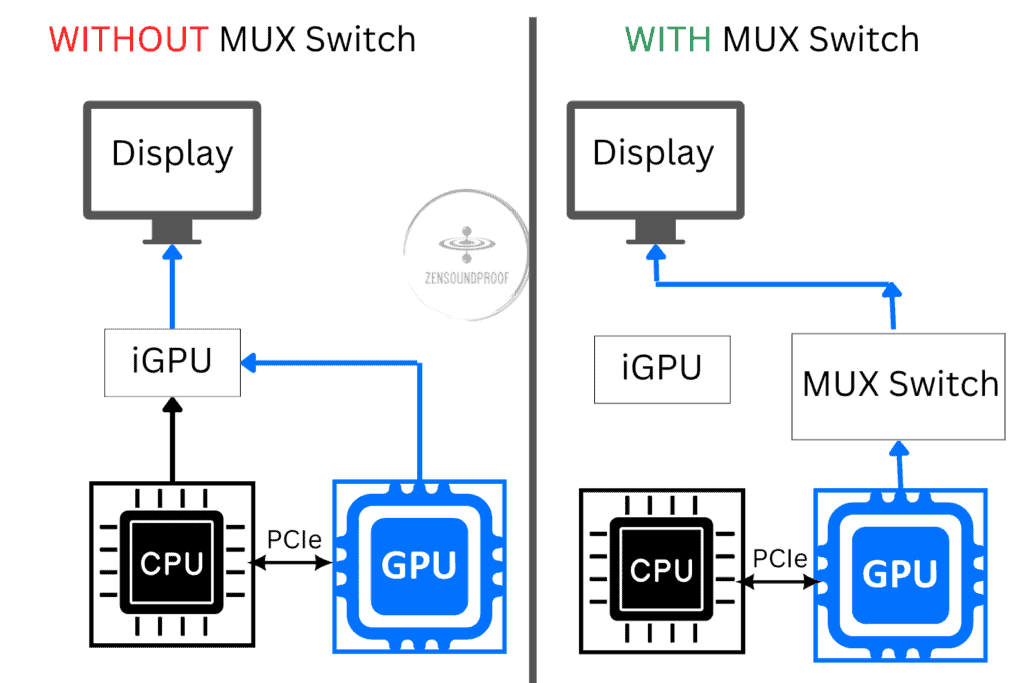 It's a great feature if you can find it, but not having an MUX switch isn't the end of the world. You can generally bypass the iGPU by directly connecting an external monitor. Going through the iGPU can result in 10-20% lower FPS, so an MUX switch is an easy way to boost performance on your laptop display. On the other hand, going through the iGPU means a feature called Optimus is on, which is beneficial to battery life.
RAM
RAM stands for random access memory. It's the temporary memory storage your computer uses to make accessing running programs quicker. Gaming rigs require more RAM because the CPU needs to store data and access it quickly for games, which are nothing more than demanding programs.
Capacity
Based on current hardware specs, the lowest you'll want to go is 8GB of RAM, although 16GB is the recognized sweet spot for gaming. Linus Tech Tips has conducted plenty of tests to show the diminishing returns when going beyond 16GB. Most models above have 16GB, which is what you should aim for.
Speed (Data Transfer Rate)
RAM speed is another important factor when it comes to gaming. The speed represents the number of transfers per second (expressed in Hz). The higher, the better.
When buying a laptop make sure you have at least
DDR4 memory sticks clocking at 3200 MHz or higher.
or DDR5 memory sticks clocking at 4800 MHz or higher.
Single or Dual Channel
Dual channel means you run your laptop with 2 sticks of RAM instead of one. The benefit of a dual channel is that you get a boost in FPS, around 5-15% depending on the game and settings. That's why it's a good idea to add a stick of RAM if you acquire a laptop with a single stick.
Check out this video comparing FPS between single and dual channel:
While the above is true for DDR4 memory, DDR5 memory doesn't offer as much gain. It is because one single stick of DDR5 RAM already runs with two 32bits channels, which can be considered dual channel. As such, apart from the boost in memory installed, you gain very little in FPS by installing 2 sticks of DDR5 RAM. Check out this video comparing one versus two sticks of DDR5 memory.
Noise and Cooling
Unlike with a gaming PC, we don't have to dig as deep into the specific blower setups. The important thing to note is that more powerful CPUs and GPUs generally mean blowers need to work harder to cool them.
However, it's not this direct, as we must consider the actual cooling setup. Gaming laptops will either feature thermal paste or vapor chamber cooling technology. Thermal paste and liquid metal are pretty simple: they conduct heat and pass it to the heat pipes, heat is then convected out by the fan.
Vapor cooling chambers work similarly to AC units. The chamber, unsurprisingly, contains coolant that changes from liquid to gas as it absorbs heat. It circulates around the chamber and dissipates its heat on the heatsink, where it's then removed by the blowers. The gas condenses back into a liquid to repeat the process.
Vapor cooling is far superior and can provide up to 30% performance and heat dissipation compared to thermal paste. It does come at a price premium but means better cooling power (and less demand on the fans). As such, vapor cooling typically means superior noise performance.
Weight
Gaming laptops exist to be portable – it's arguably the main selling point of a laptop. But gaming laptops are heavier than normal laptops because of the extra hardware. A normal weight range is 2-2.6kg, although some beefy models hit 3kg.
Anything under 2kg can be considered a thin and light model. What you consider to be an acceptable weight for a laptop is subjective. But bear in mind that you also need to carry a charging brick and extra hardware (such as a mouse), which can add up.
Screen
Size
The smallest screen you'll want for playing games is 15" or so. Anything less risks compromising visibility, depending on the game. While this might not matter too much for something like Minecraft, it'll be an issue for online competitive games.
Resolution
Most gaming laptops have a minimum resolution of 1080×1920 (1080p/full HD). 4K resolutions are creeping into higher-end laptops and are obviously beneficial if you plan to run high-end games.
Bear in mind that ramping up to a higher resolution means your GPU needs to activate more pixels. In turn, it affects your FPS count in games. Higher resolution means less FPS.
For a 1080p display, today's sweetspot would be to use an RTX 3060.
For 1440p, you'll want to aim for an RTX3070 or higher.
For 4K, I'd recommend picking at least an RTX 3070Ti.
Refresh Rate
Refresh rate is obviously another important metric. The minimum should be 60Hz, but it can go as high as 240Hz. It refers to how many times per second the screen refreshes, and higher numbers mean smoother on-screen motion. If you plan to play fast-paced, high-end games, go for a higher refresh rate.
That said, a high refresh rate is useful only if you can produce an equivalent number of frames per second (FPS). If your screen refreshes at 60 Hz (60 images per seconds), you'll need to get at least 60 FPS to get the advantage of your 60Hz display.
This eventually means that a high refresh rate display is useless if you don't have a GPU that can generate enough FPS.
Response time
Although similar, response time is yet another factor. It, unsurprisingly, refers to the speed at which a monitor's pixels can change color. Response time is measured in milliseconds, and a smaller number is better. You'll want it to be below 5ms for gaming, but under 3ms is preferable. Anything under 1ms is great (which the Razer Blade 15 is).
A slow response time will be more noticeable at higher refresh rate. If your pixel response time is too slow it can produce effects like trailing or ghosting.
Color and Accuracy
Display color and accuracy is vital in gaming, as it can impact your ability to play. We use a metric called the color gamut to discuss how many colors a screen can display, and the accuracy of these colors.
Specifically, if a display has a low gamut percentage, it can display fewer colors than a better display. In turn, this means colors can get clipped (changed), affecting saturation and accuracy. The 3 main standards are:
sRGB (standard RGB). This is the norm for display colors and monitor presets. Although its native gamut is 100% (of sRGB), it has the smallest gamut of the 3 standards mentioned here.
NTSC (National Television Standards Committee). sRGB covers 72% of the NTSC color gamut, meaning the latter has more available colors. This improves accuracy and color representation.
ARGB (Adobe RGB). Developed by Abode, it has the highest color gamut and has become commonplace among display manufacturers. It encompasses 50% of all colors specified by CIELAB, massively improving upon sRGB.
Then there's brightness, which we measure in nits. Aim for 300 nits to be comfortable in any indoor situation. Higher numbers mean a brighter screen, which will help if you plan on using your laptop in a bright environment like outdoors. Aim for 500 nits in that case. Anti-glare is also useful for obvious reasons.
But which is best for you? For gaming, I'd recommend ARGB because it has the highest color gamut. This means greater color accuracy and richness of hues. If you can't get a high ARGB coverage, aim for an sRGB above 90%. sRGB is more than enough for content consumption, but we could debate about content creation. Considering you're paying a lot of money to see nice colors, you might as well get your money's worth!
Battery Capacity
A laptop's portability is its main draw, and this is obviously dependent on its battery capacity. We measure this in watt hours – how many hours a battery can provide one watt of power before it drains. For example, an 80WHr battery in a laptop running at 10W has a theoretical lifespan of 8 hours.
Of course, gaming laptops use far more than 10 watts of energy per hour. In fact, their energy consumption is pretty high.
When gaming on battery, it's common to have a GPU running at around 30-40 W and the CPU at 10-20W. Add up the power needed for the peripherals like the screen, keyboard, and speakers and you end up with a power consumption of around 80W while gaming.
The takeaway is that it's standard for a battery to last between 1 and 5 hours depending on what you're doing. If you want to game on battery, expect less than one hour of screen time.
There's unfortunately not loads that can be done about this because laptops are limited in the size of the battery they can contain. Manufacturers are moving towards fast-charge batteries to help, but you'll generally have to accept you won't get loads of life from a single charge if you're gaming.
Ports and Connectivity
Wi-Fi is an obvious standard for a gaming laptop. Ideally, you'll want Wi-Fi 6, which enables connections on the 6GHz spectrum. This means less latency and faster speeds. Of course, this is determined by your router, and your Internet Service Provider, but it's fast becoming the standard.
Bluetooth is another helpful connection, especially as you'll fast run out of USB ports. We're currently on Bluetooth 5.3, but anything over Bluetooth 5 is fine. Higher transfer speeds are helpful for your headphones and mouse when gaming.
In terms of ports, you'll definitely want the following:
USB – for mouse, external hard drive, chargers, etc. And can even support DisplayPort or Power Delivery.
HDMI – for connecting to external monitors
Displayport (mini) – alternative to HDMI to connect to external monitors
Audio jack – for wired headphone connections
Ethernet – for wired internet (faster speeds)
Keyboard
Laptop keyboards aren't ideal for gaming, as the flatter buttons and lack of haptic feedback can make it difficult to use them without looking. They're also smaller than desktop keyboards, meaning you might miss out on some helpful function keys.
A gaming laptop keyboard is generally fine, but consider buying a mechanical keyboard for better feedback. Check out my article for some recommendations.
Extras
A few other things worth mentioning include:
Speakers. Laptop speakers almost always lack the bass and surround sound aspects required for gaming. They'll be fine in a pinch, but you'll probably want external speakers or headphones.
Trackpad. There's almost no scenario where a trackpad works for gaming. You'll still find one on your laptop, and it'll help for work, but consider a gaming mouse.
Webcam. A webcam isn't that useful for gaming (other than perhaps a mic). If you want one for other purposes, go with at least 720p.
How to Quiet a Gaming Laptop
Some solutions are pretty similar to dealing with a noisy PS4, but when it comes to how to quiet a gaming laptop, the 3 most helpful solutions are:
1. Use a cooling pad. They have built-in fans for improved air circulation.
2. Use a laptop stand. A laptop stand simply raises it off the surface, allowing air to reach the fans more easily.
3. Get an external GPU (eGPU) configuration laptop setup. An external GPU plugs into your laptop. It has its own fans and generally runs quieter. The Razer Blade 15 can accept an eGPU.
Are All Gaming Laptops Noisy?
All gaming laptops are noisy (at least compared to normal laptops). The GPU must consume electrical power to run games, and in turn produces a lot of heat. Blowers must work to remove this heat, which is what produces noise. However, gaming laptops can still be relatively quiet if they're well-built. If not, you can always restrain the power consumption by using the Quiet Mode (or Eco Mode). Since less power is consumed, blowers can run quieter. The compromise is you'll get lower FPS in games.
Final Thoughts
I hope this guide has given you some inspiration for the best quiet gaming laptop in 2022.
My top pick overall is the ASUS Scar 17 SE. It ticks all the boxes and provides amazing performance without too much noise. You can also opt for a custom desktop build with a quiet graphics card because it's less limited in terms of cooling it will deliver more FPS at a lower cost.
Do you have another gaming laptop you think people should know about? Let me know!