Installing a quiet graphics card in your computer can make a surprising difference to overall noise levels. So, whether you're building your own PC from scratch or simply upgrading your components, a quiet graphics card is the way forward.
In this article, I review my top picks for the best silent graphics cards. To understand noise levels in more detail, let's first discuss the different cooling options found on a graphics card.
The 2 Types of Cooling for a Graphics Card
A graphics card (GPU) is one of the main powerhouses in a computer. While you'll want a high-level GPU for something like gaming or media editing, all computers need a graphics card.
In short, the GPU renders graphics and images. As you can imagine, they work pretty hard to do so. Cooling is therefore vital to stop the components from overheating or even melting.
There are 2 types of cooling used: active and passive.
Passive Cooling

Let's start by explaining passively cooled graphics cards, as it's the easier concept to understand. A passively cooled graphics card has a heat sink (metal fins) that radiate heat, keeping the parts cool.
This is all the cooling function they have. There aren't any moving or "active" parts involved, hence the name. A passively cooled graphics card is the closest to silent that you'll find.
PROs
Silent graphics card
Generally less expensive
CONs
Only viable for an entry level graphics card
Lack of active cooling means performance is limited
Active Cooling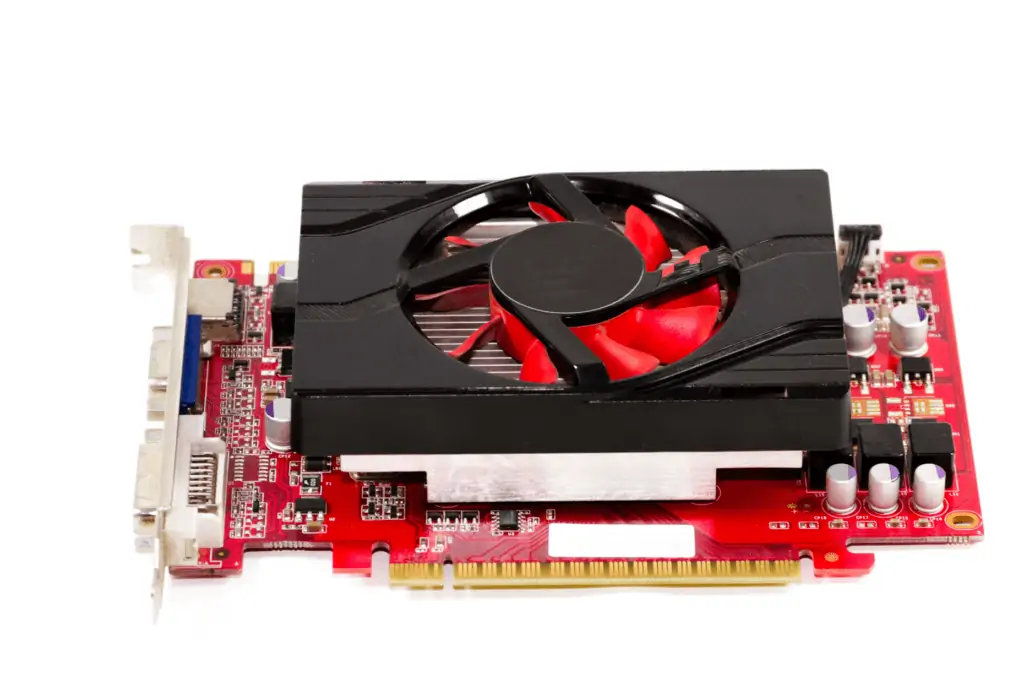 An actively cooled graphics card should be fairly obvious. It still has a heat sink, but there are also fans to circulate air and remove heat more quickly. An active cooling system can have between 1 and 3 fans depending on the level of performance needed.
The main disadvantage is that they can be pretty loud when the fans really start going. As such, you won't find silent graphics cards with active cooling, although they can be fairly quiet.
PROs
Higher performance graphics cards
Suitable for overclocking (exceeding the card's intended operation)
CONs
Can be loud
Fan failure could be damaging
Understanding GPUs, Graphics Cards, and Cooling
A GPU and a graphics card are different concepts from a technical perspective. The GPU is the actual chip on the PCB, whereas a graphics card is the whole assembly that includes the chip, the cooler, the heatsink, the thermal paste, etc. Think of the difference between an LCD screen and a computer monitor, where the LCD is a subcomponent of the monitor assembly.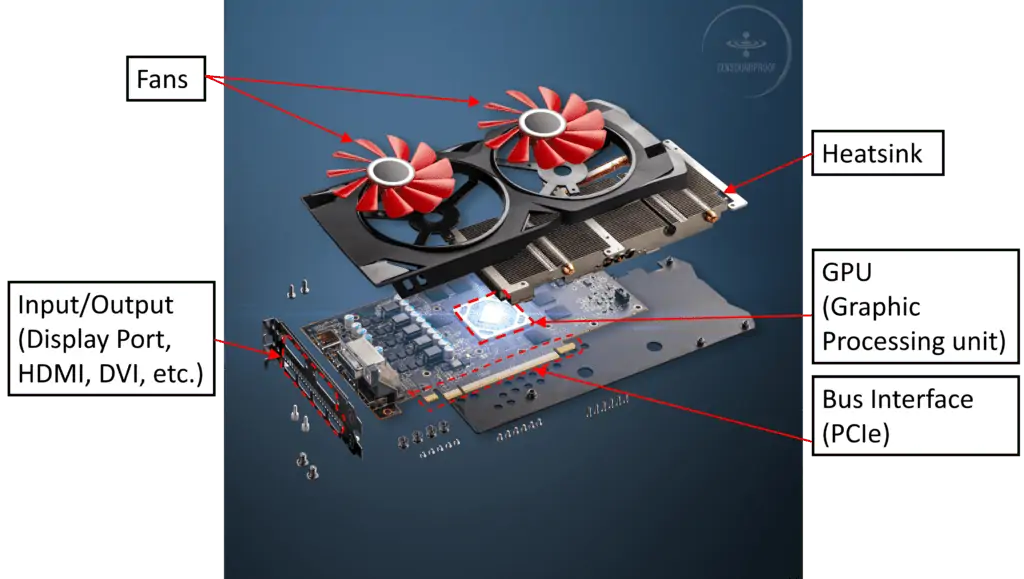 This is why you'll see graphics cards made by a company like Asus but with the name Nvidia thrown in. Nvidia makes the GPU (the chip), whereas Asus is a board partner. It means they take the GPU, build the graphics card, boost the clock (different from manual overclocking), and add hardware for cooling (fans, heatsink, heat pipes, etc.).
You might see Nvidia or AMD graphics cards, but these companies generally only make the GPUs. To an extent, this is the most important thing for performance, but you need all the other parts to make it work properly.
How Many dB is a Quiet GPU Fan?
A quiet GPU fan can go as low as 15dB, although a lower level of 25-30dB is more reasonable. For a real-world comparison, this is about as loud as people whispering (30dB). Considering the potential for ambient noise, anything below 40dB (a refrigerator) should be fine.
Some newer graphics cards have more intelligent fans that turn off when idling. In short, it means that, providing the temperature is below a certain point, the fans will stay off. Graphics cards with this feature are a good compromise between active and passive cooling.
Top 4 Best Quiet Graphics Cards
I've separated my reviews into active and passive cooling for obvious reasons. Where possible, I've included dB ratings (for fans) at idle and load speeds.
Hopefully, this'll help you make an informed decision about the best silent graphics card for your needs.
1. Top Pick: Asus RTX 4070 TUF Gaming OC
Noise level: 26.9 dB (under load)
CUDA cores: 5,888
Clock freq: 1,920 MHz (Boost 2,550)
Memory Bus: 192 Bit (GDDR6X)
Memory Bandwidth: 504.2 GB/s
VRAM: 12 GB
TDP: 200 W
Suggested PSU: 550 W
Slot: Triple slot
Bus Interface: PCIe 4.0 x16
Power connector: 2 x 8-Pin
My top pick for the best silent graphics card is the ASUS RTX 4070 TUF. It offers excellent performance and noise level, making it a great choice for gaming and creating. It's based on the new Ada Lovelace architecture, which delivers the performance of a RTX 3080 with around 29% less power consumption. It also supports ray tracing, DLSS 3, and AV1 encoding which are useful for streaming and video editing, and gaming.
What strikes me in this dual-fan GPU, is its thermals. Temperatures manage to remain under 65 deg. C all the time which result in a very low noise emission.
Speaking of noise, it has a fan stop feature that turns off the fans when idling, resulting in zero noise. Even under heavy load, the noise level peaks at a barely noticeable 26.9 dB – quieter than the typical ambient noise in a living room (35-40 dB). The card also has a quiet mode that lowers the noise level down to an insane 23.3 dB under load.
The card's 12 GB of VRAM is more than sufficient for high-resolution gaming and media editing. I've found it can handle 4K gaming with ease, delivering an average of 101 FPS in popular games. It can also handle ray tracing at 4K, provided you activate DLSS 3 to boost the frame rate.
The main downside of the ASUS RTX 4070 TUF is its price. It's still above the MSRP of the RTX 3070 ($499 vs. $599 for the RTX 4070), which was already a pricey card. However, if you want a silent graphics card that can handle anything you throw at it, the ASUS RTX 4070 TUF is worth the investment.
In my opinion, the RTX 3070, on the other hand, is not a good option for a brand new GPU in 2023. It only has 8 GB of VRAM, which is not enough for gaming at 1440p or above. You'll likely encounter stuttering and performance drops in demanding games like Hogwarts Legacy, especially with ray tracing enabled.
If you want a quiet and future-proof graphics card, the ASUS RTX 4070 TUF is the way to go. A cheaper and more future-proof alternative than the RTX 3070 is the RX 6800XT (with 16 GB of VRAM), which is also reviewed below in my article.
PROs
Impressive noise level of 26.9 dB under load.
Strong performance in 4K gaming with average 101 FPS.
Supports ray tracing, DLSS 3, AV1 encoding, and Reflex.
Lower power consumption than comparable models.
CONs
Priced above the RTX 4070's MSRP.
Triple-slot design may require larger PC case or rearranging components.
2. Best Value: Red Dragon RX 6800XT
Noise level: 31 dB (under load)
Cores: 4,608
Clock freq: 1,900 MHz (Boost 2,310)
Memory Bus: 256 Bit (GDDR6)
Memory Bandwidth: 512 GB/s
VRAM: 16 GB
TDP: 300 W
Suggested PSU: 700 W
Slot: Triple slot
Bus Interface: PCIe 4.0 x16
Power connector: 2 x 8-Pin
From personal observation, the PowerColor Red Dragon RX 6800 XT impresses with its hefty 16GB of video memory. This makes it ideal for rendering intricate scenes and gaming at resolutions surpassing 1440p. It seems future-ready, keeping in mind the growing VRAM requirements of upcoming games.
The RX 6800 XT GPU notably undercuts the RTX 4070 in price while offering similar raster performance.
Ray tracing support is available on this card, but it's worth mentioning that it doesn't quite match up to what the RTX series cards can deliver. The absence of Nvidia DLSS — a superior alternative to AMD's FSR for enhancing image quality and performance — is felt. However, the recent price reduction of the RX 6800 XT makes it a more attractive proposition than the RTX 4070, which demands a higher price for lesser VRAM (12GB).
Performance-wise, this card doesn't disappoint. It handles 4K gaming gracefully, consistently clocking an average of 101 FPS in popular titles. The freedom to alternate between silent and normal BIOS adds to the user control over the card's performance. The boost clock speed can soar to an impressive 2340 MHz (base clock of 2090 MHz), that is without mentioning overclocking.
What piqued my interest are the "advanced" fans featuring ball bearings for quieter operation. The fan stop temperature sits at a commendable 60 degrees C. Even when the fans start running, they only produce a noise level of 31 dB, hardly audible over the usual hum of a PC around 40 dB. The card also includes a silent mode, taking the noise level down further to 30 dB.
A word of caution though – Its three fans take up more room than most 2-fan graphics cards, occupying three slots in a PC case. As a result, it may necessitate rearranging your PC components for a proper fit.
Another potential downside to be aware of are the card's thermals, which tend to be higher than those of a 4070, peaking at around 75 degrees C under heavy workloads. That said, this temperature isn't alarming and the card remains remarkably quiet throughout operation.
PROs
Massive 16GB of VRAM, ideal for high-resolution games and future-proofing.
Impressive 4K gaming performance, averaging 104 FPS.
Supports ray tracing, albeit not as effectively as RTX cards.
Noise level of only 31 dB under load.
CONs
FSR is not as good as Nvidia DLSS.
Takes up three slots due to its large size.
Requires a high 700 W PSU.
3. Top Budget Pick: MSI Gaming GeForce GTX 1660 Super
Noise level: 30 dB (under load)
Cores: 1,408
Clock freq: 1,530 MHz (Boost 1,830)
Memory Bus: 192 Bit (GDDR6)
Memory Bandwidth: 336 GB/s
VRAM: 6GB
TDP: 125W
Suggested PSU: 300W
Slot: Dual-slot
Bus Interface: PCIe 3.0 x 16
Power connector: 1x 6-pin
The MSI GeForce GTX 1660 Super isn't the most budget-friendly option, but it provides better performance than the Asus GeForce GTX 1650 – the most widespread GPU on Steam in 2023. For starters, it has 6GB of video memory and a 192-bit interface compared to 4GB and 128-bit.
It's designed for 1080p gameplay. While this isn't even close to the highest resolution available, it does it very well at delivering a smooth 60fps experience. Of course, if you're into AAA cutting-edge games, you'll want a card that supports 4K with ease (like the quiet Asus RTX 3070 or Red Dragon RX 6800 mentioned above).
On the flip side, it takes up 2 slots in your computer, so will be easier to install than the Red Dragon RX. It needs 1x 8-pin PCI-E power connector, again making it easy to set up. It has a HDMI 2.0 output and 3 DisplayPort 1.4 outputs. The card can support 4K graphics, but you'll notice frame rate drops and plenty of chugging if you don't lower your graphics settings.
In terms of noise levels, it reaches 30dB at load and has fan stop. Its temperature under load is 66 degrees C, meaning it can hold up to the better performing cards mentioned above.
The biggest issue with this card is that it's somewhat outdated (Q4 2019 release). But if you just need a quick replacement and aren't too fussed about 4K gameplay, it should be a suitable plug-in option.
PROs
Better performance than the GTX 1650 (the most used Steam GPU in Q2 2023).
Quiet fan operation.
Smooth graphics at 1080p.
CONs
Not massively up-to-date tech (no DLSS or ray tracing).
4. Premium Pick: ASUS TUF Gaming RTX 4070Ti OC
Noise level: 32 dB (under load)
Cores: 7,680
Clock freq: 2,310 MHz (Boost 2,610)
Memory Bus: 192 Bit (GDDR6X)
Memory Bandwidth: 504.2 GB/s
VRAM: 12 GB
TDP: 285 W
Suggested PSU: 600 W
Slot: Triple slot
Bus Interface: PCIe 4.0 x16
Power connector: 1 x 16-Pin
The ASUS TUF 4070 TI is a beast of a graphics card that can handle 4K gaming with ray tracing and high settings. It's faster, quieter, and more efficient than the RTX 4070 and the RX 6800 XT.
The ASUS TUF 4070 TI has 7,680 cores and a boost clock speed of 2,610 MHz. It scores 21233 on Basemark GPU, which is 27% higher than the RTX 4070 and 47% higher than the RX 6800 XT. It also has 12 GB of VRAM, which is enough for most games at 4K.
The card delivers an average of 125 FPS at 4K in popular games. It also supports ray tracing and DLSS 3, which make the graphics look amazing and run smoothly. The card can handle ray tracing at 4K with DLSS on, without dropping frames.
The card's noise level is only 32 dB under load, which is slightly higher than the RTX 4070's 26.9 dB, but still lower than the RX 6800 XT's 31 dB. The card also has a fan stop feature that turns off the fans when idling or under light load, resulting in zero noise. The card also has a quiet mode that lowers the noise level down to 29 dB under load.
The card's power consumption is reasonable, as it has a TDP of 285 W and requires a minimum PSU of 600 W. I'm super impressed because, if you remember, the RTX 3090 had a TDP of 350W and both delivers similar level of performance.
The main drawback of the ASUS TUF 4070 TI is its price. Its MSRP is set at $799, which is $200 more than the RTX 4070. At this price, I would not feel happy for only 12GB of VRAM, considering games require more of it going forward.
To sum up, the ASUS TUF 4070 TI is a great graphics card for gamers and creators. The only downsides are the 12GB VRAM buffer and is its high price tag, which might deter some budget-conscious buyers.
PROs
Average 125 FPS at 4K in popular games.
Supports ray tracing and DLSS 3 for enhanced visuals and performance.
Quiet with a noise level of 32 dB under load and zero noise when idling.
Reasonable power consumption with a TDP of 285 W.
CONs
MSRP of $799, significantly higher than the RTX 4070.
12 GB of VRAM might be limiting for future games requiring more VRAM.
Top 2 Best Silent Graphics Cards (Fanless)
It would be unfair to not include some passively cooled graphics cards. There's nothing to say about their noise levels, but we can at least go over some performance aspects. Remember, though, you won't get anything close to what's listed above with fanless graphics cards.
1. Top Pick for Video Editing: Zotac GeForce GT 730
Noise level: 0 dB
Cores: 384
Clock freq: 902 MHz
Memory Bus: 64 Bit (GDDR3)
Memory Bandwidth: NC
VRAM: 4GB
TDP: 49W
Suggested PSU: 300W
Slot: Dual-slot
Bus Interface: PCIe 2.0 x 8
Power connector: None
Average FPS @4K: N/A
Basemark GPU (DX12): N/A
Release date: Q3 2014
The Zotac GeForce has 4GB of video memory and a 64-bit memory interface. While this might sound comparable to the gaming graphics cards above, don't even think about it for gaming.
Its performance is more like a 1GB graphics card but the extra memory allows for video streaming, editing, and other media activities. If you want a gaming graphics card, expect to spend a lot more money.
The card uses an Nvidia GeForce 730 GPU with an 8-pin PCI-E 2.0. It also has HDMI, VGA and DVI outputs with support for up to 4K resolution. Again, though, don't expect to do loads in 4K.
Plenty of users highlight the card's performance as its downfall. But the easiest way around this is to not expect high-end video in gaming. You might be able to play older games or something like Minecraft on lower settings, but this card is better suited to video editing.
PROs
Budget graphics card.
Suitable for video editing and processing.
Easy to set up.
CONs
Really not suited to gaming.
2. Top Budget Pick: Diamond Multimedia Radeon 5450
Noise level: 0 dB
Cores: 384
Clock freq: 650 MHz
Memory Bus: 128 Bit (GDDR3)
Memory Bandwidth: 9.6 GB/s
VRAM: 1GB
TDP: 19W
Suggested PSU: 200W
Slot: Dual-slot
Bus Interface: PCIe 2.0 x16
Power connector: None
Average FPS @4K: N/A
Basemark GPU (DX12): N/A
Release date: Q1 2010
The Diamond Radeon 5450 is, in some ways, the bottom of the barrel for graphics cards. With 1GB of video memory, you can't expect it to do much more than process video.
However, it does that absolutely fine. It has VGA, HDMI and DVI outputs and can support up to 4K. It's passively cooled, so it's a completely silent graphics card and will be perfectly suitable for everyday computer uses. It needs a 200W power supply, but has low power consumption – the PCIe will be fine for its power.
There's really not much else to say about this graphics card. It'll work fine for things like video calling, watching videos, and other media. So, if you just need a standard replacement card and don't want to spend money, it could be perfect.
Note, though, that installation can be difficult. Plenty of users say they had issues calibrating and installing the card. Consider checking out this video for how to install a low-profile graphics card. It should cover everything you need to know.
PROs
Budget-friendly option.
Performance is fine for the price.
Supports up to 4K.
CONs
Won't do more than stream video.
Features to Look for in a Quiet GPU
Noise is arguably the most important factor when choosing a silent graphics card. However, overall performance is vital, too, particularly for activities like gaming. Below are what I consider to be the most important features when picking a quiet GPU.
Performance
There are plenty of ways to break down graphics card performance. If you're into computers, you probably know these already and can skip further down the list.
CUDA Cores
CUDA cores are the Nvidia GPU equivalent of a CPU's parallel processors (e.g. quad-core). They process all the data running through the GPU, and some cards can have thousands of CUDA cores.
The bottom line is that more CUDA cores means better processing power. You can check out this helpful list for CUDA core numbers on popular Nvidia GPUs.
There isn't really a direct correlation between CUDA core numbers and noise level. That said, we could say that more cores means the GPU works harder, meaning higher temperatures. In turn, this requires more powerful fans.
Clock Frequency
Clock speed (or frequency) is the speed of the GPU's cores. The higher the speed, the faster the GPU's processing power.
We measure clock speed in megahertz (MHz), hence why we call it clock frequency.
One good metric for thinking about clock frequency is frame rate (measured in FPS). The correlation between clock speed and frame rate is almost linear. It means that increasing your clock speed by 10% will result in roughly a 10% increase in frame rate within the same variant of GPU (i.e ASUS RTX 2080 vs MSI RTX 2080) .
This brings us to the concept of overclocking. In short, it involved running the GPU at a higher speed than that set by the manufacturer. The result is better performance but, by extension, more work for the fans.
Overclocking is common, but you might be better off just buying a higher-performance graphics card in the first place. As with all fan-based tech, running it below maximum output means less work for the fans.
VRAM
VRAM is video memory (video RAM). It's the random-access memory that holds all the information needed to process image data. All computers need some amount of VRAM, but intense applications (such as gaming) need more.
4GB of VRAM is fine for 1080p processes. However, we've moved far beyond this. If you plan to run 1440p or 4K (UHD), opt for at least 8GB of VRAM, if not 16GB.
Memory bus and width
Without getting too technical, we can think of the memory bus as lanes of road traffic between the graphics processor and the RAM. The higher the number of the memory bus (64 bit, 128, 192, 265, etc.) the better the flow. This means a wider flow of data output to the system and eventually the monitor.
Ray Tracing
Ray tracing is a graphics rendering technique for lighting. Lighting has long been one of the biggest sticking points in gaming, until ray tracing came along. If you've used it, you'll know the difference.
Without getting technical, it's enough to say that it's an energy-intensive process. Basically, ray tracing consists of computing the light rays' trajectory and behavior for every single pixel in every single frame.
You'll generally only find it on higher-end graphics cards, and it's worth the investment if you're serious about gaming. Ray tracing can do wonders for creating immersive atmospheres in the latest games.
DLSS Support
DLSS stands for Deep Learning Super Sampling. It's a rendering technique that reduces the stress on your graphics card while maintaining visual quality using Artificial Intelligence (AI). It falls into the realm of anti-aliasing but is only available on Nvidia RTX GPUs.
It's useful if you want to keep your graphics card quiet, but isn't the only option. Instead, you might want to spend a bit more for greater performance, as this'll keep your graphics card quiet.
Input/Output & Interfaces
Your graphics card's outputs will likely be:
HDMI: common, easily interchangeable between monitors and TVs
DVI: standard for computer monitors, doesn't support audio
DisplayPort: only for computers, best for gaming
Which you choose depends on your display options. Plenty of cards have multiple output ports, so it shouldn't be a massive issue.
You'd use inputs for video production and editing. As such, they include the ones mentioned above, but some cards might also support RGB, composite, etc. for older video devices.
Interfaces are another important aspect. PCIe is the motherboard connection, and different connections have different transfer speeds:
PCIe 2.0 – 16Gb/s
PCIe 3.0 – 32Gb/s
PCIe 4.0 – 64Gb/s
PCIe 5.0 – 128Gb/s
In short, higher bandwidth means faster data transfer, meaning your graphics card performs better.
A graphics card's power connection is either through the PCIe (if it's a lower-end graphics card) or from a separate connection. These'll be 6-pin or 8-pin depending on the amount of power the card needs. The card's description will give its pins, so just make sure you check this information to make setup easier.
How to Quiet a Graphics Card Fan
A graphics card has 4 performance criteria: price, quality, noise, and speed. Price generally indicates quality and speed. By extension, speed impacts noise, as a faster graphics card requires faster fans to remove all the heat it produces.
How does this boil down to making a graphics card quieter, though? Here are some suggestions:
Create a Custom GPU Fan Curve
This involves manually adjusting setting a new rate at which the fan speeds up in relation to the card temperature. You can do this using a program like MSI Afterburner, or Precision, which has a dedicated UI for fan curves and speeds.
While not an easy option, it's certainly doable with the right knowledge and program.
Underclocking
Another option for how to quiet a graphics card fan is underclocking. As you can probably guess, this is the opposite of overclocking. It involves slightly lowering your graphics card's clock speed. You can do it in Precision or MSI Afterburner.
Granted, it does mean sacrificing some performance. But you don't have to reduce the speed by much to see a notable drop in fan noise, so it shouldn't be the end of your gaming.
Undervolting
Undervolting is an excellent way to reduce temperature from the GPU, thus reducing fan speed and noise. It consists of reducing the voltage input while keeping the same clock speed.
There's a minimum and maximum margin of voltage input at which your system is stable. Undervolting consists of getting your GPU closer to the minimum limit.
Lowering the voltage ends up decreasing the power drawn by the system – less power means less heat generated.
Since you're still in the voltage limit of a stable system, you lose close to nothing in terms of clockspeed while temperature can decrease by as much as 10°C.
To undervolt your GPU, you'll need MSI afterburner. You can check the video below to understand how to do it.
Replace the Thermal Paste
Thermal paste ensures good thermal conductivity between the GPU's die and the heatsinks. It tends to dry and lose performance with time. It's generally recommended to replace it after a few years.
If you've noticed your system running louder than when purchased new, it might be time to consider a change. Make sure your warranty has already expired, as this operation generally voids the warranty.
Check the video below, for the steps to follow.
Final Thoughts on Silent Graphics Cards
I hope this article has given you some guidance on picking the best quiet graphics card. There are plenty of factors at play, although noise level is, of course, important. Quiet gaming laptops are also an option if you're looking for GPU power on the go, more info in my article here.
My top pick for the best silent graphics card is the Asus RTX 4070 TUF Gaming OC. Not only it's the quietest on this list but it also strikes a good balance between performance and noise level.
A better value might be the Red Dragon RX 6800XT, but it ultimately depends on whether you're willing to sacrifice DLSS 3 and some ray tracing performance.
Do you have any tips on choosing a graphics card or adjusting its noise level? Drop a comment below, as I'd love to hear from you.