A quiet outdoor fan can make a massive difference during hot and stuffy summer months.
There are so many options for a waterproof outdoor floor fan that it can become quite overwhelming to choose the right one.
Well, this article should help you narrow down your choices. I review my top picks for best outdoor fan. And I included some useful information to refine your criteria after the review section.
Our 8 Top Picks
So, now that we have a better idea of what makes quiet outdoor fans, we can review some options. Below are my top picks for the best quiet outdoor fan, rated using the criteria above.
1. Top Pick: Lasko High Velocity Misting Fan
Airflow: 341 CFM
Horiz. Oscillation: No
Vertical Tilt: 360°
Speed Settings: 3
Wet Rating: Yes
Noise Level: NC
This Lasko fan looks like something out of a sci-fi film. Despite its compact size, it has amazing air circulation. It's only 14.9 inches tall and has an 11.3-inch footprint.
It's wet rated, which is helpful because it's also a misting fan. You connect it to a water outlet using the included 9-ft. hose, and it blows mist while also cooling. It's a great feature for when it's hot.
The fan's louvers (grille) don't oscillate to circulate air in a broader arc. But on the other hand, it has a 360-degree vertical pivot for a greater range of circulation. Unfortunately, there isn't a decibel rating, but users consistently praise its almost silent operation.
The main drawback of this Lasko fan is its fairly low CFM rating. At only 350 on its highest setting, it's not that powerful for outdoor use, as many reviewers state. The same is true for its misting function: it's only noticeable when you're sat close by.
But, as this is quite a compact model, it's ideal for balconies or small outdoor spaces. In such places, sitting close to the fan really won't be an issue.
In Short...
PROs
Works as a misting fan.
Compact housing.
Oscillates and pivots.
Suitable for small outdoor spaces.
CONs
CFM rating is quite weak.
2. Air King 9020 Wall Mount Fan
Airflow: 3670 CFM
Horiz. Tilt: 360°
Vertical Tilt: 360°
Speed Settings: 3
Wet Rating: No
Noise Level: 62 dB
I reviewed this wall mounted fan in another article, but it's on this list too for good reason. Operating at 62dB on max speed, it's a particularly quiet wall mounted fan.
The 20-inch fan head has a top CFM rating of 3670, which is very powerful. As a result, it'll do a great job of circulating air around a larger outdoor space.
That said, it's not an oscillating outdoor fan. It makes up for this by tilting on its horizontal and vertical axes, allowing you to position it however you want.
This fan is energy-efficient and is compliant with the ETL, a relevant airflow standard. While it's not officially damp rated, it's suitable for use in covered outdoor spaces. Many users state they're happy with it on their porches or covered patios.
As I mentioned in my other review, the main drawback is that the fan doesn't include the necessary mounting screws. You need 5/16" x 2" bolts, but these are common; you can buy them here.
In Short...
PROs
Great CFM rating.
Large fan head circulates air well outdoors.
Tilts horizontally and vertically.
Energy-efficient.
CONs
Not waterproof – only use in covered areas.
Doesn't include necessary bolts.
3. Lasko Oscillating Tower Fan
Airflow: 276 CFM
Horiz. Oscillation: 45°
Vertical Tilt: No
Speed Settings: 3
Wet Rating: Yes
Noise Level: 57 dB
This oscillating outdoor fan from Lasko is completely waterproof, meaning you're not limited to using it in covered areas. Its casing is also UV-resistant. While this is minor, it at least means it won't fade over time.
Rather than the fan casing oscillating, its louvers move instead. It still provides better air circulation, but it's an inferior version of an oscillating outdoor fan. If you want the best circulation possible, consider an oscillating pedestal fan.
You manually adjust the fan's 3 speed settings and 4 modes using dials on its top. These include Night Breeze Mode, which operates at only 57dB. It's pretty quiet for an outdoor oscillating fan.
But, its CFM rating ranges from 177 to 276, which is on the low side. Even so, it should be suitable for smaller outdoor spaces. It helps that its footprint is only 12.8 inches, meaning it's quite compact.
Some users state that the fan's oscillation arc isn't great because its grilles move rather than the tower. However, this is balanced by its surprising power, as you can feel its breeze up to 10ft. away.
In short, this oscillating tower fan is good for small outdoor spaces but won't be great at cooling a wide area.
In Short...
PROs
Completely waterproof and rated for outdoor use.
3 speed settings and 4 fan modes.
Operates at 57dB.
Compact footprint – ideal for small spaces.
CONs
Oscillation setting isn't great.
4. NewAir Outdoor Misting Fan
Airflow: 2800 CFM
Horiz. Oscillation: 90°
Vertical Tilt: No
Speed Settings: 3
Damp Rating: Yes
Noise Level: NC
A pedestal fan like this one can be good if you want to position it behind furniture, such as a bench or sofa. It's also a good option for airflow at a higher level than a tower fan.
This outdoor oscillating pedestal fan has a wide arc, and the 18-inch fan has a CFM rating of 2800. It's good for circulating air in a wide area, such as a larger patio.
It connects to any standard exterior water outlet to spray a mist, which you can use on any of its 3 speed settings. Better yet, it's energy-efficient, and won't cost much to operate for long periods.
Although it has a misting function, this outdoor standing fan isn't completely waterproof. It's damp rated and has a leak protection feature. This turns the pedestal fan off if it detects too much water, so you can at least feel confident using it outdoors. Just be sure to not use it when it's raining.
Unfortunately, this outdoor fan doesn't come with a decibel rating, but users state it's not very loud. Their main critique is that the mist function can get you quite wet if you sit too close.
It's essentially the opposite of the Lasko misting fan reviewed above. Use this one in larger spaces where you can put some distance between you and the fan. Luckily, its air flow means you'll still feel a breeze.
In Short...
PROs
CFM rating of 2800.
Misting function is great for cooling.
Wide oscillation arc.
Includes leak protection feature.
CONs
Mist function isn't suitable for close proximity.
Not fully wet rated.
5. FineSky Waterproof Rechargeable Outdoor Fan
Airflow: 1700 CFM
Horiz. Oscillation: No
Vertical Tilt: 220°
Speed Settings: Speed Knob
Wet Rating: Yes
Noise Level: 34 dB
While technically a floor fan, nothing is stopping you from using this one on a table. At 16 inches, it's not massive, so it should fit comfortably on larger surfaces.
Unlike other fans on this list, it's rechargeable, and the battery can give up to 22 hours of continuous usage. You even get LED indicators to know how much charge is left.
This fan is completely waterproof, meaning it's suitable for outdoor use anywhere. Its CFM rating of 1700 means it's got enough power for larger outdoor spaces. But, you'll find it better in enclosed spaces, whereas something like the NewAir pedestal fan would be fine for open areas.
Rather than specific settings, it has a rotary dial for selecting its speed. It gives you great flexibility, although isn't as impressive as you might think. Preset speeds on fans are usually adequate.
Perhaps the best feature is its noise level. At only 34dB, it's the quietest on this list by far. It, unfortunately, doesn't oscillate (you won't find a floor fan that does). To compensate, it pivots 220 degrees, allowing you to get plenty of air flow anyway.
Users' main criticisms relate to its battery use. It doesn't last very long if kept on high, but this only becomes an issue if you're not able to charge it. So, if you take it camping, use it on low or have a battery pack handy.
In Short...
PROs
Rechargeable battery – great portability.
Fully waterproof.
Operates at only 34dB.
220-degree pivot.
CONs
Doesn't oscillate.
Battery doesn't last long on high settings.
6. Honeywell Outdoor Ceiling Fan
This ceiling fan is damp rated, meaning you can use it in covered outdoor areas. Its 52-inch fan blades are suitable for medium to large spaces up to 18ft. square.
You have 3 mounting options, and Honeywell claims it only takes an hour to install. Of course, that'll take longer if you have to install wiring and a switch, so consider calling an electrician for this.
Its fan blades are shorter and wider than normal but are fine for air circulation outdoors. What's more, they're made from wicker, giving the fan a suitably outdoorsy appearance.
You operate it using a pull cord, which gives you 3 speed options. It operates at a maximum of 64dB, which is fine for a quiet outdoor fan. The highest setting gives you a CFM rating of 5000, more than enough for covered porches or patios.
Some users state that it doesn't provide much of a breeze and instead circulates air. Of course, this difference isn't too helpful outside, as this is when you need a breeze.
If this is a concern, consider a Honeywell model with longer fan blades. Bear in mind, this model doesn't have a specific decibel rating, though.
In Short...
PROs
Suitable for spaces up to 18ft. square.
Maximum noise level of 64dB.
Ideal for enclosed porches and patios.
Easy to install.
CONs
Circulates air rather than provides a breeze due to small blades.
7. Oemtools Oscillating Wall Mount Fan
Airflow: 6800 CFM
Horiz. Oscillation: Yes
Vertical Tilt: Yes
Speed Settings: 3
Wet Rating: Yes
Noise Level: NC
A wall mounted fan is always a good option for an outdoor space, and this one is no exception. It's IP44 rated, meaning it's completely waterproof and so can be used in uncovered areas.
It has 3 speeds, the highest of which operates at 1080 RPM. It provides 6800 CFM of air flow, which is quite powerful for an outdoor fan. As a result, it's suitable for large outdoor areas.
Its industrial look is quite common for outdoor fans of this nature. The stainless steel housing means it'd look more at home in a gym or professional setting. If appearance is important for you, perhaps consider a different model, such as the Lasko tower fan or Air King wall mounted fan.
While it doesn't provide a specific decibel rating, users state it's quiet when mounted properly. As with all wall mounted fans, ensure it's fixed securely to the wall to avoid wobbling.
Unlike other wall mounted fans, this one oscillates. It says it has a wide oscillation arc but doesn't provide an actual figure, but it should be enough to provide a breeze across a wide area.
Users state that it's a challenge to install alone due to its weight. So, when you come to hang this wall mounted fan, just make sure you have a second pair of hands to support it.
In Short...
PROs
Maximum air flow of 6800 CFM.
IP44 rated – fully waterproof.
Large fan head provides great coverage.
CONs
Difficult to install on your own.
Industrial look doesn't fit all type of decor
8. Conbola Rechargeable Floor Fan
Airflow: NC
Horiz. Oscillation: No
Vertical Tilt: 270°
Speed Settings: Speed knob
Damp Rating: Yes
Noise Level: 30 dB
This floor fan operates at 30dB, making it extremely quiet. It's also damp rated, meaning you can use it in humid areas but not during rainfall. Even so, it's a decent outdoor fan.
It plugs into a USB port and charges very quickly. Plus, you have an LED indicator to tell you how much battery is left.
Like the FineSky fan above, this fan has a rotary speed dial rather than specific settings. Again, this is a fine feature but no more useful than the traditional fan setup.
Although it's quite a small fan, it has good air flow. That said, it's designed for smaller outdoor spaces or close-proximity use. So, don't expect it to cool your entire massive patio.
Again, as with the FineSky fan, users criticized its battery life. On high, you get 4 of hours use from it. But, this is an issue with almost all rechargeable fans and is something you sign up for when choosing one.
In Short...
PROs
Portable outdoor fan.
Operates at 30dB.
Includes an LED lantern.
Quick-charge battery.
CONs
Battery doesn't last long on high setting.
What Type of Fan is Best for a Patio?
Any fan rated waterproof is ideal for use on an outdoor patio. The best outdoor fan will have a high CFM rating, will be waterproof, and will ideally oscillate. On top of these essential features, everything else is extra.
Below is my quick summary of the best fans for outdoor use, including their pros and cons.
Wall Mount Fan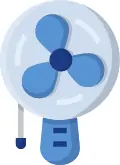 A wall mount fan is the kind you see in a factory, gym, or outdoor space. As the name implies, you mount them on the wall and point them where you want a breeze.
Not many of them oscillate, but they have wide horizontal and vertical tilt arcs instead. Ideally, opt for stainless steel blades and housing to protect against rust.
To know more about how to pick a quiet wall-mounted fan, check our other article.
PROs
Great CFM
Often rated for outdoor use
Plenty of options available for this purpose
Tower Fan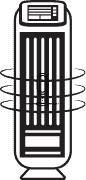 A tower fan is common for indoor use because they're a good space-saving option. Rather than a large fan head, they push air out through a vertical tower.
Of course, if you're using one outdoors, ensure it's wet rated. It'll need to be a specific outdoor tower fan, as indoor ones won't have the right kind of weather protection.
To know more about quiet tower fans, check out our article.
PROs
Compact – suitable for balconies or small outdoor spaces
Some come with heat settings too
Useful as an outdoor oscillating fan
CONs
Harder to find a wet rated tower fan.
Floor Fan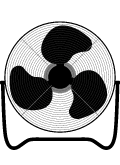 A floor fan often uses the same setup as a wall mount fan, except it sits on the floor. They're one of the largest types of fan and so have great airflow.
A floor fan is a common sight in warehouses and on worksites. As with wall mounted fans, you likely won't find an oscillating model.
Other than this, they're one of the better picks for outdoor fans.
PROs
Large fans provide excellent airflow.
Easy to move around an area.
Can be very quiet.
CONs
Floor fans don't often oscillate.
Pedestal Fan

A pedestal fan is essentially a desk fan on a stand. They're a common sight in offices, but you might also have one for your bedroom. That said, an outdoor standing fan is good for putting behind furniture if you're short on space.
The same logic applies for choosing a pedestal fan as for other outdoor fans: make sure you choose one that's waterproof. It's a less common feature for a pedestal fan, as they're more often used indoors.
PROs
Useful for positioning behind furniture
A standing fan is often energy-efficient
Good air flow
CONs
More difficult to find a damp rated pedestal fan.
Ceiling Fan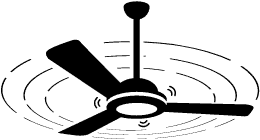 A ceiling fan might not be your first thought when choosing the best outdoor fan, but it can be useful for covered spaces. For example, a ceiling fan is a good choice if you have a pergola, wooden gazebo, or covered patio area.
You'll still need to make sure the ceiling fan is damp-rated, though. If you struggle to find one, consider speaking to an electrician to see whether they'd advise installing a ceiling fan outdoors.
Alternatively, if you can't find one online, look for a wet-rated ceiling fan in your local DIY store.
A ceiling fan is a great addon indoor, you can check out our article about quiet indoor ceiling fans here.
PROs
Great circulation for larger spaces
Ideal for covered patio areas
Fairly energy-efficient
CONs
You might struggle to find an outdoor ceiling fan.
What Noise to Expect
An outdoor fan doesn't need to be as quiet as an indoor fan. This is because there's more background noise outdoors, meaning the fan's noise emissions are less noticeable.
Even so, look for a quiet outdoor fan with a maximum noise level of 70dB. Anything more than this, and you're just looking at standard fans. There's probably no need to look below 40dB for outdoor use unless you want an almost silent model.
Along with an explicit noise level rating, here are some important factors to consider when picking the best outdoor fan for your needs.
Build Quality
Build quality impacts noise level because cheaper fans made with inexpensive parts will often rattle when in use. It's a slightly harder factor to consider when buying online, but look out for the following:
Metal housing and body (stainless steel is a good choice for outdoor use)
Metal fan blades (again, stainless steel is the best option)
Customer reviews mentioning build quality
To an extent, you'll find the build quality reflected in the fan's price. Of course, it isn't this black-and-white, but bear it in mind.
Speed Settings
Speed settings affect noise levels because, generally speaking, faster fans make more noise. Other factors feed into this, but it's not necessary to get much more technical.
When looking at outdoor fans, airflow (measured in CFM – cubic feet per minute) is important. While the area you're cooling might be smaller than an indoor room, you have other factors to consider.
These include the area being open, natural wind, and ambient temperature. All of these play into choosing the right CFM and speed settings.
Look for outdoor fans with at least 3 speed settings and the highest CFM rating possible. Opting for greater airflow than what you need means you can run it on a lower setting. In turn, this means less noise.
Oscillation
The best oscillating outdoor fan will do so quietly. An outdoor oscillating fan helps to circulate air more efficiently, but this is perhaps less important than for an indoor fan.
Oscillation can add extra noise, particularly if the fan is cheap. It might start clicking or squeaking during operation.
If you want an outdoor oscillating fan, look for one with superior build quality. There's not much you can do if it starts making noise, as the gears are located deep within the fan and aren't something you can easily fix.
Final Thoughts
Hopefully, you now have some useful information for choosing the best quiet outdoor fans.
My top pick is the Lasko High Velocity Misting Fan. It has a misting function, which is great for cooling, and is ideal for smaller outdoor spaces.
Of course, if your patio is large, choose one of the other suitable fans on this list.
What do you look for when choosing a good outdoor standing fan? Let me know in the comments below!