When the warm weather comes around, tower fans are a great way to keep cool. But, fresh, cool air shouldn't come at the expense of a noisy fan.
Fortunately, there are loads of quiet tower fans on the market, possibly too many. Making the right choice based on your needs can seem overwhelming when you start digging down into extra features.
In this article, I review my top picks for the quietest tower fan. I also provide a clear guide on all the different features so you know exactly what to look for when making your pick.
How Many Decibels is a Tower Fan?
A typical tower fan can produce up to 50dB when in use. But, they're usually quieter than desk fans because they use multiple small blades rather than one big one.
Quiet tower fans, however, can range between 38dB and 46dB depending on the size, product quality, and fan setup. But, as household noises can sit around 60dB (average conversation noise level), we can consider anything below this quiet.
If you're choosing a tower fan for use at night, noise level will obviously be a key factor. Look for the quietest ones possible for use at night.
Choosing the Quietest Tower Fan
When choosing a tower fan, there are a few things worth looking for to ensure it's a quiet model. These include:
Any manufacturer marketing their fan as quiet should include a decibel rating, otherwise their claim is meaningless. Second to this, check consumer reviews, as noise level will be mentioned often.
As with any other moving electrical appliance, build quality is vital. Higher priced tower fans use better parts and superior construction.
This translates to less noise because the tower fan won't vibrate as much and will usually last longer.
Speed settings are essential because higher speeds make a fan louder. A good way to get around this problem is to buy a fan that's more powerful than you need.
Doing so means you can run it on a lower setting and still get the kind of air circulation you need.
Quiet Oscillation/Nighttime Mode
Some fans marketed as quiet will have extra settings for use when sleeping. It might be that they don't move (oscillate) or that they have a quiet setting.
Generally, the quiet setting will reduce the airflow as much as possible. It's the most effective way to make a fan quieter, but means that you might not have as much of a cooling breeze as you'd want.
Features like this mean you can still use the tower fan as intended but don't have to worry about extra sources of noise. But, features like this will cost a bit extra.
Top Picks for Quiet Tower Fan
I've based my tower fan selections primarily on noise level, but also on ease of use, functionality, and, importantly, price.
1. Top Pick: Honeywell Whole Room Tower Fan
It's no surprise that a Honeywell tower fan would be the top pick considering the company knows its way around a quality fan. This one is no exception; it's the quietest tower fan on this list with a noise output of 26-41dB.
It has 8 speed modes along with 5 sound and power settings, meaning you possibly have more options than you could need. It allows you to choose the best options for a particular room, meaning you won't be limited by size.
On top of this, the LED control panel has a dimming feature, again with 5 options. It's a great addition that comes into its own at night. Unlike other tower fans, you won't have to worry about a distracting control panel when you're trying to sleep.
You'll also find all the features you need on a tower fan. These include a remote control, 8-hour timer, and 90-degree oscillation. In short, there's very little to criticize about this fan.
However, some reviewers stated that this tower fan is less powerful than you might expect. You should find this is only an issue in large rooms or if you need to circulate air. For a cooling breeze while you sleep or work, it'll be fine. If you're looking for a quiet fan, this might be the one for you.
In Short...
PROs
Quietest tower fan – 26-41dB.
8 speed modes and 5 sound and power settings.
Dimmable control panel and remote control.
Plenty of extra features.
CONs
Less powerful than you might want for large rooms.
2. Top Budget Pick: Dreo Tower Fan
This tower fan operates at 40dB, making it one of the quietest tower fans possible. You still get 4 speed settings and 3 operation modes on this quiet fan. These are normal, natural, or sleep, giving you great flexibility over fan speed and noise level.
It has 90-degree oscillation for better air circulation and a maximum air speed of 24ft./s.
Importantly, the fan has a timer that can be set to a maximum of 12 hours, making it ideal for use overnight. There's also an LED screen for ease of use, although this might be distracting when you're trying to sleep. But, the light turns off 30 seconds after sleep mode is activated, so it shouldn't be too much of an issue.
It's a freestanding fan that's 40" tall, meaning it's on the more compact end of standard tower fans. As such, it's ideal for small bedrooms and for hiding discreetly in living spaces.
Some users reported that the fan's oscillation can be quite loud. While this isn't a problem during the day, it can be at night. If it's a deal-breaker for you, consider a quiet oscillating fan instead.
In Short...
PROs
This tower fan operates at only 40dB.
4 speed settings give you great flexibility.
12 hour timer.
Compact model ideal for small living spaces.
CONs
Oscillation feature is disappointingly noisy.
3. Best for Bedrooms: Veohaut 48" Tower Fan
If you need a quiet tower fan for your bedroom, this might be the best choice. Its noise output ranges from 34dB to 48dB, meaning the lower settings are ideal for use when sleeping. Of course, you sacrifice some air circulation for quieter operation.
While the listing states it's a bladeless tower fan, this is incorrect. It's the same design as the others mentioned in this article, meaning its blades are hidden within the tower.
Regardless, it provides plenty of air circulation due to its 3 fan speeds. Combined with a 70-degree oscillation, it offers plenty of flexibility.
There's a remote control and LED touch screen, allowing you to operate the fan remotely (ideal when in bed). You can program the sleep timer for up to 12 hours, and this includes screen shutoff too.
Some users stated that the fan struggles in larger rooms despite its size. This meant running it on the highest setting, which is noticeably noisier than the lower settings. As a result, it's probably best for smaller rooms.
In Short...
PROs
Very quiet operation at lower speeds.
12-hour timer.
Remote operation.
CONs
Struggles in larger rooms.
4. Best for Fresh Air: Lasko Wind Curve Tower Fan with Ionizer
An ionizing fan helps to make the air feel fresher by removing airborne particles (like dust and pollen). Considering it's the same technology found in the Dyson Air Blade, it's great if you're sensitive to air quality and want an alternative to the Dyson Air Blade.
Luckily, this quiet tower fan is considerably cheaper than an Air Blade but still provides great functionality and air circulation. It's 42" tall, so is reasonably compact for a tower fan.
It has a 3 speed fan but only a 45-degree angle of rotation. It's the smallest angle you'll find on an oscillating tower fan, but users report that it's great for circulating air around the room, so it's obviously enough.
There's a timer with a maximum setting of 7.5 hours and a remote control, which is ideal for use when in bed. Unlike other models, it doesn't have an LED control panel, but this isn't a big loss.
This tower fan has something called The Blue Plug, which is a safety feature. If it detects any unusual power issues, it turns the fan off, meaning it's fine to leave it on without any concerns.
The main critique stated by previous users is that this tower fan is very difficult to clean. Doing so requires taking it almost completely apart, which is probably too much for most people. As a result, you might be willing to commit to a DIY task to maintain your tower fan.
In Short...
PROs
Operates between 30dB and 43dB.
Built-in ionizer setting.
Blue Plug safety feature.
3 speed settings.
CONs
Very difficult to clean.
Only 45 degrees of oscillation.
5. Best Compact Model: Lasko T38400 Hybrid Tower Fan
This tower fan from Lasko is the most compact on this list at 38" tall. It also has a 12" x 12" footprint, meaning it takes up less floor space too. Even so, it provides surprising air circulation.
Unlike a traditional tower fan, it doesn't have the blades on a rotating cylinder in the main column, but a squirrel cage fan in the lower casing. Lasko claims this solution has 25% more air velocity than a comparatively sized traditional tower fan.
While it's hard to confirm the number, it does deliver more airflow than similarly sized tower fans.
Check this video if you're curious about how it's built.
Despite being smaller, it circulates more air than both the Honeywell and Veohaut fans. It means this tower fan has the best ratio of airflow to volume given its compact size.
There are 4 speed settings and 45-degree angle of oscillation. It also has an 8-hour timer, and on the lowest setting is ideal for use when sleeping. You get a remote for easier control, and the tower fan has a 6ft. cable for convenient placement.
While this fan is compact and powerful, it does come at a price. Its maximum volume output is 51dB, making it the loudest on this list. It's still quieter than typical tower fans, but might be a bit much if you're a light sleeper.
Users reported that the fan's air output isn't straight due to its side intake. It means you have to set the fan at a slight angle, but this isn't a big deal. Once you get used to it you won't even notice this is a problem.
In Short...
PROs
Very compact – ideal for small bedrooms, dorms, desks, etc.
25% more air velocity than comparable fans.
8-hour sleep timer.
4 speeds – highest is very powerful.
CONs
Quite loud for a quiet tower fan.
Oscillation angle is only 45 degrees.
6. Best for Outdoors: Lasko YF202 Tower Fan
While noise levels are less of a concern outdoors, it's still great when you can have a quiet outdoor tower fan. Well, this one from Lasko is just such a tower fan.
It operates around 57dB, which is louder than the others on this list. But, as mentioned, it's less of a concern outdoors.
This tower fan has weather-resistant features, such as waterproofing and UV-resistant materials. Importantly, it means it shouldn't short-circuit if it gets wet. Also, it has a CFM rating of 177 up to 276, which is enough for smaller outdoor spaces.
There are 4 fan speeds and a night breeze mode, which is both softer and quieter. It doesn't feature as many modes as indoor fans, but this isn't a massive problem. If you're outdoors and you need a bit of extra breeze, it'll do the job fine.
Some users reported that the oscillation feature is a bit lacking. Rather than the tower rotating, the fans inside rotate. It means there's not as much air circulation, particularly at greater distances. But, again, it's not a massive deal when outdoors.
In Short...
PROs
Weatherproof for outdoor use.
Decent CFM rating.
Louder than other fans, but quiet enough when outdoors.
4 fan settings.
CONs
Oscillation feature could have been optimized better.
What to Look for in the Best Tower Fans
When picking the best tower fans, there are some important factors to consider (aside from noise level, of course). While most of these are technically extra features, they certainly aid air circulation and ease of use.
Oscillating Tower Fan
An oscillating tower fan is basically one that moves side to side, which aids air circulation.
A general rule is that wider oscillation means greater air circulation. An oscillating tower fan will usually range from 45 degrees to more than 90 degrees.
But, this might make a tower fan louder. Some fans click or squeak when moving, which is often a sign they're made from cheap parts.
If possible, look for a quiet oscillating tower fan. This'll mean it has a lubricated pole or other features that help to reduce the noise level.
Speed Settings
Pretty much all fans will have multiple speeds. It allows you better control over air circulation and noise emissions.
Ideally, it should translate to a CFM (Cubic Feet per Minute) rating, but most tower fans seem to lack this information.
Instead, look for room suggestions or the fan's size. Bigger fans will usually have higher speeds, meaning better air circulation in larger rooms.
For example, if the manufacturer suggests the tower fan is suitable for a living room, it should have more power than one for a bedroom, as it's usually a bigger space.
Where possible, use this information to buy a tower fan with more speed than you need. Doing so means you can run it on a lower setting, meaning quieter operation.
Blade or Bladeless
Tower fans come in 2 categories: with blade or bladeless.
Choosing between a blade or bladeless tower fan has some impact on the noise level.
Bladeless fans still have blades, but they're hidden in the base. These push the air into a compressor and out through a ring.

Other than better airflow, bladeless fans are usually quieter. A bladeless tower fan is also usually more powerful than a bladed one due to the compression technology. It's why you can have a smaller fan with better airflow.
I haven't suggested any bladeless tower fans on this list because they're much more expensive. While they provide better air circulation, most homes will be fine with a blade tower fan.
If budget is no issue, consider looking at specialist websites for something like a Dyson Air Blade, which can cost several hundred dollars more than an expensive blade tower fan.
Blade tower fans include blades unlike the conventional blades you might be picturing. The blades are part of a long cylinder that rotates under the impulse of an electric motor. The fan cylinder is in the long vertical housing, hence the tower shape.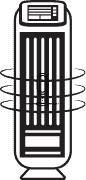 The impeller blades use this rotating movement to generate airflow, which then passes through the air vents. This technology is more affordable than bladeless designs.
Compared to traditional box fans, it has the advantage of being more compact, quieter, and providing greater airflow.
If you're curious about the internal components and more particularly the blades, check out the video below.
You'll also find hybrid models that contain fans as normal but have added air blowers. These are possibly the best of both worlds, as they're quieter than bladeless fans but more powerful than bladed ones.
I explain more about the differences between fan models in my article on window fans.
Fan Modes
At the most basic level, a tower fan blows air. But, finding one with a range of fan modes gives you flexibility over how it does so.
For example, some might have an air conditioner mode. Rather than cooling air, it's designed to sit near an air conditioner and circulate the cold air this blows out. The setting might change its intake settings or air speed.
Look out for night and day modes too. Sleep mode means quieter operation and slower fan speeds. You might also find "natural mode", which mimics an outside breeze.
Choosing a tower fan with several speeds and fan modes makes it more versatile, meaning you can use it in different rooms.
Timer
A timer has obvious advantages, particularly if you want to run the tower fan when sleeping.
Timer settings reach a maximum of 12 hours, but 8 hours is also common. Most go up in 1-hour increments, but you might find some that use 30-minutes instead.
Realistically, 1-hour increments are enough, as is an 8-hour timer. It allows you to save money and means you don't have to manually turn the fan off in the middle of the night.
If you want to go all out, look for a fan that includes a screen shutoff timer too. These are linked to the main sleep timer and mean that the screen powers down in sleep mode. Again, this saves money and means you won't wake up because of a bright LED.
Ease of Use
There's no reason why a tower fan should be difficult to use. Ideally, it should just plug in and turn on with only minimal assembly needed out of the box.
Look for the following features to make it easier to use.
Remote Control
A remote control speaks for itself. It means you don't have to get up to change the fan's settings. A remote control should provide all the same functionality as the fan's main control panel.
LED Screen
Not all fans feature an LED screen, but the best tower fans do. A screen simply makes it easier to operate the device and usually gives you more control over them too.
But, this does mean a distracting light when it's dark. It's why I suggest looking for a fan with a screen shutoff timer. Better yet, find one with a screen dimmer switch (like the Honeywell fan reviewed above).
Some have LCD screens instead, but these are completely unnecessary. They're much brighter and don't really offer much compared to LED buttons.
Pre-programmed Settings
Again, this really isn't a must-have but does make things easier. Some fans might class it as the set modes, but others will have pre-programmed settings.
For example, you might have "living room", which provides maximum power combined with oscillation. You might also find "sleep", which is the lowest setting and no oscillation.
Similarly, some fans might feature a memory setting that restores it to the previous mode. It's not an entirely necessary feature but does help if you have one setting that you always keep the fan on.
Stability
Stability is important for a tower fan, as you don't want it to tip over when in use. It's particularly important if you have kids or pets, as they're more likely to bump into it or knock it over.
Look for the fan's footprint, usually measured in inches. A circular base with a 12-13" diameter should be fine for a standard-sized tower fan. A larger base will make it more stable, especially for taller fans.
Some will have non-slip pads too, so they're more stable on hard floors. Non-slip feet can help on carpets too, as they offer some resistance and stability.
Price
Your budget for a tower fan is entirely up to you. For a high-quality model that's quiet and functional, you can expect to pay around $100-$200.
You'll find a budget model for between $50 and $75, but bear in mind that you might have to sacrifice some features or quality. When choosing a quiet tower fan, it's best to choose at least a mid-range model.
Final Thoughts on Quiet Tower Fans
Hopefully, this article has helped you to pick the best quiet tower fan for your needs.
My top overall pick is the Honeywell Whole Room Fan because it's versatile and has a great range of features. It does sacrifice some power compared to other models, but I feel it's worth it for the flexibility.
If you're on a budget, the Dreo Tower Fan will do the job fine. Of course, I offer picks for different needs, so there should be an option for you regardless.
Do you have any other factors you consider when picking the best quiet tower fans? Let me know in the comments below.