Finding a ceiling fan that's quiet enough to use while sleeping is a challenge. I've lived in a few hot countries, so I'm all too familiar with the need for a ceiling fan to keep things cool. But I'm also familiar with how much noise they can make and how annoying this can be when you're trying to sleep!
At some level, they'll always make noise, but with the right features, you can get a great quiet ceiling fan.
To save you the effort, I've scoured the internet for some of the quietest ceiling fans available. I've updated my previous ceiling fan article with a greater focus on energy efficiency figures. After all, energy prices show no signs of dropping, so we need the most efficient devices possible!
Top Picks for The Quietest Ceiling Fans
1. Top Pick: Sofucor 52" LED Quiet Ceiling Fan
Diameter: 52″
Max CFM: 5,032
Motor Type: DC
Reversible rotation: Yes
Remote control: Yes (with timer)
Light: 3000K (dimmable)
Smart Assistant: No
Energy efficiency: 143 CFM/W (Estimate)
While this ceiling fan favors appearance, it doesn't appear to compromise on function. It has 3 wooden blades, which is fewer than others on this list, but they're shaped to be aerodynamic.
Also, it has an AC motor and noise emissions of 35dB, which is about as close to a noiseless ceiling fan as you'll find. This is thanks to its motor design and rubber mounting. The blades are solid wood, meaning they have plenty of weight behind them. Plenty of reviewers praise this model on its noise level and build quality, meaning it's a good choice.
While it doesn't come with an energy efficiency rating, we can work it out pretty easily. The motor's wattage is 35W. So, using a bit of simple math, we can calculate its energy efficiency to be 143 CFM/W, which puts it in the Energy Star bracket (explained below).
The fan comes fitted with an LED light that has a frosted cover. This makes the light much softer, which is ideal for a bedroom. After all, the last thing you want is harsh light to wake you up.
You have different configuration options, such as with or without light, or a low-profile mount. This'll give you flexibility depending on what you want from your bedroom ceiling fan.
It has a remote control that comes with 3 speed options. Also, there are settings to reverse air direction and air volume, meaning you can circulate as much air as you want. The instructions claim it's suitable for mid-to-large rooms.The only real downside to the product is that some people found it difficult to install because the instructions aren't clear. Check out this video, which details the installation and provides an example of the fan in action.
PROs
52" blades made from solid wood for extra weight.
Motor is designed to prioritize quiet operation.
Can be used indoors or on a patio.
Can be fitted to flat or angled ceilings.
Comes with a lifetime warranty on the motor and a 2-year warranty on accessories.
CONs
Instructions are a bit confusing.
No smart assistant possible.
No Energy guide displayed in the specs.
2. Premium Pick: SMAAIR 52" Ceiling Fan with Light
Diameter: 52″
Max CFM: 4,850
Motor Type: DC
Reversible rotation: Yes
Remote control: Yes (with timer)
Light: 2700K-4000K (dimmable & color temperature control)
Smart Assistant: Yes
Energy efficiency: 155 CFM/W
If you're happy to spend a bit more for your bedroom ceiling fan, this could be the model for you. While a higher price doesn't always mean better quality, it's true in this instance.
It's fitted with a 10-speed DC motor for almost silent operation. Unfortunately, there's no dB rating. However, reviewers claim it's incredibly quiet and has the best noise rating on our list – 4.4 out of 5 stars (based on 300+ reviews). Part of this might be due to its flush mounting and large motor housing, which both help to insulate noise compared to other models.
The DC motor uses 75% less energy than an AC version, meaning the SMAAIR is the highest-rated on this list in terms of energy efficiency. Its airflow efficiency is 155 CFM/W, which is well within the Energy Star certification category (although it doesn't have actual Energy Star certification). As such, it could cost as little as $5 a year to run.
While not a necessary feature, this ceiling fan is voice-activated. This is a great feature for the bedroom, as you might be lying in bed and don't want to turn it off. Even so, it comes with a remote control too.
Finally, it comes with a dimmable LED light that's soft enough to use in the bedroom and you can reverse the blade direction as needed. This Amazon review has a helpful video that shows the light in action (and the noise level).
One downside is that some users reported a scraping sound during operation, but this was likely due to installation. Generally, the fan appears to be well built and very quiet.
PROs
Whisper quiet ceiling fan – ideal for bedrooms.
10-speed motor gives plenty of control.
Energy efficient.
Dimmable LED and color temperature control.
CONs
Voice control can be difficult to set up.
3. Budget Pick: Westinghouse 42" Ceiling Fan
Diameter: 42″
Max CFM: 2,897
Motor Type: AC
Reversible rotation: Yes
Remote control: No (need to be purchased separately)
Light: 3000K (Included bulb not dimmable)
Smart Assistant: No
Energy efficiency: 51 CFM/W
Spending a bit extra on a ceiling fan can get you a decent quiet model. But, if you're limited on your budget, this might be the option for you.
While considerably cheaper than the others, it's still quieter than a conventional fan. Some users appear to disagree with its quiet rating, but the general consensus is that it's quiet enough to use in a bedroom.
Users reported the fan tends to generate a humming noise at high speed, which sounded like white noise. One user mentioned not needing to turn on his white noise machine when the fan is on.
To get an idea of what it sound like in operation, check out the video below where the fan is recorded at different speed setting:
The fan has a 42" diameter and is suitable for rooms up to 10' x 10'. It can still circulate up to 2900 cubic feet of air per minute, which is more than enough for a room of this size.
Based on this CFM rating, its airflow efficiency is 51 CFM/W, which equates to an estimated annual cost of around $12. While this is on the lower end of airflow efficiency, you can see it still won't cost very much to run!
It comes fitted with an LED light that has a frosted opal fitting. This helps to soften the light, making it suitable for bedrooms.
Some users stated it's a very easy fan to install, which is always helpful. Just make sure you have someone to hold it for you while you're mounting it. Perhaps the only downside to this product is that it doesn't come with a remote. This could make it challenging to turn on and off in taller rooms. However, you can purchase a remote control separately from the same company, available here. The remote control will also allow you to dim the light. But note that the included LEDs are not dimmable. So, you'll have to buy some separately.
PROs
A budget option for those unable to spend loads on quiet ceiling fans.
Lights are soft enough to use any time of the day.
Easy to install.
Limited lifetime warranty.
CONs
Doesn't come with a remote control.
No light dimmer or timer unless you buy a dedicated remote.
Humming noise at high-speed setting.
4. YOUKAIN Farmhouse 52" Ceiling Fan
Diameter: 52″
Max CFM: 7049
Motor Type: DC
Reversible rotation: Yes
Remote control: Yes
Light: Yes, but bulb (E26) not included
Smart Assistant: No
Energy efficiency: 187 CFM/W
The YOUKAIN 52" Ceiling Fan has an operating noise level of 42dB. While it's only the second fan on this list with an explicit rating, we can still say it's pretty quiet. In real-world terms, it's about the same as a quiet office.
The motor has 5 speed settings with a maximum airflow of 7049 CFM, meaning this is a pretty powerful fan. What's more, its airflow efficiency works out as 187 CFM/W, putting it firmly in the Energy Star bracket.
Its direction is reversible, meaning you can use it in winter to circulate warm air. The included remote handles this for you and also features a timer. While it only goes up to 8 hours, this should be more than enough for use while sleeping.
Here's an overview video of the fan in action. It should give you an idea of how much wobble it has and an idea of the sound emission.
It's not a massive downside, but this ceiling fan doesn't come with a bulb included. However, it takes standard E26 bulbs, meaning you can dictate the light warmth and brightness. Arguably, this is actually a better option for customization and for DIY maintenance in the long run.
Some users state the fan is difficult to install. Indeed, at 3.2 stars out of 5 (based on 100+ user reviews), it has the worst "Easy to install" rating on this list. The manufacturer even suggests watching an installation video rather than solely relying on the included installation manual.
PROs
52" blades provide the highest CFM on our list.
Comes with light and remote control.
2 mounting positions for flat and angled ceilings.
Can be fitted to flat or angled ceilings.
CONs
Installation instructions are confusing.
No bulbs included – you'll have to buy them separately.
Not as quiet as the Sofucor 52".
5. Brightwatts Energy Efficient LED Ceiling Fan
Diameter: 44″
Max CFM: 3157
Motor Type: AC
Reversible rotation: Yes
Remote control: Yes
Light: 3000K (Included bulb, dimmable)
Smart Assistant: No
Energy efficiency: 70 CFM/W
This Hunter Low-Profile Fan has 44" blades, meaning it's roughly the same size as the Westinghouse above. Both are low profile (also called hugger) ceiling fans, meaning the blade tips are less than 10" from the ceiling. However, unlike most of the other models on this list, the Hunter has a clean modern look with white blades.
Again, there's no specific dB rating, but it's ranked fairly well for its noise level. With a CFM rating of 3,000, it's clearly a decent compromise between size, noise emissions, and airflow.
Similarly, at 70 CFM/W, its airflow efficiency is relatively good, especially considering low-profiles are less energy efficient than their normal profile fan. Unfortunately, it's not in the Energy Star bracket, but it's not far off. It'll cost an estimated $12 a year to run based on average energy prices.
The fan includes dimmable LEDs and a remote control, making it ideal for use in a bedroom. The only thing that would improve this is a timer, but you could get an electrician to wire one into the circuit if it's an important feature.
Some users praised the low noise levels at low and medium speed, while others state the fan hums quite a lot when running at high speeds. This is perhaps because of the AC motor or the max airflow. If you think this might be an issue, the Sofucor and the SMAAIR are less prone to humming as they are equipped with DC motors.
PROs
Good fan for the price.
Decent airflow efficiency.
Modern look is a good alternative to others on this list.
Limited lifetime warranty.
CONs
Can make a buzzing sound at high speeds.
What Makes Quiet Ceiling Fans Quiet?
Most ceiling fans can generate between 65 and 70dB of noise pollution. This is the equivalent of normal conversation (60-65dB) and a washing machine or hair dryer (70dB).
While we all have different tolerances for noise when trying to sleep, imagine sleeping next to an active washing machine. For most, this is too much noise to sleep peacefully.
There's plenty of evidence linking noise pollution and poor sleep to health deterioration.
We can think of ceiling fan noise as a type of white noise. For some, this can be calming. Even so, you want it to be a tolerable level for you to sleep peacefully.
A quiet ceiling fan, on the other hand, can generate as little as 35dB of noise. This is the equivalent of someone whispering. As you can imagine it's much easier to sleep with this kind of noise level.
| Source of Noise | Noise Level |
| --- | --- |
| Quiet ceiling fans | 35-40 dB |
| Normal conversation | 60 dB |
| Hair dryer | 70-80 dB |
Keep in mind that fan noise emission is closely related to the airflow generated. A fan may be whisper-quiet, but it's ineffective if it can't circulate sufficient air. Thus, always compare noise emissions while considering the corresponding airflow for the best balance of performance and quietness.
Factors Affecting Ceiling Fan Noise
As with any other mechanical device, there's always going to be a level of noise coming from a ceiling fan. The motor makes a noise, as do the blades rotating.
Check out my 10 tips to identify and troubleshoot unwanted noises in a ceiling fan.
You'll never completely remove these noise sources, but buying the right device will help minimize them as much as possible.
Some of the main factors that impact a quiet ceiling fan include:
Motor Type
Ceiling fans use 2 kinds of motor: AC and DC. As you might already know, these refer to alternating current and direct current respectively.
In short, the difference is that, in a direct current motor (i.e DC motor), the electric charge flows in one direction. In an alternating current motor (i.e AC motor), it changes direction periodically.
It's not particularly relevant to discuss this in depth, so consider checking out this video on the differences for more information.
What's important is that a DC motor produces a uniform magnetic field, which reduces overall noise level.
Electric motors also come in brushed and brushless versions. Generally, ceiling fans have brushless motors, which is the quieter of the two.
Vibrations passing onto the ceiling
Mounting a ceiling fan directly to a joist will cause vibrations to transmit into the structure. This type of noise is called structure-borne noise. This makes the perceived noise level seem much louder, particularly in other rooms.
Let's trace back the path of vibrations. The fan's downrod is suspended onto a hanger bracket, which is screwed onto a mounting box, which is eventually fixed to the joists.
To avoid this, consider fitting a decoupling system, such as some rubber blocks between the fan hanger bracket and the mounting box (which should be flush with the ceiling).
Balance
Due to the rotational energy in ceiling fans, it becomes unbalanced over time. This wobble is a major source of noise pollution regardless of whether it's among the quiestest ceiling fans or not.
As part of a fan's regular maintenance, you must take time to re-balance it. You can do this easily using a balance kit, which you can buy online (like this one).
Dimmer Switch
While not part of the ceiling fan, many people experience noise hooking one up to a dimmer switch. It might seem tempting to control the light using a dimmer, but this can be a bad idea if you want a quiet fan.
A buzzing dimmer switch can be caused by fast AC interruptions, resulting from connecting them to an AC device. Be sure to use the proper lighting and speed controls for a ceiling fan.
Warped Blades
Much like balancing, warped blades can throw off a fan's rotation. You'll know if a blade is warped because you can see it.
If not, it'll make a swooping noise as it rotates, which sounds unbalanced. The warped blade will cut through the air differently.
I talk more about blade shape and air resistance below.
What to Consider When Choosing a Quiet Ceiling Fan
Picking a quiet ceiling fan takes some care. After all, you could be using the product every day for at least half the year. Therefore, it's something of an investment.
If you're willing to spend a bit more on noiseless ceiling fans, you'll usually be rewarded with some great features. Some of these help reduce noise emissions.
Here are my main considerations when choosing the quietest ceiling fans.
Number of Blades
As a general rule, a fan with more blades will produce less noise. This is because there's better weight distribution and balance during operation. A fan with 5 blades is generally the best choice.
But this isn't always the case. For example, a fan with 3 solid blades will still have better weight distribution than a cheap fan with 5 aluminum blades.
So, only use this point to an extent. Be sure to prioritize build quality over the number of blades.
Motor Type
As I mentioned earlier, your options will be AC and DC motors. Where possible, I recommend choosing a DC motor because they're usually quieter and lighter, but are more expensive than AC ones.
For instance, the Sofucor, SMAAIR, and Youkain are all equipped with DC motors.
On the other hand, the Westinghouse and the Hunter have AC motors and are, on average, 30% cheaper than DC motors ceiling fans.
Users' reviews are more positive about noise levels on DC motor ceiling fans. They reported less humming. Interestingly, the only models I found with dB ratings were equipped with DC motors. It seems manufacturers are less prone to advertise dB levels for AC motor fans.
That said, some AC motors can be very quiet. Be sure to check out the product specifications, as a higher quality AC fan will likely be quieter than a cheap DC fan.
Room Size
Of course, this isn't specific to choosing noiseless ceiling fans, but is an important consideration. Choosing a fan the right size for your room will mean you have greater flexibility over the speed setting you use.
For example, a small fan in a large room will almost always be set to its top speed, which is usually louder.
A ceiling fan with a 52" diameter is suitable for a room up to 18' x 18'. This should be enough for most bedrooms. Smaller fans won't be suitable for larger rooms, but most manufacturers will say the maximum suitable size.
Speed Settings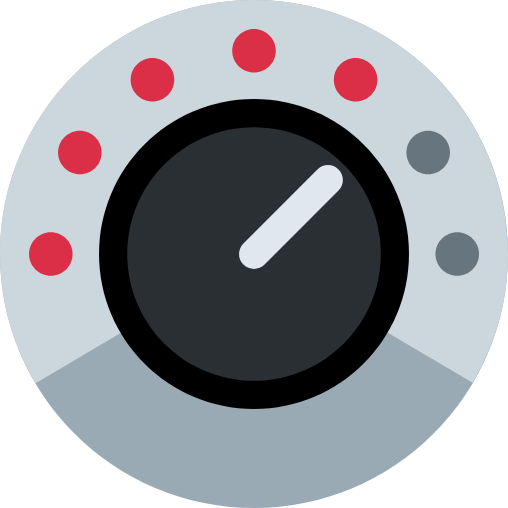 Fan speed control gives you flexibility over air circulation. The faster the fan, the more air it circulates. This is also dependent on the number and size of blades, but speed is the most important factor.
We measure air circulation in cubic feet per minute. While we could get into the science of it, we don't need to. Simply put, the more air circulating, the faster the room will cool.
High-performance ceiling fans have a CFM of around 5000, while budget options usually sit between 2500-3000. Between 4000 and 6000 CFM is suitable for a large room up to 450 square feet.
Mounting type
There are 3 main types of ceiling fan mount: extended, flush, and sloped.
Flush mounts, also called hugger mounts, have a very short downrod to no downrod. This leads the fan blades to be swinging very close to the ceiling. Because of the low clearance above the ceiling fan, the air has less room to be sucked in, affecting energy efficiency (more on that below).
Extended mounts, also called non-hugger mounts, are the opposite: the downrod is extendable which allows to move the fan blades away from the ceiling.
A sloped mount is useful in rooms with angled or vaulted ceilings. It's often used with an extended downrod to adjust the clearance with the angled ceiling.
None is louder than the others at the most basic level. They all use the same mounting equipment.
What makes the difference is placement in the room. Basically, the fan needs to be 8-9ft above the floor. The higher it is, the quieter the perceived noise will be.
Energy Efficiency
Energy efficiency for a ceiling fan is pretty easy to work out. We use the motor's wattage and the fan's airflow to calculate the airflow rate per watt, referred to as CFM/W. Note that power for lights is excluded from the calculations.
It's worth looking at the Energy Star page to understand more, as it provides some fairly clear graphs. The bottom line is that a higher CFM/W figure means the fan is more efficient.
The page linked above has 2 graphs for hugger and non-hugger fans. Non-hugger fans are more efficient because the extra room above the blades means they can handle more air.
However, an Energy Star rating is only really an advantage above 36" in blade diameter (which is all the options on this list). Under 36", the figures are pretty much the same.
Light
When choosing the quietest ceiling fan with light, you have a few options. LED is perhaps the most common, as it's quickly phasing out other energy-efficient options.
For design reasons, some might come fitted with something like Edison bulbs. While these might look nice, they aren't the most suitable for bedrooms. Edison bulbs can flicker, giving you a headache when you're reading in bed.
Your main option will be LED. This is fine, though, as they last for ages and are the most energy-efficient technology. They also offer plenty of flexibility over brightness.
We measure brightness in Kelvin. For bedroom ceiling fans, you'd want warm light slightly above ambient light, so look for a rating of between 2000 and 3000K.
For offices and workspaces, choose a brightness rating of up to 6000K for a more neutral tone.
If you want soft light for your room, be sure to choose noiseless ceiling fans with frosted glass shades.
Control Options
The standard control options for quiet ceiling fans are: remote control, wall switch, and pull cord.
Budget options will often have a pull cord, which does the job. But it can be difficult to use in tall rooms.
A wall switch is the most common but requires wiring. If you opt for this control method, you might want to hire an electrician.
The most convenient is a remote control, which I discuss below.
Of course, the control option has no real bearing on noise levels. Well, apart from a pull cord, which could loosen the fan's mounting over time.
Extra Features
The above are what I consider to be the necessary features when selecting ultra quiet ceiling fans. But, you can choose from plenty of extra features, such as:
Remote Control
A remote control has obvious benefits in a bedroom. It allows you to control the speed and light without having to get up.
Not all noiseless ceiling fans come with a remote control, but it's a fairly common feature.
Smart Features
Some fans (particularly higher-end models) come with smart features. You can connect them to your home assistant and use your voice to control them (through a voice assistant like Google or Alexa).
Sure, this isn't a necessary feature, but it can be useful. For example, many smart ceiling fans come with timers and schedules, allowing you to control their speed and air circulation through the night.
Final Thoughts
Hopefully, this guide has helped you in your quest to find the quietest ceiling fan for your bedroom.
My best ceiling fan for the bedroom is the Sofucor LED Ceiling Fan. It's the closest you'll get to a silent ceiling fan, has great functionality, and looks stylish too.
But, if you're on a budget, the Westinghouse 42" Ceiling Fan will do the job. With a CFM of 2900, it won't fit all room sizes but is definitely a quiet option for a bedroom.
If none of these options is suitable for your bedroom, I hope the comprehensive guide will narrow down your choices.
Do you have a ceiling fan of choice when it comes to silent operation? Let me know in the comments below.