Choosing the quietest floor fan for sleeping is vital if you want all the benefits of a cool breeze without excessive noise levels.
But, there are plenty of bedroom fans out there and making the right choice can be a challenge.
In this article, I talk you through my top picks for the best quiet fan for a bedroom. Hopefully, by the end you'll have enough information to choose one for yourself.
What Noise Level to Expect from the Quietest Floor Fan
Depending on the type of fan you choose, you could expect anywhere from 35dB to 70dB of noise emissions. You'll find fans louder than this, but we wouldn't consider them to be quiet fans.
You might find a silent fan for bedroom that goes as low as 25dB. But, these are very expensive, and once you drop to around 30/40dB, it starts becoming a negligible difference.
For example, 40dB is the equivalent of a quiet library, so you probably don't need much less than that.
Some things to consider:
Buying a fan more powerful than you need means you can run it at lower speeds. This helps make it quieter while still moving enough air around the room.
Larger fan blades move more air with less effort, and so are usually quieter.
Oscillating fans introduce more moving parts, meaning more noise.
Better quality fans (at a higher price point) mean better build quality and lifespan. This equates to less noise.
Top 10 Quiet Fans for Sleeping
I offer a selection of the quietest fans on the market below. My picks are based on noise level and airflow primarily, but I also consider ease of use and convenience.
Best Pedestal Fan: Pelonis Ultra Quiet Pedestal Fan
Horiz. Oscillation: 85°
Vertical Tilt: 24°
Timer: Yes
Remote: Yes
Speed control: 12 settings
Noise Level: 38 dB
This pedestal fan is both quiet and energy-efficient. It operates at 35dB and uses 35% less energy than comparative fans.
It has 12 fan settings and a 12-hour sleep timer, giving you plenty of flexibility over airflow. To improve this, it also features an 85-degree horizontal oscillation and a 24-degree vertical tilt.
Finally, it comes with an LED screen and remote control so you know exactly what settings you're using. You can adjust the stand between 3.5 and 4ft., which is a helpful feature.
Some users reported difficulty putting the fan together, particularly assembling the fan guard. Luckily, you only have to do this once so it shouldn't be too much of an issue.
In Short...
PROs
Ultra-quiet operation.
Energy-efficient compared to AC motor fans.
Plenty of speed and oscillation settings.
Best Desk Fan: Tredy TurboForce Whole Room Fan
Horiz. Oscillation: No
Vertical Tilt: 90°
Timer: No
Remote: No
Speed Control: 3 settings
Noise Level: 27 dB
Despite its size, this fan only operates at 27dB, making it one of the best quiet fans on this list. It's a table fan, but provides enough power to circulate air around the whole room.
It uses spiral blades to circulate more air with less noise, making it ideal for sleeping. A nice feature is the included aroma sponge, onto which you drop some essential oil for an aromatherapy experience.
There are 3 speed settings, and it can circulate air up to 27ft. away, meaning it's quite powerful. It has a 90-degree vertical tilt but no horizontal oscillation, which might be a downside for some.
Unfortunately, it doesn't come with a sleep timer or remote control, which some users noted as its major downside. But, if you want to use it when sleeping, consider hooking it up to a timer plug instead.
In Short...
PROs
Operates at 27dB – acceptable noise level for sleeping.
Aromatherapy function.
Circulates air up to 27ft.
· Budget option for a bedroom.
CONs
No sleep timer or remote control.
No oscillation feature.
Best Tower Fan: Dreo Oscillating Tower Fan
The main advantage of this quiet tower fan is its compact size, making it ideal for smaller bedrooms. This fan has an 11.4" footprint, which is quite compact.
Its operation level is 40dB, which is louder than the Pelonis pedestal fan above. But, it has an airspeed of 24ft/s and 90-degree oscillation, meaning it circulates air better and should cover the entire room.
There's a 12-hour auto shut off timer and remote control including, making it a great quiet fan for sleeping. You can set the timer in 1-hour increments either on the remote or the tower fan.
It has 4 speed settings and 3 modes, including sleep mode. The latter puts the fan on the lowest setting and is about as close to a silent fan for a bedroom as you'll find.
Some users mention that the base is very light, meaning it feels a bit unstable. If you have kids or pets, perhaps choose a different model for this reason.
In Short...
PROs
Wide oscillation arc.
Sleep timer and remote control.
Includes sleep mode.
Rowenta Turbo Silence Pedestal Fan
The Rowenta Turbo Silence operates at 35dB, which is the same as the Pelonis fan above. It also includes night mode for quiet operation, which makes it a great fan for sleeping because it's so quiet.
Its airflow is 2436 CFM, which is exceptionally powerful. This might be a bit much for smaller bedrooms, and unfortunately, it only has 3 fan speeds.
This is why it didn't take the top spot. If it had more speed settings, it would be ideal for bedrooms of all sizes. Due to its focus on high air circulation, and the included turbo mode, it's better suited for larger rooms.
It has an 8-hour sleep shut off and remote control, but no electronic panel on the fan. But this might be a good thing when you're trying to sleep, as there's no bright light to keep you awake.
Some users reported that the control housing on the fan feels a bit cheap and may break. It's covered by a 1-year warranty, so bear this in mind if you buy this pedestal fan.
In Short...
PROs
Strong airflow.
Very quiet operation.
Sleep timer and remote control.
CONs
Only has 3 speed settings.
Control housing is flimsy.
5. Ultty Bladeless Tower Fan
Horizontal Oscillation: 90°
Vertical Oscillation: 30°
Timer: Yes
Remote: Yes
Speed Control: 9 settings
Noise Level: 32 dB
Bladeless tower fans are typically quieter than standard tower fans due to how they're built. This model is no exception, as it operates at a maximum of 32dB. As such, it's perhaps the quietest fans you'll find.
It also includes a HEPA air filter, meaning you get clean air while it works. This feature makes it a good choice if you have pets, children, or allergies.
This quiet fan has 90-degree horizontal and 30-degree vertical oscillation for great room coverage. It's probably the closest to a whole room tower fan that you'll find and is suitable for rooms up to 30 sq./ft. in size.
When in fan mode, it reaches up to 1420 cubic feet per minute. In air purifier mode, it reaches up to 608 cubic feet per minute. While not the most powerful fan on this list, it should provide enough breeze for small sized bedrooms.

There are 9 speed settings and 3 fan modes, and you also get an 8-hour shut off timer and remote control. As far as quiet fans for sleeping go, this is a great choice.
The only real downside, as some users noted, is that it doesn't blow air like a traditional fan. Instead, it circulates it. While this isn't a massive issue, look elsewhere if you want a fan that provides a noticeable breeze.
In Short...
PROs
Operates at only 32dB.
Includes a HEPA filter.
Plenty of speed and oscillation settings.
CONs
Doesn't provide a breeze.
6. Rowenta Turbo Silence Desk Fan
Horizontal Oscillation: 90°
Vertical Oscillation: 30°
Timer: Yes
Remote: Yes
Speed Control: 4 settings
Noise Level: 38 dB
This quiet fan is just the table fan version of the Rowenta Pedestal Fan reviewed above. It includes mostly the same features but sits on a table rather than on the floor.
This Turbo Silence fan operates at 38dB, which is still very quiet. Its airflow is 1695 CFM, meaning it's less powerful than the pedestal fan.
But, this makes it suitable for smaller bedrooms, providing you've got a surface to stand it on, of course. What's more, it's just loud enough to act as background white noise while sleeping.
There are 4 speed settings, including night mode. This is simply the lowest speed setting, but it operates very quietly. Unlike other models, it doesn't include a remote control and instead uses a control knob on the fan.
It oscillates horizontally but includes a vertical tilt feature, meaning it provides good coverage for the whole room. Unfortunately, there's no sleep function, but you can connect it to a timer plug, as I suggest above.
Some users reported that the biggest issue is the LEDs on the fan's body. They're incredibly bright and are distracting when trying to sleep. I'd suggest putting some tape over them to dim them a bit.
In Short...
PROs
Quiet operation.
Ideal for smaller bedrooms.
Night mode is almost silent.
CONs
LEDs on the fan are very bright.
Lower CFM than pedestal fan version.
7. VCNEL Oscillating Tower Fan
As with the other blade tower fans on this list, this one from VCNEL is at the louder end of the spectrum. That said, it operates at 42dB, so it's not even that loud compared to traditional fans.
What it lacks in quiet operation it makes up for in functionality. Perhaps one of the best features is the light shutoff in sleep mode. It's a very minor feature but means you won't be distracted by bright LEDs when trying to sleep.
It has 70-degree oscillation and an airspeed of 24ft./s, meaning it provides a noticeable breeze rather than just circulating air. Therefore, it would be a good alternative to the Ultty bladeless model above.
This whole room tower fan features a 15-hour timer and comes with a remote control and an on-fan control panel. Unlike the Dreo tower fan, it has a sturdy base, meaning it's suitable for use around pets and children.
The main downside reported by users is the oscillation function. It works fine but is quite jerky. While this doesn't make it louder, it doesn't emit noise in a smooth arc. It's not a massive issue but might be distracting if you're a light sleeper.
In Short...
PROs
Wide oscillation arc.
Includes an LED shutoff feature in night mode.
Airspeed of 24ft./s.
CONs
Oscillation feature is a bit jerky.
8. Zigani Pedestal Fan
Horiz. Oscillation: 60° up to 120°
Vertical Tilt: 90°
Timer: Yes
Remote: Yes
Speed Control: 9 settings
Noise Level: 38 dB
One of the best features of this pedestal fan is its smart airflow mode. It adjusts the blade speed based on room temperature, meaning you always have the right level of air circulation. While it's not a necessary feature, it does mean less manual adjustment.
There are 9 speed settings, and it operates as low as 38dB, making it an ideal quiet fan for sleeping. There are also 3 fan modes, including sleep mode and natural breeze.
As with the Rowenta fan that operates at this noise level, it's good for white noise when trying to sleep.
The head on this fan tilts 90 degrees vertically, which is great for improving air circulation in the room. It also has 3 horizontal oscillation settings: 60 degrees, 90 degrees, and 120 degrees. Other fans don't have this feature, and it helps concentrate the fan's airflow.
Its pedestal adjusts to a maximum of 3.9ft., which helps you position it around furniture. The fan comes with the features you'd expect: a remote and 8-hour sleep timer. It also has a memory function that restores the last settings from before it went to sleep.
The blades are smaller than on other pedestal fans, and some users stated this affects airflow. They had to use the fan in turbo mode for acceptable airflow while maintaining noise at an acceptable level.
In Short...
PROs
Smart airflow feature.
Different oscillation options.
Quiet operation and sleep timer.
CONs
Smaller blades mean less efficient air circulation.
9. Greentech Bladeless Desk Fan
Horiz. Oscillation: 90°
Vertical Oscillation: 90°
Timer: Yes
Remote: Yes
Speed Control: 12 settings
Noise Level: 13 dB
This fan operates at an impressive 13dB, meaning it's perhaps the quietest fan for a bedroom that you'll find. It's thanks to its bladeless technology, much like in the Ultty tower fan above.
It uses cyclone and compression technology to force air out through the hole in the middle, meaning the fan and other moving parts are appropriately insulated.
The fan features 90-degree oscillation horizontally and vertically for great airflow around the room. It's very compact but you can feel the air moving up to 30ft. away.
There are 12 speed settings, a 9-hour timer, and a remote control. It has a small LED control panel, but the light isn't too bright and so won't be that distracting.
Its main drawback is the same as the Ultty fan: it doesn't provide a breeze but rather circulates air. Considering its low CFM (198) and how quietly this fan operates, it's probably a small sacrifice if you need a really quiet fan for your bedroom.
In Short...
PROs
Possibly the best quiet fan for a bedroom that you'll find.
Compact and sleek design.
Wide horizontal and vertical oscillation.
CONs
Circulates air rather than provides a breeze.
· Low CFM compared to other models.
10. DDVIVIT Foldaway Desk Fan
If you need an ultra-compact quiet fan for your bedroom – perhaps for traveling – this might be the one for you. Its pedestal extends from 15" to 40", meaning you can use it as either a desk fan or a pedestal fan.
What's more, it folds up into a convenient travel box where the fan head snaps into the base. It's perfect for traveling, dorms, or other small bedrooms.
It runs on a battery rather than mains electricity and you charge it using a USB cable. The battery can provide up to 26 hours of operation, and it only emits a maximum of 40dB when on.
The fan has 4 speed settings, including natural wind mode, which provides a soft breeze. It still includes a remote and has oscillation settings up to 90 degrees. While it has a sleep timer, the maximum setting is 4 hours.
Some users state that its airflow and fan speed are a bit weak, but you'd expect this from a foldable design. It's still suitable for use in a small room or for a single person but might not be enough for a couple or for use in a larger bedroom.
In Short...
PROs
Compact foldable design.
Functions as a desk fan or pedestal fan.
Maximum noise level of 40dB.
CONs
Airflow is too weak for larger rooms.
Choosing Quiet Fans for Sleeping
You may already know all the different kinds of fans on the market. Each has pros and cons for using at night. Here's a brief rundown on the types you should consider when choosing the quietest fan for your bedroom.
Tower Fan
Tower fans have a long upright cylinder that houses the fan. Unlike other fans, it moves air vertically rather than horizontally.
If you want a tower fan, I've written an entire article on them. I recommend checking it out here.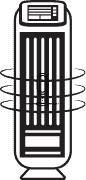 PROs
Typically has wider coverage and air circulation.
Tall with a small base – ideal for compact spaces.
Quite efficient in enclosed areas.
CONs
Tower fans move side-to-side but have no option for vertical movement.
Often less powerful than other types of fans.
Oscillation feature can add unnecessary noise to the room.
Pedestal Fan
A pedestal fan is essentially a desk fan on a floor stand. They're quite tall and powerful, providing great coverage in small to large rooms.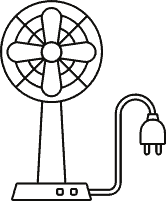 PROs
Very tall – ideal if you have a high bed or need to position it around furniture.
Large blades make them a good pick for a quiet fan.
Powerful – great airflow.
CONs
Pedestal fans have quite a large base and so take up a bit of room.
Desk Fan
Also known as a table fan, it's probably the style you're most familiar with. It's the same as a pedestal fan, just on a smaller stand. More on desk fans here.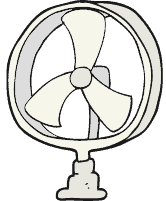 PROs
Extensive range of options on the market.
Small, so generally quite quiet.
More compact than a pedestal fan.
CONs
You'll need a surface to stand them on (desk, table, nightstand, etc.).
Budget models can be very loud due to cheap parts.
Smaller fan size means less airflow than a pedestal fan.
Ceiling Fan
Ceiling fans are (unsurprisingly) fixed to the ceiling and often include a light fitting. They're ideal as a whole room fan because their size provides great air circulation.
I don't review any in this article because I wrote a separate piece about the best quiet ceiling fan for bedroom here. But, I included them here to let you know it's one of the best options for ventilating a bedroom.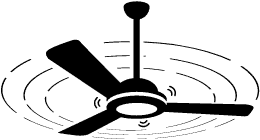 PROs
Ceiling fans can be very quiet.
Great airflow around larger spaces.
Plenty of energy efficient-models.
Can be used as a room decoration element
CONs
Requires wiring and fitting.
More expensive than other fans.
The type of fan you choose for your bedroom will mainly depend on the size of your room and the level of airflow you want.
You'll find quiet fans in every style mentioned above, and some will offer silent operation/night modes too.
Features to Consider in Bedroom Fans
The feature guides I provide in my other articles on fans are still applicable here, but I'll cover a brief rundown of the most important features for the best fans.
Remote controls are good for bedroom fans because they save you from having to get up.
Always look for a sleep timer for obvious reasons.
LED control panels are fine but not necessary. The lights can be distracting at night.
Speed settings are vital for getting the right level of air circulation.
CFM measures airflow and depends on the size of your room. Use this calculator to work out the right size fan for your needs.
Final Thoughts on Quiet Fans for Bedrooms
Hopefully I've provided enough options above for you to find the most suitable quiet fan for your needs.
I have 3 top picks, but my most highly recommended for best quiet fan is the Pelonis Ultra Quiet Pedestal Fan. At 35dB, it's super quiet and is functional enough to cover almost everyone's needs.
Of course, if you want more airflow or a more compact design, consider one of my other top picks.
Do you have any tips for choosing the best quiet fan for bedrooms? Let me know in the comments below.