I never undervalue the importance of a desk fan when working. It's hard to be productive when it's too hot and a compact desk fan is often enough.
But the last thing you want when trying to improve productivity is a noisy, distracting fan. You're only replacing one issue with another.
So, if you're looking for a quiet desktop fan, you're in the right place.
In this article, I review some of the best quiet desk fans. I also provide a useful guide for making your selection. Hopefully, by the end you'll have the right quiet desk fan for your needs.
How Many dB emits a Quiet Desk Fan?
Fans aren't the noisiest household devices. In fact, as I discuss in my article on white noise as a sleep aid, some people use fan noise to fall asleep.
But that doesn't mean everyone enjoys it, particularly when trying to work. If this is you then you need a quiet office fan.
So, how many dB do quiet desk fans emit?
A typical household fan ranges from 35dB to 50dB, and desk fans fall somewhere in the middle. You can expect a noise level of around 40dB from a small quiet desk fan.
To understand what this actually means, let's discuss dB in a bit more detail.
What is a dB?
A decibel (dB) is the scale used to measure sounds. It's a logarithmic scale, meaning perceived noise level doubles with every step up. For example, a 20dB sound is 10 times louder than a 10dB sound.
Here's a table of some common sounds and their decibel levels.
| Sound | Decibel Level |
| --- | --- |
| Whisper | 25 |
| Light rain | 40 |
| Normal conversation | 50 |
| Typical office | 70 |
| Power tools | 100 |
| Live music concert | 130 |
| Fireworks | 160 |
Common sounds around the home can range from 40dB (a refrigerator) to 70dB (a vacuum cleaner). As you can see, a quiet office fan falls on the lower end of this scale, meaning you shouldn't find it too distracting.
The fan in your computer's cooling system will run around 30dB, so a USB desk fan isn't much louder than this.
Is a Small Fan Better than a Large Fan?
For an office environment, a small desk fan is a better choice. This is because it's easier to set up, it takes up less space, and you don't need to place it on the floor.
But, one thing to bear in mind is that to provide the same level of cooling, a small fan has to work harder than a large fan.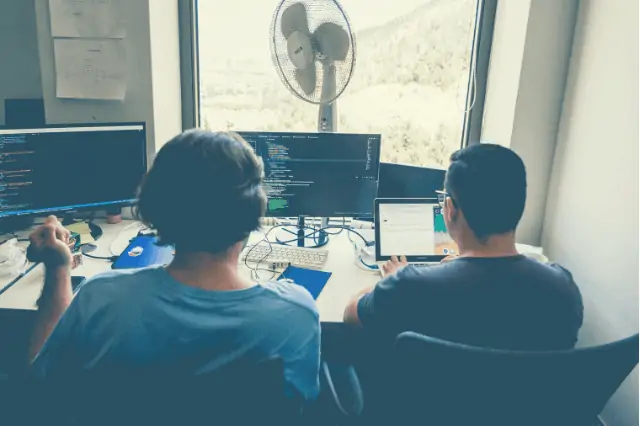 Airflow defines how effective a fan is at cooling. To provide proper cooling, a small fan has to spin faster.
This means it'll produce a higher-pitched whirring noise. While it might not be louder, it might be more distracting.
It might be worth bearing this in mind when making your selection, as a small desk fan can be quiet and still be distracting.
6 Best Quiet Desk Fan
Below are my top picks for the best quiet desk fans. Where possible, I've tried to include a dB rating, as this is what we're most concerned with in this review.
Top Pick: NewGod Rechargeable Desk Fan
If you're looking for a quiet desk fan with all the necessary features, this might be the one for you. It plugs into a USB port but also has a rechargeable battery. This means you can take it around the office with you when you're away from your desk.
It has 4 speed settings, and the maximum volume is 45dB. This makes it quieter than others on this list and puts it around the same volume as a standard refrigerator, which isn't loud.
The fan has an automatic rotation setting, which helps circulate air around the room. You can manually adjust it vertically, too, meaning you have a wide range of direction settings.
One issue mentioned by some users is that the LED power light is very bright and can be distracting. But you can remedy this with a piece of tape and it isn't even that much of an issue if you work in a bright office.
As far as USB desk fans go, this is a pretty good choice.
PROs
Adjustable speed.
No louder than 45dB.
Automatic and manual rotation settings.
Low power consumption.
CONs
LED power light can be distracting.
Top Budget Pick: Gaiatop USB Desk Fan
This quiet desktop fan from Gaiatop is a simple and budget-friendly option. It plugs into a USB port on your computer, making it ideal for use at your desk.
It weighs less than 8oz. and has a 7" diameter, meaning it's quite compact. Importantly, its base has rubber pads to prevent vibrations and noise transfer through your desk. This helps keep the overall noise level down.
This table fan has several speed settings and its head can rotate horizontally and vertically. Its highest setting isn't louder than 50dB so you won't really notice it in an office.
Some users reported that its compact size means it can move around slightly on the higher speeds. This is easy to overcome using a bit of Blu Tack or sticky tape, though.
Bear in mind, too, that this is a budget option. While it does its job fine, you won't find the same build quality as in more expensive models.
PROs
Max speed is quieter than 50dB.
Compact size.
Rubber feet prevent vibrations.
USB cable plugs into computer.
CONs
Can move around at higher speeds.
Low price is noticeable in the build quality.
3. BLACK+DECKER Mini Tower Desk Fan
This mini-tower desk fan by Black+Decker is the only blade impeller fan on this list. Unlike traditional axial fans, most tower fans use blade impellers to generate airflow. As a result, they tend to be more compact, lightweight, and slightly quieter.
This mini tower fan stands 14 in. making this fan the tallest on this list. It also provides plenty of air circulation compared to compact USB fans.
It only features 2 speed settings. Alas, no specific noise rating comes in the specification. Yet, many reviewers praised how quiet this fan is provided its great airflow. You won't notice it too much in a standard office. Moreover, the noise generated is white noise meaning it's a very steady and comfortable noise.
The fan plugs directly into a wall outlet, which might not be as convenient as a USB fan. However, it does offer low power consumption so it is an economical option. Whatsmore, it comes with a 5ft. long cord which allows you to move it around very easily.
It can oscillate 90 degrees. Unfortunately, it doesn't include a timer nor a remote. But for a desk fan, it shouldn't be too big of an issue.
If you consider a bedroom table fan, you might consider another model as a timer is preferable. On the other hand, reviewers praised the white noise it generates to fall asleep.
PROs
Tall fan provides decent airflow.
White noise.
Quiet operation.
90 degrees Oscillation.
CONs
Not a USB desk fan.
Only 2 speed settings.
No timer.
4. Comlife Mini USB Desk Fan
As another budget-friendly desktop fan, this model does everything it needs to. It has 4 speed settings up to a maximum of 3,800RPM, which provides plenty of airflow.
While there's no dB rating mentioned, users reported it's comparatively quieter than other USB desktop fans on the market.
The USB cable is nearly 3' long so you should have plenty of flexibility with where you place it. Also, you can manually tilt the fan on a 310-degree axis, which is more than enough when sat at a desk.
The fan has a stable base with 4 rubber pads to help reduce vibration. This is useful considering it's not very heavy and reaches high speeds.
Some users reported that the rubber pads, which stick to the surface, are difficult to remove once placed. While this is a minor issue, it does make moving the fan a challenge. Bear this in mind before you stick it in place.
PROs
Adjustable speed up to 3,800RPM.
Long USB cable.
Rubber pads help to reduce vibration.
CONs
No specific dB rating.
Rubber pads are difficult to peel off once stuck down.
5. Dr. Prepare Tower Fan for Offices
Granted, this one might not fit into the category of small quiet desk fans because it's 12" tall, but it might be worth the extra space.
It features 2 fans for greater airflow and a 110-degree arc for greater air circulation. Like a standard fan, it moves side to side, which helps keep a greater area cool.
The fan has 3 speed settings and gets quite powerful. Its maximum setting produces 60dB of noise, making it the loudest on this list. However, this is still quieter than a standard office fan, so it shouldn't be too distracting.
It features an auto off timer, which isn't necessary for a desk fan. But if you plan on using it elsewhere around the home, this becomes quite a useful feature.
Some users reported that, while the fan is quiet, the back-and-forth movement isn't. They stated it can creak while moving, which can be distracting. The easiest way to avoid this is to keep it static. So, if you want a rotating fan, perhaps look for a different model.
PROs
Stable base helps to reduce vibration.
2 fans means greater airflow.
3 adjustable speeds and auto off timer.
CONs
Noise output of 60dB.
Can creak when rotating.
6. BiBiSi Rechargeable Battery Quiet Clip-on Fan
One of the best features of this fan is that it can clip onto your desk or computer, making it more versatile than the others. It's also stable laying flat on a table. The head can rotate 360° horizontally and vertically to direct the airflow accurately.
It doesn't feature automatic oscillation though. It includes 3 speed settings, the highest setting topping 3800 RPM. While it doesn't mention a decibel rating, users reported that it's quiet.
The fan plugs into a USB port but is also rechargeable. One great feature is that you can use the battery of the fan as a power bank to charge other devices like your smartphone. It might be a detail but this fan includes a USB type C port. This is especially nice if your phone, for example, also uses a Type-C connector. You don't want to be bothered with the old micro-USB standard and the Type-C.
Overall, this fan shines by its portability thanks to its incredible battery life (10,000mAh). It can last 40 hours on the lowest speed setting and up to 11 hours on the highest one.
We can regret the absence of timer and auto-oscillation, which are useful when it comes to using a fan for sleeping. Nevertheless, users stated they were utterly satisfied by the battery life and the quietness.
PROs
Clips onto objects for greater flexibility and stability.
Quiet in use
Great battery life
Can be used as a power bank.
CONs
No automatic oscillation.
No timer.
What to Look for in a Quiet Desk Fan
It's probably obvious by now, but not all quiet USB desk fans are created equal. When making your selection, it's important to consider some essential buying criteria.
Here's my roundup of what I judge are the most important features when selecting a quiet desk fan.
Choosing the right type
There are several fan types to choose from and each has its benefits for an office environment.
This is the most common and consists of the fan, its protective grille, and a base. They're usually compact and most budget options will be this design.
Box fans are basic but get the job done. They might have a manual rotation feature, which isn't necessary.
A tower fan might take up less desk space than a box fan but will be taller. Some models feature more than one fan, which provides better airflow.
Tower fans often have an oscillation feature, meaning they rotate to better circulate air.
A bladeless fan does contain blades but they're usually hidden in the base. The fan circulates air through small slits in a hoop, which provides a smoother airflow.
This means they're often quieter but can be more expensive because of the technology involved.
I recommend watching this video on how bladeless fans work for more information.
Oscillation
Oscillation refers to the rotating movement. It helps a fan to circulate air more effectively around a larger space.
You'll find desk fans with an oscillation arc ranging from 90 degrees to 360 degrees. Some have none at all.
This is helpful if you want to cool an area larger than just your desk, such as your cubicle or standalone office.
But, bear in mind that this adds more moving parts to the structure. In turn, this means more opportunity for unnecessary noise.
If you just want to cool your desk, stick with a static fan.
Fan Head Rotation
Many fans allow you to manually adjust the position of their heads. This helps get the airflow just right, particularly if you're limited on where you can place the fan.
Look for one that provides both horizontal and vertical rotation. This is different from oscillation, as the fan stays in place once positioned.
Power Source
When selecting a desk fan, you have several power options. These are:
USB port
Rechargeable
Power outlet
A USB desk fan makes most sense if you sit at a computer. A rechargeable fan isn't necessary but is useful if you want to take it with you to meetings or if you work a hot-desk system.
Standard DC power cables are the most inconvenient. While you might have a spare wall outlet in your office, it might limit how close you can place the fan to your desk.
Speed Settings
Rather than talking about airflow, which we measure in cubic feet per minute, we should instead talk about speed settings. Most commercial fans don't specify their airflow.
A general rule is that the faster the fan spins, the more air it pushes around. Of course, larger fans will have greater airflow than small fans, even at lower settings.
More settings give you greater flexibility over both airflow and noise levels.
Most fans state their maximum noise output at their highest speed setting. Logically, the lower the speed the less the noise.
Ideally, you'll want a fan with 3 or more settings for the greatest level of flexibility.
Noise Level
I've discussed noise level in detail above but it's worth mentioning again. After all, this is the main thing we want from a quiet desktop fan.
You'll want one no louder than the noise level of the environment in which you're using it. For a normal office, this is about 70dB. Any louder, and you defeat the purpose of buying a quiet office fan.
The ones on this list range from 45dB to 60dB, meaning there should be one to suit your needs.
Of course, if you work in an office alone, you'll want a quieter model.
Final Thoughts on Desk Fans
Hopefully, you've found some useful information about the best quiet desktop fan.
My top pick, and the quietest desk fan on this list, is the NewGod Rechargeable Desk Fan. Its maximum noise level is 45dB, making it suitable for most office environments. Above all, it has the best build quality and it's easily portable with its rechargeable battery.
If you're on a budget, though, the Gaiatop USB Desk Fan is also a good choice. While it has a lower build quality, it gets the job done without breaking the bank.
Do you have a particular small quiet desk fan that you love? Why not mention it in the comments below for others to enjoy?