Whether creaky floorboards or simply loud footsteps, there are plenty of reasons why you might want to make your floor quieter.
One of the easiest and most cost-effective methods I've found are soundproof floor mats. They save you from having to do major DIY and are adjustable depending on your needs.
In this article, I review my top picks for the best soundproofing floor mat. First, I cover how they work so you can make an informed decision.
How a Soundproofing Floor Mat Deals with Noise
Soundproof floor mats deal with noise by dampening or absorbing it. Generally, a noise reduction mat adds a layer of soft material between noise sources and the building's structure, helping to reduce transmission.
Due to placement and composition, you'll find soundproof floor mats are more effective against impact noises than airborne noises. To understand why this is the case, let's briefly cover the differences.
Impact vs. Airborne Noise
At home, you'll be fighting against 2 types of noise: impact noise and airborne noise.
Impact noise happens when an object makes contact with a surface. For example, footsteps or an object falling on the floor.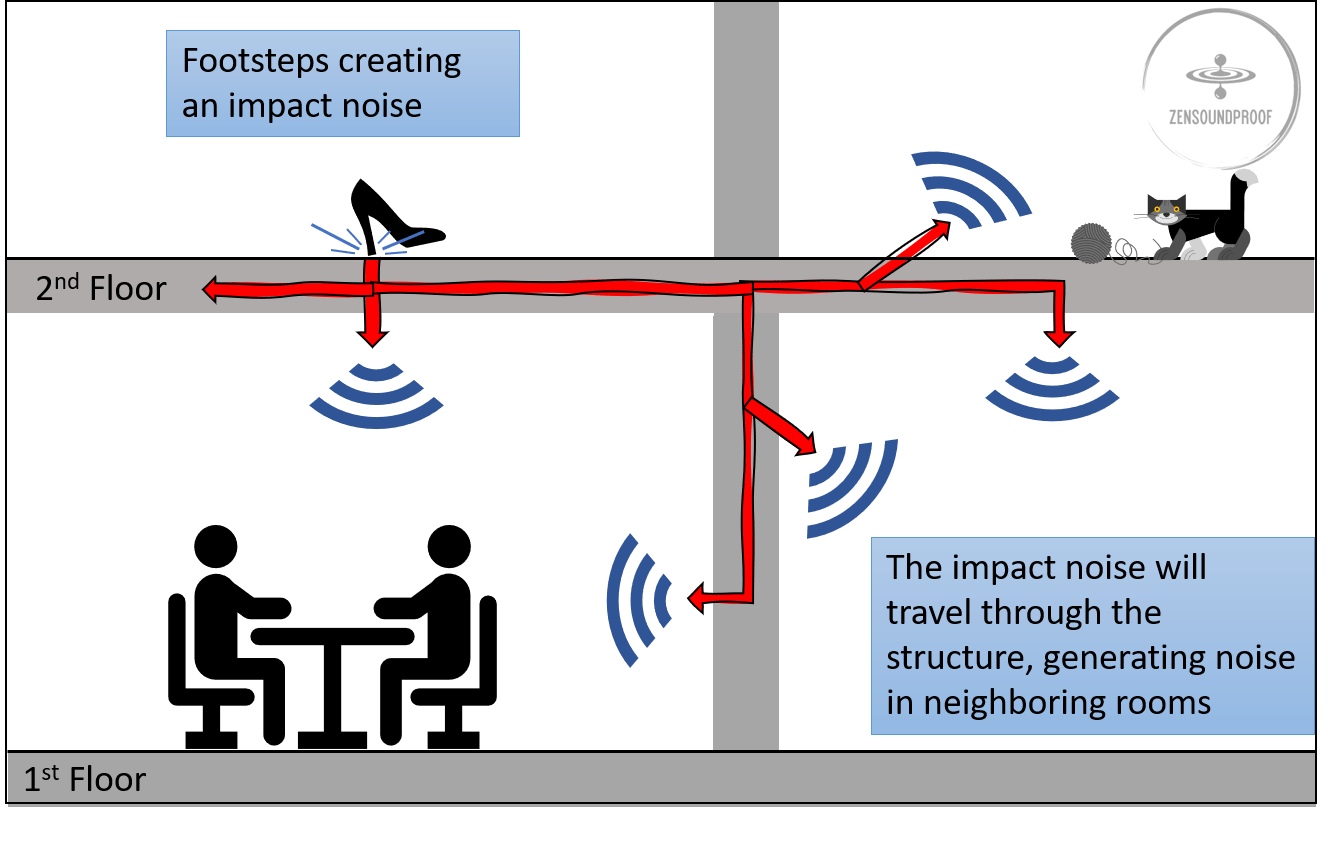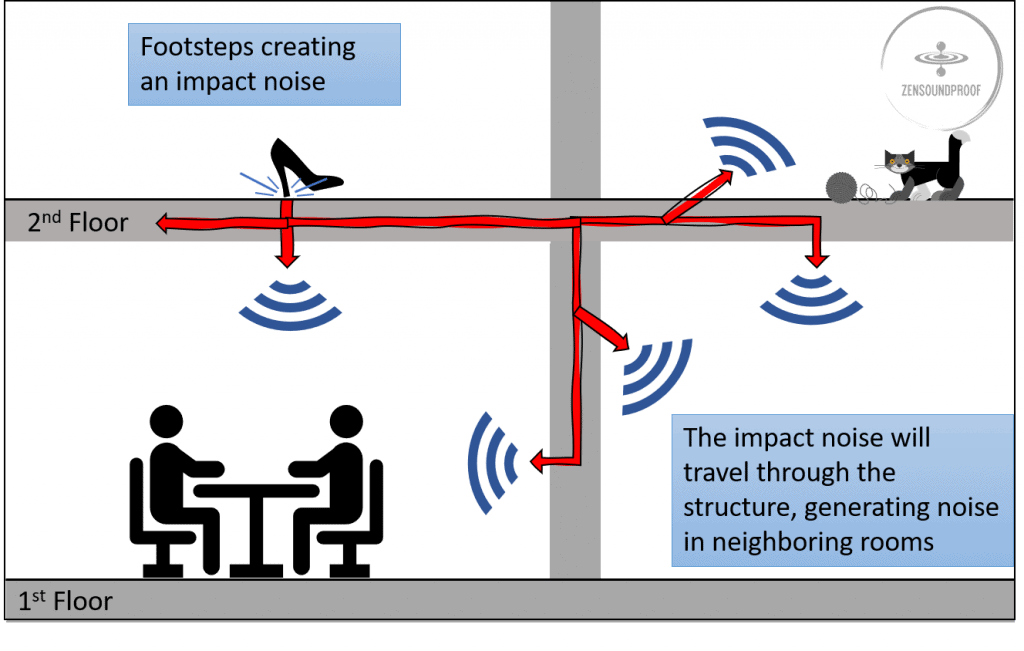 Airborne noise happens when sound travels from the source through the air. When these sound waves encounter a surface, they're more or less blocked depending on how thick and heavy the wall is.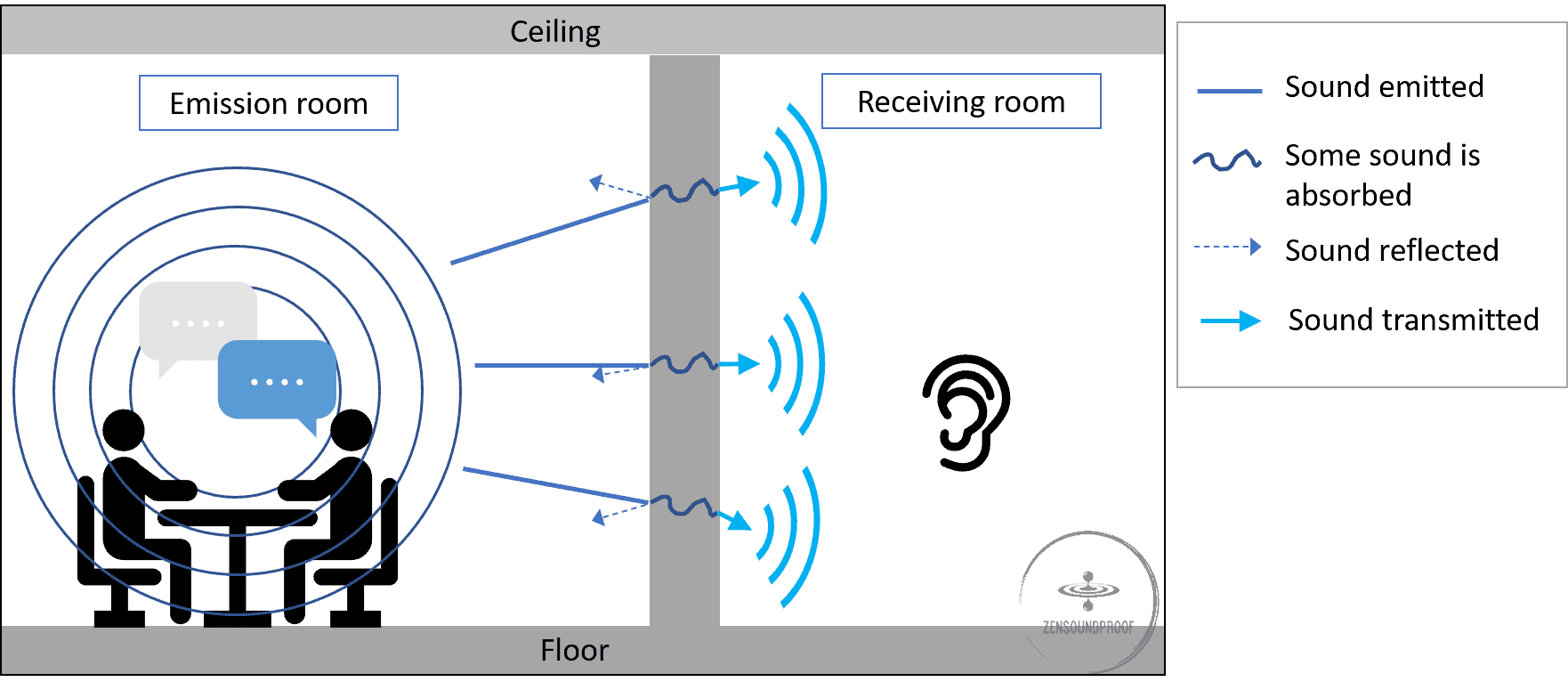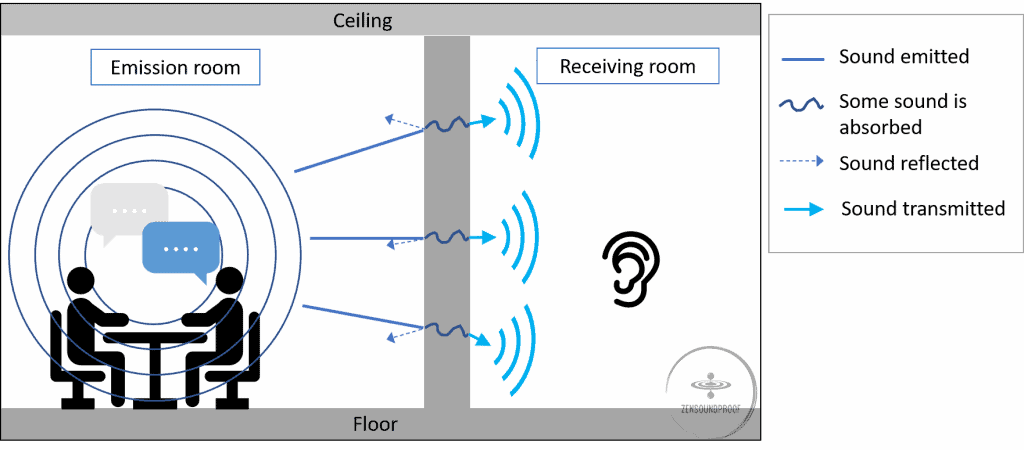 A soundproofing mat is therefore more effective against impact sounds because it adds a layer of soft material between the object (such as a foot) and the surface (the floor).
In turn, sound waves lose energy travelling in this soft environment. It means they are dampened.
They travel more easily in hard material than in gases (like air). In some way, this principle applies to how we move ourselves. Steps on a solid floor propel us better than steps on a mattress or on sand.
Measuring Effectiveness
To measure the effectiveness of a product like soundproofing mats, we use something called Impact Insulation Class (IIC). It's calculated through lab tests with a tapping machine in one room and a receiver in another.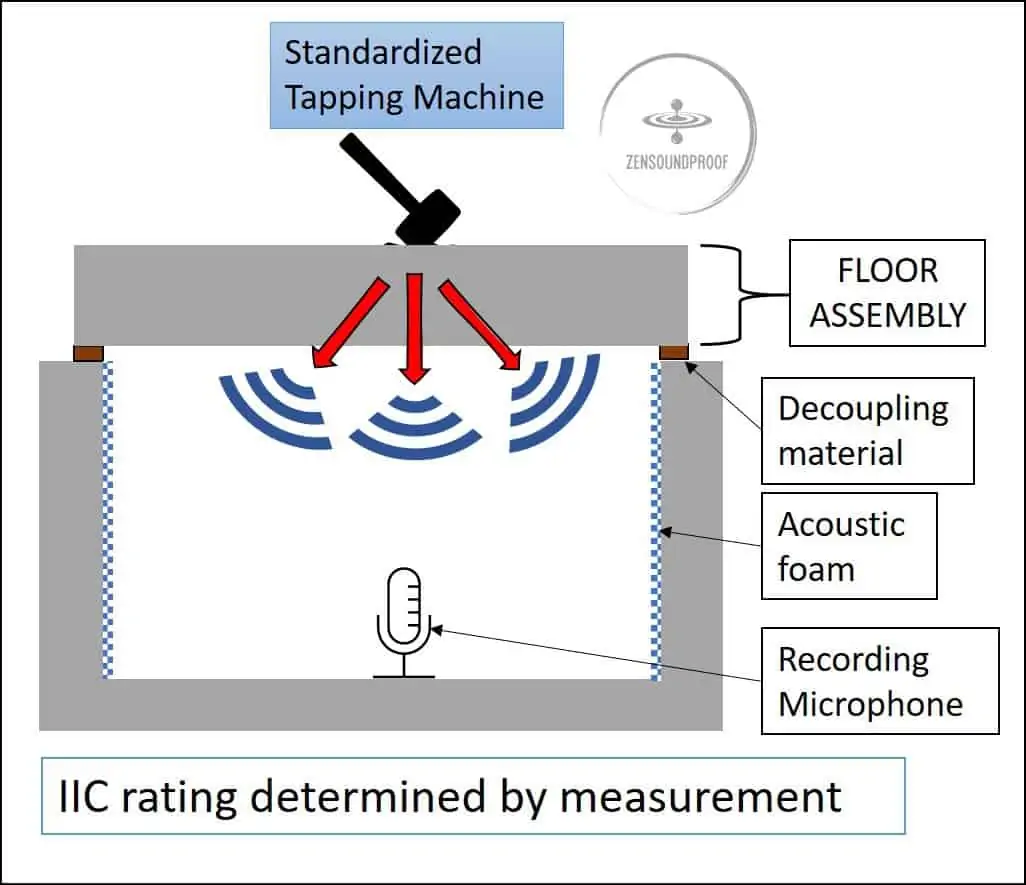 Materials are then put in front of the tapping machine, and the resulting noise transfer is measured in the other room. When translated into an IIC rating, higher values mean the material is better at dissipating impact noises.
Alternatives to a Noise Reduction Floor Mat
Soundproofing mats are a quick and effective option for reducing noise transfer through a floor. But, they're not your only option. If you're willing to put in a bit of DIY work, check out my article on the easiest solutions for soundproofing a floor.
Also, if you're laying a new floor (carpet or hard flooring), I recommend using acoustic underlay instead. This isn't the same as a noise reduction mat, as underlays are usually thinner, offer little grip and are purchased in greater quantities.
Plus, soundproof mats have the added advantage of being temporary, meaning you can move them around your home to counteract different noise sources (exercise, appliances, kids playing, etc.).
I've written an article on the best soundproof underlays, so check that out for more information.
Top Picks for Best Soundproof Floor Mats
Soundproof mats are useful for various purposes around the home. I find most people buy them for exercising in their home, putting under noisy appliances (e.g. a washing machine) as insulation, or for use in a kid's room.
Unlike, say, acoustic underlay, a sound absorbing rug mat has greater flexibility around the home. You can easily pick it up and put it down as needed, which is helpful for something like exercise, as you might not want a gym mat out all the time.
So, I've chosen these soundproof mats with these uses in mind. My reviews are based on their effectiveness for reducing impact noise and for their cost and ease of use.
1. Top Pick: Sonic Acoustics Soundproof Rug Pad
This soundproofing mat is made from recycled carpet fibers on a rubber backing. It stays in place while providing effective noise reduction. It's nearly ½" thick, so will dampen impact noises quite well.
Unlike other products on this list, it comes in panels rather than a mat. You get 12 in a pack, and it's much easier to lay as much as you need. This makes them quite versatile for smaller or awkwardly-shaped rooms.
While the product doesn't have an IIC rating, its PVC rubber and felt composition is quite springy, which helps to reduce noise transmission.
The only real downside of this product is that it's not particularly thick. It should be enough for a living room or similar, but you might want a thicker product if soundproofing a high traffic room.
PROs
Helps with dampening and absorption due to composition.
Tile construction makes it versatile.
Non-slip design.
CONs
Not as thick as some other products.
2. Top Budget Pick: BalanceFoam EVA Foam Tiles
EVA foam is a great material for dampening sounds because it's soft yet very hardwearing. While these tiles don't look amazing, they'll do a great job of reducing noise in a home gym. This is actually the kind of tiles used over the flooring of professional gyms.
Each tile measures 24" x 24" and the packs come in various sizes. You also have different thickness options from ½" to 1", meaning there's plenty of versatility.
They lock together for greater security and are non-slip. The foam is easy to clean, waterproof, and has no toxic materials. This means they're suitable for any room and can be used around pets and kids.
Some users reported the tiles' locking system wears down with continuous movement. But, you can solve this by taping them together.
PROs
Lightweight and easy to install.
Suitable for all rooms in the house.
EVA foam is effective at dampening impact sounds.
CONs
Locking system can wear down over time.
3. iCustomRug Felt Underpad
This rug underlay has a layer of rubber below a layer of felt. It provides grip on hard flooring and will also help with damping.
The rubber layer is completely natural and the felt is made from recycled materials. While this doesn't affect its soundproofing abilities, it does mean there's no off-gassing required.
This felt underpad is suitable for a living room with kids and pets running around, or for a kid's bedroom to help reduce impact noise from things like dropping toys.
It's only ¼" thick, so if you're dealing with particularly loud noises, you'll be better with a thicker product like the foam tiles. But, this underpad should be fine for a living room or similar.
Some users reported having difficulty cutting it to size. Luckily, there are 75 sizes available, so be sure to buy the right one.
PROs
Made from both rubber and felt – good dampening properties.
Non-toxic materials.
Available in 75 sizes.
4. Rubber King All-Purpose Fitness Mat
While not a specific sound absorbing rug pad, this product works for the same reason as the EVA foam tiles. It's also not dissimilar to sound deadening mats you might find in cars.
The product is only 3/16" thick but is made from dense rubber. So, even though it's the thinnest on this list, it still does a good job of dampening impact noises.
It comes in 4 different sizes up to 4' x 6' so you should be able to find a size that suits. Due to its look, you'll probably want to hide it under a rug or something.
The rubber isn't vulcanized, meaning it doesn't release smells or VOCs. As with other products on this list, it's safe to use around pets and children.
Perhaps its biggest drawback is thickness. But, its density makes up for this, so it should be fine in normal traffic areas of the home. And, as the name implies, this rubber flooring is useful for home exercise such as yoga or aerobics.
PROs
Versatile and easy to use soundproofing mat.
Available in multiple sizes.
No bad odors or VOCs.
Final Thoughts on Soundproof Floor Mats
Hopefully, this article will point you in the right direction for a quick and easy solution to reducing impact noise.
My top pick is the Sonic Acoustics Soundproof Rug Pad. It'll effectively dampen noise and keep your rug in place.
But, the EVA foam tiles are a close second because they're also effective for dampening even if they're not the most attractive option.
Do you have a preferred floor mat for reducing impact noise in your home? Let me know in the comments below.