When moving in my current place, one of the first things I did was to remove the carpet floor to replace it with laminate flooring. In this process, I went on a quest for the best underlayment for laminate flooring to reduce noise.
The underlayment plays a major role in thermal insulation, absorbing irregularities, and in soundproofing the floor from noises. But how to make the choice for the best soundproof underlayment?
This guide tackles the ratings to look at for an effective sound deadening underlay. It also presents the different materials depending on your type of floor.
Best Soundproof Performance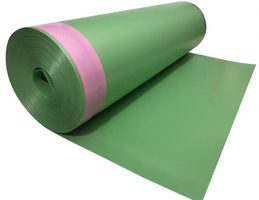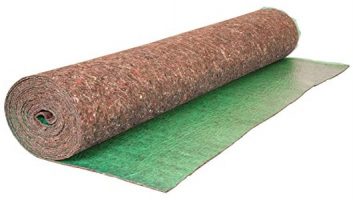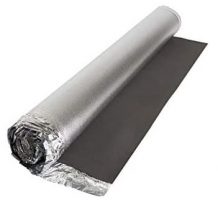 3-in-1 Silent Vapor Barrier
Things to consider in a Soundproof Underlayment
The Soundproofing Capacity: STC & IIC
Airborne Noise
Airborne noise is the term used for sounds that move through air. Sound is a mechanical wave that needs physical matter (air) to travel. Without air, no sound. In the empty space for instance, no sound can be heard. There's a famous horror movie quote: "In Space, no one can hear you scream".
TV sounds, conversations, or the sound of a coffee machine are examples of airborne sounds.
STC Rating
Soundproof underlays always display those 3 letters: STC. It stands for Sound Transmission Class.
STC rating is a standard measurement determined in labs. It assesses how much a material can reduce airborne noise. This consists in measuring the loss in sound intensity (in deciBel) between two rooms. The material is used in the wall or floor that separates both rooms. The bigger the loss intensity, the better the material at noise reduction, thus a higher STC rating.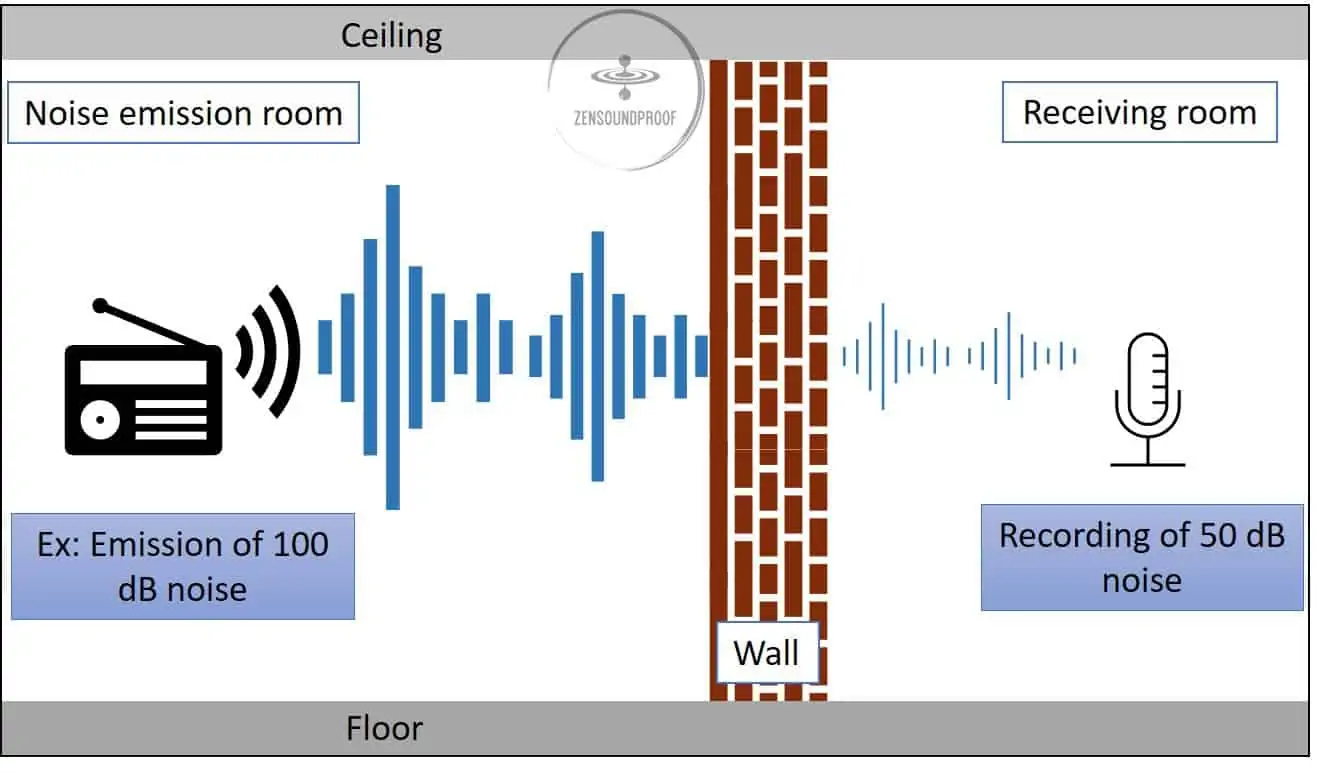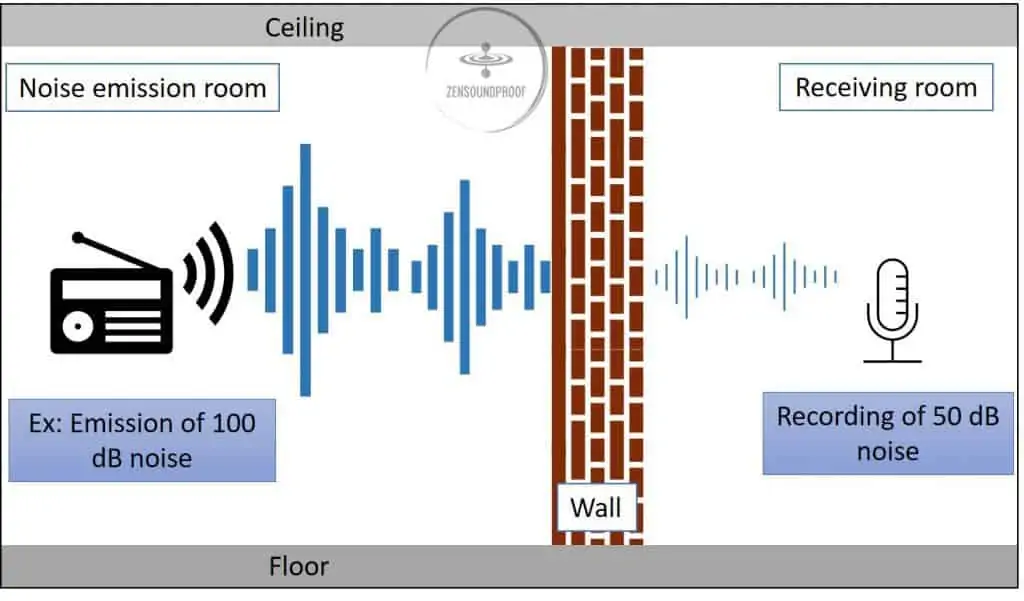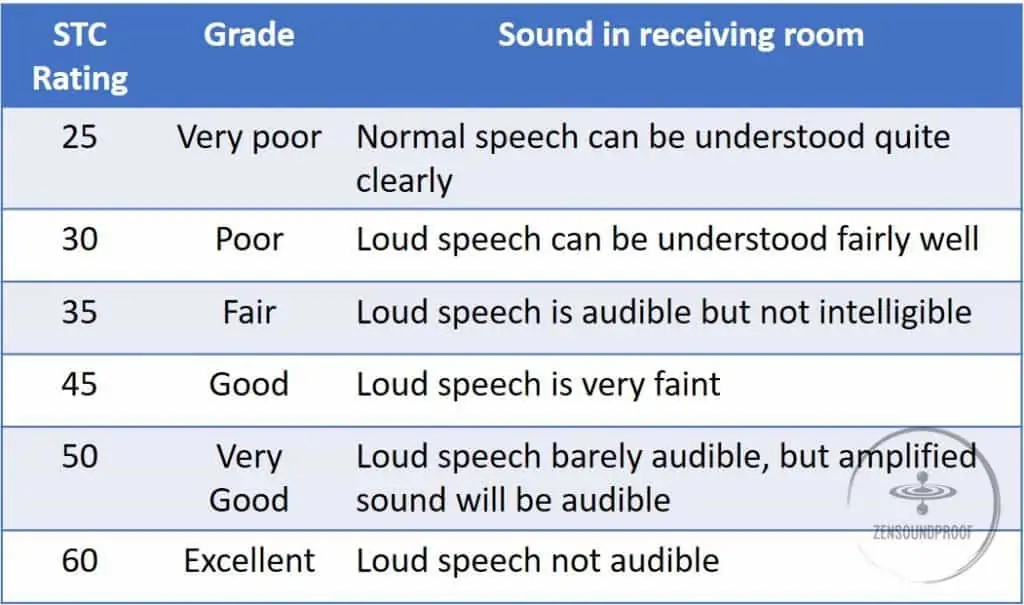 Building code requires wall or floor assemblies to achieve up to a STC rating of 50. Although not perfect, the STC is a good way to assess how much a material can block airborne sounds.
Impact Noise
Have you ever bounced a basketball or ran like crazy on a wood floor? At impact the ball, or footsteps, create a soundwave not only travelling through the air (as an airborne sound) but also travelling through the structure of the house.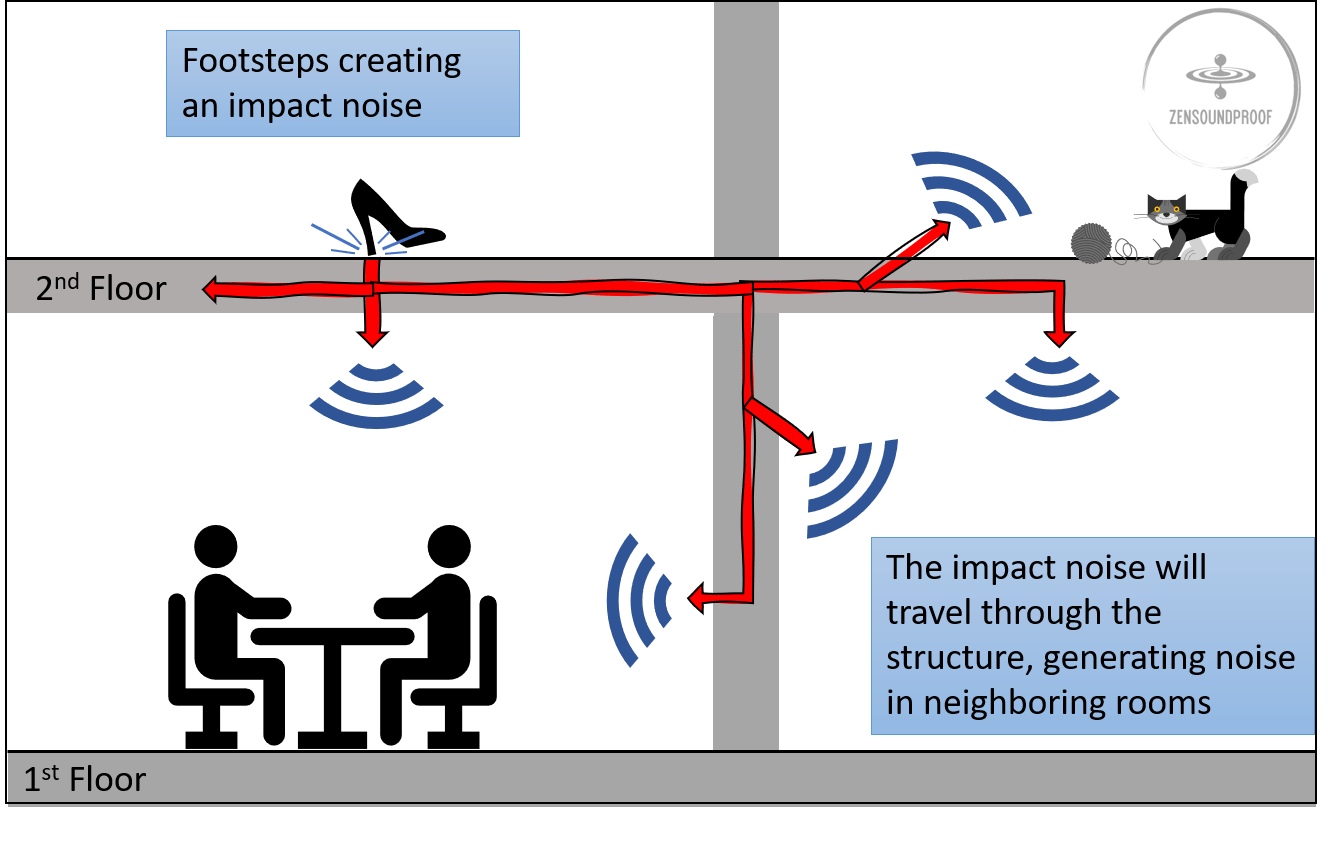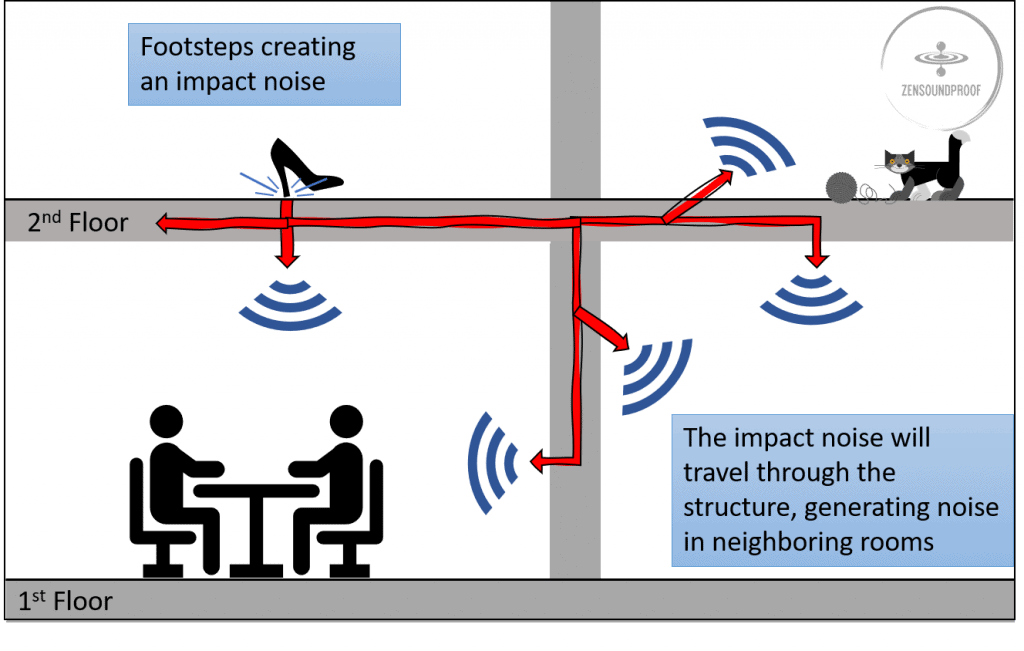 That's the main reason why you can still hear hammer strikes from your neighbor, while you can't hear him talking.
IIC Rating
IIC stands for Impact Insulation Class (IIC). Said simply, the IIC is an equivalent of STC, but for impact sounds. It is determined in labs using a tapping machine in one room. In the receiving room, the sound levels emitted by the tapping machine are measured and then translated into a IIC rating. The higher the IIC value, the better the material dissipates impact noises.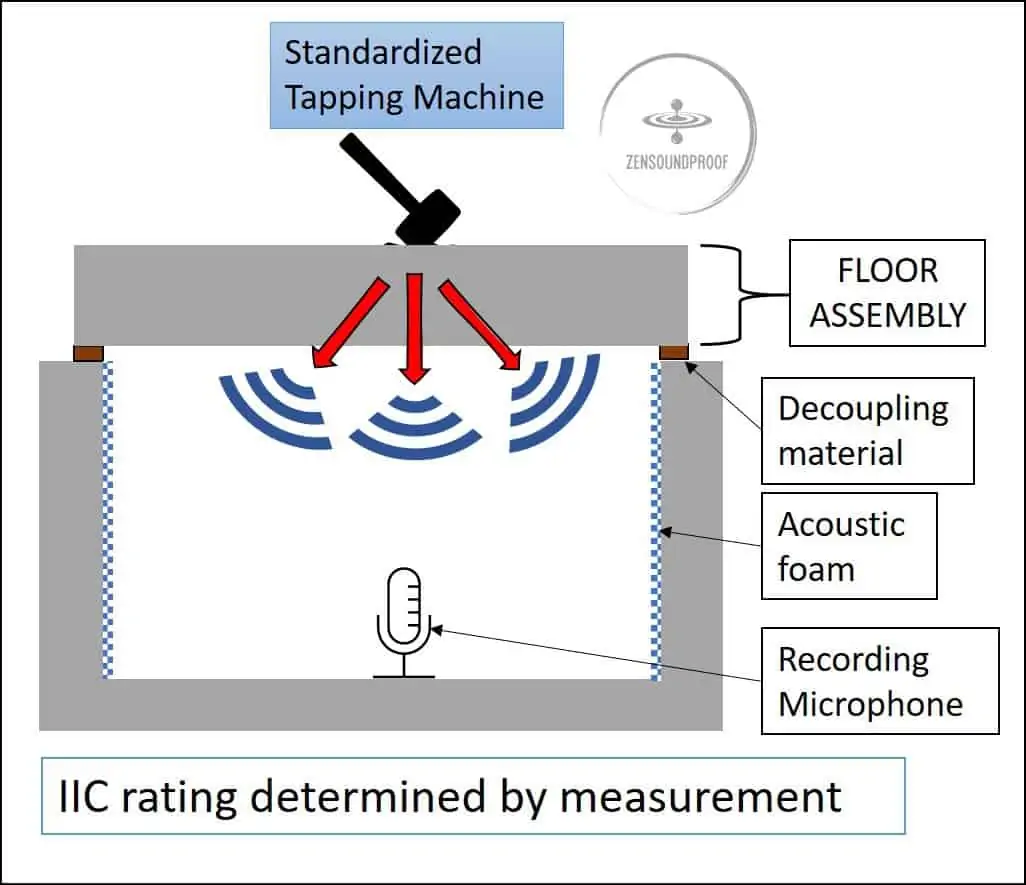 Modern building codes generally require an IIC rating of 50.
Limitations of STC and IIC Ratings
IIC and STC in the way they are determined in labs, show the following limitations :
The floor assembly composition in labs and in your home are not necessarily the same. The transmission of noise turns to be different from the lab testing to your floor.
The floor assembly composition in lab testing from one manufacturer to another manufacturer are not necessarily the same. Thus, it becomes more difficult to compare values of STC/IIC between different manufacturers.
IIC and STC don't include frequency respectively under 100 Hz and 125 Hz. To have a better catch, here are sounds you can hear under 100 Hz : footsteps, traffic, aircrafts, construction machines, etc.
In my opinion, IIC and STC are necessary but they are not the only criteria to look at.
Delta IIC Rating: The Peacemaker
You might have understood that the floor assembly plays a major role in inflating the value of STC and IIC. It's legitimate to ask ourselves, what is the pure performance of the underlayment alone.
Take the time to picture the two following steps :
Take a bare concrete subfloor with NO underlayment. Then measure IIC.
Take the same concrete subfloor WITH underlayment. Measure IIC.
The difference of IIC between 1) and 2) is the Delta IIC. This test gives away the acoustic performance of the underlayment alone.
The delta IIC doesn't depend on the floor assembly used during the manufacturer's lab tests. Those lab tests generally use floor assemblies that are "under steroid". A "strong" floor assembly means a better STC and IIC rating. This is flattering for an underlayment's advertisement but not explicit of its sound insulation performance.
Generally an expected Delta IIC is 21 for a resilient material like foam, fiber or cork.
Types of Soundproofing Floor Underlay
To consider the right soundproof floor underlay for you, it is important to define the followings:
To block airborne noise or to deaden impact noise?
What type of flooring over your underlay?
For Impact Noise: Use resilient underlayment
Most floor underlays are resilient materials, making them the most effective against impact sounds. The material will absorb and reduce soundwaves at mid and high frequency. Resilient materials are not very dense, nor thick. But they introduce a decoupling effect which will help dissipate the sound energy propagating through your home structure. For example, rubber, foam, fibers, and cork are resilient materials.
For Airborne Noise: Use solid underlayment
Heavy and thick. Those are the two main characteristics that will make your floor block airborne noises. Good sound blocking materials are OSB (Oriented Strand Board), MDF (Medium-Density fiberboard), cement board, or Mass Loaded Vynil (MLV).
To address low frequency sounds like bass music sounds, I would recommend adding a damping compound. The Green glue damping compound does a good job. To be effective, It needs to be applied between two stiff layers (like 2 OSB boards for example). Everytime the two layers are excited by a sound, the wave will be absorbed by the glue and converted into heat. Check more about this solution here.
The Types of Flooring
What flooring underlayment to choose depends on the type of flooring.
Under Carpet floors
For a carpeted floor, the carpet underlay material (also called carpet pads) that would fit the best would be foam, rubber or felted fibers. The US Department of Housing and Urban Development (HUD) has set carpet padding recommendations for residential applications. The requirements are available here. It might be a good idea to check those specifications with your retailer when prospecting for a model of carpet padding.
Under Hardwood or Laminate floorings
Almost any type of underlayment works. From foam to rubber to fibers to cork, any underlay is a good fit as long as it's in line with the manufacturer's use recommendations. Depending on the humidity of your floor, you might consider an underlay that integrates a vapor barrier to protect your floor from humidity
Under Vinyl, Tiles
Not all underlays fit a Vinyl, or Tiles type floor. While rubber can cause stain, Cork is always a good fit. Foam and fibers underlays are compatible depending on the manufacturer's recommendations. Indeed some foam and fibers underlays are compatible, some are not.
Now you understand everything about the logic behind soundproofing a floor. Here's a list of effective soundproofing underlayments for all types of floors with their pros and cons.
Our 5 Best Underlay for Soundproofing
For use under: Laminate / Engineered Wood / Solid Wood / Rigid Core Vinyl / WPC / SPC / LVT (5mm or thicker)
Subfloor : Concrete / Wood Subfloor
Installation over subfloor : Floating / Glued / Mechanically Fastened
Material : Recycled Fibers
Thickness : 3mm
STC: 71 – IIC: 66 – ΔIIC: 22
Technical data: Check here
QuietWalk Plus is a very good option when it comes to absorbing impact sounds. I like its polyvalence as it can be applied under almost any type of flooring (laminate, LVT, etc.). I generally like to look at Delta IIC as it's not a rating dependent on the floor assembly used in testing. Here the QuietWalk Plus gets Delta IIC of 22. This is better than most resilient material (generally Delta IIC of 21).
It has an attached vapor barrier.
However, we could complain that it's not easy to cut, but it's still easier than some of its competitors.
Because of the quality of construction, the great IIC rating, and the value for money, I would definitely recommend QuietWalk Plus.
---
PROs
Good quality of construction
Good sound dampening properties
Vapor barrier
Can be used under almost any floorings (except ceramic tiles)
---
2. Roberts Super Felt Underlayment Premium
For use under: Laminate / Engineered hardwood floating floors
Subfloor: Concrete / Wood subfloor
Installation over subfloor: Floating / Glued / Mechanically Fastened
Material: Recycled Fibers
Thickness: 3mm
STC: 66 – IIC: 67 – ΔIIC: 21
Technical data: Check here
This soundproof underlay is very standard. Roberts Super Felt Premium has the sound absorbing properties you would expect from an acoustic underlay (Delta IIC 21).
However, the quality of construction is not homogeneous. Two rolls of the same product might present differences in dimensions (thickness, width, length). Length and width dimensions can go off from the nominal dimensions by a few inches. The size can be adjusted, but this material is not easy to cut.
The vapor / moisture barrier has to be handled with care as people reported it is easy to tear down.
I would recommend this product if price is the main criteria for your flooring project. The price per square foot is around 20% cheaper than most of its competitors.
---
PROs
Sound dampening properties will do the job (Delta IIC 21)
Vapor barrier
Price gives good value for money for a resilient material
CONs
Dimensions are not very robust compared to nominal dimensions
Difficult to cut
---
3. Natural Cork Underlayment
For use under: Laminate / Engineered hardwood floating floors
Subfloor: Concrete / Wood subfloor
Installation over subfloor: Floating / Glued / Mechanically Fastened
Material: Recycled Fibers
Thickness: 3mm
STC: 66 – IIC: 67 – ΔIIC: 21
Technical data: Check here
This natural cork underlayment is very good material to work with. It is twice thicker than the previous material reviewed. So, take time to consider if 6mm could be an issue in your flooring project. The benefit of being thicker is it's more effective in absorbing floor irregularities.
As a soundproof underlayment, natural cork does a good job at dampening impact sounds. You get a Delta IIC of 22, which I consider as a good rating.
Also cork has good thermal properties, it will help you reduce thermal transmissions. But one of the drawback is the absence of vapor barrier.
Installation-wise, the cork crumbles if not handled with care. So you need to consider some losses. However, it is easy to cut through and assemble.
I personally like the feel in hand of the cork material. Although it's more expensive than the fiber based materials, it is an easy to work material.
---
PROs
Good sound dampening properties (Delta IIC 22)
Good thermal insulation
Easy to cut and to install
CONs
No vapor barrier
More expensive than classic fiber and foam based acoustic underlayment
---
4. FloorMuffler UltraSeal Underlayment
For use under: Laminate / Engineered / Solid Hardwood flooring Systems
Subfloor: Concrete / Wood subfloor
Installation over subfloor: Floating / Glued down / Mechanically fastened
Material: foam
Thickness: 2mm
STC: 73 – IIC: 74 – ΔIIC: 25
Technical data: Check here
The FloorMuffler UltraSeal is the soundproof underlayment with no concession. Although thinner (2mm) than its competitors, it has better sound absorbing properties. For instance, all the rating exceeds its competitor. The delta IIC of 25 is great. It also includes a vapor barrier. The installation is easy. There is no real downside with this material.
My opinion is that it's not a lot more expensive for a true gap in quality and ease of installation. Among all the products reviewed this one offers the best acoustic rating performance. It's fair to say it's the best underlayment for laminate flooring for noise reduction.
---
PROs
Best acoustic performance on the market
Thin (2mm)
Vapor barrier
Polyvalent. It fits most types of flooring. (see note below)
---
Note: For Luxury Vinyl Tile and Plank flooring (LVT, LVP), FloorMuffler proposes an alternate solution. It includes the same features and acoustic properties.
Technical data: Check here
5. 3in1 Silent Vapor Barrier
For use under: Laminate / Engineered floating floor
Subfloor: Concrete / Wood subfloor
Installation over subfloor: Floating / Taped
Material: Foam
Thickness: 2mm
STC: 66 – IIC: 64 – ΔIIC: TBD
Technical data: Check here
The last soundproof underlayment of our review, is the budget friendly option. This material has almost all the qualities of its competitor. It includes a vapor barrier. It has an IIC of 64 (no delta IIC is communicated even after I asked the manufacturer) and it's easy to cut and install.
My opinion : the sound absorbing properties are slightly under its competitor. But it delivers the same on all other aspects. If you're tight on budget you should consider this material. Bear in mind that the price is dragged down because ordering comes by 10 rolls of 100 ft² (square foot). Also I believe the cut in costs might come from the little advertisement effort. (For instance specification sheets were not as exhaustive as its competitors).
---
PROs
Sound dampening properties are ok
Easy to install
Vapor barrier
Price
CONs
Need to order big quantity
Little technical information from manufacturer
---
Verdict: Best Underlay for Soundproofing
As you might have understood, your choice will come down to:
The type of floor (wood floors, laminate flooring, tiles, LVT, carpet, etc.)
Your needs (airborne, impact, vapor barrier, etc.)
And your budget
My personal preference goes to 3in1 Silent Vapor Barrier for the rooms with lower traffic like a guest room, a storage room, or a dressing room.
However for higher passage frequency, I would not hesitate to spend a few more for the living room, the kitchen, or the kid's bedroom. Thus, I would go for FloorMuffler UltraSeal. It is by far the best underlay for soundproofing.
Remember whether if it's a wall, floor, or ceiling, the sounproofing principles always apply. I hope this guide helped you in your quest for a quieter home.
Thank you for reading,
Peace & Zen-up