Buying soundproof earmuffs for sleeping can be a great idea for both at home and on the go. Although there's a big market for soundproof earmuffs, finding some that are fine to wear when sleeping does narrow your options.
So, this is what I look at in this article. Below, you'll find my top picks for the best noise canceling earmuffs for sleeping. But if you're a side sleeper, you might benefit from earbuds instead. And if you're looking for OSHA approved headphones, check out my article.
Our 6 Best Soundproof Earmuffs for Sleeping
My choices consider noise canceling and NRR where possible, as these are the most important factors when choosing sleep ear muffs. Here are some great options that'll hopefully give you a bit of peace while sleeping!
1. Top Pick: Onhear Noise Blocking Earmuffs
Granted, these Onhear Noise Blocking Earmuffs might not be the most convenient for sleeping. But if you want a decent NRR, your best option is to go for proper earmuffs. This pair has an NRR of 28, which is pretty good. They're rated for shooting, yard work, and more.
You should find them fairly comfortable to wear because they've got cushioned ear pads with a leather outer. At 9.5oz., they're also lightweight, meaning they shouldn't bother you too much at night.
Although there isn't a listed size for the headband, the ear cups are adjustable. They should therefore fit a range of head sizes. The ear cups also rotate to give you more flexibility with fit and placement on your head.
The only real downside is that side-sleepers won't be able to wear them. Plenty of users say they're comfortable to sleep in, but they'll obviously prevent you from rolling onto your side. However, if you sleep on your back, it shouldn't be an issue.
---
PROs
NRR of 28.
Lightweight and comfortable.
Adjustable, and ear cups rotate.
CONs
Not suitable for side-sleepers.
2. Top Premium Pick: Peltor Sport Ultimate Earmuffs
With an NRR of 30, the Peltor Sport Ultimate earmuffs are the best performing pair on this list. As the sport part of the name suggests, they're designed mainly for use while shooting. But such a high NRR means they're suitable for pretty much all loud environments.
As such, they have plenty of comfort features. They have foam cushioning but, at 12oz., they're one of the heaviest pairs on this list. Many people might also find them too bulky because the ear cups are pretty big. However, if you need a high NRR, this is often the case.
The headband is adjustable, meaning they should fit most head sizes. One major difference compared to other pairs on this list is that the headband is vented. In theory, it should mean better breathability, but you might find your hair gets tangled in the headband if it's long.
I haven't got much to say that's negative about these ear muffs. My biggest critique is that they're bulky. However, considering you can't lie on your side while wearing earmuffs, regardless of their size, it doesn't end up being a massive problem.
---
PROs
NRR of 30.
Very comfortable ear cups.
Vented headband could aid breathability.
CONs
The bulkiest and heaviest pair on this list.
3. Top Pick for Traveling: Basear Noise Blocking Earmuffs
I've chosen these Basear earmuffs as suitable traveling earmuffs because they're foldable and come with a carrying case. Their NRR is 26, which isn't drastically lower than the Onhear ones above. However, the ear cups are noticeably bulkier.
If you need a pair for blocking sound while you travel, they'll be ideal. Sure, you could wear them to sleep in a bed too, but they're more likely to get in the way. That said, at 7.8oz. (0.49lbs), they are 35% lighter than the Peltor above.
The headband is adjustable, so it should be easy to get a good fit. Like the Onhear, the cups rotate, too. You get plenty of cushioning in the ear cups, so they'll offer a comfortable fit.
There's really not much bad to say about these noise canceling earmuffs. Some people might find them a bit flimsy, but according to users, the build quality is surprising for the price. If you want a slightly heavier pair for more bulk, go with the Onhear above.
---
PROs
NRR of 26.
Ideal for traveling.
Adjustable headband.
CONs
Some people might find them too lightweight.
4. Top Pick for Side-Sleepers: LC-Dolida Sleep Headphones
While this eye mask technically isn't an ear muff, it offers decent sound attenuation. Plus, because it doesn't have bulky ear cups, it's suitable for side sleepers and back sleepers.
The sleep mask contains a pair of speakers, which you can either connect via Bluetooth to your phone or use to play the built-in white noise. There are 8 white noise modes and nature sounds. You can also set a timer between 30 minutes and 2 hours to preserve the battery.
You apparently get up to 10 hours of playback from a single charge, which takes around 2 hours. This means the eye mask could work for traveling, too. Covering your eyes can be helpful if you struggle to fall asleep on a plane, for example, and the white noise can help drown out noise pollution.
This is arguably the main downside of this eye mask. It doesn't have an NRR like the ear muffs because it doesn't actually reduce noise pollution. Instead, you mask it by playing something through the headphones. So, if you'd rather cover sound up than block it, this eye mask could work.
---
PROs
Suitable for side sleepers.
Bluetooth connectivity and built-in white noise functions.
Up to 10 hours playback time on a single charge.
5. Top Pick for Low-Profile Cups: Walker's Razor Slim Earmuffs
Although you still won't be able to sleep on your side while wearing Walker's Razor Slim earmuffs, they certainly cut out a lot of the bulk. This should help to make them as comfortable as possible to wear while sleeping.
The rubberized ear cups are a major design difference compared to the pairs reviewed above. In theory, it means they'll create a better seal around your ears and they shouldn't slip around when you're sleeping. The headband is also cushioned for improved comfort.
These removable ear muffs have an NRR of 27, which is between the Onhear and Basear. A single decibel doesn't make loads of difference, but it at least means they provide a decent level of noise reduction.
It's not a massive issue, but at 12oz., along with the Peltor these are the heaviest earmuffs on this list. Compared to the other pairs, they're a lot more solid and the weight difference is noticeable (not necessarily in a bad way). You can decide for yourself if this will make a difference while sleeping.
---
PROs
NRR of 27.
Rubberized ear caps create a good seal.
Foldable for easy carrying.
CONs
Heaviest pair on this list.
6. Top Pick for Kids: Zohan Noise canceling Headphones
If you have a kid with noise sensitivity who wants headphones for sleeping, these from Zohan are a great option. They offer all the same benefits as the adults' pairs above, except they're smaller!
They have an NRR of 22, which is lower than the adults' pairs, but it should be enough for most kids. If your main goal is to reduce noise exposure, even a slightly lower rating of 22 will make a difference.
Importantly, they're completely metal-free, so you shouldn't have to worry about leaving them on your child while they sleep. They're also free of small parts that could fall off, making them about as safe as possible. Better yet, they have a pretty cool print on them.
Some users comment that they could offer more noise reduction. However, as the manufacturer states, it's better if they still let some noise through. This is so you can still call your child if necessary, so these earmuffs offer a decent compromise.
---
PROs
Sized for kids.
NRR of 22.
Free from metal and small parts.
What Matters in Noise canceling Ear Muffs for Sleeping?
Choosing the best pair of earmuffs for sleeping means balancing comfort and performance. Although they won't be suitable for everyone, if you're looking for earmuffs for sleeping, here are the criteria I recommend focusing on.
Noise canceling
Noise-canceling ear devices come in 2 main types: active and passive. Active noise canceling involves using speakers inside the ear cups to play white noise that essentially "cancels out" noise pollution.
But in the earmuffs we're looking at, passive noise cancellation is pretty much universal. As you can probably guess, it doesn't involve any powered technology but instead relies on well-fitted earmuffs and decent insulation.
Active noise cancellation is more effective, but passive is cheaper and arguably more comfortable to use when you're sleeping. This is because active noise-canceling headphones play sound of an equal volume to ambient noise, which isn't great when you're trying to fall asleep.
Another option is to mask the sound using white noise or pink noise. Obviously, this comes with the drawback of not making the environment quieter, which can be an issue if you have trouble sleeping. If you'd like to know more, check out my article on noise colors and my article on white noise machines.
NRR (Noise Reduction Rating)
NRR stands for Noise Reduction Rating. Unsurprisingly, it's a measure of how well ear protection reduces noise. NRR figures are given in decibels (such as 28, 22, etc.). It's not as simple as deducting the NRR figure from the volume of the noise pollution (for example, a 100dB noise and an NRR of 30 doesn't reduce the sound to 70dB).
This is because there are other factors at play, such as the earmuffs' fit, situational factors, and more. I've written a full article about NRR that explains all this in plenty of detail, so I recommend checking that out.
The bottom line is that, generally speaking, a higher NRR is better. But you should balance this against the size – and therefore fit – of the earmuffs on your head. A well-fitting pair with a lower NRR could do more for you than a badly fitting pair with a higher NRR. Be sure to balance the earmuffs' NRR against the other factors listed below.
An NRR of 25dB or above will be fine for traffic noise (or a snoring partner!). But for loud noises (such as airplane noise), aim for 26dB or above.
How Many dB Does NRR Cut?
As mentioned, the exact reduction in dB depends on the NRR and the decibel rating of the starting noise. Even so, here's an example using an NRR of 28 (which is what the Onhear earmuff is rated).
Starting noise: 90dB
NRR: 28dB
Subtract 7 from the NRR: 21
Divide it by 2: 10.5
Subtract this figure from the noise pollution: 79.5
Therefore, with an NRR of 28, you can expect a reduction of 10.5dB. As you may already know, decibels are a logarithmic scale, so a reduction of 10dB equals a halving of perceived loudness. 10dB might not sound like much, but it's the difference between normal conversation volume and a vacuum cleaner.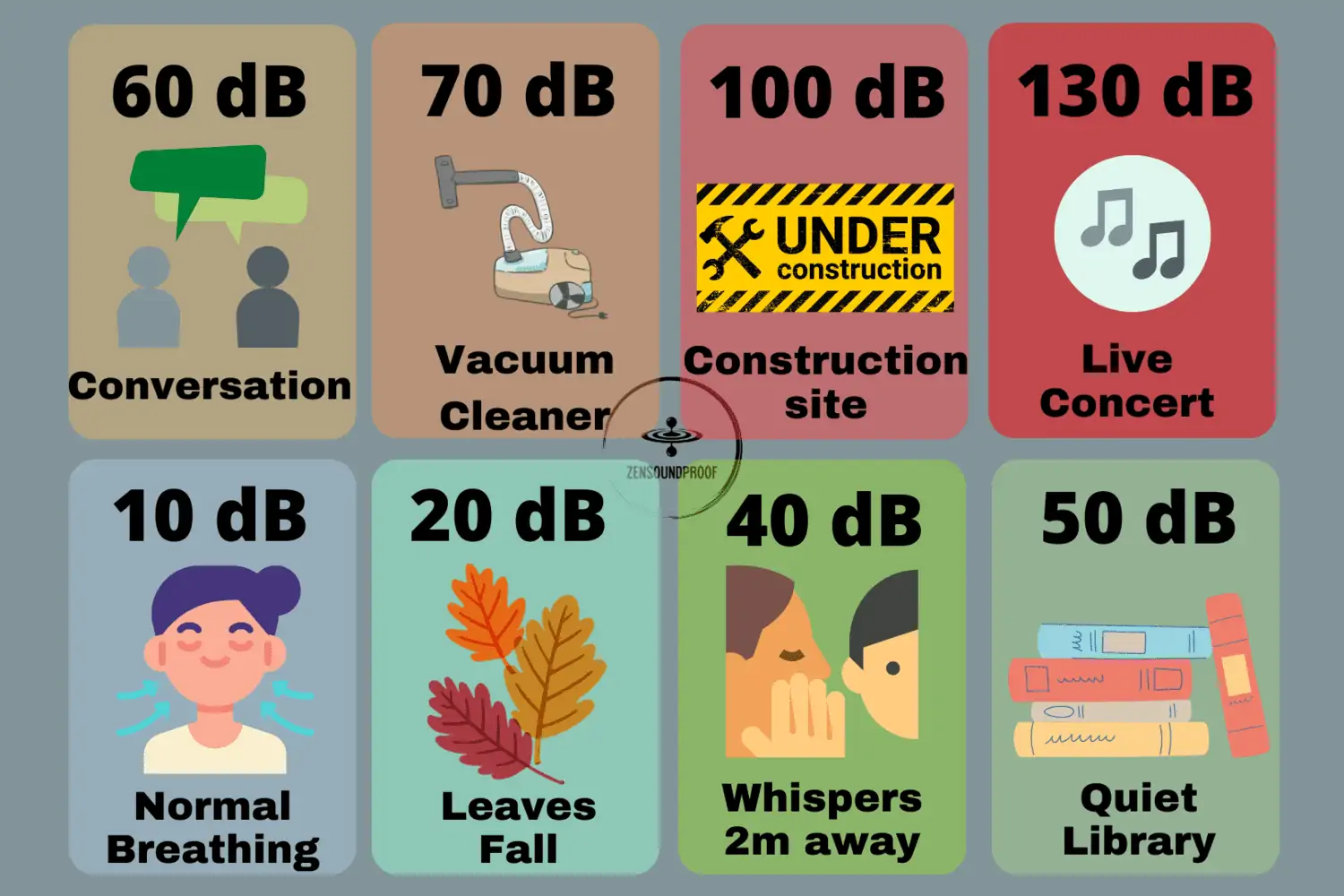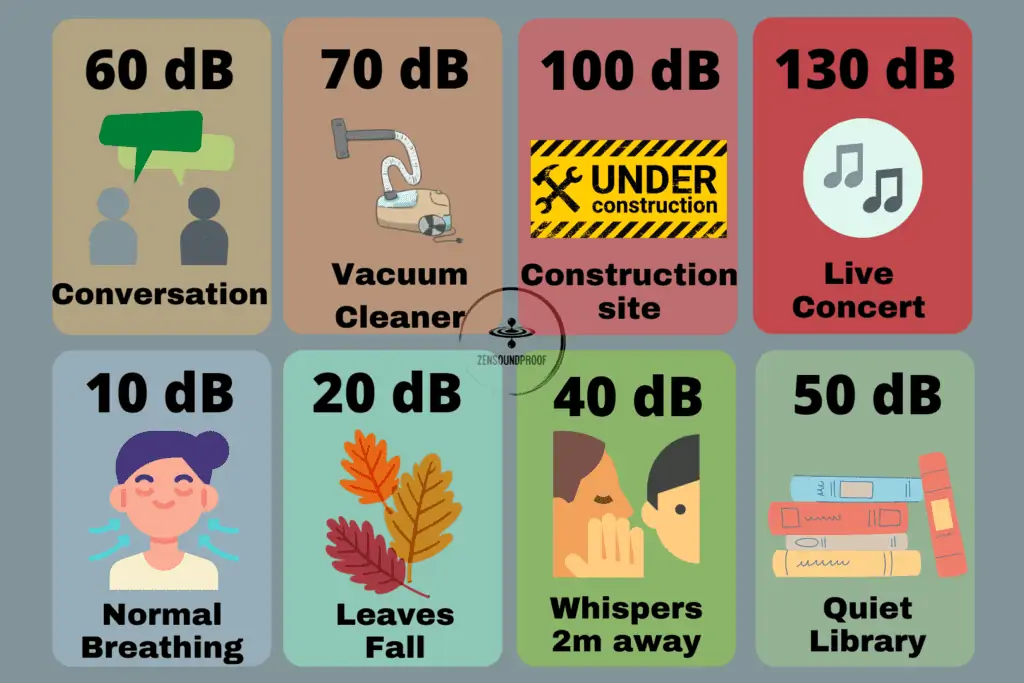 Comfort
Although comfort is subjective, you'll want a pair of earmuffs with plenty of cushioning. This is especially true if they're for someone with noise sensitivities, as tightness and comfort can be similar stimulating factors.
That said, anyone who's wearing earmuffs for up to 8 hours at a time will want comfort. Look for ear cups with plenty of cushioning, and ideally with a PU leather or rubber coating. This'll give a good balance between fit and comfort.
Luckily, any earmuffs designed for work or shooting will focus on comfort because they're designed for longer periods of wear.
The other thing to consider is rotating ear cups. These help to create a better fit when putting them on, which can be particularly helpful when you're sleeping. For example, you could position the band further forwards so you can lie down more easily.
Band Size
Most earmuff manufacturers don't list the specific size of their product's headband. However, most are adjustable, so it's not a massive issue if they don't. If you know from experience that you need a headband that's bigger or smaller than average, simply factor this into your search.
Adjustable earmuffs will either adjust at the ear cup or on the headband. It doesn't make a big difference, but if you think your head is long, go for the ear cup adjuster. If you think your head is wide, go for the headband adjuster.
Breathability
Wearing earmuffs all night means they need to be breathable. If not, you could end up with sweaty ears at best, or even breakouts or rashes. This is another factor that's fairly easy to deal with, though. PU leather ear cups should be fairly breathable, and any earmuffs designed for shooting or working will consider breathability because they're worn for long periods.
Travelability
If you plan to use earmuffs for sleeping while traveling, it'll be worth looking for a pair that fold up. It's not the most important factor, but it obviously means they'll take up less room in your bag. Consider looking for pairs that come with a travel bag, too, as it'll keep them clean and dry when they're not in use.
Earmuffs to Avoid
Despite me including a sleeping eye mask with built-in headphones, I'd generally recommend avoiding them if you want noise cancelation for sleeping. As I mention in the review, sleep masks don't provide any kind of sound attenuation or cancelation.
Instead, they simply cover it by playing other sounds. While there's nothing wrong with this if you like listening to music or white noise, it's not the same as using passive noise cancelation ear protection.
Be sure to completely avoid products like the Wrap-a-Nap because it only provides very minor muffling of light noises. If you've ever tried to sleep on a plane or train (or even a noisy bedroom), you'll know that most of the noises aren't light! Another one to avoid is the Hibermate sleep mask. These have pretty poor ear muffs, despite being designed for traveling. If you look at the reviews for Hibermate sleep masks, you'll notice plenty of issues.
If you're a side sleeper and want proper noise cancelation, use reusable earplugs instead. You might still notice them when lying down, but they'll be far more effective than a headband with speakers. Silicone earplugs are a good choice, as are wax. Although disposable earplugs work fine, you'll end up spending a lot of money if you use a new pair every night.
Related Soundproof Earmuff Questions
Are there earmuffs that block all sound?
The short answer is that there are no earmuffs that block all sound. Although our ears are what pick up sound, some vibrations transmit through our skulls into our eardrums, meaning we still pick them up. However, if your earmuffs have a high NRR and the noise pollution isn't too loud, you'll get as close as possible to blocking it all out.
How can I cover my ears when sleeping?
If you need to cover your ears when sleeping, the easiest and safest option is wax ear plugs. They're soft and fit well in your ear canal and block a decent level of noise. Unlike silicone and foam earplugs and earmuffs, they won't get in your way and shouldn't disturb your sleep. Although earmuffs likely provide the highest NRR, they prevent you from sleeping on your side and can easily be knocked off when you move around.
Can you use noise canceling headphones for sleeping?
Nothing is stopping you from using noise canceling headphones for sleeping. However, bear in mind that they require power to actively cancel noise, which could run out overnight. Plus, you'll theoretically need to play music or noise, too. It's pretty safe to do this, but it could impact your sleep quality and duration if you're a light sleeper. A better option would be to use in-ear earplugs.
Do sleeping earmuffs work?
Sleeping earmuffs work if your goal is to reduce the presence of background noise when you're trying to sleep. Earmuffs typically have a high NRR because they fit over your ears. However, you must also consider that they won't be super comfortable to sleep in because you won't be able to move around without knocking them off.
Final Thoughts on Soundproof Earmuffs
I hope this article has helped you narrow down your options for the best soundproof earmuffs for sleeping.
My overall top pick are the Onhear Noise Blocking Earmuffs. They have a high NRR, and they're comfortable and adjustable. If you're happy to wear earmuffs while sleeping, they should be a good pair. That said, all my other picks are suitable for different criteria.
Do you have any other recommendations for earmuffs for sleeping? If you use them regularly, do you have any suggestions for improving comfort when lying down? I'd love to hear from you below.