I've always considered doorways to be one of the hardest areas of a room to soundproof. But I recently decided to research using soundproof blankets for doors as a quick temporary fix.
In this article, I round up the 5 best soundproof blankets for doors. I've also included a comprehensive guide to explain what makes a soundproof blanket for doors worthwhile.
Hopefully, by the end you'll have the perfect choice for your needs, or at least enough information to make the right selection.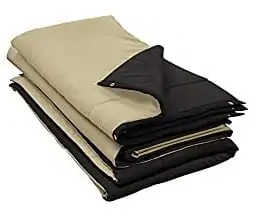 Audimute Sound Absorption Sheet
Audimute Isolé Sound Barrier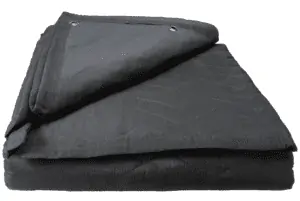 *NRC: Noise Reduction Coefficient (A rating close to 1 means better sound absorption)
Do They Really Block Sounds?
Before jumping into what makes the best soundproof door cover, it's first worth asking the question, do soundproof blankets really block sounds?
Soundproof blankets will never completely block sounds, but they will offer a degree of absorption and blocking. But this is based on the materials used. Some blankets include mass loaded vinyl, while others use a layer of foam. A heavy blanket with the right materials will reduce noise transmission through a door, though.
Of course, the materials in the blanket are only one part of the overall equation. You'll also need to consider the volume and type of noise you're trying to block, which I discuss in more detail in my article on soundproofing ceilings.
Blocking Air Gaps
It might seem obvious, but you'll only get the best results if you ensure all air gaps are blocked around the door.
Sound leakage (figure 4-17) can make a significant difference to transmission loss. Transmission Loss (TL) is the loss of sound intensity (in dB) when going through an assembly like a wall. If a wall has a TL of 40 dB, it means it can "dissipate 40 dB".
A study in the linked guide (pp. 77-78) shows that a 5% gap in a wall can reduce its transmission loss from 40dB to 13dB.
While you won't see this kind of sound blocking in a doorway, the numbers are representative. A 3/8 " gap at the bottom of a door equates to roughly 0.4% of the door surface. This might sound like a small amount, but in the linked study, 0.4% opening led to a Transmission Loss of 24dB (versus 40 dB without gap).
Wall
Transmission Loss
(in dB)
No gap
40
0.4% gap
24
5% gap
13
So, even a small opening like the gap under a door will drastically impact the capacity of a door to block sounds.
Buying a soundproof door curtain that's bigger than the door is a must. You'll ideally want at least an extra 5cm on each side to get the best results.
Measuring the Sound Reduction of Blankets
How do we measure the sound reduction qualities of blankets? Ideally, we would use the standard soundproofing measurements of noise reduction coefficient (NRC) and/or sound transmission class (STC).
NRC is used to measure how well a material absorbs sound, typically at different wavelengths between 250 and 2000Hz. We would use this for blankets that contain sound-absorbing materials (such as foam). For example, a material with a NRC rating of 0.75 is considered highly absorptive. 0.75 NRC means it absorbs 75% of passing sound waves.
STC is the measurement of how well a material blocks sound. Only heavy and dense materials can achieve sound blocking. We would use this measurement for sound-blocking materials such as mass loaded vinyl. For reference, a 90mm thick concrete wall has an STC rating of 40 or more.
NRC measures how well a material makes the room less echoey.

STC measures how well a material blocks sound from passing through it.
While professional soundproof blankets will include these measurements, other products (such as moving blankets) don't. In these cases, it's enough to rely on the nature of the material, and its weight and thickness, to estimate its sound-absorbing properties.
To help you to determine whether you need sound absorption or soundproofing, check out this video.
Things to Look for Before Buying
There are several important buying factors to consider when choosing the right soundproof door curtain for your needs. Here are the most important ones:
Type of Fabric
The type of fabric used to make the blanket is important. Lighter weave fabrics, which would be good for things like clothes, are bad for soundproofing. Fabrics like this are considered to be acoustically transparent.
Realistically, it's the inner materials that do most of the sound blocking and absorbing. But even so, you'll want to choose a blanket that's made from thick, dense outer fabric.
Cotton is absolutely fine, but it needs to be a heavy weave. Synthetic materials like polyester work too. The type of material used doesn't matter as much as the density of its weave. To learn about triple weave technology, check out my post about soundproof curtains.
Soundproofing Materials
The inner layer of a soundproof blanket is where the magic happens. You'll want to choose a blanket that matches your needs, so bear these materials in mind.
You might be hard-pressed to find a soundproof blanket that has both blocking and absorption properties.
Sound blocking is better if you have noise pollution coming from outside (such as someone watching TV in another room).
Sound absorption is better if you want to make sounds in your room clearer (such as in a recording studio).
Decide whether you want to make your room quieter or whether you want to stop sound escaping/coming in.
Mass & Density: In the absence of STC, you can have a good indication of sound blocking properties with the density of the blanket. The heavier the more likely it will block sounds. Whenever possible, I added the density of the products listed below in lbs / sq.ft.
Ease of Use
One of the hardest parts of using soundproof blankets for doors is hanging them. You'll need to still use the door, which means either installing a curtain rail or a similar solution.
An effective choice is a grommeted industrial blanket. Unsurprisingly, these have grommets (eyelets) that you can use to hang them from hooks. All you'll need to do is install some heavy-duty hooks (such as these) above the door.
Price Range
Soundproof blankets can be on the expensive side depending on the materials used. Size obviously has an impact on price too. You can expect to pay up to $400 for an effective industrial soundproof blanket.
If that sounds too expensive, a cheaper option is to use moving blankets. While these don't contain soundproofing materials, they do a good job of muffling sounds because they're thick and dense. What's more, you can find moving blankets for less than $50.
You'll be able to find options with grommets that are easy to hang. If not, you could make a DIY soundproof door curtain by sewing a rail into the blanket, which you could then hang from some hooks.
Our Top 5 Picks
Now that we have a clear idea of what factors to consider when choosing a soundproof blanket for door cover, here are my top 5 picks.
I've included both dedicated products and less expensive alternatives to cater to all needs and budgets.
1. Audimute Sound Absorption Sheet (Our Best Overall)
This sound absorbing sheet from Audimute has an NRC rating of 0.85, which is fairly high. As the name implies, it won't block sound waves but will help to reduce echo and reverb. For more technical information, check this sheet from the manufacturer.
It measures 8ft x 4ft and contains 3 metal grommets on each of the shorter sides. This makes it more than large enough to cover a door and also means it's really easy to install.
In fact, the pack also comes with installation components.
The sheet is made from recycled cotton and cellulose, which has good sound absorbing properties. It's thick and heavy (around 10 lbs). This blanket will make a noticeable difference to attenuate noise coming through the door.
My only real critique is the price, as it's at a considerably higher price point than others on this list. But it's actually one of the few dedicated acoustic blankets, which I feel justifies its price.
PROs
NRC rating of 0.85
Easy installation on a door
Helps to reduce echo and reverb
Ideal for recording studios, home theaters, and more
CONs
No sound blocking feature
More expensive than moving blankets
2. Audimute Isolé Soundproofing Sheet (Our Premium Pick)
The Audimute Isolé is one of the most effective soundproof blankets in our selection. It is an improved version of the Audimute Sound Absorption Sheet, thus the higher price. With a NRC rating of 0.75, not only it's an excellent sound absorber but it's constructed to block sounds as well.
It measures 82" x 34.5", which should be enough to cover most standard sized doors. Soundproofing a door is the main use listed but it can also be hung on walls and ceilings to improve your room's acoustics.
The blanket uses something called Peacemaker as its interior. Peacemaker is made from a 3.2mm sheet of rubber. This material is what differentiates this model from the Audimute Sound Absorption Sheet. It provides more mass and thus sound blocking properties. 
Although the blanket weighs 20lbs, it's easy to install thanks to the 3 grommets along one of the short sides. The pack also comes with installation equipment, which includes mounting hooks. Make sure to install the soft side (the absorption side) towards the inside of the room and not toward the door.
My only critique of this product is that it gives off a bit of a smell when you unpack it. However, it's completely non-toxic and fades quickly, so just consider leaving it outside for a few hours before installing.
PROs
NRC of 0.75
Easy installation thanks to the grommets
Useful for both sound blocking and sound absorbing
Good value for money for the soundproofing performance
CONs
Bit smelly when you first open it
More expensive than the Audimute Sound Absorption Sheet
3. US Cargo Control Sound Blanket (Our Budget Option)
This US Cargo Sound Blanket offers another budget-friendly option that'll help reduce echo and reverb in your room. Unfortunately, it comes in a pack of 6 sheets. For a single sheet (link here), I often found it out of stock.
At 9lbs, it's one of the heavier moving blankets on this list and will make a noticeable difference when covering your door. While it doesn't have an NRC rating, moving blankets are rated at least 0.3. This is a much heavier blanket, though, so expect a higher rating.
It's made from nonwoven polyester on the outer layer and the inner layer is filled with recycled cotton. Although it's not massively important what materials it uses, both are dense weaves, meaning they're not acoustically transparent.
Globally, this moving blanket feels sturdy and heavy in hand.
It measures 80" x 72", which is enough to cover a door and its frame with plenty of material spare. As the name of the blanket implies, it comes with 1″ grommets. The grommets diameter might not be ideal for all curtain rods, in that case you can use the handles sewn on the grommets. This is really one of the few moving blankets that are made easy to install thanks to these features.
One of the downsides of this blanket is that it has a chemical smell after opening. Consider airing the room for 1-2 days. Also, bear in mind it won't reach the sound insulation performance of a dedicated soundproof blanket.
PROs
9lbs gives it fair sound blocking capability.
Big enough to cover a door
Dense layers of fabric
Budget friendly
CONs
Strong chemical smell at opening
Fair performance – can't expect as much as professional soundproof blankets
Mostly available in pack of 6.
4. AlphaSorb Sound Absorbing Blanket (The Professional Option)
This sound absorbing blanket is another dedicated soundproofing product for applications such as covering doors. As it's a professional product, it has both an NRC and STC rating. These are 0.85 and 19, respectively.
It measures 4ft x 8ft, which means it's easily big enough to cover a door and the frame so you won't have to worry about sound leakage.
The blanket is made from vinyl coated cloth with 2lbs per cubic ft of fiberglass batting sewn in. Overall, it weighs roughly 15lbs. This is the range of weight you would expect from a soundproofing blanket. It provides excellent noise absorption and a fair amount of sound blocking.
Importantly, it has 5 industrial grommets on one of the short sides, which will make hanging it straightforward. You just might want someone to give you a hand doing this!
Much like the Audimute sheet, the only real critique I have is the price. But, again, you're paying for a professional product, and the difference between this and moving blankets is significant. I feel that this does justify the price.
PROs
NRC or 0.85 and STC of 19
Will both improve acoustics and block sound
Thick layer of fiberglass batting inside
Grommets for easy hanging
CONs
Price of a professional product
5. Sure-Max Moving Blanket
While not a dedicated soundproof blanket, this moving blanket from Sure-Max will definitely work for covering a door. It's an even more affordable option compared to the Grommeted industrial blanket reviewed above.
It weighs roughly 3lbs and measures 80" x 72", which is more than enough to cover a door and its frame. It's thick, which will helps to muffle sounds passing through the door.
The outer layers are made from polyester, and the blanket is stuffed with cotton batting. While there's no official NRC rating, this construction does a fairly good job of absorbing sounds based on the same principles as fiberglass batting insulation.
Granted, it's not a massive bonus, but this blanket is machine washable. I wouldn't recommend washing it in your machine; take it to a commercial cleaner instead. At least you know you'll be able to clean it, though.
One major downside of this moving blanket is that it doesn't have any grommets. This means you'll have a harder time hanging it over the door. But, as I mentioned above, you can always sew a rail or some hooks into it for convenience. If you don't want to get into the trouble of sewing, you can check further in our list this moving blanket including grommets.
PROs
Inexpensive, quick option
Fairly good weight for its size
Stuffed with cotton batting
Big enough to cover a door with plenty to spare
CONs
Doesn't have grommets for hanging
Won't perform as well as dedicated soundproof blankets
Final Thoughts
Hopefully, this guide has given you some helpful information on choosing the right soundproof blanket for door blocking.
My top pick is the Audimute Sound Absorption Sheet if you want to make a room quieter. 
However, if you want to filter as much noise as possible coming through your door, the Audimute Isolé will be a better choice. It is an excellent value for money professional soundproof blanket for doors. 
If you're on a tight budget and looking for a quick fix, I would recommend the Sure-Max Moving blanket. It will offer some noise reduction while also preserving your wallet. 
Do you have any other suggestions for the best soundproof blanket? Or have you made your own DIY soundproof door covering? Let me know in the comments below.