Most of us have come to accept that washing machines are noisy. They're necessary appliances, but running them can become very irritating.
Luckily, this doesn't always have to be the case. Opting for a quiet washing machine based on specific technology will noticeably reduce sound levels.
In this article, I cover my top picks for the quietest washing machine on the market. I also look at useful features and what we really mean by "quiet washing machine".
Hopefully, you'll end up with some valuable information to choose your next low-noise appliance.
Noise Level of a Quiet Washing Machine
A typical washing machine can produce up to 80dB. The standard range for a properly functioning washing machine is 70-75dB. Anything louder might imply mechanical failure or an old, worn-out appliance.
A quiet washing machine is realistically anything below 70dB. You'll probably want to look in the 60-65dB range for a noticeable reduction compared to your current machine.
The quietest washing machine on the market will go down to about 50dB.
What to Look for in a Quiet Washing Machines
The most important thing to look for in a quiet washing machine is its decibel (dB) rating. As a comparison for the numbers above, normal conversation is around 60dB and 70dB is the equivalent of a noisy restaurant.
Along with this, you should also look out for certain technologies. For example, pulse cycles are usually quieter than spin cycles, as the drum doesn't rotate as fast.
Look out for brushless motors. A brushless motor has no friction (unlike a brushed motor). This means quieter operation, less wear-and-tear, and better performance.
Of course, this might not be very obvious when buying a quiet washing machine. The best quiet washing machine will feature names like EcoSilence and Quiet Function when reading about motors.
Names like this will usually translate to some kind of vibration reduction technology. It might include inverter motors or insulated moving parts, which helps to reduce overall sound levels.
Top Picks for Quiet Washing Machine
My top picks for the best quiet washer and dryer are based primarily on sound levels. Of course, there are other features to look for, such as good functionality and ease of use where possible.
1. Top Pick: Equator 1.6 Cubic Feet Front Load Compact Washer
At 60dB, this is possibly the quietest front load washer you'll find on the market. Its 1.6 cu. ft. capacity translates to around 13lbs. of clothes, which is the most on this list.
It's another compact model, although it's bigger than the top load washing machines mentioned above. That said, it measures 22 x 23.5 x 33.5 inches, so it is still reasonably small.
This quiet washing machine has 12 cycle options and a 24-hour delay start, which is ideal for taking advantage of lower electricity rates. You can access the settings via the LED screen, meaning it's easy to use.
While it doesn't feature any specific vibration reduction technology, it keeps noise levels down because it has a solid and well-insulated body.
Unlike other models on this list, it has a winterize feature. In short, it runs anti-freeze through the washer to protect it against freezing temperatures. This is a great feature if you're keeping it in your RV or a basement.
The only real downside of this machine is that it's not a quiet washer and dryer combo. That said, its maximum spin speed of 1,200RPM means clothes come out pretty dry anyway. 1,200RPM is about mid-range in terms of spin speed, but you won't find much higher on a compact model.
PROs
Operates at 60dB.
It can wash 13lbs. of clothes – 1.6 cu. ft. of space.
12 cycle options and delayed start.
CONs
No dryer features included.
2. Top Budget Pick: Vivohome 2 in 1 Mini Laundry Washer
This quiet washer and dryer from Vivohome is a good choice for compact spaces where you might not have room to dry clothes. For example, it'd be ideal in dorms, RVs, small apartments, or for camping.
Unfortunately, the manufacturer doesn't state a specific decibel level. Reviewers do state that the noise level is very low, though. It's small and fairly sturdy, so is clearly a quiet washer.
It has an 8lbs. wash capacity and a 5.5lbs. drying capacity. While it won't hold massive loads of washing, this should be enough for a single person or for smaller, more frequent loads in a larger household.
This machine features preprogrammed settings to reduce energy consumption. Although it doesn't feature an LED screen, you control the settings using dials. It's still straightforward to use and switch between wash and dry timings.
But, its major downside is that you have to do this manually. Also, to make it as quiet as possible, you must ensure it's properly balanced. The instructions explain how to do this, though.
PROs
Compact and easy to use washer/dryer combo.
Suitable for dorms, RVs, or camping.
Low operation noise.
CONs
Manual wash and spin settings.
3. Comfee 11lbs. Capacity Washing Machine
This quiet top load washing machine is compact, making it suitable for apartments or small utility rooms. It's 1.6 cu. ft. top load, meaning it has the capacity for 11lbs. of washing.
Its sound emissions are 62dB, which is almost the best rating you'll find for quiet washing machines. It has 6 programs, 3 water temperatures, and a delay start setting.
While it's not the most functional washing machine, it has all the basic features you need. Other features to look out for on this machine include delayed start and low energy and water settings.
That said, its maximum spin is 700 RPM, which is slower than many standard washing machines. So, it's quieter, but this does come at the expense of some washing quality.
This is the main critique given by its users. With larger loads, it does sacrifice some washing quality compared to standard-sized models. But, it has the advantages of being quiet and compact.
PROs
Sound emissions of 62dB.
Compact design is ideal for small spaces.
Easy to use – clear LED control panel.
CONs
Size does sacrifice some washing quality.
4. Farberware Professional 7lbs. Capacity Washing Machine
If space is a concern, the Farberware might be the quiet washing machine for you. It measures 18 x 19 x 31 inches and can hold 7lbs. of clothes. While this is less than the Comfee machine above, it does have a higher spin speed (800RPM). Importantly, this means your clothes will come out drier.
Its noise level is 64dB, which is marginally louder than the Comfee. This washing machine also has 6 settings and an LED display screen.
Due to its size and low operating volume, this would be a good choice for dorms or RVs. It's also ideal for apartments that might not have a mains water connection for a washer or cannot have one due to building regulations.
Although it's designed as a portable washing machine, some users reported the rollers underneath don't extend far enough. As a result, you have to push it rather than wheel it.
But this is a minor fix; you just need to buy some casters or a wheeled tray to sit it on.
PROs
Noise level of 64dB.
6 wash settings.
Spin speed of 800RPM.
CONs
Can be difficult to move.
5. RCA RPW160 Portable Washing Machine
At 72dB, this isn't the quietest front load washing machine. But it's still within the acceptable range of noise emissions. While you'll probably notice it's running, it shouldn't cause too much distraction.
It has an internal capacity of 1.6 cu. ft., equivalent to 11lbs. of clothes. As it's designed for dorms, RVs, and small apartments, this should be enough capacity.
You can hook it up to either a standard water outlet or a tap depending on where you are. It comes with the necessary attachments for connecting it to a tap, meaning you have a bit more flexibility with where you do your washing.
The machine has an LED screen, 6 wash cycles, and 3 water temperatures. Therefore, it's not the most functional. But you sacrifice some functionality for it to be compact and portable.
Some users reported that the machine struggles to clean heavily soiled clothes when it's relatively full. Again, this is a consequence of it being a portable model. If you have heavily soiled clothes, you might want to either wash them alone or soak them first.
PROs
Can be connected to a water outlet or tap.
Comes with the necessary wash cycles.
Ideal for compact spaces: dorms, RVs, apartments, etc.
CONs
Struggles with heavily soiled clothes.
What to Look for in a Quiet Washer and Dryer
When searching for the quietest washing machine on the market, your main consideration should be noise emissions. But, this doesn't mean you should completely sacrifice functionality and features.
Here are some of the most important features I recommend looking for in the best washing machine.
Noise Level
I've already discussed the ideal noise level above. But, to recap, you should look for a washing machine that emits between 60 and 70dB. Anything above 75dB is normal for a washing machine, so isn't really worth considering.
A washing machine that falls into the 70-75dB range is a bit of a gray area. They're quieter than normal levels but not by much. I'd only recommend looking in this noise range if the machine has a feature you really need and can't find elsewhere.
The wash cycle generally has little impact on the overall noise level. That said, you might find water draining into the machine during the wash cycle is loud, and there's not much you can do about that.
Top Load or Front Load?
The type of washing machine you choose won't have much impact on its noise level. It more comes down to how much space you have, among other factors.
A front load washer is generally quieter, more energy-efficient, and requires less maintenance. It also uses less water because it creates a pool rather than filling the whole drum.
A top load washer has quicker wash cycles (typically around 30 minutes) and is more efficient at colder temperatures. They're also better for small spaces because you don't have to factor in opening a front door.
Spin Cycle
Pretty much all washing machines will have a spin function. Some might have a pulse mode instead, which is slightly quieter. As you can imagine, the spin cycle is one of the main contributors to noise emissions from a washing machine.
You'll come across washing machines with a spin speed ranging from 700 RPM (rotations per minute) to upwards of 1,800RPM.
Faster spin speeds mean drier clothes but will usually mean more noise too.
The spin cycle will obviously impact how long your clothes take to dry after washing. If you have a tumble dryer, a faster spin cycle means less energy used during drying.
But, portable or compact quiet washing machines often won't go much higher than 1,200RPM.
So, spin speed largely depends on how much washing you do and what noise levels you want. The best quiet washing machine will strike the right balance between spin speed and noise emissions. That'll probably give you a maximum spin speed of 1,200RPM.
While the spin cycle is the loudest part, finding a washer with vibration reduction technology does help. It could be as simple as some rubber feet, which I explain below.
Energy Efficiency
Energy efficiency is vital for any household appliance, particularly washing machines. A washing machine can consume a lot of electricity and water if you use it a lot.
A front load washer is more efficient overall because it uses less water, which means less energy consumed to spin the drum and heat the water.
But, a top load washer isn't far behind because it has shorter wash cycles. If you wash clothes at a low temperature, a top load washer might be a better choice.
They're also better suited for situations where speed wash might help, such as in dorms or when camping.
Also, large washing machines will consume more energy than small ones. A quiet washing machine that's portable will probably give you the best energy rating.
The USA Energy Star site gives more details about choosing an energy-efficient washing machine. Ideally, the best quiet washing machine will have the Energy Star certification.
It states that for a washer to receive the Energy Star rating, it must use 25% less water during the wash cycle and 33% less energy overall.
Scheduled Start
Scheduled start is one of the most valuable features. It allows you to take advantage of cheaper energy rates, thereby saving yourself money. These rates usually happen at night, but check with your local energy provider for more details.
The way it works will vary by machine. Some will have a dial you turn or preprogrammed delays, whereas others will let you set the exact time on a clock.
While this isn't necessary, scheduled start features help save money and better organize your washing schedule. The best quiet washing machines will give you some flexibility over washing times.
Functionality
Even a quiet washing machine should function properly. This generally means settings for soiled clothes and different fabrics.
The most basic settings you'll want include:
Cotton
Synthetics
Delicates
Quick wash
Rinse and spin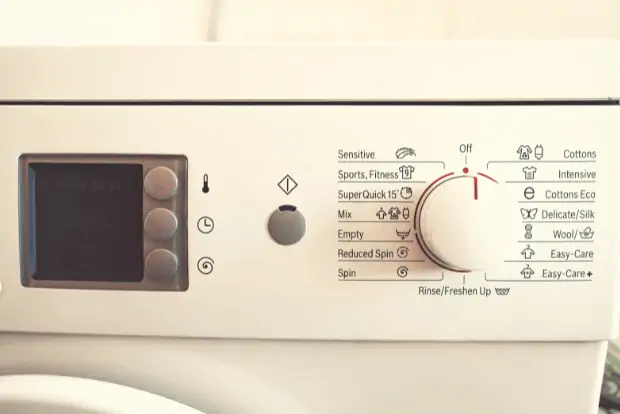 Of course, you'll want temperature settings too. Ideally, look for a machine with a maximum temperature setting of 170F, as that'll allow you to run a cycle that kills bacteria.
Anything on top of these settings can be considered extra features. If all you need is a basic quiet washing machine, the above will be enough.
Dryer
Finding a quiet washer and dryer shouldn't be too hard, providing the washing machine is quiet. Dryers really aren't very loud, as they don't spin as fast as a washing machine.
While you can get energy-efficient washer dryers, you might find they're less than half as efficient as two separate appliances. The dryer function will have to dry the clothes and the machine, meaning it's wasting energy on an unnecessary process.
If your main reason for buying a washer dryer is to save on space, you can get some great portable clothes drying racks. Some are quite energy-efficient and take up no more room than a laundry rack.
I recommend buying a front load washing machine if you need a separate dryer, as this allows you to stack them.
Portability
A portable quiet washing machine is obviously useful in places like RVs and dorms and for camping. But, a portable machine can be ideal for apartments lacking a standard water outlet.
Portable machines usually connect to a tap (such as in the bathroom) and then have the water outlet pipe inserted into a sink or shower. Some also come with connections for standard water outlets, giving you different options.
They'll also be more compact, making them ideal for small apartments, homes, or cramped washing rooms. You don't lose out on much with a small machine, as they can still wash up to 12lbs. of clothes.
You might find portable washing machines are quieter, too, as they don't spin as fast. They'll also have smaller drums and motors, meaning less noise overall.
Of course, a portable washing machine might not work for a family, but couples or single people should get on fine with them. Always be sure to check the cu. ft. mentioned to see if it'd work for the amount of washing you do.
How to Reduce Noise from a Washing Machine
Washing machines will always make some noise, as they have moving parts. But, there are some common noise sources, many of which are fairly easy to fix.
Unbalanced Machine
One of the most common noise sources is an unbalanced washing machine. It's particularly common with front load machines, as they use more power when spinning.
An unbalanced machine can be due to incorrect loading or wonky feet. Wonky feet will result in more vibrations, particularly on hard surfaces.
This is the easiest problem to solve. Simply buy some anti-vibration pads for the feet.
Incorrect loading is more common with front load machines due to the way the clothes sit in them. The easiest way to solve this problem is to not over or under fill.
Grinding or Whirring Noises
Washing machines can make grinding or whirring noises while in operation. The cause could be anything from the drive belt or motor coupling to the internal shock absorbers.
The best way to avoid these problems is to get your machine serviced annually. Inspecting yourself can take a lot of work.
If your machine is roughly 10 years old, you might need a replacement regardless. Washing machines work hard and wear out over time. Even the best washing machine needs replacing eventually, but this is a good excuse to look for a quieter model!
Overloaded Machine
An overloaded washing machine puts more stress on the drum motor, which then wears out quicker. While an overloaded machine won't necessarily be noisier at the time, it can lead to more noise as the parts wear down.
Avoid this by not overloading the machine. They'll always state the maximum capacity, and some will even translate this into rough guides of clothing. For example, 15lbs. would be around 3 pairs of jeans and 2 pairs of pants.
It's harder to overload a top load washing machine, as it has a more obvious fill capacity.
Old/Worn Out Machine
If your washing machine is old, worn out, or just noisy, it might be worth trying some soundproofing materials.
All you want to do is absorb or dampen some of the sound coming from your washing machine. The easiest way to do this is with a heavy soundproof blanket.
I've written a whole post on the best soundproof blankets, so check that out for more information.
Just wrap the washing machine in a blanket, including the top/front when it's in use. Bear in mind that the heavier and thicker the blanket, the better the soundproofing.
Final Thoughts on the Best Quiet Washing Machine
Hopefully, you've got some useful information for choosing the quietest washing machine on the market.
My top pick is the Equator 1.6 Cubic Feet Compact Washer. It's got great functionality and clothing capacity and operates at only 60dB. In short, it's probably the best washing machine you'll find for capacity and noise level.
But if you need a compact model or you're on a budget, the Vivohome 2 in 1 Mini Laundry Washer will do fine. It might be manual operation, but it still gets the job done.
Do you have any tips for making a loud washing machine quiet? Drop them in the comments below.