The quietest AIO cooler arguably offers a better look for a PC than an air cooler. So, if you're into aesthetics, investing in a liquid CPU cooler might be the way forwards.
But choosing one that balances thermal performance and noise is still vital. In this article, I offer my top picks for the best liquid coolers that look good but work great.
Are AIO Coolers Noisy?
AIO stands for all in one, meaning the CPU cooler comes with everything you need to keep your computer cool. In short, this consists of a radiator, fans, water pump, cooling unit, and tubes.
The basic premise of an AIO cooler is almost identical to an air cooler. The cooler's baseplate conducts heat away from the CPU in the same way. However, it then draws this heat away using water rather than air, which is a far better thermal conductor.
But are AIO coolers noisy?
AIO coolers are louder than air coolers because there are more components at work. Typically, a quiet AIO cooler will sit around 50dB compared to a quiet air CPU cooler, which usually falls below 30dB. This is because liquid coolers have more fans and the added water pump.
Let's discuss these components in more detail to understand why they contribute to noise levels.
Fans
There's not much to be said about fans and noise levels that isn't obvious. They create noise as the air passes over the fan blades. The faster a fan spins, the louder it typically is. While you can get quiet fans and silent settings, a spinning fan will always produce some amount of noise.
Water Pump
In an AIO cooler, the biggest source of noise is the water pump. As the name suggests, it pumps water around the cooling system, which draws heat away from the baseplate. The water then transports the heat to the radiator and fans to remove it from the computer.
Water pumps create noise because they have moving parts to transport water under pressure. Unlike the fans, which you can adjust manually or via computer settings, there's very little you can do to reduce pump noise. As such, AIO CPU coolers will always be louder than their air equivalents.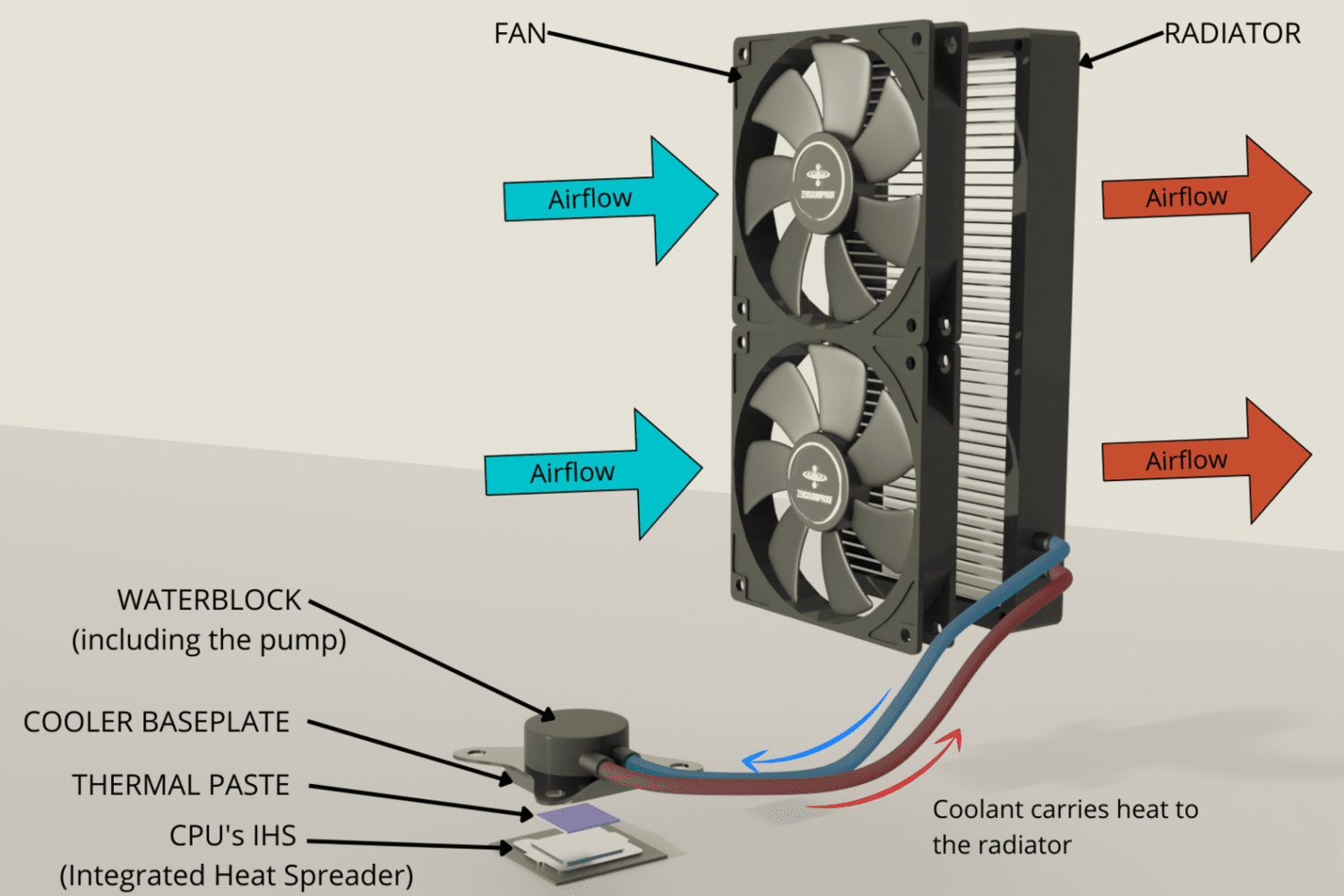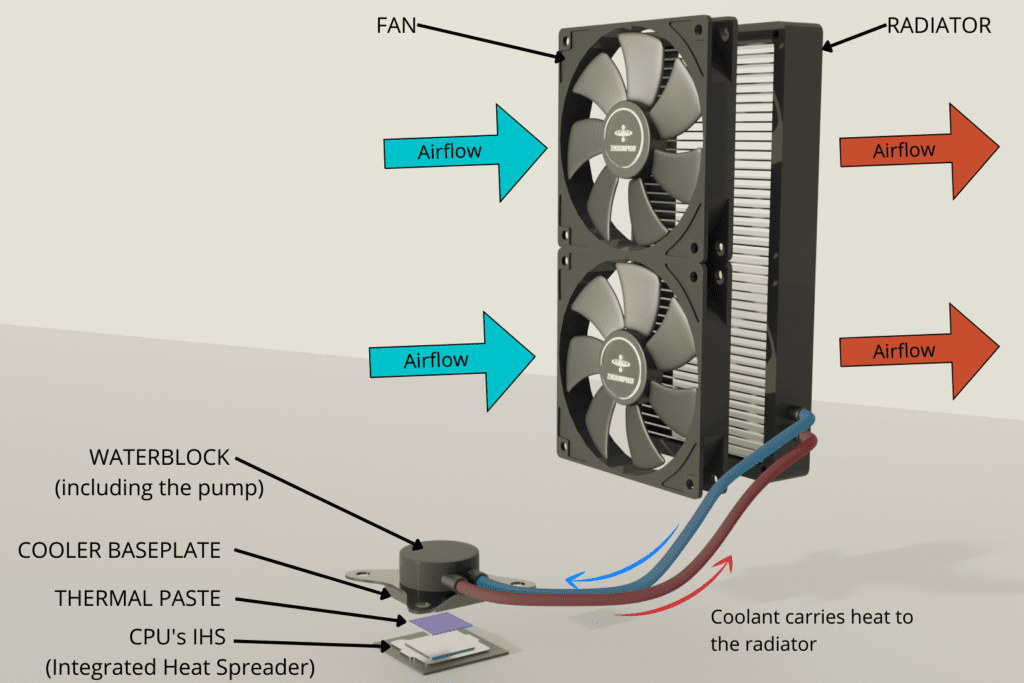 Balancing Performance and Noise in the Quietest CPU Coolers
Choosing the best quiet CPU cooler for your PC will always involve a tradeoff between thermal performance and noise. This is because a more powerful cooling system must work harder, resulting in more noise generation. On the other hand, a quieter cooler won't work as hard, meaning you lose some cooling performance.
Deciding what's right for your needs depends on your PC build. For example, if you're a gamer, noise levels probably aren't as important because you'll likely be wearing headphones or have your speaker volume turned up.
However, if you're building a high-end PC for activities such as CAD or Blender renderings, noise level will probably be more important. As these will be slightly less intensive than gaming, sacrificing some level of cooling performance should be fine.
Top 4 Quietest AIO Cooler
My top picks for quiet liquid CPU coolers strike the right balance between performance and noise levels for different tasks. Where possible, I've included the facts you need to determine which is best for your PC build.
1. Top Pick Overall: Be quiet! Pure Loop 360mm
Pump speed: 5500 RPM
PWM pump: Yes
Pump Noise: NC
Radiator size (H x W x D): 397 x 120 x 27 mm
Radiator material: Aluminum
Room for OC*: Good for Mid-range CPUs
*OC: Overclocking
The be quiet! Pure Loop strikes a good balance between thermal performance and noise levels. While it might not provide efficient cooling for high-end overclocked PCs, it should be fine for mid-range gaming rigs.
It includes 3 x 120mm fans that max out at 2,000RPM. It has a 27mm wide radiator with aluminum fins. Importantly, there's a full port on the radiator, meaning you can add more coolant when needed.
Noise levels are obviously important for us here. For a liquid cooler, the be quiet! is fairly impressive in this regard. According to Kit Guru, its maximum noise level is 45.1dB when pushing a 9900KS on an AIDA 64 stress test. Their thermal performance tests found the be quiet! fan kept up with higher-end models at standard frequencies, but fell behind once the CPU was properly overclocked.
It's compatible with most standard sockets, from the Intel LGA 2011 and up and the AMD AM4 and AM3+. be quiet! doesn't offer a TDP rating, but instead suggests using different fan arrangements as described below:
the Pure Loop 120mm fan for I3/R3 CPU
the Pure Loop 240mm fan for I5/R5 CPU
the Pure Loop 260mm fan for I7/R7 CPU
the Pure Loop 360mm fan for I9/R9 CPU
While not a massive issue, the be quiet! cooler doesn't ship with a 12th-gen Intel CPU bracket. However, if you contact the manufacturer with proof of purchase, they'll send you one out.
PROs
Good balance of performance, noise, and price.
Compact AIO cooler.
Easy to install.
CONs
Doesn't ship with 12th-gen Intel CPU bracket.
2. Top Pick for Gaming: MSI MEG CoreLiquid S360
Fan size: 3 x 120 mm
Fan max speed: 2000 RPM
Fan Noise rating: 22.7 dB min
PWM fan: Yes
Pump speed: 2800 RPM
PWM pump: Yes
Pump Noise rating: 21.2 dB min
Radiator size (H x W x D): 394 x 120 x 27 mm
Radiator material: Aluminum
Room for OC*: Good for High-end CPUs
*OC: Overclocking
The MSI MEG CoreLiquid S360 is quite a pricey AIO liquid cooler, but its 3 fans help keep things pretty cool, even during intensive tasks. The fact that it has a gaming setting implies it's best suited for CPU demanding tasks.
It has 3 modes for the fans and pump. These are Silent, Balance, and Game Mode. The fans' dB ratings are 20, 27, and 41dB, whereas the pump's are 22, 26, and 28dB. Overclocking (OC) rockets this up to 56dB in Game Mode, which is just breaking out of the quiet cooler bracket. However, at this level of noise, the cooler kept the power-hungry AMD 3600X (105W TDP) at 61 degrees C, which shows how much margin you get for OC.
In terms of design, the cooler has triple-sealed tubes to avoid leaks, and the actual cooling setup delivers some decent results. One interesting feature is the 2.5" screen, onto which you can upload images and videos. While unnecessary, this is a fun extra on this AIO cooler. It's compatible with Intel sockets from LGA115x and above, and AMD FM1 and AM2 and above.
Some users state that the stock MSI fans are surprisingly loud and not super secure. The suggested fix for this is to swap them out for other fans, which is apparently easy. This cooler is compatible with any fans of the correct size.
PROs
Modes provide control over noise levels.
Unit offers good thermal performance.
IPS screen is a fun addition.
CONs
Included MSI fans aren't great quality.
3. Top Budget Pick: Cooler Master MasterLiquid 240L RGB V2
Fan size: 2 x 120 mm
Fan max speed: 1800 RPM
Fan Noise rating: 27 dB max
PWM fan: Yes
Pump speed: NC
PWM pump: No
Pump Noise rating: 15 dB max
Radiator size (H x W x D): 277 x 119.6 x 27.2 mm
Radiator material: Aluminum
Room for OC*: Decent for Mid-range CPUs
*OC: Overclocking
The Cooler Master MasterLiquid 240L is a redux of its previous ML240L model and featured a new pump and fans. It's a budget model, so will never be the best performing cooler, but it's really not bad for the price.
According to Kit Guru, its noise level is advertised as 27dB and below. But when tested under load, it jumped up to 40.9 dB. While these noise levels are lower than the MSI MEG, the Cooler Master doesn't provide as efficient cooling. Even so, it's comparable with air coolers in terms of noise output.
The cooler has 2 x 120mm fans with RGB lighting. These function fine with a standard CPU that doesn't suck up too much power, but drop in performance when used with an overclocked CPU. Kit Guru's test showed 67.3 C (delta with room temp.) when overclocking an I9-9900K at 4.9GHz, putting it below average.
In comparison with the be quiet! Pure Loop 360, when Overclocking an I9-9900KS at 5.1 GHz, the Pure Loop was cooler at 62.9 C (delta with room temp.). It does show you the limit of the Cooler Master if you plan on extreme overclocking.
Socket compatibility goes up to AM4 and LGA1700 (you can claim the adapter from Cooler Master upon purchase). The socket can fit back to Intel LGA2011 and AMD AM2 and FM1. Installation is quite easy and it comes with the necessary hardware to do so.
Some users claim the case compatibility charts are inaccurate, and that the cooling tubes can be too short. It should fit most standard cases, but if you're unsure, look to see if someone else has installed it in your case. If not, you might need to switch out the tubes for longer ones.
PROs
Solid performance for budget-friendly model.
Generally easy to install.
Suitable for mid-range CPUs that aren't too power hungry.
CONs
Case compatibility isn't always accurate.
Not suitable for extreme OC.
4. NZXT Kraken X63 280mm
Pump speed: NC
PWM pump: No
Pump Noise rating: NC
Radiator size (H x W x D): 315 x 143 x 30 mm
Radiator material: Aluminum
Room for OC*: Decent for High-end CPUs
*OC: Overclocking
The NZXT Kraken X63 is the only entry on this list to feature 140mm fans (it has 2). While larger fans usually mean better thermal performance, not all cases can fit them. If your case will only take 120mm fans, opt for the Kraken X53 instead. Almost everything mentioned here is the same, apart from fan speed and noise level.
Let's start with noise level. When using a Threadripper 3950X to render a Blender scene, the X63 under normal load tops out at 36dB, which is pretty quiet. When cooling an overclocked CPU under load, this jumps to 41.4dB. However, according to Hexus, this is quieter than the be quiet! Pure Loop 280mm (the smaller 280mm variant of the above Pure Loop 360mm).
The same test found that its thermal performance came in the top 3 under normal load, keeping it around 62C. When overclocked, it managed an average temperature of 81C, which is also a good result compared to the other AIO coolers tested.
In real life, it means you'll get enough space to stretch your CPU's leg. If you're into overclocking and concerned about having enough headroom, check out the Kraken X73. It's the 360mm variant. It outperforms my top pick – the be quiet! Pure Loop 360mm – but in return is 4 dB louder under heavy load. While this might be a concern for things like image rendering, gamers probably won't mind the extra noise (that's what headphones are for!).
In terms of design, the cooler has RGB lighting. The aluminum radiator is effective at dissipating heat, and the rubber tubes have nylon sleeves for added security. It should fit most standard cases and has a wide range of socket compatibility.
Some users claim that installation can be a challenge, as the hose placement makes it difficult to get the correct CPU clearance. The solution is to simply flip the unit 180 degrees and rotate the cap logo accordingly.
PROs
Solid thermal and noise level performance for the size.
Sleek design with RGB lighting.
140mm and 120mm fan options.
CONs
Installation can be challenging in some cases.
What to Look for in a Quiet AIO Cooler
Other than noise level, there are plenty of factors to consider when picking the best liquid cooler for your PC. Here are what I consider to be the most important things when choosing an AIO cooler.
CPU Socket Compatibility
A good place to start is with socket compatibility. Your AIO cooler fits over the CPU and so must have the correct socket and clearance to do so. This isn't a difficult one to work out. You simply check what CPU you have and see if your cooler of choice is compatible.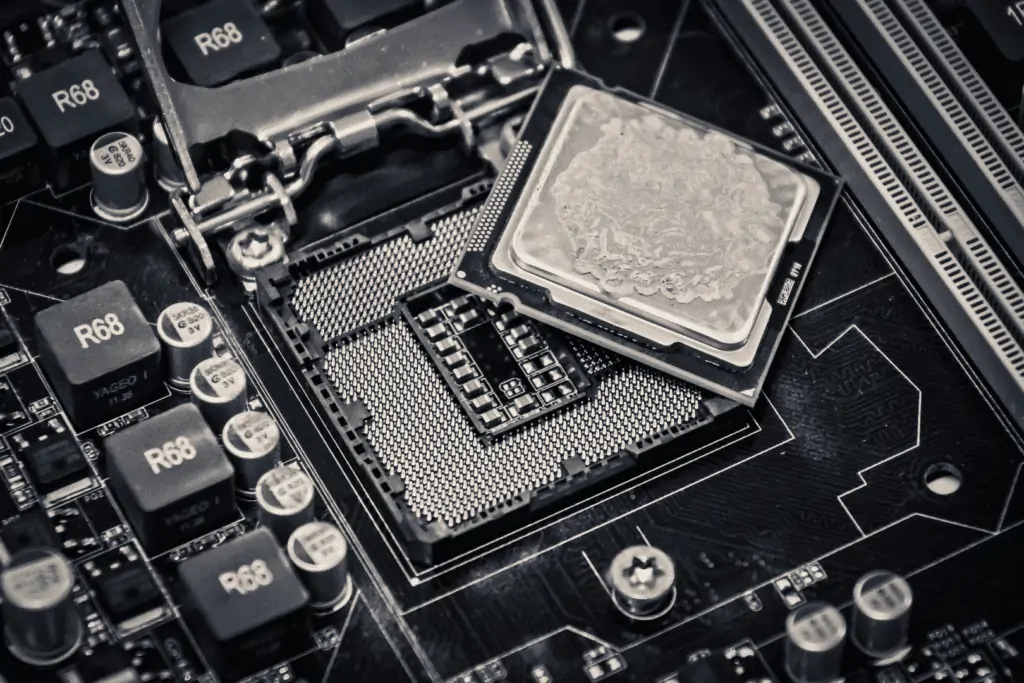 TDP
TDP stands for Thermal Design Power. In short, it's the measurement of how much heat the cooler can evacuate from the CPU. I've explained this in some depth in my article about air coolers, so check that out for everything you need to know. The information given there also applies to liquid coolers.
Pump Type and Power Connectors
The 2 most popular types of AIO pump are D5 and DDC, which are simply product names from the manufacturer, Laing. There are other pump models in a more niche CPU cooler, but these are the 2 most commonly fitted in AIO coolers. You can obviously swap out pumps from AIO coolers to meet your needs, but they'll come with some variation of these base designs.
The biggest difference is size. The D5 pump is bigger but, by extension, can move more water. The DDC is smaller, so is good for compact builds, but also moves less water as a result.
Also, the D5 is cooled by the waterloop itself, whereas the DDC is cooled by ambient air. As such, you'll need greater airflow for the DDC.
AIO coolers have a 3-pin connector for power from the motherboard, which plug into the CPU fan header. But you'll also need a SATA connector for the pump itself. You can check out this article for more information on AIO cooler connectors.
Fans
As with an air cooler, fans are the final stop for evacuating heat. Water coolers can have up to 3 fans of the same size, which can be 120m, 140mm, or 160mm. Your cooler will come with stock fans, but it's possible to replace these with quiet fans of your choosing.
Larger fans move more air with less effort, giving you greater flexibility over noise levels and performance. As you can imagine, more fans mean more noise, too. Again, we're back to balancing thermal performance and noise depending on what you're doing with your PC.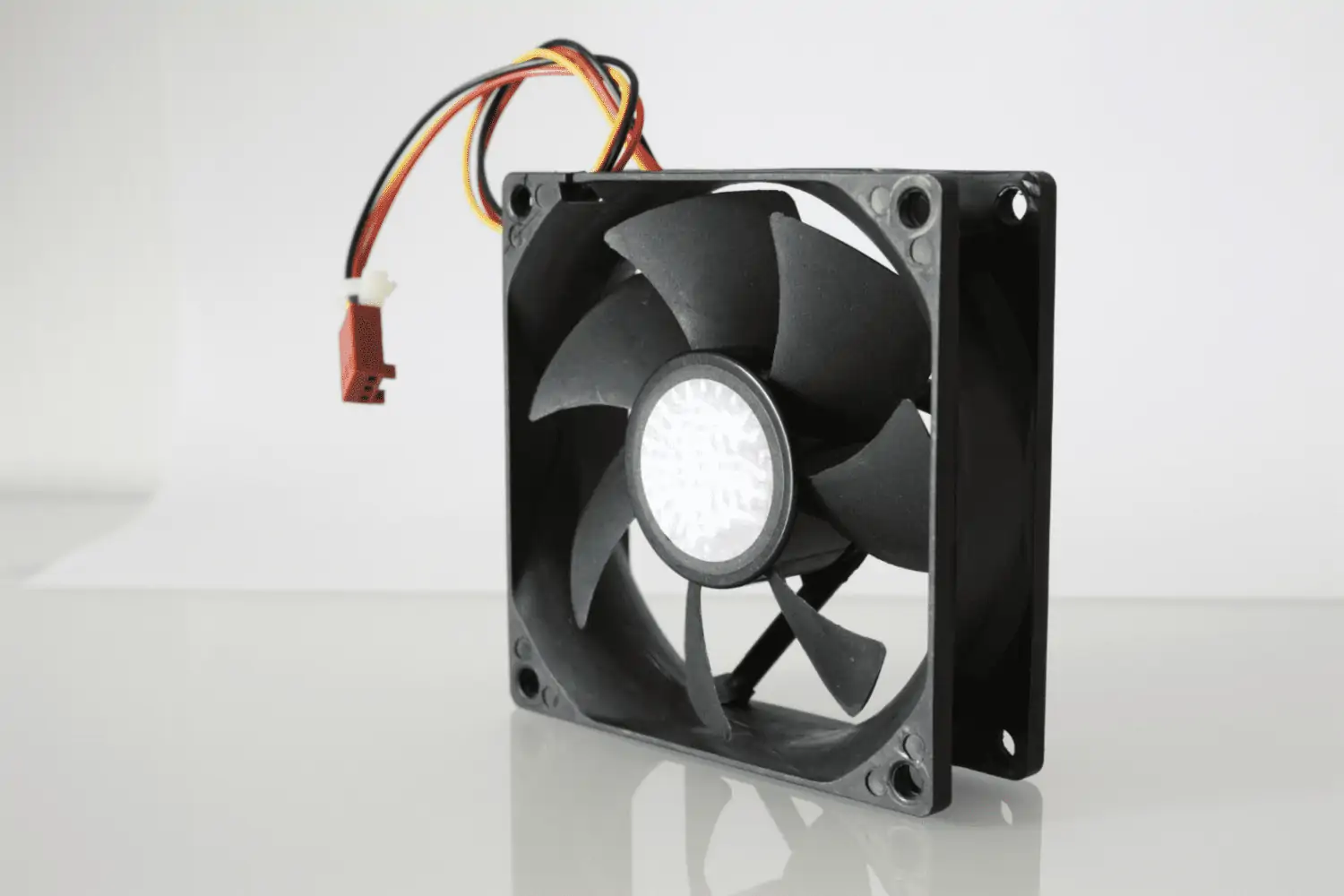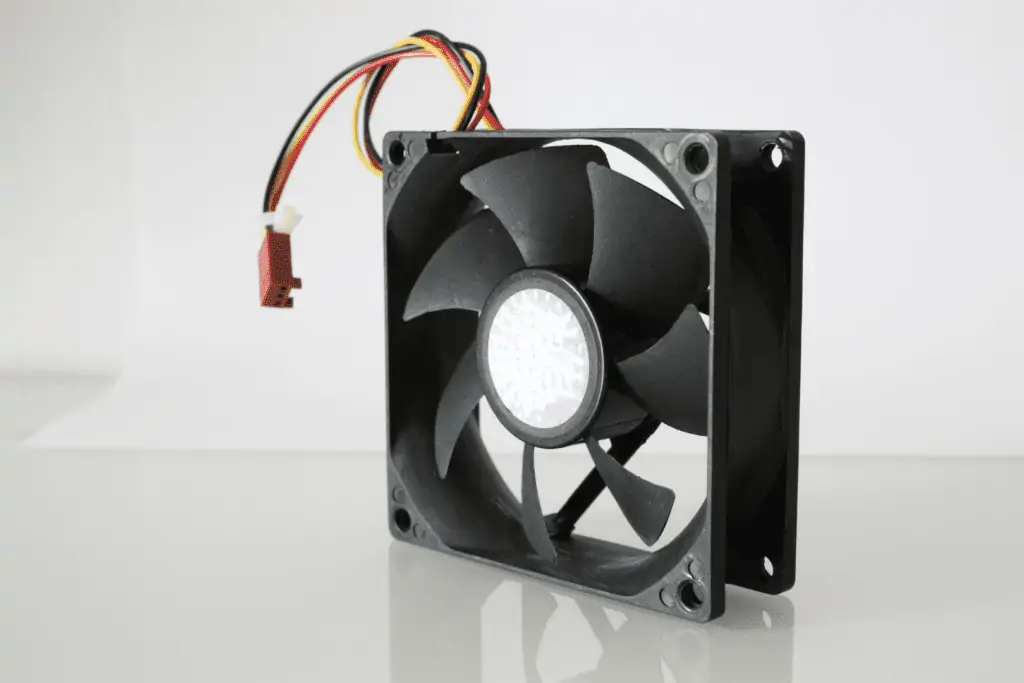 Fan speed is an important factor when thinking about noise levels. Most coolers have settings to control speed to make this easier. As a general rule, 100-1200RPM is considered quiet or silent operation for a liquid cooler fan.
AIO Software
As a general rule, your AIO cooler will come with software to control things like:
Setting up a fan profile (vital for customized fan curves for noise and speed)
Controlling the pump speed
Monitoring CPU temperature and cooler performance
Customizing lighting profiles
It shouldn't surprise you that AIO liquid coolers would have dedicated software for this. While you can get third-party applications for fan curves and pump speed, the lighting at least needs a way of controlling it.
But bear in mind that this software can be a non-negligible CPU drain (which is somewhat ironic). For example, Guru 3D stated it as a complaint about the NZXT Kraken X63, whose software collects data, and eats CPU space.
So what's the alternative? Simply load the software, set up your lighting profile, and kill it. Sometimes, you're much better off using a third-party application for things like fan settings and temperature control. You can check HWmonitor, it's free and gives a decent level of control and monitoring over your setup.
Radiator
The cooling radiator is what dissipates heat into the moving airstream generated by the fans. It's made up of fins (usually aluminum) and provides a greater surface area for more efficient heat removal.
Liquid coolers will come with a standard radiator fitted. It should be suitable for the number of fans and theoretical maximum heat removal of the unit. Of course, if you plan to overclock your PC or play around with your build, it can be worth buying a new radiator.
As a rule, radiators have aluminum fins. But if you want more efficient conduction, opt for copper fins instead. Bear in mind that these will be more expensive, though.
Warranty and Refill
AIO coolers will typically come with a warranty of up to 6 years. More expensive models usually have longer warranties, and a quality unit will last at least this long. Some manufacturers gauge life expectancy on operation hours, typically of the pump because it's the most common point of failure.
Also, bear in mind that you'll need to replace the coolant every 2 years or so. How easy this is will depend on the model, so it might be worth looking into before buying.
Is a Liquid Cooler (AIO) Quieter than an Air Cooler?
Liquid coolers are almost always louder than air coolers because there are more moving parts. For starters, it's common for AIO coolers to have more fans, which increases noise emissions. Also, the water pump always makes noise, even if it has quiet settings.
As I've stated throughout this article, it's about balancing thermal performance against noise levels. AIO coolers are better at moving heat because water is a more efficient thermal conductor than air thanks to its density. If you need top-of-the-line cooling, you'll have to sacrifice quiet performance.
A quiet air cooler will be less than 40dB, as it's usually 1 or 2 fans spinning. A quiet AIO cooler can fall around 40-50dB, which is the difference between a whisper and a normal conversation.
Generally, air coolers are fine for most PC builds. Liquid coolers are suitable for high-end gaming rigs and CPU-intensive activities. As such, decide what you need your PC for and use this to inform your decision.
Final Thoughts on the Best Liquid CPU Cooler
I hope this article has given you everything you need to choose an AIO cooler for your PC. The best liquid CPU coolers can be a great way to improve the appearance of your PC as well as its thermal performance.
My top pick is the be quiet! Pure Loop 360mm because it's efficient, not too expensive, and should be compatible with most cases. Of course, any of the picks on this list should address your needs one way or another.
What's your opinion on liquid cooling vs. air cooling? Have you ever considered picking a quiet GPU as well? I'd love to hear your thoughts below!