Choosing the quietest dust collector for your shop helps reduce potentially damaging noise pollution while also protecting your lungs. Ideally, a quiet model shouldn't sacrifice the machine's dust collection ability.
In this article, I'll review my top picks for the best quiet dust extractor for shops. Before we jump into the list, let's look at what noise levels we mean when we say quiet dust collectors.
Noise Levels of Dust Collectors
A dust collector can reach noise levels of 80dB or more. For a real-world comparison, this is roughly the same as heavy road traffic, and is the level at which sound can begin to damage your ears.
However, a quiet dust collector can go as low as 50dB, which is equivalent to a quiet office. Quiet dust collectors that fall into most people's price range will be 60-70dB, which is a range of normal conversation to the noise of a vacuum cleaner.
To be on the safe side, I'd generally recommend wearing PPE when working around a dust collector, particularly if it produces more than 70dB of noise. Check out my article on OSHA-compliant hearing PPE for some product suggestions.
Now that we've got an idea of typical noise levels, let's look at some of the best quiet dust collectors.
Our 5 Best Quiet Dust Collectors
Along with noise levels, I consider important factors like extracted particle size and ease of use. You must balance noise emissions against these, as there's no point in having a quiet dust collector that doesn't do its job properly!
Top Pick: Festool 574837 Midi Dust Extractor
Filter size: 0.3 microns
Airflow: 130 CFM
Static Press.: 23,900 Pa
Container: 3.9 gal.
Noise Level: 62-72 dB
Power: 1,200W
Weight: 24.9 lbs
Warranty: 3 yrs
The Festool Midi is my top pick for the best quiet dust collector because it's the right combination of quiet and functional. With a minimum noise level of 62dB (and a maximum of 72dB), it's right in the middle of the recommended range. However, 62dB is still plenty quiet enough – it's less than a traditional vacuum cleaner.
It contains a HEPA filter, which extracts particles down to 0.3 microns in size. This is the same kind of filter you'll find in things like AC units, vacuum cleaners, and air purifiers, and is significantly better than standard dust collector filters.
You connect the unit's hose directly to your tools, making it suitable for both static shop tools and handheld power tools. It has a suction power of 130 CFM and a 3.9-gallon container, so you shouldn't need to empty it too often.
The touch panel is easy to use when you're wearing gloves, or if the machine is covered in dust. A new feature on this model of the Midi is Bluetooth functionality. In short, it allows you to turn the extractor on remotely. It's debatable whether this is actually a helpful feature, but it's there nonetheless.
One limitation of the HEPA filter is that it's more expensive to replace than standard filters, and can reduce suction capacity when it's dirty. However, you could rinse it with cold water, although this will impact its performance.
---
PROs
Good balance between noise and functionality.
Touch panel is useful when wearing gloves.
It can also be used as a shop vac.
CONs
HEPA filter impacts suction when it's dirty.
Top Budget Pick: Bucktool DC30A-1 Wall-Mounted Dust Collector
Filter size: 2 microns
Airflow: 550 CFM
Static Press.: 1,440 Pa
Container: 3.1 cu.ft (23.2 gal.)
Noise Level: 62 dB (from user)
Power: 745W
Weight: 43.1 lbs
Warranty: NC
The Bucktool DC30A-1 is a "proper" shop dust collector (whereas the Festool Midi is essentially a glorified vacuum cleaner). It can be mounted on the wall or casters depending on whether you want it to be a portable quiet dust collector.
The main difference with a proper dust collector is that it has a much larger hose. Whereas the Festool connects directly to your tools, the Bucktool has a 4" hose that you basically hold near your work area. Although this isn't as functional, it does mean you can use it with any tool.
In terms of noise level, Bucktool doesn't list one. Luckily, a helpful user tested it and found it puts out around 69dB of noise. This is on the higher end of the scale but means you don't need to wear hearing protection.
The unit has an airflow rating of 550 CFM, a 3.1 cu. ft. dust bag, and a 2-micron filter. This is a lot less than the Festool, but it's enough to suck out most wood and metal particles. There's also a remote starter, which is helpful if it's mounted on the wall.
Some users state that the suction power isn't great compared to other models, but is acceptable for the price. When assessing for decent suction, check the static pressure of the device. In the case of the Bucktool, it's only 1,440 Pa, which is 16 times lower than the Festool. This is generally the lowest you'd want to pay for a machine like this, and it delivers the kind of performance you'd expect from a budget-friendly model.
---
PROs
Budget-friendly dust collector.
69dB noise emissions.
Can be mounted on a wall or on supplied casters, or used as a portable tabletop dust collector.
CONs
Suction power isn't as good as more expensive models.
Best for Larger Tools: Jet DC-1100VX-CK
Filter size: 2 microns
Airflow: 1,100 CFM
Static Press.: 2,615 Pa
Container: 5.3 cu.ft (39.6 gal.)
Noise Level: 75 dB
Power: 1,100 W
Weight: 130 lbs
Warranty: 5 yrs
The Jet DC-1100VX-CK is a fairly heavy-duty dust collector. It uses vortex technology to separate airborne matter before passing air through the 2-micron filter. Importantly, this improves filtration efficiency and waste bag packing. The removable bags have a 5.3 cu. ft. capacity, meaning you can get a lot of waste in them.
In terms of noise levels, this dust collector has an average output of 75dB. Although this isn't the quietest on this list, it's relative to its motor size. At 2,615 Pa and 1,100 CFM, it's nearly twice as powerful as the Bucktool model above. It's also still within the safe noise emission range.
You can set it up with 2 x 4" ports or one 6" port depending on the hose size you need. This means you can use it with pretty much any shop tool, although its size and capacity make it more suitable for static tools than handheld power tools.
It's pretty easy to use. There's an on/off switch, and it doesn't have variable speeds. While this is limiting, it's not super necessary when you're working with big tools and lots of dust. The motor is permanently lubricated, reducing maintenance, and replacement bags just snap into place.
One downside noted by some users is that it's not easy to move around. The unit comes on casters but it's a bit top-heavy. As such, it's easiest to take it apart, move it, and put it back together again. Of course, this is a bit of a hassle, so it might be easier to just buy longer hoses! If you want a model with similar power that's more portable (but also more expensive), the Baileigh DC-600C might work.
---
PROs
Good balance between power and noise emissions.
Vortex filtration technology is efficient.
Low maintenance.
4. Fein Turbo II X Wet/Dry Dust Extractor
Filter size: 0.3 microns
Airflow: 151 CFM
Static Press.: 24,400 Pa
Container: 1.2 cu.ft (9.2 gal.)
Noise Level: 53-69 dB
Power: 1,100 W
Weight: 31 lbs
Warranty: 3 yrs
The Fein Turbo II is similar to the Festool Midi in that it's essentially a vacuum cleaner. You connect it directly to the tool, making it suitable for handheld power tools. Like the Festool, it has a HEPA filter that removes particles down to 0.3 microns in size. However, with a CFM of 151 and an 9.2-gallon canister, it's larger and more powerful than the Festool.
You can use it as a standard vacuum cleaner and a wet vac, so it's ideal for general DIY projects. It's obviously suitable for use in a workshop, you might need a separate adaptor for connecting it to larger tools. However, if you're mainly working with static tools, something like the Jet or Bucktool model will be more suitable. On the other hand, this could be used as a portable tabletop dust collector.
Its noise level is also pretty decent. It produces between 53dB and 69dB, making it the quietest dust collector on this list. The Fein is also easy to move around (it weighs 31lbs.) and comes with a range of accessories.
Although it outperforms the Festool, the latter still wins top pick. This is because it has better functionality in terms of its touch panel, and it's generally a better-quality machine. However, either will do a good job of dust extraction, and if you're looking for quietness over anything else, go with the Fein.
One issue some users note is the length and rigidity of the hose. This might not sound like a massive deal, but if you're working in cramped areas, it can definitely get in the way. If you think this might be an issue (such as working on job sites or in smaller areas), definitely go with the Festool.
---
PROs
Powerful and quiet dust collector.
Large container means less bag changing.
Lightweight and portable.
CONs
Hose is long and rigid – difficult to work in cramped areas.
5. WEN 3410 3-Speed Air Filtration System
Filter size: 5 microns & 1 microns
Airflow: 400 CFM
Static Press.: NC
Container: N/A
Noise Level: 50-60 dB
Power: 120 W
Weight: 31 lbs
Warranty: 2 yrs
The WEN 3410 technically isn't a dust collector like the other systems reviewed above. As the name suggests, it's an air filtration system: you mount it on the ceiling and it'll suck airborne dust out of the air. It's a useful addition to a dust collector, as you can run it after a woodworking day without you being around. Specifically, it has a 1-micron filter, meaning it catches particles missed by something like the Jet model.
Its noise rating is 50-60dB, making it the quietest tool on this list. However, the Fein still wins for quietest dust collector, as this is an air filter. The bottom line is that this is about the quietest you'll get for a workshop, and it even offers a maximum CFM of 400.
You get a remote control for it, which is fairly useful if it's mounted on the ceiling! Using the remote, you can switch between the 3 speed settings and set the built-in timer. This allows you to filter the air once you're done working to ensure it's clean for the next time you're in the workshop.
The unit has a carrying handle, so it's relatively easy to transport. Although it's not specifically designed for tabletop use, nothing is stopping you from leaving it on a worktop rather than mounting it on the ceiling.
Some users note that the 6-ft. power cord is a bit limiting if you want to mount it from the ceiling. You'll either need a nearby outlet or an extension cable. Granted, this isn't a massive issue, but it's worth knowing before you buy so you can get the necessary extras in place.
---
PROs
A good addition to a workshop dust collector.
Quietest unit on this list.
Can be ceiling mounted or left on a worktop.
CONs
Power cord is a bit short.
What Makes a Dust Collector Noisy?
Dust collectors essentially work in the same way as a household vacuum cleaner, although they'll generally include more components or filtration steps. The basic components are as follows:
Motor
Blower (impeller)
Mounting
Filter
Intake hose
Waste bag
Exhaust
There are 2 general types of dust collector: single-stage collector and two-stage collector. A single-stage dust collection system sucks in air, passes it through a filter, and deposits waste into a bag. Most single-stage dust collectors filter particles down to 2 microns in size.
A two-stage dust collector passes air through a separator first, referred to as a cyclone or vortex. This removes larger particles, which fall into the waste bag. Air then passes through a filter, which can be more efficient because it's not battling against large waste matter.
A two-stage dust collection system is the most efficient type because it uses a conical drum that forces larger particles out before passing the air through a filter. These can be HEPA filters, which extract particles as small as 0.3 microns. Generally, a dual stage cyclone dust collector will be marginally quieter because it won't be passing large particles through its filter.
You can check out this video for a pretty clear guide of how these machines work.
The Noisy Components in a Dust Collector
It'll probably come as no surprise to anyone who knows a thing or two about machines that the noisiest part is the motor. As with any device that circulates air, the actual process of moving air creates a bit of noise (although there's nothing we can do about this).
The exhaust system is typically one of the main sources of noise because it outputs high-pressure air. Minor contributors also include the unit's mounting, the motor housing, and ducting.
Also, motor size and CFM impact noise levels. A dust collector with a larger motor and higher CFM will be louder than a smaller model. To an extent, single-stage models are louder than two-stage because of the larger particles circulating around the air drum.
What Features Matter in a Dust Collector?
I've already mentioned what I consider to be some of the most important factors in choosing an efficient dust collector. Here's a more explicit list of what you should think about before making your decision.
Filtration Stages
As discussed, your main options are single-stage and two-stage. A single-stage dust collector will pretty much always be cheaper because there's less tech. However, this is the only real benefit over a two-stage.
A single-stage dust collector is less efficient than a two-stage model and risks finer particles re-entering your workshop. Also, larger particles can get trapped in the filter, leading to unbalanced filtration.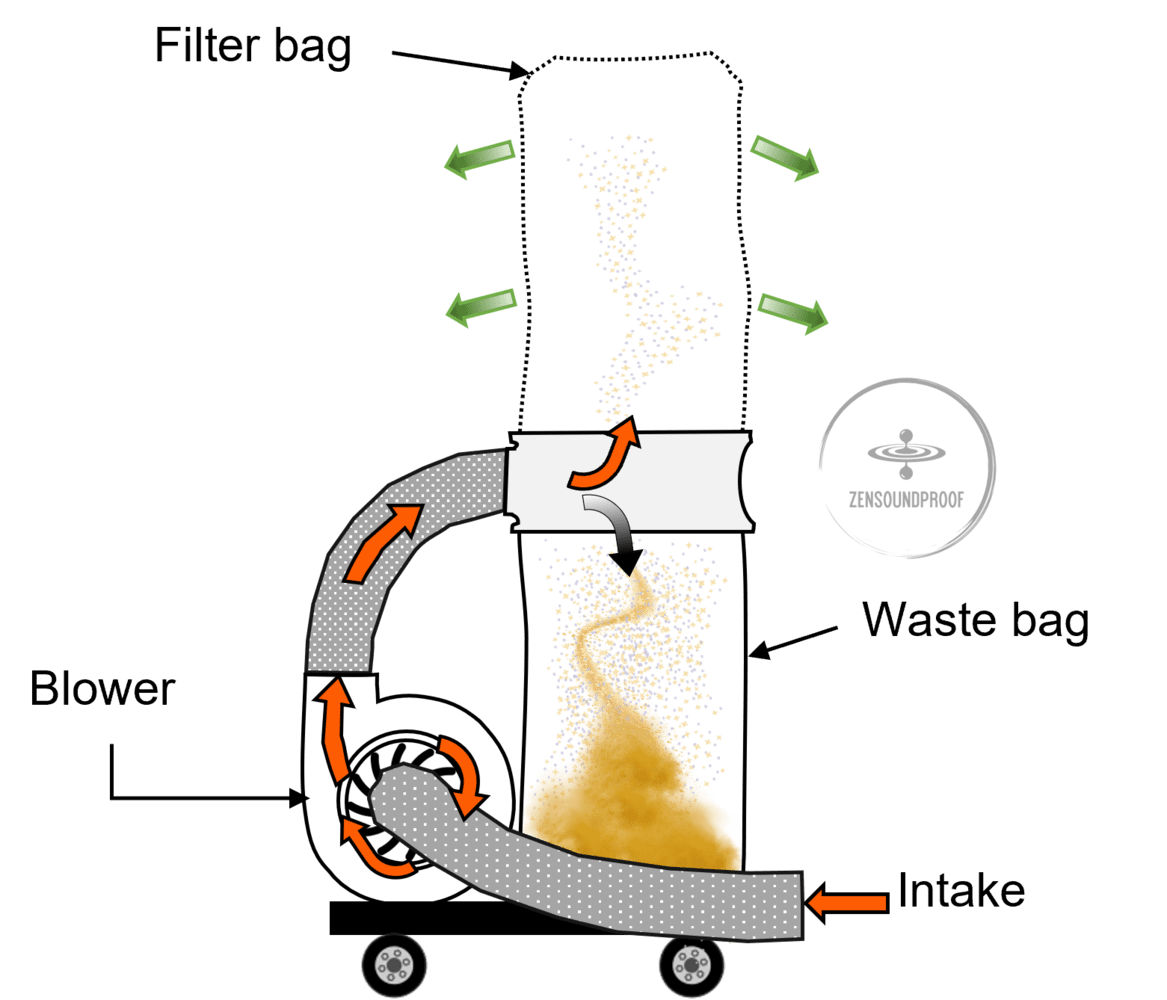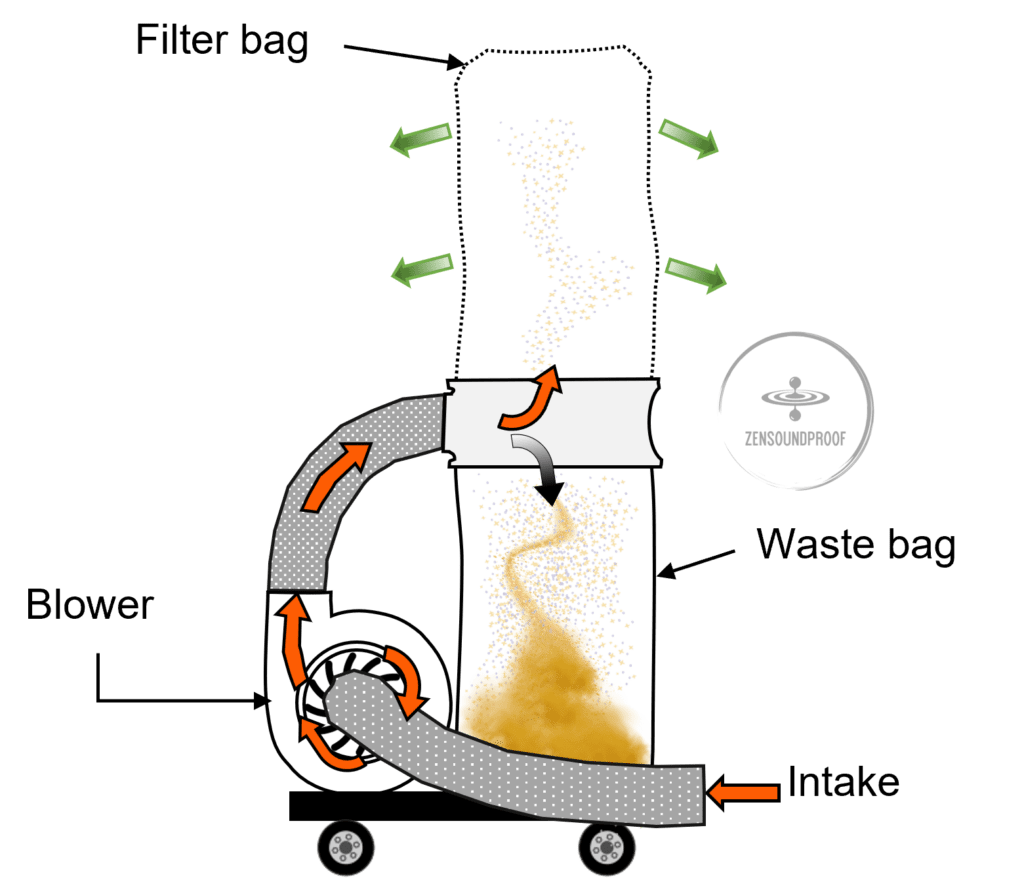 Two-stage dust collectors might be more expensive, but they're worth the money if you want efficient filtration. Extracting the larger particles before passing air through the filter means it can do a better job of removing the finer particles. Read the section below on particles and filtration to understand why this is important.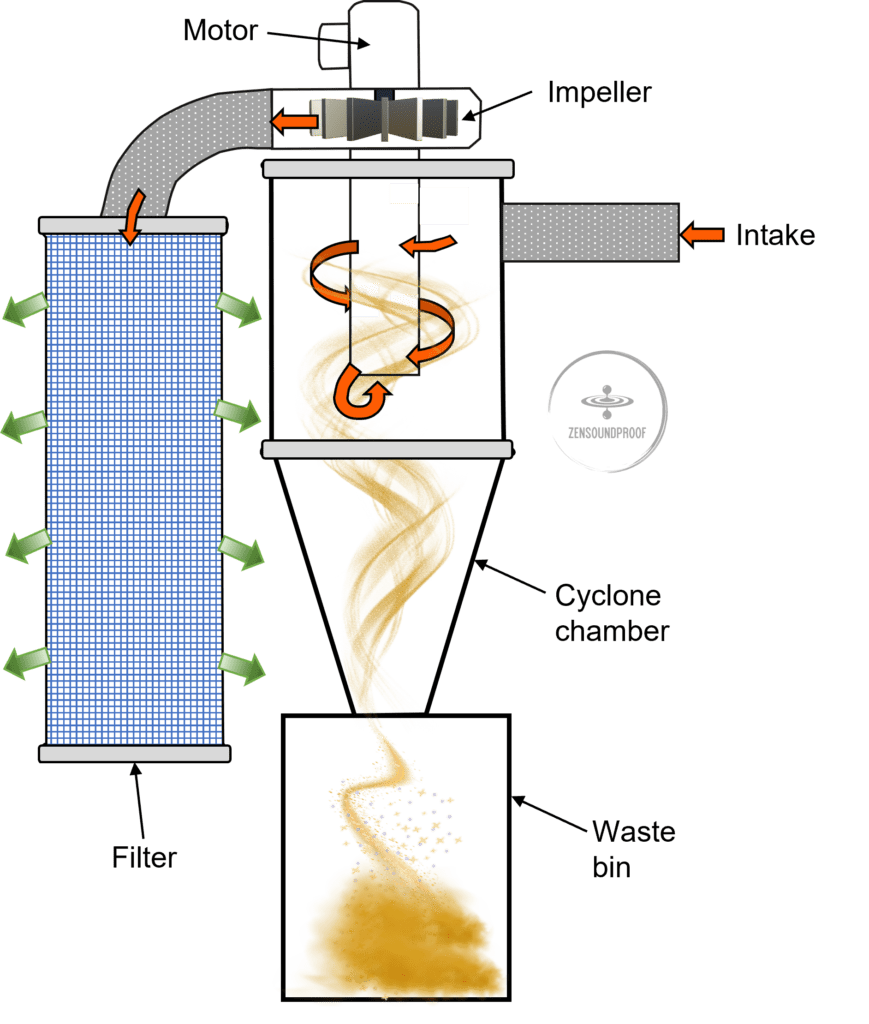 Filter Size
When working with machinery, removing debris is important for an efficient workspace. However, getting rid of the visible debris is only part of the battle. Arguably the more important bit is filtering out the finer particles that could damage your health.
Dust particles smaller than 10 microns (1 micron is 0.001 millimeter) can cause a range of health issues. Unsurprisingly, working around small airborne particles regularly will increase your risk of developing an illness. Smaller particles are harder for your lungs to expel and get trapped in the air for longer.
Luckily, pretty much all modern dust extractors have a maximum particle size of 5 microns. Some filters even go as small as 0.3 microns, which are HEPA filters. Generally, finer filters are better. But they also lead to a higher pressure loss in the system. As a consequence, it requires more suction pressure (more power) to compensate.
Therefore, a very fine filter can come at the expense of airflow and ease of use. A finer one is more likely to get blocked, which will reduce airflow. For the most part, a 2-micron filter will be fine for working with wood dust and metal dust.
Airflow
We measure airflow in cubic feet per minute, or CFM. Generally, a higher CFM rating will mean better dust collection and filtration because the unit will be able to initially suck up more particles. For a static dust collector, you'll want a minimum CFM of 400. Shop vacs and portable models can get away with less CFM because they're smaller, but by extension won't be as comparably efficient.
Some examples of suitable CFM ratings for different machines are:
Table saw, miter saw: 350 CFM
Belt and disc sander: 350-550 CFM
Table router: 195 CFM
Thickness planer: 400 CFM
CFM goes hand-in-hand with motor power. A more powerful motor will produce higher CFM ratings, which means more efficient suction. If you're mainly using large, static machinery (such as a belt sander, miter saw, etc.), go for a dust collector with at least a 1HP motor.
Both these factors influence noise level. A more powerful dust collector will be louder because it's circulating more air. However, you should base your needs mainly on the size of the machines you'll be working with and, by extension, how much dust you're collecting. Noise levels should be secondary to these.
Static Pressure
Static pressure is the second important metric when considering suction power. Whereas CFM is the volume of air moved over time, static pressure is the capacity of the fan to suck in air regardless of obstructions. These can include blocked filters or hose bends.
We measure static pressure in water column (w.c.) or Pascals (Pa), and higher static pressure means it will move efficiently through the hose and the filter. Higher static pressure is better because it means you can afford more pressure loss and that you can connect several machines to your suction system.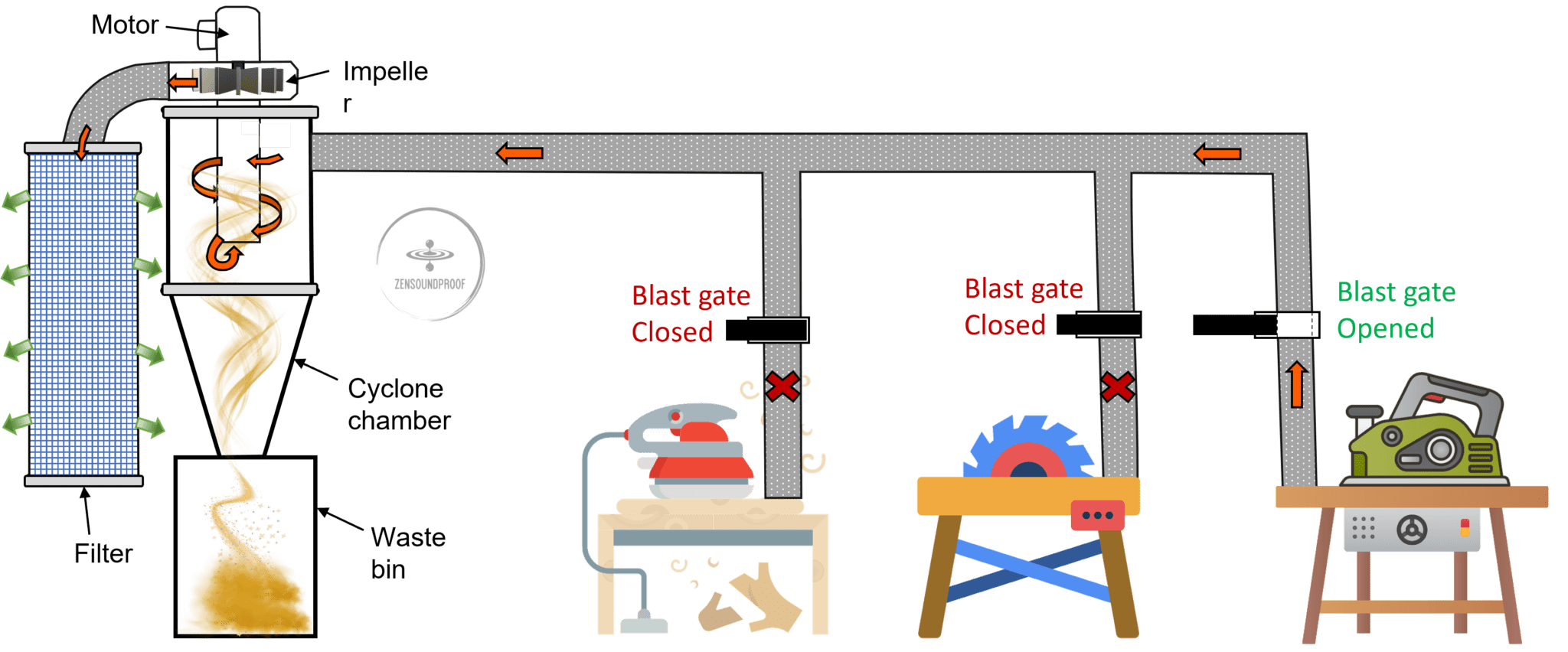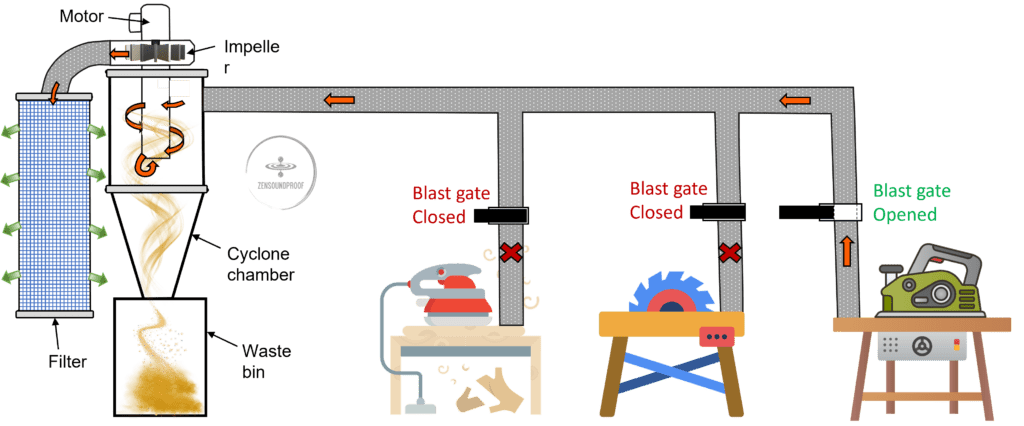 Consider blast gates if your dust collector has hoses connected to several machines at the same time. Blast gates allow you to close channels you're not using. As such, the suction pressure is not divided into several channels. Check the example in the video here.
Finally, we must think about hose length. Long and flexible hoses will reduce CFM ratings, simply because the air must travel further. Ideally, go with the shortest hose you can so you can retain as much suction power as possible.
Installation Type
Dust collectors come with 3 installation types: fixed, portable, and wall-mounted.
As a general rule, wall-mounted models will be the smallest because they need to be mounted on the wall. This means they have smaller collection bags and, often, smaller motors. But it also means you don't need to sacrifice floor space if your workshop is small.
Portable dust collectors are pretty self-explanatory. They're usually on casters, although most are simply vacuum cleaners with more filtration stages. A portable model is best if you're traveling to job sites or working primarily with handheld tools.
Finally, fixed dust collectors are the most powerful and are best for static tools. Some still have casters, but you might struggle to move them around. For example, the Jet model above is technically movable but, at 130lbs., it'll be pretty difficult to push around!
In terms of which is the most suitable for your needs, it ultimately depends on the machines you're working with. Fixed models will deliver the most power but the least flexibility, whereas portable models are the opposite. Wall-mounted dust collectors are a balance of space-saving and power.
Collection Bags
Dust collectors have removable collection bags, which can range from standard vacuum cleaner bags to large plastic rubbish bags. These can be pretty expensive to replace, but the more durable ones (such as those used on the Jet model) can be emptied out and reused a few times.
Aside from the price of the bags, the most important factor to consider is how easily you can replace them. Some models, such as the Jet, use a simple hoop to hold the bag in place, making them simple to replace. Other models use band clamps or even setscrews, which obviously take much longer to change.
How to Quiet a Dust Collection System
The easiest way to reduce noise pollution coming from your system is to build a dust collector sound enclosure. Generally, dust collector noise reduction will rely on the principles of sound blocking and mechanical isolation, with a small amount of dampening and absorption.
To do this, it's best to build a noise-reducing enclosure around your dust collector that considers its functionality. Specifically:
You must still be able to reach the waste bag
Clean air must still be returned to the workshop
You must also factor in temperature retention
For this, we'll need:
The steps are as follows:
Find a convenient corner in which to build your dust collector sound enclosure. Using a corner means you only need to build 2 sides.
Measure the height needed for your drywall panels. Cut to size as needed to create a side and front for the enclosure. Bear in mind the front will need some kind of door.
At the top of the front panel, install a filter return grille. You'll need a reasonably-sized one to get a balance between airflow and noise reduction.
Nail or staple sheets of mass loaded vinyl to the drywall and cover with acoustic foam on the face facing the collector. The acoustic foam will prevent soundwaves from bouncing around the enclosure via sound absorption.
Lay a sheet of EVA foam on the floor to dampen any possible vibrations coming from the dust collector. Sit the dust collector on top.
Build a frame using lumber for the enclosure and then fit the drywall onto the frame. If you're fitting a standard door, make sure you line it with MLV and acoustic foam on the inside.
The first time you run the dust collector, make sure you keep an eye on the temperature to ensure it's not going to overheat.
It's best to build a dust collector sound enclosure rather than installing materials directly onto the machine. This is so you can properly control airflow and temperature. Also, most of the noise you're dealing with is airborne, so it makes more sense to build an absorptive and blocking enclosure than insulating the unit itself.
Is a Dust Collector Quieter than a Shop Vac?
A dust collector is usually quieter than a shop vac, despite having a more powerful motor. This is because shop vacs have a higher pressure differential, which results in a higher-pitched, noisier output. Dust collectors often have wider hoses and larger fans, resulting in less pressurized air passing through the system.
There are some other important considerations between the 2 systems, such as:
Filter Size
Dust collectors often have larger filters because they suck up air with larger particles in them. However, both shop vacs and dust collectors can have HEPA filters, so this isn't a massive factor.
Airflow
As mentioned, dust collectors have higher CFM ratings than shop vacs. But they also have lower static pressure, meaning they are better at sucking up dust and fine chips. Shop vacs are better for sucking up larger objects because they have higher pressure. That said, you should probably avoid sucking up things like rocks and metal with any suction system.
Price
A shop vac will generally be cheaper than a dust collector because it's a smaller machine. However, this comes at the expense of functionality, and a dust collector is pretty much always the better option if you're working with larger machines.
Extra Functions
A shop vac is essentially a vacuum cleaner, but some also function as a wet vac. This can be a helpful addition if you're doing DIY elsewhere. On the other hand, a dust collector is just that: a dust collector.
Summing It Up
So, the bottom line is that a dust collector will be quieter and more efficient than a shop vac. However, this does come at the expense of some portability and functionality, depending on what you actually want to do.
Final Thoughts on Quiet Dust Collectors
I hope this article has clarified what you need to know when choosing the quietest dust collector.
My top pick is the Festool 574837 Midi Dust Extractor. Although not the quietest, it's a good balance between functionality, power and noise output. That said, if you need a high-power dust extractor, the Jet DC-1100VX-CK is a decent option.
Do you have any other tips for picking an efficient workshop dust extractor? Let me know in the comments.