Buying the quietest drone you can find will make a massive difference to your freedom of flying. Studies have already shown that drones are a growing source of noise pollution, but laws aren't quite keeping up with tech advances.
So, for the benefit of you and those around you, it's worth looking for the quietest drones you can find.
And that's exactly what I cover in this article. We'll look at some of the best quiet drones on the market, followed by the most important factors to consider when buying one.
Our Top 6
Unfortunately, very few (if any) quiet drones state their decibel levels. We can get around this by looking at user reviews and understanding what aspects make drones loud (or quiet).
1. Best Overall Pick: DJI Mavic Mini Quiet Drone
Video Resolution: 2.7K @ 30 FPS
Gimbal: 3-Axis
Max Speed: 29 mph (46.7 km/h)
Battery capacity: 2550 mAh
Battery life: 30 min
Flight range: 2.4 mi (4 km)
Weight: 0.55 lbs. (249.5 g)
The DJI Mavic Mini has a noise level of 71 dB in flight @ 3 ft. distance, making it a lovely and quiet drone compared to other models in the same price range. It manages this thanks to the shape and size of its blades, as they generate thrust with fewer rotations than other models.
This is mainly why it's my top pick. Granted, other entries on this list have better cameras, but it's the only entry that we can find an actual noise rating for. Also, as you can read below, 71 dB @ 3 ft. distance is on the quieter end of the spectrum for recreational drones.
Check out the video below for more details about the noise measurement of 71 dB.
It comes equipped with a 2.7K resolution camera. Again, this isn't the highest definition camera you'll find on a drone, but it's enough to capture decent video and photos. Other models in the DJI range, like the DJI Mavic Mini 2 come with a 4K camera, but it's much more expensive. I rated the DJI Mavic Mini 2 as my second top pick (read below).
The DJI drone does have a 3-axis gimbal. It means it has pan, tilt, and roll stabilization, covering you from all flight angles. While this isn't super necessary if you're just into recreational flying, it's a vital feature for those wanting to make drone videos because it provides superior image stability.
It's a portable mini drone because it folds up, making it easy to transport in a backpack. The base package includes a pair of spare propellers, 6 spare screws, and a pair of spare control sticks.
It also comes with a remote control, which you connect to your smartphone. This allows you to watch and record the video during flight, but you can also put a microSD card in the drone to save video directly.
Flight time is about 30 minutes, and it comes with a quick-charge function. There are other features, such as GPS and a return home mode. However, some users state its GPS isn't very accurate, resulting in the drone not always reporting its position.
PROs
Folds for easy storage.
Quiet operation (71dB @ 3 ft).
Comes with all the equipment needed to use straight away.
3-axis gimbal
CONs
GPS isn't super accurate.
2. Premium Pick: DJI Mini Pro 3
Video Resolution: 4K @ 60 FPS
Gimbal: 3 Axis
Max Speed: 35.8 mph (57.6 km/h)
Battery capacity: 2250 mAh
Battery life: 34 min
Flight range: 11.2 mi (18 km)
Weight: 0.55 lbs. (249 g)
The DJI Mini Pro 3 is a recent upgrade to the Mini Pro 2 (reviewed below). It's not my top overall pick because it's quite a bit more expensive than the Mavic Mini. However, if you want a major upgrade in camera quality, it might be worth paying extra.
As you can see, it offers 4K resolution at 60FPS, which is pretty much top-tier video quality based on current technology. Of course, for this to be worthwhile, you'll need a 4K TV or computer monitor.
The battery can last up to 34 minutes, which is significantly more than the other DJIs on this list. As such, I wouldn't recommend upgrading for battery improvements. Generally speaking, DJI has reached the peak of lithium-ion battery energy density for drones, so you won't find much better flight times than these.
Despite us not having a specific decibel rating, the Mini Pro 3 is pretty quiet. You can check out this video for a sound test comparison between the Mini 2 and Mini 3. The latter emits 61-62dB of noise when level with the microphone (3ft. from the noise meter). Those values can vary with wind conditions, so expect some discrepancies from one test to another. The main takeaway of the test is that the Mini 3 appears around 4 to 6 dB quieter than the Mini 2, which is a big improvement.
Its biggest downside is that there's no real GPS improvement over previous models. As some users state, this is likely related to needing to keep it below a certain weight. Doing so means sacrificing sensors, which becomes obvious when you use the return to home feature. However, if you remain in control of the drone at all times, it shouldn't be an issue.
PROs
4K camera resolution at 60FPS.
Quietest on this list.
Improved flight range over previous model.
CONs
High price point.
GPS technology isn't any better than previous models.
3. Premium Pick No.2: DJI Mavic Mini 2 Quiet Drone
Video Resolution: 4K @ 30 FPS
Gimbal: 3 Axis
Max Speed: 35.8 mph (57.6 km/h)
Battery capacity: 2250 mAh
Battery life: 31 min
Flight range: 6.2 mi (10 km)
Weight: 0.55 lbs. (249.5 g)
The DJI Mavic Mini 2 has a noise level of 64 dB in flight @ 3 ft. distance. In short, this is a biffed-up version of the DJI Mavic Mini above while keeping the same dimensions (55x32x22 in.). However, it does come at a cost as it's around 50% more expensive than its above predecessor.
The Mini 2 is noticeably quieter than the original Mavic Mini. The latter has a higher pitch, while the Mini 2 is low pitch and more pleasant to the ear. It's worth mentioning that the Mavic Mini 2 is one of the quietest in the DJI Mavic lineup. The higher-end DJI Mavic Air 2, for example, is louder with a noise emission of 74dB, 2ft away.
The quadcopter features a 4K camera instead of the 2.7K camera. It has a 4x zoom feature if you're into that. Moreover, the camera is mounted on the same 3-axis gimbal for better stability when shooting videos.
With a longevity of 31 min, the battery can last 1 min longer than the original Mavic Mini. Whatsmore, it has an increased top speed of 23% compared to the previous model, topping at 35.8 mph. It's worth mentioning that DJI also rose the wind resistance from level 4 to 5. A level 5 means the drone can keep its balance and position under wind gusts going between 19-24 mph.
It's still a light and portable mini drone as you keep the ability to fold it up. The remote control is the same, except that now the drone has a range of 10 km (instead of 4 km).
Unfortunately, the GPS is still the main downside of this Mavic Mini series. The loss of GPS connection was already an element that users complained about on the original Mini. The Mavic Mini 2 has no apparent improvement in that regard.
PROs
Footage looks great.
Solid flight time.
Noticeable noise improvement to DJI Mini 1.
CONs
High price point.
No improvement on GPS reliability.
4. Parrot ANAFI Drone
Video Resolution: 4K @ 30 FPS
Gimbal: 3 Axis (2 mechanical, 1 digital)
Max Speed: 34 mph (55 km/h)
Battery capacity: 2700 mAh
Battery life: 25 min
Flight range: 2.4 mi (4 km)
Weight: 0.70 lbs. (320 g)
The Parrot Anafi is a worthy challenger to the Mavic Mini 2. Its noise level is around the same as the Mavic Mini 2 above, 64 dB @3ft in outdoor conditions. The video here compares both models indoors, so don't pay too much attention to the absolute dB values; instead, observe that their average dB is the same.
As such, the Parrot Anafi is incredibly quiet for a drone, but the counterpart is its price. It's more expensive than the Mavic Mini 2.
As expected, it comes with premium features such as a 4K (30 FPS video camera) and a 21 MP photo resolution. You could even go as far as shooting in 4K cinematic (4096×2160, 24 FPS). The camera has a hybrid 3-axis gimbal. Roll, and pitch are mechanical, and the yaw axis is digital. I would have preferred a full mechanical gimbal.
It can resist gusts blowing up to 31 mph, earning it a wind resistance level of 6. This is better than both Mavic Mini and Mavic Mini 2.
With 25min of estimated flight time, battery life is not exceptional. It's average for a drone of this weight and size. It's also easily foldable and so is easy to pack and go. It's worth mentioning that at 0.7 lbs (320g), it's 28% heavier than the Mavic Mini 2.
To navigate the drone, you use a controller on which you plug your phone and use the dedicated Freeflight 6 app. The range of action is 2.4 miles (4 km), which is decent but below top models going up to 6.2 miles (10 km).
In the box, you get 8 propeller blades, a carry case, a controller, a battery (no spare), and surprisingly a 16GB micro SD card. That's welcome, as it's rare nowadays to have SD cards included.
Unfortunately, there are several downsides to the Parrot Anafi despite the premium price, which is why I ranked it below the DJI Mavic Mini 2.
You have to pay an additional 20 $ to unlock the "Follow Me" or "Flight plan" feature.
There's no way to check the battery level without the phone being connected.
The location of the SD card slot is inconvenient. You need to remove the battery to swap the SD card.
It doesn't work great in urban areas where electromagnetic interferences are higher.
PROs
Easy storage.
Quiet operation (64dB @ 3 ft).
Camera gives good quality footage.
Hybrid 3-axis gimbal works well.
16 GB SD card is included.
CONs
Signal is weak in urban areas.
SD card slot is not easily accessible.
Need to pay to access the Follow Me mode.
Can't check battery level on the go.
Flight range is disappointing.
5. Top Budget Pick: Altair 818 Hornet
Video Resolution: 720p
Gimbal: No
Max Speed: 35.8 mph (57.6 km/h)
Battery capacity: 1000 mAh
Battery life: 13-15 min
Flight range: 500 ft (150 m)
Weight: 0.547 lbs. (248 g)
While this isn't the least expensive drone on the market, the Altair 818 strikes a nice balance between cost and quality. It's marketed as a beginner's drone and comes with all the parts you need to fly straight out of the box.
Its camera captures 720p images. This is HD but obviously lacks the quality of a 4K camera. But considering the price, you get a decent image during hovering, although it can get a bit choppy during flight. There's no information on whether it has a gimbal, so the video relies only on the stabilization features within the camera.
There's also a remote control that has 3 skill levels. Each unlocks more maneuverability, allowing you to become familiar with how to fly a drone. It's a great feature, particularly if you're getting kids involved. As such, the Altair 818 is great for beginner drone pilots.
Like the GEPRC below, the blades are ducted. While they're not as good quality, it does help regulate noise levels. The blades are pretty skinny, but the model is lightweight, so this isn't a massive issue.
It comes with 2 batteries, giving it a total of 30 minutes of flight time. You can pair it to a smartphone to control it, but this isn't necessary. The pack also comes with spare blades and motor, meaning you're covered for beginner's crashes!
Perhaps the biggest downside of this quiet drone is its durability. It feels quite flimsy compared to some other models, but it should be fine if you take care when handling it.
PROs
Good introduction to drone flying.
Fairly quiet drone for a budget model.
Comes with everything you need to get flying.
Spare parts included.
CONs
Not as durable as other models.
6. GEPRC CineLog 35 6S Freestyle Quadcopter
Video Resolution: 720p
Gimbal: No
Max Speed: NC
Battery capacity: 1100 mAh
Battery life: 12 min
Flight range: NC (Dependant on receiver: TBS Nano Rx)
Weight: 0.52 lbs. (236 g)
The GEPRC was almost my top pick for the quietest drone mainly because it has ducted rotors – known in aeronautics as shrouded rotors. Without getting too technical, the shrouds reduce the air pressure generated by the blades and, by extension, improve efficiency. It means less energy is wasted and noise emissions are reduced.
Considering its price, it, unfortunately, doesn't come with a high-resolution camera. The default camera gives decent footage. It's the Nebula Pro Vista, a 720p camera. On the other hand, you can strap either a GoPro 9 or 10, which capture 4K video. It's also compatible with a range of other cameras. Of course, this does add an extra cost, but it's worth it if you're into drone filming.
Speaking of drone filming, this drone is a Cinewhoop. Thanks to its high stability and small form factor, it's meant for cinematic shots, which helps it fly through tight spaces. Cinewhoop drones have recognizable traits such as 3″ ducted propellers. This allows them to safely get close to their subject while remaining agile (because of the extra lift the shrouds provide). Depending on the mounted camera, you can even use an FPV headset.
The body is 3D printed and has damping rings to reduce noise and improve flight efficiency. There's also landing pads and a 1100mAh battery. It translates to 12 minutes of flying time, which is not a lot compared to the industry average.
The propellers are below the camera plane, meaning it's a pusher drone. Although the product advertises the duct around the propeller to reduce noise, it doesn't seem as effective. In the below clip, you can check the noise level, which sits at around 85 dB when 2-3 ft away. This is definitely not quiet but also not the noisiest drone.
The main downside of this drone is that it doesn't come with a remote control, but is compatible with universal ones. As such, it's probably not a beginner's drone, as you need other equipment to get it working. It misses out on the top spot because it's not as quiet as the DJI Mavic Mini. Plus, it's lacking a high-resolution camera, and, for this price, it's a bit of a downside.
PROs
Cinewhoop drone: great for cinematic shots
Compatible with a range of cameras.
Excellent maneuverability.
Great for close-up shots.
CONs
Requires other equipment to work properly.
Ducted propellers are not as efficient as advertised
Battery life could be better.
7. Ruko F11GIM
Video Resolution: 4K @ 30FPS
Gimbal: 2-Axis
Max Speed: 33.5 mph (54 km/h)
Battery capacity: 2500 mAh
Battery life: 28 min
Flight range: 4922 ft. (1.5 km)
Weight: 1.29 lbs. (585 g)
While the Ruko F11GIM doesn't list a decibel rating, users state it's comparatively quieter than other drones they've used. The manufacturer lists the drone's brushless motor as a noise-reducing feature. However, considering the main noise source is the propellers, this isn't saying much.
It's another portable drone, which is useful for transportation. Luckily, it comes with a carry case to protect it while it's in your bag. The case also has space for the included controller and spare battery (each with 28 minutes of flight time), which is helpful.
This quiet drone has various GPS settings, such as follow me, return home, and gesture shooting. While some of these aren't necessary, they do make using the drone more interesting.
The included camera is 4K and it has stabilization features to reduce image blur. You can fit it with a memory card for video storage, but you can also watch the video on your smartphone during flight. To collect footage at 4K, make sure to use the SD card. You could download the photos and videos via your phone but it bottlenecks the resolution to 2K.
It has a 2-axis gimbal, which stabilizes for side-to-side and forwards and backwards. Depending on what you're filming, missing the up and down stabilization could be a deal-breaker. If so, the DJI Mavic Mini will be the better choice.
Some users comment that the GPS fails when there are obstacles, such as buildings and trees. While this isn't surprising, it does mean you can't rely on it all the time. Only use the GPS features in wide open spaces where there are minimal things between you and the drone.
PROs
Comparatively quiet operation.
4K camera included.
Comes with everything you need to use.
Flight time above average.
CONs
GPS functionality isn't great in built-up areas.
How Loud are Drones?
As a general rule, commercial drones will produce between 60dB and 90dB of noise 2-3 feet away from it when in use. This is quite a range; in real-world terms, this is the difference between a normal conversation and standing next to loud traffic.
If you're looking for the quietest drones, be prepared to spend a few thousand dollars. I've avoided those on this list, as they're only really for stealth drones and specialist situations.
They emit less noise when in stationary flight. On the other hand, they'll emit more noise when adjusting position because of gusts of wind. In short, there's no such thing as a silent drone. Due to the way they work, you'll always end up with some level of noise. As such, a realistic expectation is probably 70dB or below. Anything more, and we're moving into the territory of a loud drone.
Pay attention to the distance at which you stand from a drone when assessing its noise level. The dB rating will decrease 6 dB each time you double the distance between you and the drone. It means a dB rating without the recording distance is not worth much.
To understand what to look for in a quiet drone, let's look at the common sources of drone noise.
Noise Sources in Drones
Knowing your way around the noise sources of drones will help you pick out a quiet model, even if it doesn't give a decibel rating.
Motor
Drones obviously have motors to power the propellers. They'll either be brushed or brushless motors. We don't need to go into detail about the differences between the two, as it's not super relevant here.
All that matters is that brushless motors are quieter than brushed motors. But brushless motors are more expensive, so be prepared to pay more if you want to reduce drone noise in this area.
That said, compared to other noise sources, motor type is fairly marginal. You'd be better focusing on something like the propellers because these are more important.
Propellers
A drone's propellers are the main culprits of noise. They spin to create thrust, which lifts the drone so it can fly. This, in turn, creates noise. Luckily, there are various things we can do to reduce the amount of noise they produce.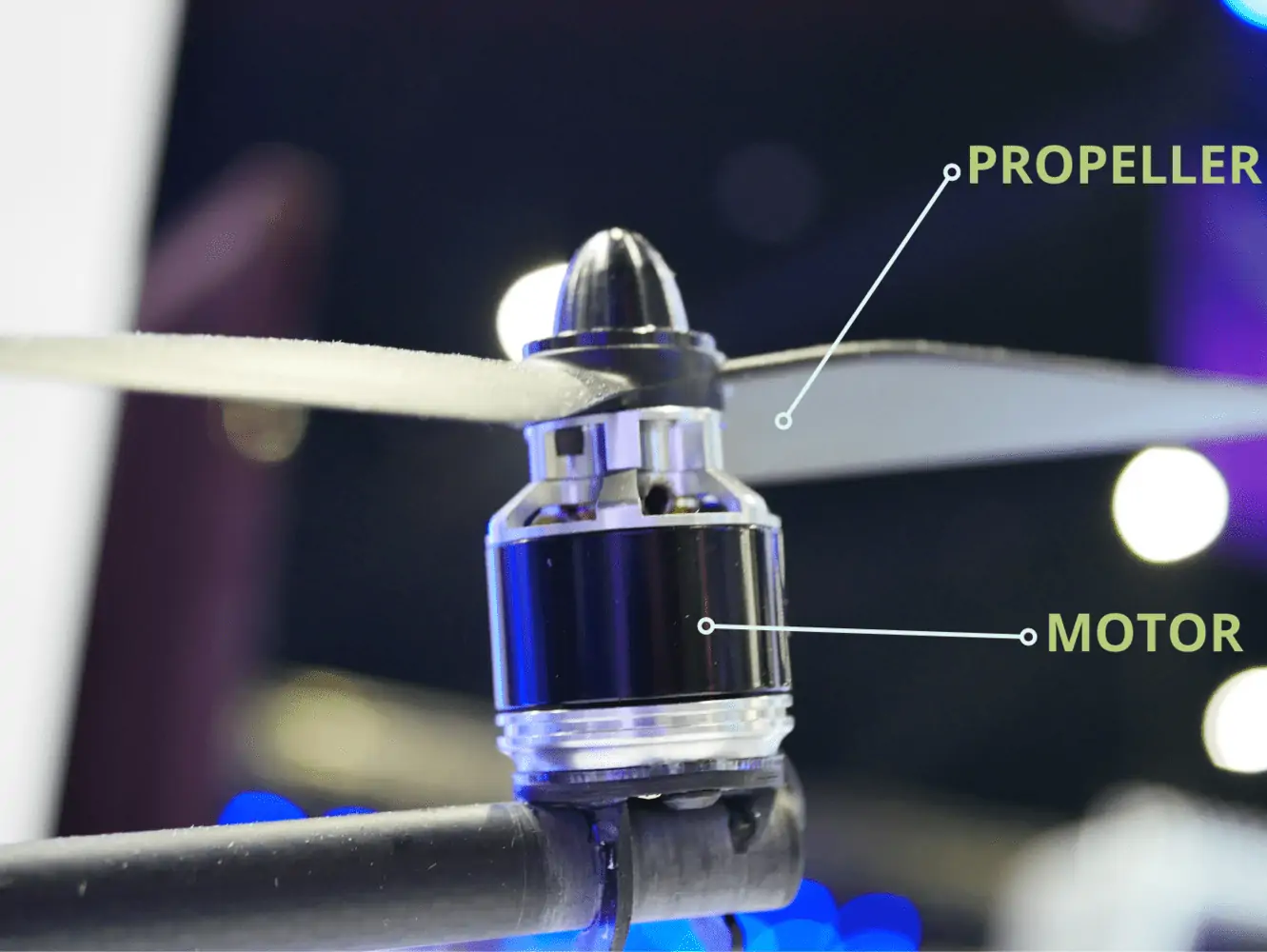 Larger propellers generate less noise because they create more thrust and so don't spin as much compared to smaller ones. Smaller propellers will also have a higher pitch, which can make a noise more annoying.
We can compare propellers to computer graphics cards' fans, or any other fan for that matter.
A propeller's depth and pitch (angle) also affect noise levels, again because of air displacement. Deeper propellers displace air more easily, meaning they generate less noise.
Finally, we must consider ducting. A ducted propeller is more efficient than an open one because it reduces blade tip losses. This is another way of describing the airflow vortices at the tip of the propeller blades. In short, ducted fans produce less noise because there's less turbulent airflow.
It's the same technology used by a company called Lilium, which builds eVTOLs. These are, in essence, giant drones, so the logic remains valid for smaller drones, too.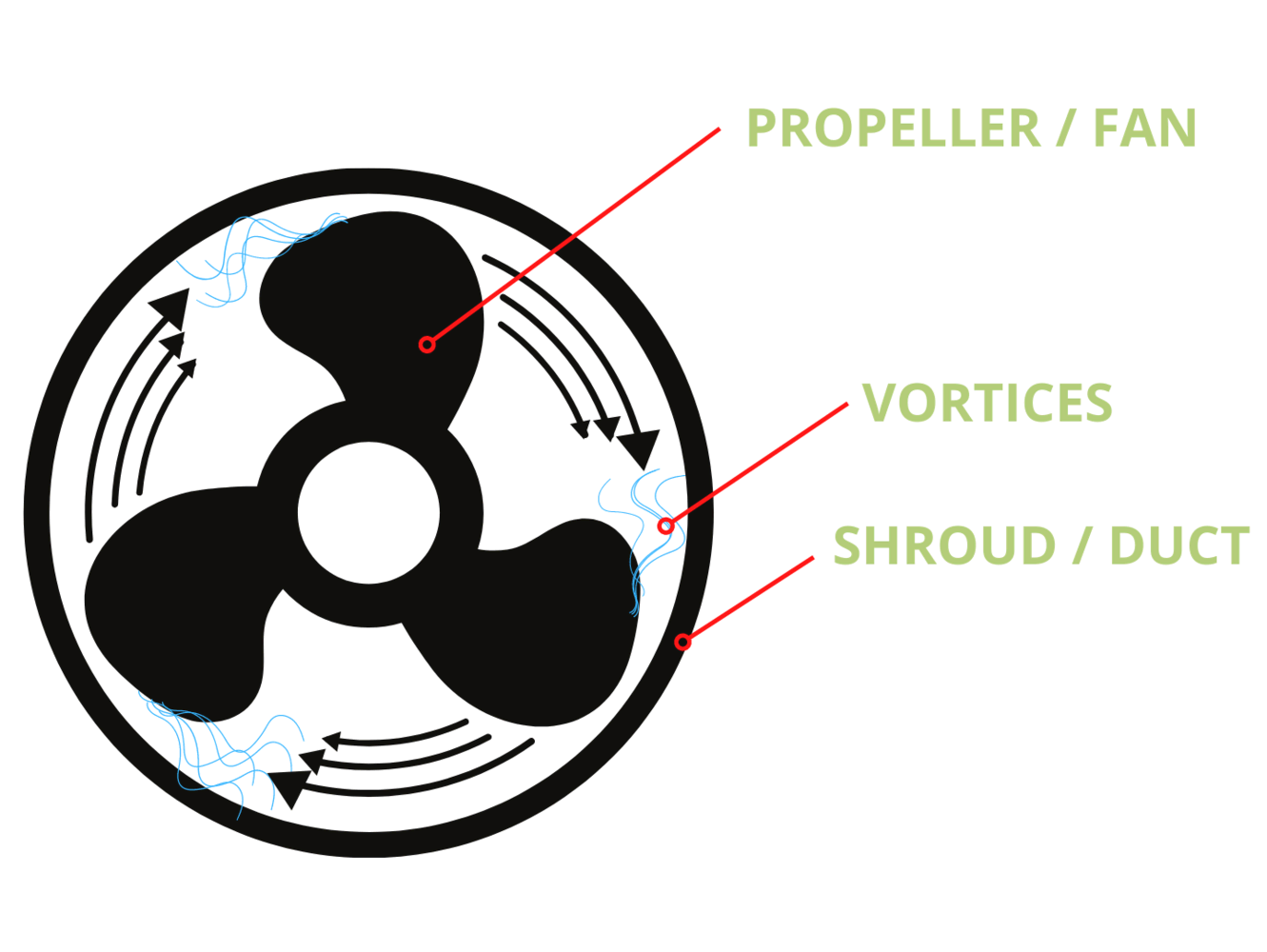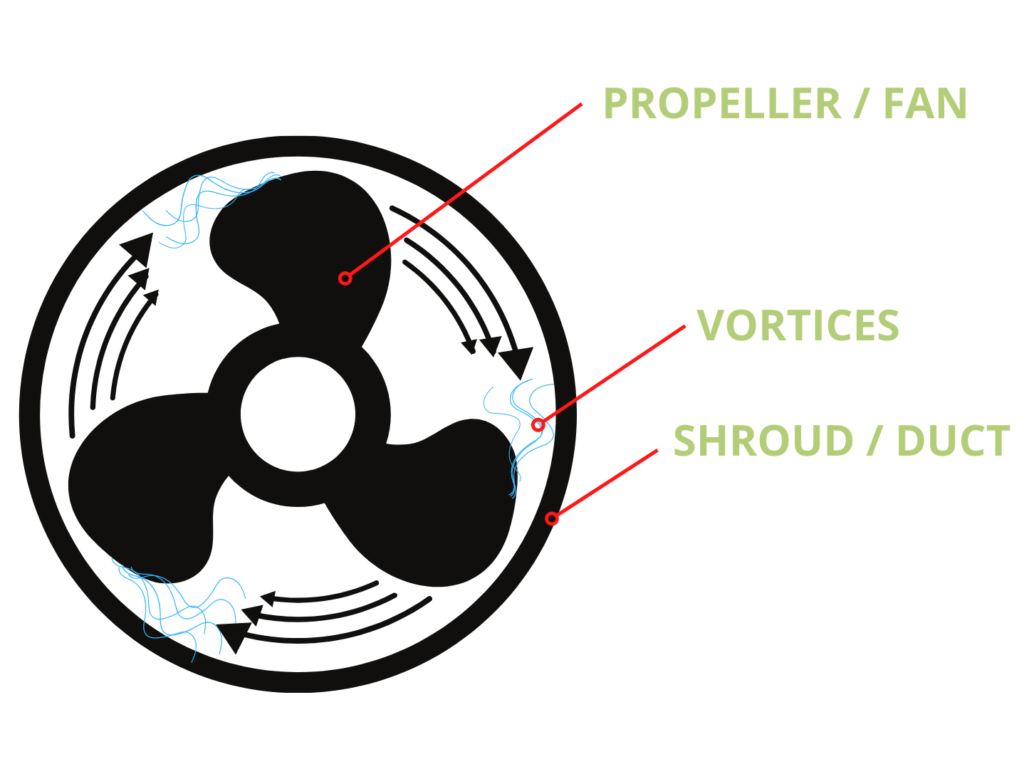 Size and Weight
Unsurprisingly, a drone's size and weight affect its noise emissions. A heavier drone will have propellers that spin faster to keep it in the air. Luckily, all the drones I've listed here fall under the 250g legal limit for recreational purpose, so this isn't a massive factor. Any drone exceeding 250g required to be registered with the FAA (US Airworthiness Authorities).
Features to Look for when Prospecting
Other than the features listed above, there's plenty to consider when picking out the best drones on the market. Here's what I consider to be the most important.
Drone Type
Drones are generally categorized by the number of propellers they have. The most common configuration is 4, known as a quadcopter. You'll also find setups of 6 (hexicopter) and 8 (octocopter).


In short, more blades mean quieter operation. This is because they don't have to work as hard to generate the same amount of thrust. If noise is a serious concern, look for an 8-blade model.
Also, more blades help balance the drone better. It means more stable hovering, resulting in better video. But you'll have to pay more for more blades, as it's a more specialist kind of drone.
Camera
Whether or not you'll use your drone for photography, a built-in camera is a useful feature. If nothing else, it helps you see where you're flying!
Image quality is completely up to you, but 4K is generally the standard. Buying a 4K model will future-proof your tech, too, as we're moving away from 1080p. 4K images will be clearer and you won't notice wobbles as much.
Look out for drones with gimbals. These keep the camera stable no matter what angle the drone is flying. Most models will have 1 gimbal, but 2 or more add more axes on which the camera can rotate.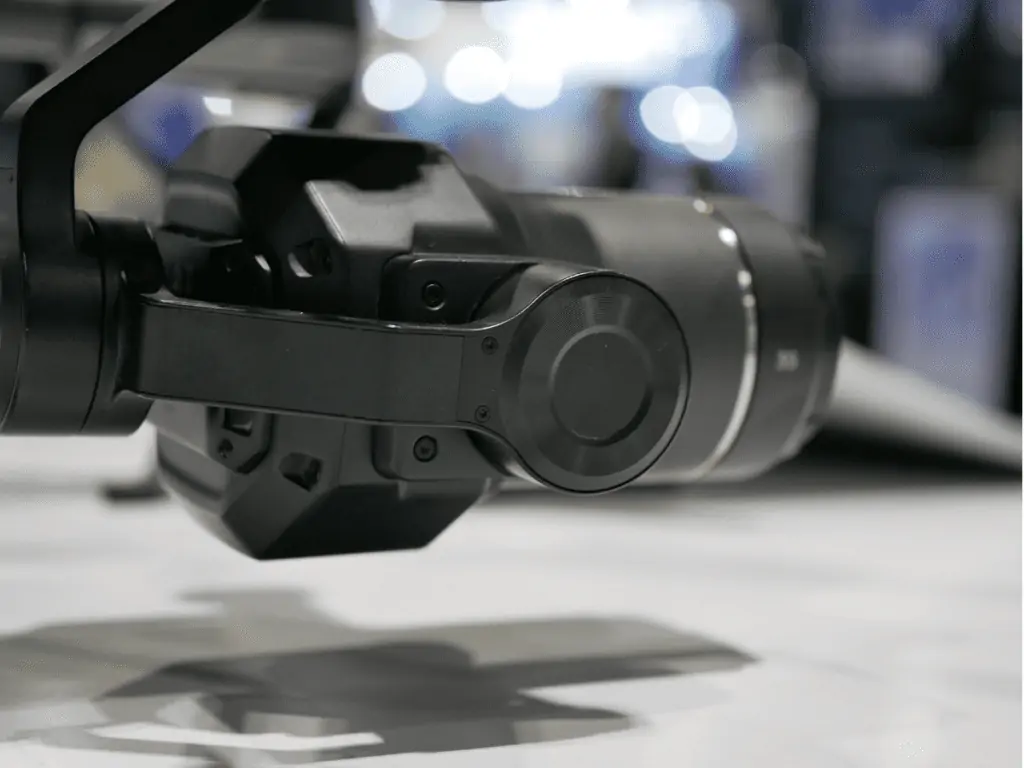 You should also consider features such as night vision and image capture if you plan to use the drone at night and in low-light situations.
Bandwidth and Upload Speed
While drones often feature memory cards to record video, you'll want to consider bandwidth. This relates to the video reaching your smartphone, allowing you to see where you're flying.
It works on the same technology as mobile phones, meaning 4G and 5G are standard. 5G is better for 4K video because it's a greater bandwidth, but its range is less than 4G. Whichever you choose, you shouldn't have a problem with your drone's imagery.
Controls
Drones will usually come with a controller, which looks like any other RC control. At the most basic level, it'll let you fly horizontally and vertically. But some come with more advanced features that let you change flight angle and even fly upside down.
If you're new to drone flying, look for one that comes with skill levels. You control these through an app on your phone. They'll disable some features and set a maximum flight range and height. As you get more experienced, you'll be able to go up levels to try more advanced settings.
Also, look out for GPS connectivity and intelligent flight mode. It enables things like autonomous flight, as you can set the drone to navigate itself. This means you can let it fly home alone, circle a set point, follow you, and more. It's not necessary for beginners but makes flights more fun and gives you more photography options.
Flight Time
Drones run on batteries, which shouldn't come as a surprise. It's the same lithium-ion battery technology you'll find in your smartphone. Unfortunately, drones are pretty energy-intensive, meaning they don't last ages.
This is because they must balance the weight to power ratio. While they could use larger batteries, the added weight would drastically reduce flight time, making them useless.
A single battery will typically get you between 15 and 30 minutes of flight time. Most drones come with spare batteries, meaning you must land them and swap them over. If yours doesn't, you'll likely be able to buy spares from the manufacturer.
Flight speed, camera use, and other factors influence battery use. A manufacturer will always state flight time, but this will usually be the absolute maximum.
Build Quality
Build quality is important when picking a drone, as it'll help it survive crashes and transportation. Higher-end models are made from carbon fiber composites, which balance weight and durability. They're used in actual planes for this reason.
But cheaper models will use normal plastic, which is less durable. If you're a beginner, this is both good and bad. It keeps the price down, but you're more likely to crash.
Where it really matters is on the propeller arms. If you're buying a plastic drone, make sure the arms are fairly thick, as it'll reduce the chances of them snapping.
Regardless of what material you choose, your drone will never survive a high-impact crash. Just make sure it can survive basic flight and minor bumps.
Extra Features
Look out for sets that come with things such as extra propellers and a carry case. You'll be able to buy different propellers from the manufacturer or use third-party aftermarket parts. As I explain below, this can help you reduce the drone's noise emissions.
Also, some more advanced models allow for massive customization. For example, something like the GEPRC will let you change out the motor, propellers, and more, as it's all easily accessible. If you're serious about drones, this is a great thing to look for.
How to Make a Drone Quiet
If you already own a drone, it's worth looking at how to make your drone quieter before investing in a new one. Here are some tips.
1. Swap the propellers
Buy a new set of propellers that are larger, as these generate less noise. You'll find plenty of low-noise propeller options online. Just make sure they're compatible with your drone before buying.

2. Install shrouds
As mentioned, noise reduction shrouds are a great way of reducing propeller noise. A company called Dotterel makes drone shrouds along with a range of other noise-reduction technologies. You must be seriously into drones, though, as they're pretty expensive.
3. Sand down your drone
While it won't make the biggest difference, sanding down your drone is the least expensive option. Focus on removing things like brand markings and mold remnants to reduce drag. In turn, this improves flight efficiency.
4. Change the motor
If your drone has a brushed motor, change it for a brushless one. It won't be possible on all models, but higher-end ones usually allow you to modify parts. Also, consider adding in several smaller motors. Doing so means they'll make less noise but also work less than a single large motor.
Final Thoughts
Hopefully, you're now armed with the right information to pick the quietest drones on the market.
My top pick is the DJI Mavic Mini Silent Quadcopter. It's a portable mini drone with decent noise emissions and extra features, making it suitable for beginner drone pilots and pros alike.
Of course, if you're on a budget, or new to droning, the Altair 818 Hornet will be a good choice.
Do you have a favorite silent drone that I haven't mentioned? Let me know below.