Choosing the quietest bike trainer is much like choosing a quiet exercise bike. The difference, of course, is that you can use your regular bicycle, making it a good option if you don't have loads of room indoors.
In this article, I review my top picks for the best quiet bike trainers that'll turn your bicycle into an indoor workout setup. First, let's look at the components in a bicycle trainer, so we know what makes noise and how much to expect.
The Noise Factors of Indoor Bicycle Trainers
In general, a bike trainer is a piece of equipment that fits onto your bike's rear wheel. It works similarly to an exercise bike in that it uses the bike wheel to create resistance. Some of the most important parts are:
Skewer. This goes through the wheel axle, attaching the bike to the trainer.
Roller. The wheel sits on this to make the other components move.
Resistance unit. Unsurprisingly, this generates resistance. There are different methods of doing so, as I'll explain later.
Resistance control. This attaches to your handlebars and allows you to change the resistance settings as you cycle.
A bicycle trainer will also have feet, a skewer tightener, and hinges, but these hardly need defining.
How Loud is a Bike Trainer?
Depending on the technology, you can expect a bike trainer to produce anywhere between 50dB and 70dB. In real-world terms, this ranges from a refrigerator to a vacuum cleaner.
We can expect both impact and airborne noises from a bike trainer. Let's look at these in more detail.
Airborne Noises
An airborne noise is one that travels from the source to your ears through the air. Common examples include people talking and TV sounds. On a bicycle trainer, sources of airborne noise will include:
The back wheel running on the roller
The bike's pedals
The resistance unit
While airborne noises are the most difficult to block, they're not too difficult to prevent instead. For example, some resistance technologies are much quieter than others, as I'll discuss in more detail below.
Impact Noises
Impact noises result from an object making contact with a surface. The most obvious with a bike trainer will be it wobbling on the floor or the initial noise of setting it up.
We won't be able to do much about impact sounds when buying a bike trainer, as it relates more to how (and where) you use it. But there are things we can do about impact sounds, such as setting the bike up on foam mats.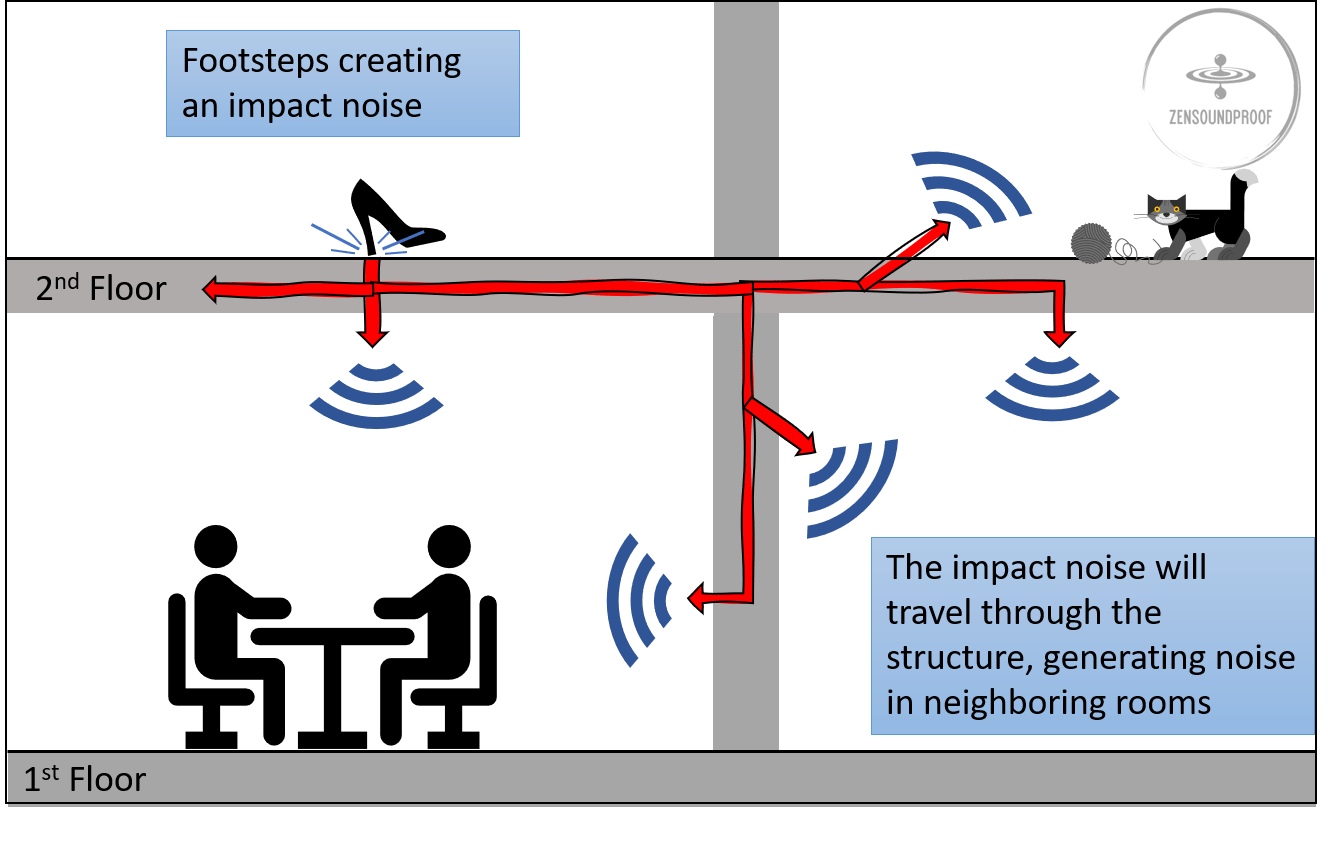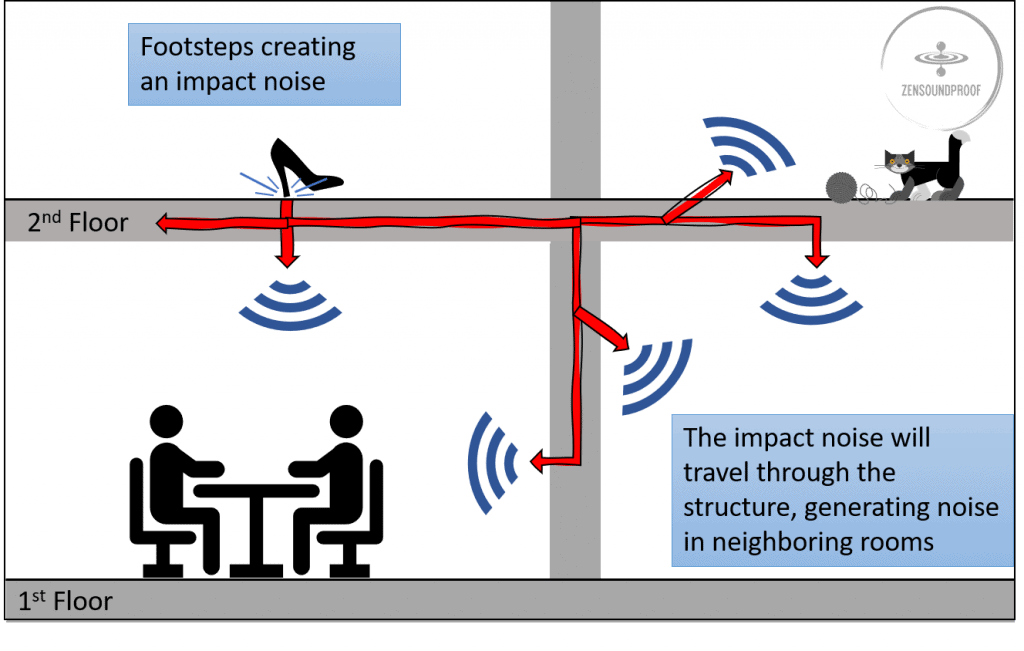 When it comes to picking out the quietest bike trainer, it's unlikely we'll have many decibel ratings to go on. Instead, we'll be realistic in our expectations and focus on the quietest types of technology.
Top 5 Quietest Bike Trainers
As mentioned, it's unlikely there will be many decibel ratings available in this product category. To compensate, I'll focus on customer reviews because noise levels are fairly important when choosing the best quiet bike trainer.
Top Pick: Cycleinn Magnetic Bike Trainer Stand
Compatible wheel size:
– [26″-28″]
– 700C
Flywheel resistance type: Magnetic
Resistance settings: 8 (knob)
BT Connectivity: No
Load capacity: 265 lbs (~120 kg)
Noise level: NC
This Cycleinn bike trainer is my top pick because it uses the quietest resistance technology: magnetic. Because it uses magnets to generate resistance, there's no friction inside the flywheel, meaning it's about as close to silent as you'll get.
Importantly, there are 8 resistance settings, which you can adjust manually. It means you don't have to pedal faster to work harder, as you do on fluid resistance trainers. You can choose the resistance setting via a knob that can fit on the handlebar for convenient adjustment during training.
The skewers lock into place separately, but the whole system is pretty secure. It's suitable for wheels 26-28" in diameter, although the manufacturer recommends using road tires. This is because the trainer can run the tread down fairly quickly on mountain bike tires.
You have to assemble the frame, but this isn't difficult. It has rubber feet that are adjustable, which allows you to keep the frame level on different surfaces. Although this is fairly minor, it's great for setting the trainer up on something like carpet.
The only downside of this bicycle trainer is how quickly it can wear the tread off your tires. The manufacturer states that if this is happening, you have the tension set too high. So, it might be an easy fix, but it does remove some of the point of using an indoor bike trainer.
PROs
Quiet resistance technology.
8 resistance settings.
Fits most standard bikes.
CONs
Wears through tire tread quickly.
Top Budget Pick: CXWXC Magnetic Bike Trainer
Compatible wheel size:
– [26″-29″]
– 700C
Flywheel resistance type: Magnetic
Resistance settings: 6 (knob)
BT Connectivity: No
Load capacity: 330 lbs (~149.7 kg)
Noise level: NC
It should be no surprise that the budget pick is also a magnetic resistance bike trainer. Considering it's roughly half the price of my top pick, it's a good way into indoor bike training for those who don't want to spend loads.
This bike trainer uses the same magnetic resistance technology, but it only has 6 levels. You won't really lose much by not having as many levels, although it obviously means slightly less flexibility.
It has a load capacity of 330lbs which is surprisingly high in comparison with the 265lbs of the Cycleinn above, and fits tires between 26" and 29". As with other magnetic bike trainers, it's best to use road tires because of friction issues. Not only will this wear your tires down, it'll also create more noise.
The frame is another folding model, and everything locks into place with a few bolts. As such, it's easy to store when not in use and is secure when your bike is mounted on it. The frame, combined with the front wheel chuck, provides a stable riding platform.
The weight of this model is not as optimized (10.3kg ~ 22.7lbs) as, say, the Cycleinn above (8.19kg ~18lbs). It remains easy to transport nevertheless.
Some users state that their indoor trainers came with missing pieces. However, this was easy to solve by returning the model and replacing it with a new one. Make sure you get everything out before throwing the box away, as you might need to send it back!
PROs
Decent quality for a budget model.
Quiet resistance technology.
6 resistance settings.
3. Alpcour Fluid Bike Trainer Stand
Compatible wheel size:
– [26″-29″]
– 700C
Flywheel resistance type: Fluid
Resistance settings: No
BT Connectivity: No
Load capacity: 220 lbs (~100 kg)
Noise level: NC
This Alpcour bike trainer is a fluid resistance bike trainer. In short, fluid heats up as you pedal, generating more resistance. It's one of the quieter resistance technologies (second to magnetic) but does lack resistance control.
The frame is stainless steel and has anti-slip rubber feet. Along with providing stability, these will help reduce impact noise slightly. Some users state that the frame is really easy to set up out of the box, taking around 10 minutes. On the other hand, a non-negligible amount of users complained that the assembly was difficult because of vague instructions at the flywheel level. To solve this, I'd recommend checking this step-by-step assembly video.
Alpcour claims this bike trainer has noise reduction technology, although it doesn't state what this is. It's fair to assume it might be the fluid resistance flywheel, as it apparently doesn't whir. It's marketed as apartment-friendly, and users state it's fairly quiet.
You can fold the trainer up and store it in the provided bag. Considering bike trainers are meant to save space, this is a useful – albeit minor – feature. Everything locks into place when in use, so you don't have to worry about it collapsing!
The main drawback of this model is its resistance. As it's progressive resistance, you don't have loads of control over it. Also, as some users point out, it doesn't provide loads even when you're cycling fast. So, if you want complete control over your resistance settings, consider a magnetic bike trainer instead.
PROs
Easy to set up.
Fluid resistance trainers are fairly quiet.
Compatible with 26-29" wheels.
CONs
Progressive resistance isn't great for intense workouts (like climbs).
Vague assembly instructions.
4. Saris H3 Direct Drive Smart Trainer
Compatible axle:
– Thru-axle: 142 mm, 148 mm
– Quick-release: 130 mm, 135 mm
– Shimano/SRAM 8-11 speed cassette
Flywheel resistance type: Magnetic
Resistance settings: Adapt to routes in training apps
BT Connectivity: Yes
Load capacity: 300 lbs (~136 kg)
Noise level: 59 dB @20mph
If you want a bike trainer with all the bells and whistles, this one from Saris could be for you. It uses electromagnetic resistance (the quietest type) and features Bluetooth connectivity.
This is the first bike on this list that has smart features, such as compatibility with Zwift and Rouvy apps. You'll be able to track your performance and ride real-world routes with Zwift or Rouvy.
Despite looking futuristic, it uses the same thru-axle connection setup as other models. It's a direct drive model, meaning you remove your bike's rear wheel and attach the trainer where its axle should be.
Removing the tire-roller issue from the equation means you don't need to worry about wearing down your tires. More importantly, no friction with the tires means one less source of noise.
Unlike other models, this bike trainer comes with a decibel rating: 59dB. This puts it pretty much in the middle of our desired range, and this is when you're cycling at 20mph. At lower speeds, it'll be quieter.
Although this model has folding legs, it isn't as compact as the other trainers on this list. This is because you can't fold the body up. That said, it's not massive, so it shouldn't make loads of difference.
Some users state that the included instructions are awful and make it difficult to assemble what should be a fairly simple product. Luckily, Saris has made a video that includes assembly, which you can find below.
PROs
Operation noise level contained under 59dB.
Bluetooth connectivity for fitness apps.
No need to worry about tire wear.
Less wobbly and less noise because there's no tire-roller contact.
CONs
Included instructions are unclear.
5. Saris Fluid2 Indoor Bike Trainer
Luckily, Saris has included a decibel rating for this fluid trainer, too. This time, it's 69dB, which should illustrate the difference in noise level between the 2 quietest resistance types. This is in part because the bike wheel makes contact with the resistance unit, so it'll always be louder.
This trainer comes with a speed sensor, which you can connect to your indoor cycling app via Bluetooth. As such, it functions much like the smart trainer above but at a lower price.
Unlike the smart trainer, you don't need to remove your back wheel with this model. It's arguably easier to set up as a result, although if your bike has a quick-release wheel it won't make that much difference either way.
It comes with all the same features as the other bike trainers on this list: it's foldable, easy to assemble, and uses skewers to attach to your bike. It doesn't necessarily provide more functionality than the cheaper bike trainers, but its build quality is pretty high.
As with other fluid bike trainers, it uses progressive resistance. It means you can't manually set your resistance level, but its higher levels are more intense than the Alpcour bike trainer. This might not justify it being more than double the price, though. If you want ultimate control over your resistance, magnetic is the way to go.
PROs
Comes with a speed sensor that connects to cycling apps.
Easy to assemble and store.
CONs
Progressive resistance isn't for everyone.
Operational noise level of 69dB is average.
The Different Types of Bike Trainers
Although I've only featured 2 kinds of bike trainers on this list, there are a few more. Here's a brief rundown of each, so you can understand the difference and why I didn't include some of them.
Roller Bike Trainers
A roller bike trainer is the most basic and, by extension, least expensive kind of bike trainer. They're literally a set of rollers on a frame that you sit your bike on. Unlike other bike trainers, nothing is holding your bike in place, meaning you need pretty good balance.
There's also nothing to generate resistance, other than shifting gears on your bike. Again, I haven't included any because the technology isn't great, and they can be pretty loud.
Flywheel Resistance
The 2 types of bike trainers I've included fall into the flywheel resistance bracket. It might be clear how they work already, but let's cover them again.
Mechanical Resistance
A mechanical resistance bike trainer has a resistance unit that sits against the trainer's flywheel. Much like a brake pad, it uses friction to generate resistance. You can have resistance settings where the pad is forced closer to the wheel.
As you can imagine, this gets fairly loud. It's why I haven't included any here – for the most part, the technology is outdated and noisy.
Magnetic Resistance
Magnetic resistance trainers, unsurprisingly, use magnets that create tension against the flywheel. You can adjust the settings by moving the magnets closer or further away from the flywheel (which attaches to your bike wheel).
We can break this down further into electromagnets and mechanical. Electromagnets provide immediate resistance and are changed digitally. Mechanical magnets are adjusted using a dial or bolt to manually change the magnet's proximity to the flywheel.
Fluid Resistance
Fluid bike trainers contain a liquid that thickens as it warms up. As such, cycling faster and for longer generates more resistance.
This is why we refer to it as progressive resistance – it increases with time. While fluid trainers can be pretty quiet, not everyone appreciates the progressive nature, as being able to manually change settings is useful.
Air Resistance
Air resistance bike trainers use a fan that spins against the normal airflow. The fan spins faster as your pedaling speed (and bike wheel) increases. This is how they generate resistance but, by extension, a lot of noise. They're inexpensive but should be avoided if noise levels are one of your main concerns.
Features to Look for in a Quiet Bike Trainer
So, resistance technology is obviously a big buying consideration, but what else should we be looking for? Here are some of my top suggestions for useful features in an indoor bike trainer.
Bike Attachment
In one way or another, you need to attach the trainer frame to your bike. This is typically done either with skewers or a thru-axle setup. Both essentially do the same thing: they go where your wheel's axle should be.
Some bike trainers, such as the Saris smart trainer, require you to remove your wheel completely. This doesn't make a massive difference to functionality, but it does save you from wearing down your tire tread. You could also argue that the vibration due to the imbalance of the tire wouldn't affect the stability of the trainer frame.
Either way, make sure your chosen bike trainer is compatible with the size of your bike. This is generally based on wheel diameter – for example, 26-29" – and should be stated clearly on the product's specification.
Stability
Stability is an important feature when choosing a bike trainer, both for your safety and the overall noise level. Make sure your model has rubber feet at the very least and, if it's foldable, that its frame locks together when in use.
Some have adjustable feet, allowing you to vary the height depending on the surface you're using. It's an important feature for stability, as bike trainers are a bit wobblier than exercise bikes. However, you can get around this by using it on a flat surface.
Your bike trainer will come with a front wheel chuck. It sits under the front wheel to provide stability, so make sure it's good quality and fits your tire.
Storage
As bike trainers are designed to be compact, most fold up for easier storage. It's not a super necessary feature unless you're really short on space indoors.
However, some fold up better than others. For example, plenty of smart trainers only have folding legs, whereas normal trainers fold in half. Some even have storage bags to keep everything clean and tidy.
The important thing is to make sure the frame locks together properly when in use. You'll typically do this using a bolt or latch, although some might just have hinged legs. Providing you've unfolded it properly, stability shouldn't be an issue.
Tire Type
The type of tires fitted on your bike will impact both noise level and ease of use with a trainer. Most are best suited to indoor or road tires, as these have the least amount of tread.
A mountain bike tire, however, can create a lot of noise on a bike trainer. The deeper tread also gets worn down more quickly, particularly by some magnetic trainers.
There are a few ways you can deal with this. If it's not a massive issue, just use whatever tires are fitted on your bike. But if you want to do something about it, you could either choose a trainer that doesn't need a back wheel or switch to a road tire on your wheel.
Accessories
At the most basic level, a bike trainer needs a resistance unit, a frame, and something to attach to your wheel. However, there are other things to look for that could make your exercise experience better.
Resistance Control
As mentioned, this is something that attaches to your handlebars and lets you adjust resistance. It's not necessary, but it saves you from getting off your bike every time you want to change settings.
You'll typically find it on electromagnetic resistance trainers, as mechanical magnets use a bolt or dial to change settings.
Bluetooth Connectivity
If you use fitness tracker apps, such as Zwift, Bluetooth connectivity will be a helpful feature. It allows you to upload data directly from your bike trainer, much as you would with an exercise bike.
However, it can add quite a bike to the trainer's price. If you've got a smartwatch or other fitness wearable, this should do the job fine.
How to Make an Indoor Bike Trainer Quieter
If you've already got a bike trainer and want to make it quieter, here are some tips for doing so. Of course, none of these tips are as effective as buying a quiet bike trainer, but they should make a bit of a difference.
1. Use a mat
The best place to start is by putting some kind of mat under your bike. EVA foam tiles are perfect for this, as are cork sheets. If you don't want to buy something new, carpet or a rug will also do a decent job.
The aim is to dampen impact noise and muffle everything slightly. As mentioned, impact noise isn't something we can control in the model we buy, but putting a mat under the bike and trainer should stop it.
2. Check your tires
First, make sure your tires are pumped up enough. Flatter tires make more noise because there's more surface in contact, thus friction. And, while you're not cycling on a road, it'll still be noticeable on a bike trainer.
If possible, switch out to smoother tires. Road or indoor tires are the smoothest, so will make the least noise on a bike trainer. But if that's not an option, make your current tires smoother. You can do this by covering them with electrical tape.
Electrical tape is a good option because it's easy to peel off and doesn't leave residue on your wheels. It's also better to not leave the tape long enough so that it starts to peel off and be messy. Importantly, it'll also stop your tire tread from wearing down on the trainer's roller.
3. Maintain your bike
This might not generate the most noticeable results, but make sure your bike is well maintained. In particular, make sure you're oiling the chain and gears so they're not too clunky when you're cycling.
The same is true for the bike trainer itself. You probably won't have to do anything with the flywheel, but consider cleaning and lubricating any moving parts you can access.
Final Thoughts on the Quietest Bike Trainer
I hope you've now got a clear picture of how to choose the best quiet indoor bike trainer.
My top pick is the Cycleinn Magnetic Bike Trainer Stand. It's a good balance of price and noise level and is easy to fit onto your existing bike.
Of course, if you've got a bit more room in your home, consider opting for a quiet exercise bike instead. You can check out my article here.
Have you used an indoor bike trainer before? If so, do you have any tips for keeping noise levels down? Let me know in the comments below.