Choosing the quietest exercise bike is vital if you plan to work out in an apartment or shared building. While a noisy indoor exercise bike won't be a problem in your own basement, neighbors in an apartment block might not appreciate it.
In this article, I review my top picks for the best quiet exercise bikes. I'll also look at the noise levels we can expect from an exercise bike and how to pick the best quiet exercise bike.
Hopefully, by the end, you'll have all the information you need to make the right selection.
How Noisy Should an Exercise Bike Be?
An indoor cycling bike can emit between 55dB and 75dB of noise when in use. In real-world terms, this is the difference between a standard refrigerator and a vacuum cleaner. However, research has shown that it can reach as much as 93dB! The technology in the bike makes a massive difference to the noise it produces, as I'll explain later.
Sources of Noise in an Exercise Bike
Exercise bikes will produce 2 sorts of noise pollution when in use. These are:
Airborne Noise
Airborne noise is when sound waves leave their source and travel through the air before reaching your ears. On an exercise bike, some examples include the flywheel spinning and the pedals whirring.
When we're looking at a quiet exercise bike, airborne noises are mainly what we'll be targeting. They're more directly related to the bike's type, technology, and build quality than impact noises.
Impact Noise
Impact noise is created when an object makes contact with a surface, which transmits vibrations into a structure. On stationary bikes, for example, you would create impact noises by using the bike, which could make it wobble. Another example would be moving the bike around before using it.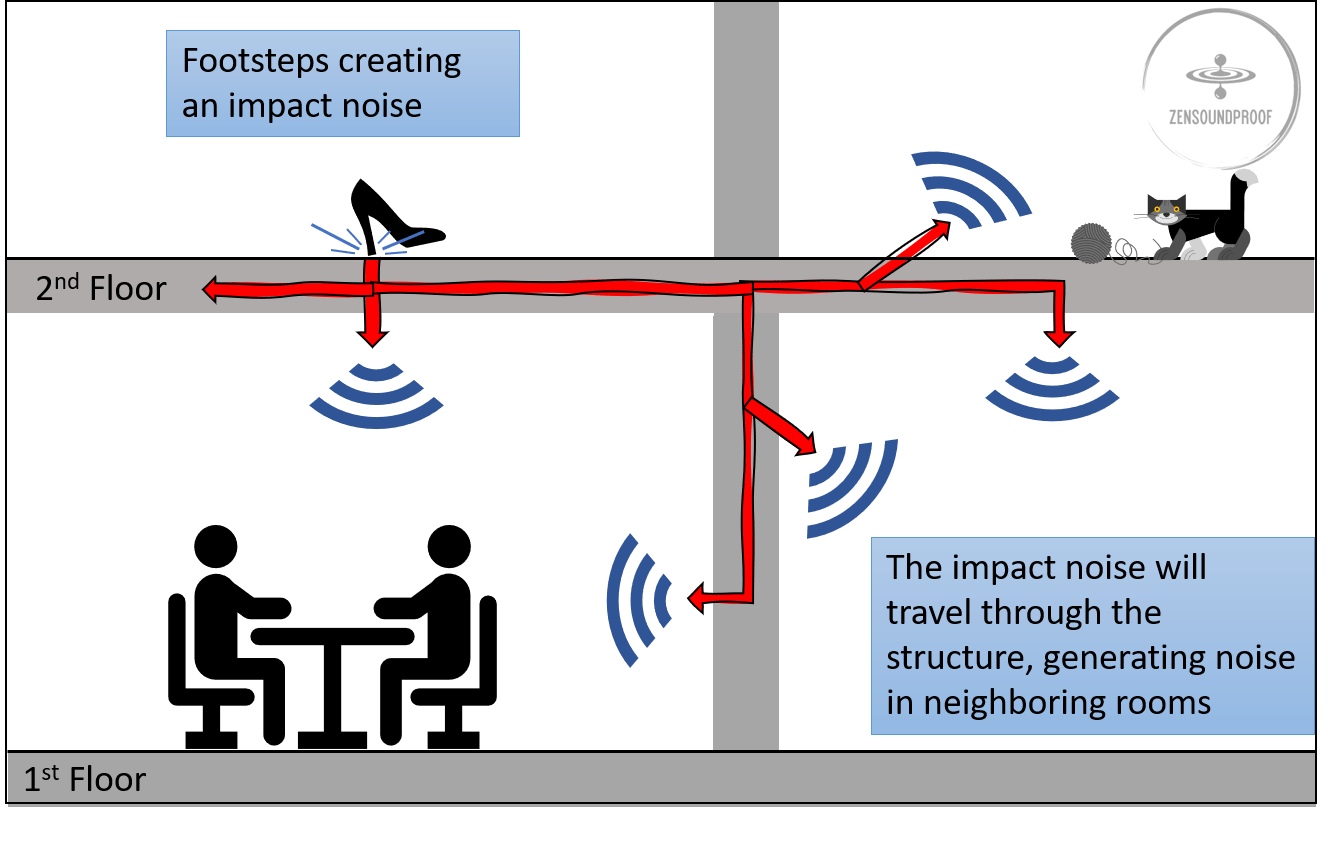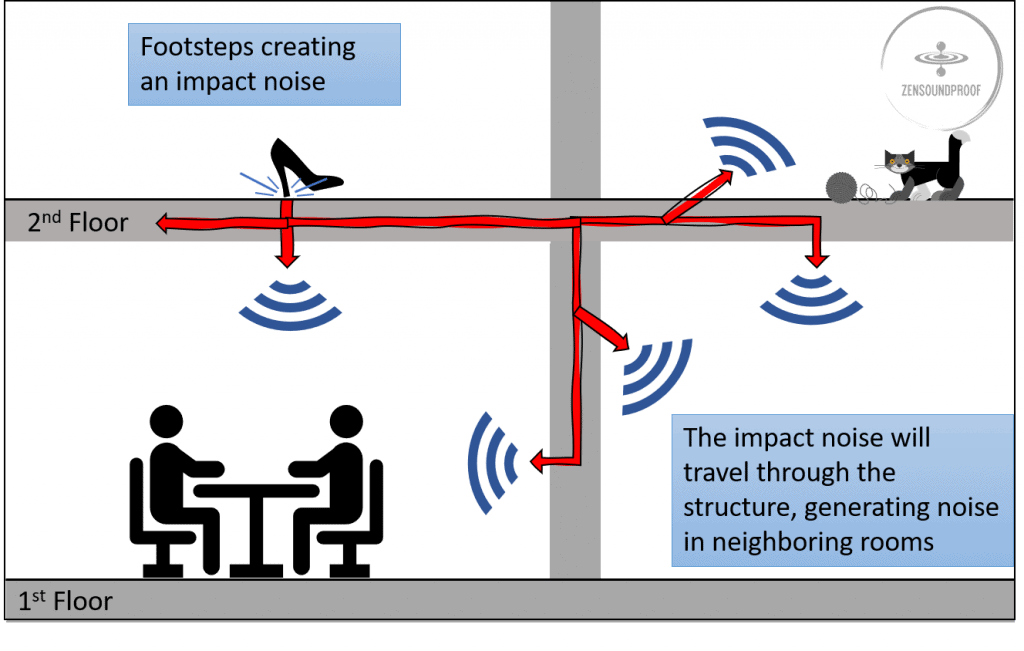 While some aspects of the bike's construction will affect impact noise (such as rubber foot pads), it's fairly easy to solve this problem with extra components. I'll discuss this in more detail towards the end of the article.
What Noise Level to Expect from a Quiet Exercise Bike
There's no set answer for how quiet an exercise bike should be. However, based on the numbers given above, we'll obviously aim for as close to 55dB as we can. Some stationary exercise bike models are pretty close to silent, as we'll see below in my top picks.
Top 7 Quietest Exercise Bikes
I've tried to include decibel ratings where possible, so I can objectively assess how quiet the exercise bike is. Not all exercise bikes offer this information, meaning we'll have to rely on user reviews instead. Either way, I've rounded up what I consider to be the best quiet exercise bikes available.
Top Pick: Bancon Magnetic Resistance Exercise Bike
Type: Spin Bike
Flywheel resistance: Magnetic
Resistance settings: 8
Performance tracker:
– LCD monitor
– Zwift APP for smart devices
Phone/ Tablet holder: Yes
Smart feature: Connect via Bluetooth to "Zwift" APP
The Bancon exercise bike is my top pick because it's about as quiet as you'll get, and it's reasonably priced. It uses a magnetic resistance flywheel, which means there's no physical friction. Although it'll still make a bit of noise, it drastically reduces excess emissions. What's more, the transmission to the flywheel operates via a belt, which is obviously quieter than a chain.
It's closest to a spin bike because the handlebars are tilted forwards. In short, this means you're able to switch between sitting and standing more easily for high-intensity workouts. However, people with back problems would be better with an upright or recumbent bike.
The handlebars are adjustable with a 3" range. The four way adjustable seat moves forwards and up or down – the latter has an 8" range. As such, it's suitable for people with legs between 27" and 36".
In terms of performance, it has 8 levels of resistance and an LCD monitor to track your metrics. There's also a tablet/phone holder, so you can watch videos while you cycle.
The only real downside mentioned by users is that the seat can be a bit wobbly. You can check out this video for some advice on how to fix this issue.
PROs
Magnetic resistance flywheel.
Bluetooth and Zwift connectivity.
Good build quality for the price.
Top Budget Pick: Magic Life Folding Exercise Bike
Type: Upright Bike
Flywheel resistance: Magnetic
Resistance settings: 10
Performance tracker: LCD monitor
Phone/Tablet holder: Yes
Smart feature: No
Not only is this Magic Life exercise bike a surprisingly low price, but it's also a folding model. As such, it's ideal if you don't fancy a bulky exercise bike sitting around in your house all the time.
It's something of a cross between a recumbent bike and upright bike. The handlebars are fairly straight but the seat has a backrest. The seat also has extra handlebars and there are built-in resistance bands so you can work out your upper body, too.
Despite being a budget-friendly model, it still has an LCD screen and 10 resistance levels, which is 2 more than the Bancon above. You can also rest your tablet or phone in front of the screen so you can keep yourself entertained.
Again, there's no decibel level given, but it uses magnetic resistance, which is the quietest type. Plenty of reviewers state it's quiet when in use, which is enough for our purposes.
The folding frame is pretty secure, and it has transportation wheels on the front. However, some users state that the feet can be a bit wobbly on uneven surfaces, such as carpets. So, when you set it up, do so on hard flooring or put a mat under it.
PROs
Folds up to 20% of its original size.
Weight limit of 264lbs.
Good features for a budget model.
CONs
Can be a bit wobbly on uneven surfaces.
Top Build-Quality Pick: Pooboo Exercise Bike
Type: Upright Bike
Flywheel resistance: Magnetic
Resistance settings: Knob (0-100%)
Performance tracker: LCD monitor
Phone/Tablet holder: Yes
Smart feature: No
This exercise bike from Pooboo is a fully upright model, which is the closest you'll get to a traditional bike. Again, there's no noise rating, but it's a high quality bike with magnetic resistance and a rubber belt for motion transmission, so it's bound to be quiet.
The seat and handlebars are adjustable across 2 axes. As such, it's really easy to get the most comfortable position for exercising. People on the shorter or taller sides will particularly benefit from this feature.
Its weight limit is 550lbs., which is much higher than the other bikes reviewed so far. However, you must balance this against the weight of the bike itself, which is 123lbs. The flywheel alone is 50lbs! While this helps with stability, it does make it very difficult to move around.
Like the Schwinn, this bike has a heart rate monitor. The LCD screen has all the basic functionality you need but is lacking any preset workout routines, such as routes and varying resistance. Considering this model falls into the same price bracket as the Schwinn, it's a little disappointing.
Rather than set adjustment levels, the bike has a knob that you turn, meaning you have greater flexibility over resistance. It also serves as an emergency stop, which immediately puts the brakes on in an emergency.
PROs
Higher weight limit than the other bikes on this list.
Good build quality.
Resistance knob instead of settings.
CONs
Lacking some features that could justify its price.
Top Pick for Mini Cycler: DeskCycle Under Desk Pedal Exerciser
Type: Under Desk Bike Pedals
Flywheel resistance: Magnetic
Resistance settings: Knob (8 settings)
Performance tracker: LCD monitor
Phone/Tablet holder: No
Smart feature: No
While not an exercise bike in the strictest sense, the DeskCycle still has all the important parts. Specifically, it's a set of pedals and a flywheel mounted on a small base. This makes it perfect for hiding under your desk or using while on the sofa.
It uses magnetic resistance like the other models on this list, so it'll be just as quiet. This is particularly useful if you plan to exercise at work, as you don't want to bother everyone with a noisy exercise machine!
The settings are pretty similar to the full bikes. You get 8 resistance levels, which is apparently twice as many as other under desk bikes. There's also an LCD screen, which isn't common on other mini bikes. Finally, you can adjust the pedal height to fit under desks as low as 27".
Its only real downside is the price. Considering you can get a basic under desk exerciser for less than $35, paying nearly $200 might seem a bit steep. However, this model offers all the same features as a full-size exercise bike, but is arguably more convenient.
PROs
Suitable for use at work or on the sofa.
Compact so is easier to store.
Comes with all the same features as a full-size bike.
CONs
Quite expensive for what it is.
Top Pick for at Work: Flexispot Exercise Bike with Desk
Type: Upright Bike
Flywheel resistance: Magnetic
Resistance settings: Knob (8 settings)
Performance tracker: LCD monitor
Phone/Tablet holder: No (but laptop desk instead)
Smart feature: No
Did you think the one thing exercise bikes lacked was a desk? If so, look no further! The Flexispot exercise bike gives you just that, allowing you to work while you cycle.
Better yet, it's the first exercise bike to give us an objective noise rating. Its maximum noise emissions are 60dB. While this is slightly higher than our target of 55dB, it's on par with normal office noise.
As you might expect by now, it uses magnetic resistance, hence why it can be so quiet. There are 8 resistance levels, which is fairly standard for bikes in this price range. Like the others, you adjust resistance using a dial.
Both the seat and desk are height adjustable. The seat is suitable for people ranging from 5'1" to 6'1", and it has a weight limit of 300bs. The desk even has a cushioned edge to protect your wrists while you work.
Some users state that the desk is a bit shallow (it's 20" x 22.8") and that their laptops barely fit on it. Unfortunately, you can't really do much about this. So, if you have a particularly large laptop, don't go for this model.
PROs
Combines work and exercise.
Noise emissions below 60dB.
8 resistance levels.
CONs
Desk isn't ideal for larger laptops.
6. Schwinn A20 Recumbent Bike
Type: Recumbent Bike
Flywheel resistance: Magnetic
Resistance settings: 8
Performance tracker: LCD monitor
Phone/Tablet holder: Yes
Smart feature: No
Schwinn is a pretty bike name in the exercise machine world, so it's no surprise that its exercise bike comes with plenty of features. The A20 is a recumbent bike, meaning you sit back rather than upright. It's best for people with joint and back issues but does take up more space.
It uses magnetic resistance, and its flywheel is encased. This not only reduces the noise level but also makes things much safer, a great feature if you have kids around. Unfortunately, there's no decibel rating, but reviewers describe it as nearly silent.
The bike has 8 resistance levels but also 7 workout programs. These help you vary your exercise without needing to think too hard. They change resistance levels and times, giving you good flexibility.
As you might expect, there's an LCD screen where you control the programs and view your metrics. One feature it has over the competition is a heart rate monitor. It's built into the handles, so the bike can read your heart rate for as long as you're holding them.
The bike also includes a tablet holder and speakers. The speakers are a nice addon to listen to your favourite playlist while exercising. However, users stated the quality of the speaker was pretty average.
Some users comment that the display screen is a bit basic and outdated. On one level, this is understandable because it looks like it's from a '90s calculator. However, it does everything you need it to, so it's a fairly minor critique.
The Schwinn A20 is the cheapest product of the lineup. If you're looking for better build quality, more training programs (13 vs. 7) , and to connect via Bluetooth to "Zwift" or "Explore the World" apps, consider the Schwinn 230.
PROs
Comfortable Recumbent bike.
Decent extra features, such as workout programs.
Magnetic resistance is very quiet.
Altough not perfect, speakers are a nice addon.
Wheels to move around the bike.
CONs
No connectivity features.
LCD screen is a bit basic for such an expensive model.
7. Nautilus R616 Recumbent Bike
Type: Recumbent Bike
Flywheel resistance: Magnetic
Resistance settings: 25
Performance tracker: LCD monitor
Phone/Tablet holder: Yes
Smart feature: Connect via Bluetooth
– to "Zwift" App
– to "Explore the World" App
Like Schwinn, Nautilus is another bike name in the exercise machine world. Its R616 recumbent bike is a fairly high-end model with lots of extra features. Unfortunately, there's no noise rating, but users praised its quietness. Some users stated they didn't have trouble hearing the TV while exercising.
It uses magnetic resistance and has 25 levels, which is far more than every other entry on this list. Add to this the 29 customizable workout programs and you end up with plenty of variety from this one machine.
A fun extra feature on this bike is its World App. It plays videos of popular destinations in line with your workout, so you can feel like you're cycling around the world. It comes with 3 videos, but you'll need to subscribe to access the rest.
The seat is easily adjustable for a range of heights and has a ventilated back for extra comfort. You also have Bluetooth connectivity so you can use the bike with your preferred fitness tracker. Finally, there are speakers and a USB port, allowing you to charge your device while you cycle. I wouldn't recommend using the speakers during your sessions as they have very low sound quality.
Some users state the seat isn't massively comfortable and the backrest sticks out at a strange angle. Their remedy is to put a towel over it for some extra padding, but doing so will mean you'll get a sweaty back. It's down to you to decide which is the lesser of two evils.
PROs
Lots of great workout programs.
Great compatibility with training apps (Zwift, Explore the World)
25 resistance levels.
Design is sturdy and secure.
USB charging is convenient.
CONs
Backrest isn't set at a great angle.
Poor speakers
Understanding the Different Bike Types
Choosing an exercise bike is surprisingly complex when you factor in the different types and technologies. Here's a brief rundown to help you understand the difference, along with an explanation of which is quietest.
Types of Bikes
Upright Bikes
An upright exercise bike is the closest to an actual bicycle. The handlebars and seat are both fairly straight, allowing you to sit in an u
pright position while exercising. They're often the most affordable and the most beginner-friendly.
Upright bikes are best suited for general cardio and muscle building. However, the flywheels are usually quite light, meaning they're not the best for high-intensity workouts.
Spin Bikes
For high-intensity, you'll want a spin. You'll recognize these if you've ever been to a gym and seen lines of them set up for spin classes. The seat is upright, but the handlebars tilt forward. This is so the rider can stand up more easily and lean into them, as you would on a road bike.
The footprint is pretty similar to upright bikes, although spin bikes are heavier. They have heavier flywheels to maintain inertia, which you need for a more intense workout.
Recumbent Bikes
A recumbent exercise bike looks like they provide more relaxed workouts, but this isn't necessarily true. The biggest difference is that the rider sits in what looks like a normal chair with their legs at a more horizontal angle.
This is to relieve pressure on your joints and stop you from putting too much weight on your hips and knees. As such, they're the best kind to help you lose weight and recover from an injury.
However, they're also the heaviest and largest. You'll generally find they have more resistance settings due to the larger and heavier flywheel.
Types of Resistance
An exercise bike's resistance determines how difficult it is to pedal. It's related to the flywheel, which is a weighted disc that's usually where a wheel would be. As you pedal, you turn the flywheel, which then stores the energy to make the ride smoother.
A bike's resistance is determined by the amount of tension put on the flywheel. In short, something interacts with the flywheel to make it harder to rotate. There are 3 types of resistance:
Mechanical
Mechanical resistance is the most basic and "traditional" type. It involves a brake pad applying pressure on the flywheel to increase friction and thus resistance. It's essentially the same technology as a brake pad on a car or bicycle.
You'll find it most on spin bikes because it gives the greatest resistance. A common material for the pads is wool, as it helps keep noise levels down.
Obviously, while very reliable, brake pads generate some noise during friction. You also have to factor in the wear and pad replacement after some time.
Here's a video showing brake pads in action and the noise they can generate.
Magnetic
Unsurprisingly, magnetic resistance bikes use magnetic force to increase or decrease tension. Magnets are placed around the flywheel to generate a magnetic field that goes against the flywheel. The closer the magnet, the more tension and vice versa. The position of the magnets can either be mechanically or electrically controlled.
Electro-magnetic brakes are adjusted digitally and provide an immediate response.
Mechanical magnetic brakes use a dial or level to manually change the magnetic tension. It simply involves moving the magnet closer to the flywheel to increase the drag effect.
A magnetic resistance system can provide very accurate resistance settings. And because there is no mechanical contact to generate friction, there's no wear, thus no maintenance on these components. As such, it's also the most expensive type of resistance technology.
In the video below, you can see the position of the magnet moving closer to the flywheel and increasing resistance. The video gives you a good idea of how silent magnetic resistance can be.
Air
Air resistance bikes are the most basic form of resistance technology but are also the loudest. Instead of a flywheel, the bike has a large fan. As you pedal, it spins against the natural airflow, creating resistance.
If you know anything about fans, you'll appreciate this'll make a lot of noise. Because it's so basic, you'll find it in the least expensive models. However, it's arguably the most difficult to use because resistance only increases with your cycling pace.
Chain vs. Belt
On a stationary exercise bike, you'll find either a chain or a belt drive. It connects the pedals to the flywheel, as on a normal bicycle. Unsurprisingly, a belt drive is the quieter option, because the rubber belt doesn't rattle in the same way as a chain. Also, it's nearly as durable as chains. I compared in more depth belts and chains as transmission parts in my article about garage door openers. Check it out for the pros and cons of each technology.
For the most part, you won't find a chain on newer exercise machines. However, if you buy a secondhand model, it's something to look out for.
Which is the Quietest Exercise Bike?
By combining the information above, we can conclude that the overall quietest type of exercise bike would be an electro-magnet recumbent exercise bike.
Recumbent bikes are the heaviest, meaning they create the least amount of impact noise because they won't wobble or move. Electro-magnetic resistance is the quietest because it has the fewest moving parts. Note that a bike of this kind will set you back a few thousand dollars, though.
Features to Consider in Quiet Exercise Bikes
So, other than bike and resistance type, what else should you look for in the perfect exercise bike? Here are some features to consider.
Comfort
We can break comfort down into 2 important features. These are:
Adjustability
You'll want a bike with an adjustable seat at the very least. It ensures you can match it to your height so you don't strain your legs. Manufacturers will always list their seat adjustability.
Adjustable handlebars are a useful extra. They allow you to get a better angle when cycling, which reduces strain on your back and shoulders. While it's helpful for everyone, it's especially useful if you're quite tall or short.
Seat
As a general rule, recumbent bike seats are the most comfortable. They're the closest to a normal chair that you'll find and allow you to lean back slightly.
But if you're looking at upright or spin bikes, you'll need to pay a bit more attention. Look for one that's cushioned and wide enough to provide support. If you plan to wear cycling shorts or Lycra, a vinyl finish on the seat isn't ideal.
If you find your perfect bike, but the seat isn't suitable, see if you can swap it out. Failing that, simply put a bike seat cover over it for extra padding.
Also, make sure you pay attention to the bike's weight limit. This doesn't need much explanation, other than to say recumbent bikes typically have the highest weight limits because of their design.
Smart Features
All exercise bikes should feature some kind of LCD screen. You can use it to monitor your exercise time, calories burned, and more. But there are other features you could consider, including:
Bluetooth Connectivity
If you use a fitness tracker app, connecting the bike via Bluetooth is ideal for exporting your data. Some bikes only work with certain fitness apps like Zwift, so keep an eye out for this.
Workout Programs
This isn't so much a smart feature, but it does fit here. Some exercise bikes (particularly higher-end ones) will come with workout programs. These set a time and vary resistance levels to give you a balanced workout.
For example, on the Schwinn models, you have things like "cycle in the park" and "Alpine hills". You can probably guess what sort of settings they offer.
While this isn't a completely necessary feature, it does help if you're stuck on what workouts to do. Programs can help you keep things varied without putting in too much thought.
Heart Rate Monitor
Not much needs to be said about this. Some bikes feature a heart-rate monitor in the handlebars. However, if you wear a smartwatch or fitness tracker, this isn't a super necessary feature.
Ease of Maintenance
Exercise bikes need regular maintenance, ranging from tightening screws to lubricating the chain. To do this, you'll usually need to remove covers (if there are any, of course).
So, if your bike has a covered flywheel and chain, make sure they're easily accessible. This should be obvious if you look at people's comments on ease of assembly, as you'll just be doing this backwards.
Safety and Stability
Safety is important for everyone, but is particularly relevant if you have kids. Look for exercise bikes with covered flywheels and chains, as these are the most dangerous parts.
In terms of stability, ensure the bike has wide legs and a secure base. Recumbent bikes are the most stable, and upright bikes the least. However, a good upright bike will still be difficult to tip over.
Some bikes might even feature an emergency stop (like the Pooboo model above). This will stop the flywheel and pedals from turning immediately, which is useful if someone hurts themselves. However, it's not super necessary because the most likely cause of injury will be the bike falling over or you falling off it.
Warranty
When spending a decent chunk of money on something like an exercise bike, a warranty is a must. Most companies will give you a standard 1-year warranty that covers defects and breakdowns.
However, some companies will give you up to 5 years. This is perhaps more important on expensive models because you stand to lose more if they break.
There's not much else to say about warranties – just look out for one you think is acceptable based on the price you're paying.
How do I Soundproof my Stationary Bike?
The easiest way to soundproof a stationary bike is to put some soft padding underneath it. Generally, you'll be working against impact noise when you're trying to soundproof a bike, as there's not much you can do about the airborne noise it makes.
Below are some tips for soundproofing your current exercise bike.
Maintain It
The first suggestion is to keep your exercise bike properly maintained. Lubricated parts will create less friction and, by extension, less noise. Even if you haven't done this in a while (or at all), you should be able to fix things.
First, tighten screws and bolts every 6-8 weeks. Then, lubricate the metallic chain (if your bike has one) and other moving parts every 6-12 months. You need to use a silicone-based lubricant, such as this one.
You can check out this video on how to maintain an exercise bike for a rough guide on what to do.
Cushion It
As mentioned, the easiest way to reduce the impact noise caused by an exercise bike is to cushion it. It's as simple as putting something soft underneath the bike to dampen vibrations before they pass into your building's structure.
To do this, you can use EVA foam mats, such as those you see in the gym. There's a reason gyms chuck them everywhere, and this is it. A yoga mat is a perfectly acceptable alternative if you have one lying around.
However, if you're on a budget or need something immediately, some carpet or a rug will work fine. You could even use a few towels.
Note, though, that setting your bike up on a thick carpet or a pile of towels could make it wobbly. Foam mats allow the bike to sink in and remain stable, so are arguably the safer option.
Final Thoughts on the Best Quiet Exercise Bikes
I hope you've now got a clear idea of what to look for in a suitable indoor cycling bike.
My overall top pick is the Bancon Magnetic Resistance Exercise Bike. It's a good mix of quality and price, allowing you to get started without shelling out loads of money.
But if you've got a higher budget and want some useful extra features, the Bancon Magnetic Resistance Exercise Bike or Nautilus R616 are both great choices.
Alternatively, you always have the option to use a bike trainer if working with your actual bike matters. I go into more depth about quiet bike trainers in my article here.
Do you have a favorite exercise bike I haven't mentioned, or any tips on how to soundproof a stationary bike? Let me know in the comments below!