Opting for the quietest hair clippers on the market certainly makes a difference when it comes to haircuts. While adults might not mind the extra sound, quiet hair clippers are super useful for trimming kids' hair and for not disturbing others in the house.
To help you narrow down your options, I've come up with my top picks for the best quietest hair clippers. After the reviews, I go over the things you should look for when making a selection.
Top 7 Quietest Hair Clippers
I've tried to include decibel ratings in my reviews where possible. Unfortunately, not many companies list these, so I'll instead focus on the factors that make a difference to the clippers' overall noise levels.
Top Pick: Wahl 79467 Hair Clippers
Motor type: Rotary
Corded (8 ft. long)
Battery: No
Noise level: NC
Speed settings: No
Blade Guards: 10 sizes
[1/16″ to 1″] ~ [1.5mm to 25mm]
+ Left & Right ear taper guards
It should come as no surprise that a company like Wahl takes the top spot for the best quiet hair clippers. The 79467 claims to have a whisper-quiet motor but unfortunately doesn't include a dB rating. However, plenty of users state how quiet it is, so this is enough to go on.
This model is specifically designed for self-cuts, but there's no reason you couldn't use it on others. The manufacturer promotes self-cut features such as an extra-long power cable and a larger comfort grip. Regardless of whether these are helpful for cutting your own hair, they're useful features to have.
This hair clipper has a rotary motor, which is the most powerful (and second-slowest) motor type. While it's not necessarily the quietest motor type, there's enough evidence from users to suggest these clippers aren't loud.
It comes with 12 comb attachments (up to 1") and all the equipment you need to properly care for the blade. It also includes a styling comb and grooming tools. The 79467 is 25% smaller than other Wahl models, so it's a good choice for traveling or using on kids, too.
The major downside users state is that it struggles with thin hair. Magnetic motor clippers are much better at this. Overall, the Wahl 79647 might not be the quietest model we'll look at, but it's a nice balance of price, power, and functionality.
PROs
Suitable for cutting your own hair.
Whisper-quiet rotary motor.
Good general-purpose set of clippers.
CONs
Struggles with thin hair types.
Top Budget Pick: Wahl 9649 Cordless Clippers
Motor type: Rotary
Cordless
Battery: Yes – Rechargeable
Speed settings: No
Noise level: NC
Blade guards: 8 sizes
[ 1/8″ to 1″] ~ [3mm to 25mm]
Although there's only around $10 difference between the Wahl 9649 and the top pick model, you won't want to drop much below this price point for a quiet hair clipper. Going too low on price generally means sacrificing the kind of build quality that makes them quiet.
While these cordless clippers don't give a noise level, users state they're pretty quiet when cutting hair. The battery has a runtime of about an hour, but you can also use them while they're plugged in.
The set comes with 8 blade guards that are color-coded. Better still, the color key is printed on the clippers' body, so it's quick and easy to find the right guard length for your cut. Although it's a minor thing, it's a surprisingly good idea.
Like the Wahl 79467, this uses a rotary motor, but it's slightly less powerful. In fact, some users state that it loses power over time, meaning you have to use it plugged in. While this isn't the most convenient thing, it at least means you can continue using the clippers because the power cord is quite long.
The power level is the only major complaint given by users. It's a symptom of going for such a budget-friendly model, though. If you want cordless for the convenience but want power, check out one of the models below.
PROs
Cordless model is convenient.
Color-coded blade guards make picking the correct one easy.
Fairly quiet hair clipper.
CONs
Motor can lose power over time.
Top Pick for Kids' Clippers: Bololo Hair Clippers
Motor type: Rotary
Cordless
Battery: Yes – Rechargeable
Speed settings: 2
Noise level: 42 dB max
Blade guards: 6 sizes
[1mm to 12mm] ~ [1/25″ to 1/2″]
This baby hair clipper from Bololo has an operating noise level of 42dB, meaning they're pretty quiet. In real-world terms, this is around the noise level of a quiet office.
The clippers have 2 speeds for cutting toddlers' or kids' hair. In theory, nothing is stopping you from using them on an adult, but the cutting power is probably a bit weak to deal with thicker hair.
They're low vibration as well as low noise. Several users state this hair clipper is great for kids with autism and sensory sensitivities because of these 2 factors. Some also state that the kid-friendly design certainly helps, too.
Along with being cordless, these clippers are also waterproof. You can charge the battery in less than 2 hours, which is pretty fast. The waterproof rating is IPX7, meaning you can submerge them in up to 3ft. of water. Of course, you should avoid doing this on purpose and still clean them the traditional way.
Although you get 3 adjustable blade guards in the set ranging from 1 to 12mm (~ 1/25″ to 1/2″), some users state that they're quite short. This is roughly half the size of the Wahl 79467 blade length but should be enough for trimming kids' hair.
PROs
Noise level of 42dB.
Low vibration.
Variable speed motor.
CONs
Maximum blade guard is a bit short (1/2″ vs. 1″).
Top Cordless Pick: Opove Cordless Hair Clippers
Motor type: Rotary
Cordless
Battery: Yes – Rechargeable
Speed settings: 5
Noise level: 60 dB max
Blade guards: 8 sizes
[3mm to 25mm] ~ [1/8″ to 1″]
Built-in trimmer setting: 4 settings
[1mm – 1.9mm] ~ [1/25″ to 5/64″]
These Opove hair clippers have a maximum noise level of 60dB. While this is louder than the kids' hair clippers above, it's not unreasonably loud. In terms of real-world sounds, it's about the same as a normal conversation. For the most part, too, adults will tolerate slightly higher noise levels than kids.
As for performance, these clippers are pretty strong. They have a 250-minute runtime and a variable speed of 5000-7000RPM. There's a built-in adjustable taper lever that ranges between 1/25″ and 5/64″ (~between 1 and 1.9mm). You can also clip on blade guards up to 1" (25mm).
These clippers have ceramic edge blades that are titanium-coated. If nothing else, it means they stay sharp and can handle hair of different thicknesses. Like the Wahl models, it's a rotary motor, so provides a good balance between power and noise levels.
One thing worth noting is the built-in LCD screen. While not a necessary feature, it displays the blade length and battery life. It also tells you when to use blade oil, which helps maintain their quality. Is it worth paying extra for? Maybe not, but it gives you a better idea of how your clippers are doing.
The main downside that users state is the location of the buttons. They're apparently quite easy to press when cutting your own hair or beard, which can result in you changing the blade length. Unfortunately, there's no lock button. So, if you think this might be an issue, consider a different model (such as the Wahl 79467).
PROs
Ceramic blades stay sharp.
LCD screen displays battery life and oil reminder.
Noise level maintained under 60 dB.
Variable speed and blade length.
Solid battery time use.
CONs
Buttons are easy to press when in use.
5. Suprent Magnetic Motor Hair Clippers
Motor type: Magnetic
Cordless
Battery: Yes – Rechargeable
Speed settings: No
Noise level: 60 dB max
Main Clipper blade guards:
6 sizes
[1.5mm to 13mm] ~ [1/16″ to 1/2″]
Detail trimmer blade guards:
3 sizes
[2, 3, 4mm] ~[5/64″, 1/8″, 5/32″]
This set of 2 Suprent hair clippers have magnetic motors. As a general rule, magnetic motors provide the highest cutting speed and have fewer moving parts, which typically means a longer lifespan. Also, they're pretty quiet: these hair clippers have a noise rating of less than 60dB.
They're cordless but you can use them while they're plugged in, too. Unlike the Wahl cordless model, there's no evidence that they lose power over time. This is perhaps a good thing considering these clippers are almost double the price!
In the pack you'll find blade guards up to 1/2" (13mm). This is less than other models, but should be enough for people who only want a trim. If you want to keep some length on your hair, you'll need to go with a different model. You also get a separate trimmer with guards ranging from 5/64″ to 5/32″ (2mm to 4mm) in size.
The battery has a runtime of around 300 minutes and takes 180 minutes to charge. You can monitor the battery life using the LCD display, which also reminds you to oil the blades. Again, this isn't a necessary feature, but it is helpful.
In terms of downsides, the main one isn't specific to just these clippers. Magnetic motors have lower cutting power, so struggle with thick and textured hair. If you have thin hair, you'll be fine. But if not, opt for a pivot or rotary motor instead.
PROs
Magnetic motor is long-lasting.
Noise level of less than 60dB.
LCD info useful for monitoring the clipper
Nice to have a detail trimmer for finition.
CONs
Not great for textured or thick hair (or wet hair).
6. Oster Fast Feed Hair Clippers
Motor type: Pivot
Corded (8 ft. long)
Battery: No
Speed settings: No
Noise level: NC
Blade guards: 4 sizes
[1/8″ to 1/2″] ~ [3mm to 13mm]
Blade replacement:
Size 000 (0.5mm ~ 1/50″)
Size 1 (2.4mm ~ 3/32″)
These Oster hair clippers have a pivot motor, which is essentially the opposite of a magnetic motor. It provides slower cutting speeds but is much more powerful, making it ideal for thick and textured hair.
While we're not given a specific decibel rating, users state they're quiet. Also, rotary motors are usually the quietest type, if you discount build quality factors. So, these clippers should do the job if you want a quiet cutting experience.
They're corded, but the cord is 8ft. long. As such, you should have plenty of flexibility and maneuverability when cutting hair. Granted, you can still get a bit tangled up, but the extra cord length should reduce the chances of this happening.
This is an adjustable blade hair clipper. It means you can change the actual blades' length to a grade 1, and there are included guards that go up to 13mm (1/2"). Again, this is less than some other models, but should be fine for people wanting a short cut.
Some users state the ceramic blades provide a good cut but comment that you can't get them completely down to zero length. This isn't unique to this hair clipper, though. The brand Oster also proposes finer blades that trim down to 0.25mm (1/100″). But if you really want a complete zero-length cut, your best bet nowadays will probably be a beard trimmer.
PROs
Pivot motors are very quiet.
8ft. cord is easy to work with.
Ceramic blade stays sharp.
CONs
Doesn't do a zero-length cut.
7. Calming Clipper Hair-Cutting Kit
This is a bit of a curveball on the list of quietest hair clippers, as it's not a typical clipper design. The Calming Clippers are designed specifically for children with autism and sensory sensitivities. Importantly, they're about as close to silent hair clippers as you can get.
You can probably see why. They're essentially a pair of scissors onto which you can clip blade guards. This gives you the ability to cut hair to different lengths but with scissors, which removes the factors that can over-stimulate children (sound and vibration).
There are 7 blade guards included, from 1/2″ up to 1" (from 13mm to 25mm). The scissors are also customizable because you get finger inserts to make the holes smaller (or bigger). Along with being silent, they're super easy to use because they're just scissors.
The Calming Clippers come very highly rated by parents of children with autism and sensory processing disorders. The only real downside is that it'll take much longer to cut hair, as they're scissors. But if it's the difference between a safe cut and no cut, it's worth taking the extra time.
PROs
As close to silent as you'll find.
Includes blade guards.
Adjustable scissors.
CONs
Cutting hair takes longer.
Understanding Noise from Hair Clippers
Hair clippers work by pushing one set of sharpened teeth that moves horizontally over a stationary set. Although there are 3 motor types, the basic function is exactly the same. The blades oscillate, which cuts the hair. In short, each blade acts like a pair of scissors.
You can check out this video for a visual explanation in low motion.
Where Does the Noise Come From?
As with all electric components, the main noise source in hair clippers is the motor. The oscillating blades also make noise, but this is more common if they need oiling or tightening. Hair clippers also vibrate, which in itself can create more noise.
What Matters in Quiet Hair Clippers?
I'll go over this in more depth below, but there are 3 main factors that result in less noise from your hair clippers. These are:
Motor Type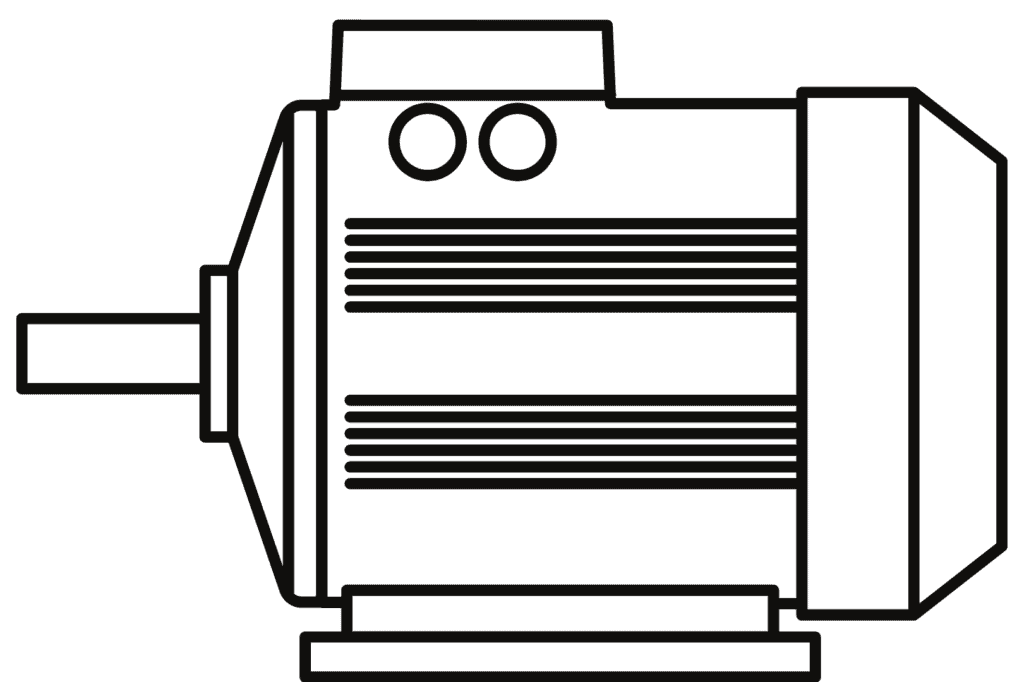 Of the 3 motor types, pivot motors are the quietest. I expand more on each of the 3 motor technologies below. In general magnetic motors are the loudest, but there's really not loads of difference between the 3. If noise levels are a big factor for you, go with a pivot motor.
Build Quality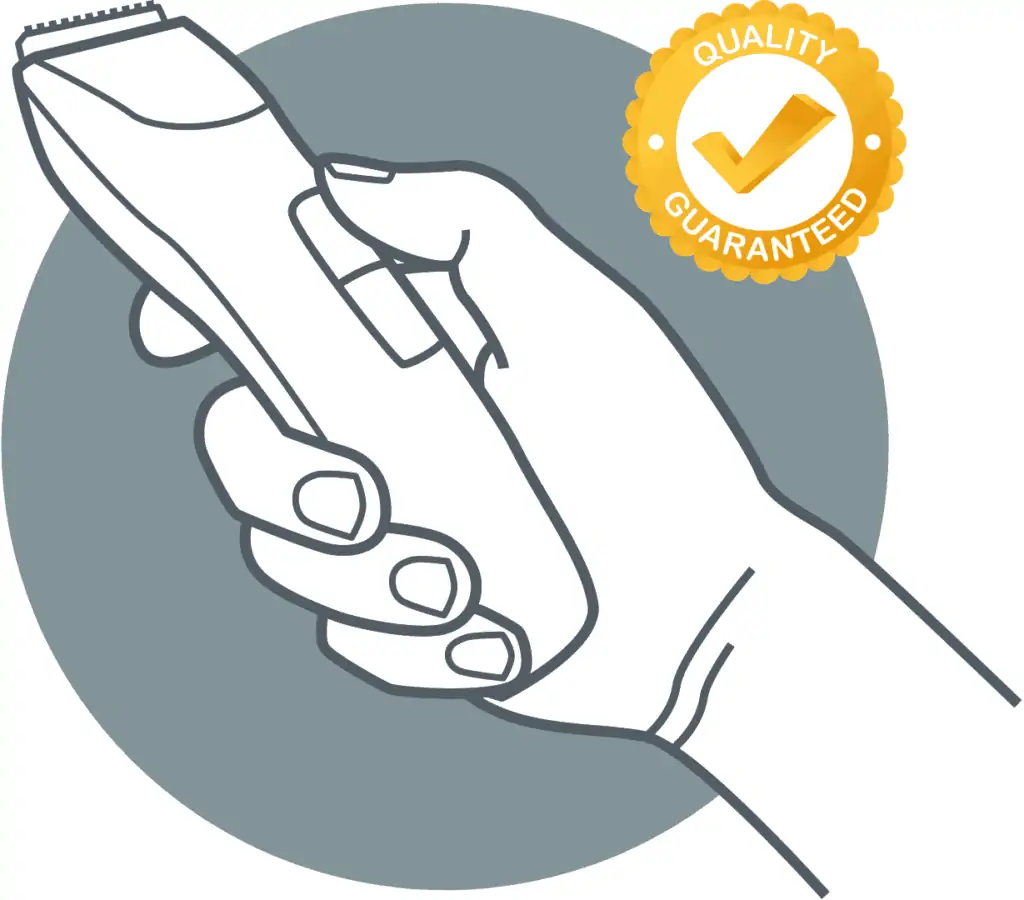 Unsurprisingly, build quality impacts noise levels. In theory, a better-built set of clippers will vibrate less and feature a powerful (and quiet) motor. This isn't unique to hair clippers but is true of basically all electronic devices.
Cordless Clippers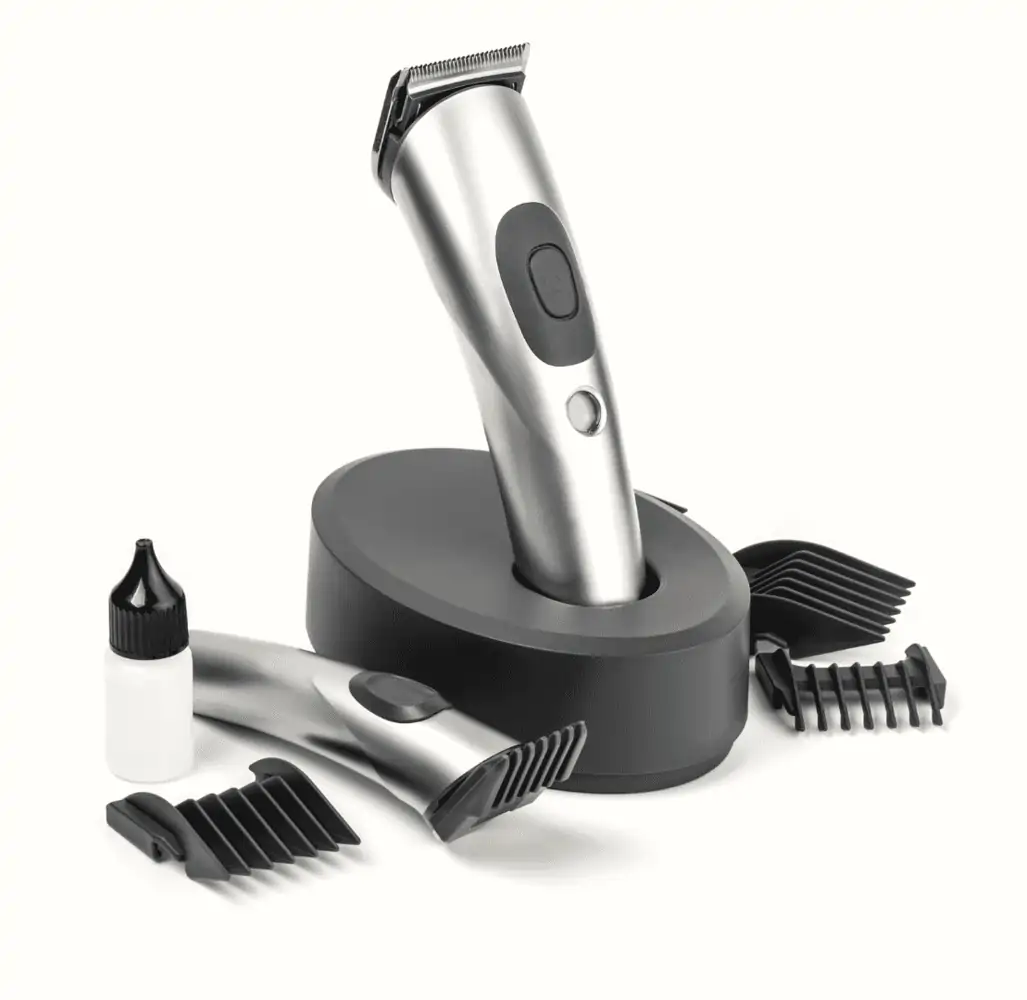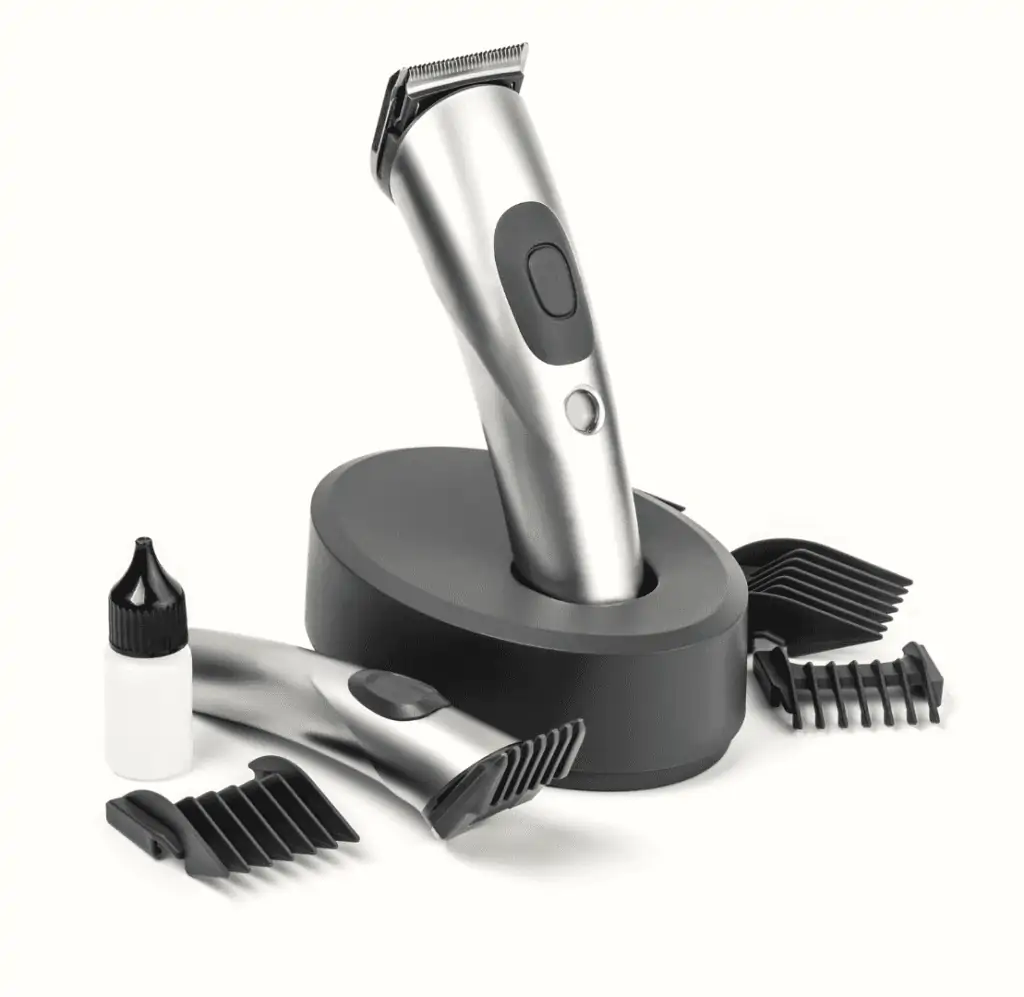 Cordless clippers will often be quieter than corded versions. This is because they often have less powerful motors and may be smaller overall. However, a well-built set of corded clippers should be quiet enough that you can't really notice the difference.
Factors to Consider When Buying Quiet Hair Clippers
Along with noise level, here are some things to think about when buying hair clippers. Remember, some of these factors affect noise level, so they can be quite important.
Motor Type
As mentioned, there are 3 types of motors found in hair clippers. These are:
Magnetic
Magnetic motors generate an electric current using an electromagnet and spring to oscillate the blades. You'll find magnetic motors in most budget hair clippers because they contain the fewest moving parts.
As a result, they can last a pretty long time. The motor itself is maintenance-free and is simple and reliable. However, they generate the least power of the 3 motors, so are best suited to thinner hair types.
Pivot
Pivot motors are basically the middle ground in terms of performance, speed and power. They work on the same basis as magnetic motors but use two magnets and no spring. It results in lower blade speeds but twice as much power.
Pivot motors are ideal for cutting textured, wet or thick hair. You'll often find professional stylists using them because they're the quietest and are suited to regular, everyday cutting.
Rotary
Rotary motors are the most powerful type. They use an electric current to drive small rotors that move the blades. Rotary motors are the most common type in consumer clippers and can come in both corded and cordless versions.
The power levels mean you'll find rotary motors in dog and horse clippers, too. On humans, they can be used on all hair types, although they might struggle with thin hair.
You can check out this video on motor types for a visual explanation.
Blade Guard
The blades on hair clippers will never give you a complete shave. For that, you'll need to break out the razor. As a general rule, the shortest you'll get from hair clippers is a grade 0, which leaves 1/16 of an inch of hair behind.
After that, you'll find the following sizes:
Grade 1: 1/8"
Grade 2: ¼"
Grade 3: 3/8"
Grade 4: ½"
Grade 5: 5/8"
Grade 6: ¾"
Grade 7: 7/8"
Grade 8: 1"
What blades guards you choose is really a matter of preference. Most sets will come with grades 1-4, although plenty come with 1-8. It depends on how short you like your hair and how much flexibility you want over this in the future.
Corded vs. Cordless
The main difference between corded and cordless is, of course, the cord. A cordless model is generally more convenient because you won't get tangled up while finding the right cutting angles.
Corded hair clippers tend to be lower cost and more powerful. Also, they provide a consistent supply of power over time because you don't have to deal with a depleted battery.
Cordless hair clippers will often be quieter, but this is because they're typically less powerful. On a like-for-like comparison, you'll find they're heavier, too, due to the battery.
Which you choose depends on your needs. Cordless is helpful for traveling and finding the right angles, but corded provides better power output, meaning quicker haircuts.
Ease of Use and Maintenance
Hair clippers require constant maintenance to keep the blades in good condition. For the most part, this means removing the blades and cleaning inside before oiling. Considering you'll be doing this regularly, it shouldn't be a difficult job.
Most models will claim to be easy to clean, but this obviously isn't always true. When looking for a good model, dig down into the reviews to find people who have tried to clean it. These will give you the truest answer of what it's like.
In terms of ease of use, that's slightly clearer. You want the blade guards to clip on and remain secure and don't really need more than plug-in-and-go. While fancy extras like touchscreens or blade-adjustment buttons might seem great, they increase the chances of something going wrong.
How Can I Make My Hair Clippers Quieter?
If your current hair clippers have suddenly gotten very noisy, there might be a simple solution to it. Just like for a garage door or other home appliances (like fridges), silence comes at the cost of some maintenance. For hair clippers, it involves cleaning and realigning the components. Here's how to do it.
Cleaning Hair Clippers
The exact steps might be different for your model, but the basic process is as follows:
Unplug the clippers if necessary.
Use the included cleaning brush to remove as much loose hair as you can.
Every so often, disassemble the blade head to clean inside.
To do so, you usually need to unclip or unscrew the head to remove it.
You can then clean inside with a brush and sterilize if necessary.
Check out this video for more details on how to clean your hair clippers.
Aligning Blades
Improperly aligned blades will result in non-uniform cutting precision. Also, they could create more noise by rubbing against each other incorrectly.
Again, the exact steps might differ, but here's what you should do:
Clean your clippers as described above.
Use a screwdriver to loosen the screws on the bottom blade. It could be one or two screws.
Gently push the blade back into position. It should be offset from the bottom blade, but the exact measurement will depend on your model. On Wahl clippers, for example, it's 0.8mm (1/32").
Tighten the screws once the blade is back in position.
Again, check out this video from Wahl for a clear visual guide on how to align your clipper blades.
Lubricating/Oiling
The frequency at which you oil your blades depends on usage. Most manufacturers recommend doing it after every use for regular cuts or after every 2 uses for infrequent cuts.
Lubricating blades is pretty standard:
Clean the blades properly.
Add two drops of clipper oil between the blades, spaced slightly apart.
Turn the clippers on to distribute the oil evenly.
This video explains this fairly simple process.
Adjusting the Power Screw
Some hair clippers will have a power screw on the side. It could look like a small handle or, unsurprisingly, a screw. Changing this can result in your clippers making more noise than they did.
To change this, simply turn it anticlockwise. It should stop making a loud noise once you reach the correct spot. If not, the noise could be the result of something else.
To illustrate the process better, check out the video below.
Final Thoughts on the Best Quiet Hair Clippers
So there we have it: everything you need to know about picking the best quiet hair clippers.
My top pick is the Wahl 79467 Hair Clippers because they're the right balance between price, noise, and performance. Of course, any of the other models will be a great choice, too.
Do you have a different suggestion for the best quiet hair clipper? Let me know in the comments below!