A quiet undercounter ice maker is an ideal addition to your kitchen if you get through a lot of ice. Although any ice maker will do this, a quiet one is important if you don't want to make your kitchen any noisier than it already is.
In this article, I review my top picks for the quietest undercounter ice maker. Before jumping into the reviews, let's discuss in more detail why undercounter ice makers are a good choice.
Why Consider an Undercounter Ice Maker?
There are 2 main reasons why you should consider an undercounter ice maker over its main alternative, the countertop ice maker. Of course, if you read through this section and think a countertop one is a better option, I suggest taking a look at my best countertop ice maker article.
So, what are the advantages of an undercounter ice machine?
Larger Ice Capacity
We measure an ice maker's production in pounds of ice per 24 hours. A countertop ice maker machine typically makes 24-30lbs. of ice a day, whereas an undercounter model is much higher.
This is obviously an advantage if you get through a lot of ice, whether this is because you live somewhere warm or simply enjoy cold drinks.
It also means you don't have to constantly refill ice trays that you store in the freezer. A typical ice tray will make around a dozen cubes, which will cool at most 2 drinks.
Frees Up Counter Space
The other obvious advantage of an undercounter ice maker is that it doesn't sit on the countertop. While this isn't a massive issue if you only occasionally use the machine, it can get in the way if you need a constant supply of ice.
An undercounter model is a great option if you've got some free space in your kitchen. But it also makes sense if you have an outdoor cooking area, or even in an RV.
Other Undercounter Ice Maker Advantages
Undercounter ice makers are generally more complex than their countertop alternatives. This leads to a few other advantages, such as:
Different sizes and shapes of ice. This means you can use the same machine to make ice for bottles, smoothies, cocktails and more.
More room in the freezer. Undercounter ice makers sometimes have refrigerated ice baskets. Not only does this mean you don't need a freezer with a built-in ice maker, but it also means you don't have to find somewhere to store the ice.
Water connection. It's not always the case that undercounter ice makers have a built-in water supply, but it's more common. If nothing else, this is just easier.
The bottom line is that an undercounter ice maker is the superior option if you plan to get through a lot of ice. However, a countertop model is better if you need something portable that you'll only use occasionally.
Are Undercounter Ice Makers Noisy?
An undercounter ice maker will typically produce between 35dB and 55dB, which we'll use as our upper benchmark. This is the same range you can expect from a countertop ice maker too.
On the one hand, we'd expect an undercounter model to be quieter. It'll typically have more insulation than a countertop model. However, the noise-making components are all the same, and there's only so much we can do about insulating them.
When reviewing quiet ice makers below, I'll use decibel ratings wherever possible. Although not all manufacturers state them, users will often mention noise levels in their reviews. As such, we will take these into account instead.
Our 5 Best Quiet Ice Makers
Along with noise levels, I'll also consider factors such as ice capacity, ice type, and energy efficiency. While there's plenty more to choosing the right ice maker for your needs, these are arguably the most important points.
Top Pick: Euhomy Commercial Ice Maker IM-02
Ice cap.: 100lbs per 24 hours
Ice size settings: 3
Ice basket: 33lbs
Refrigerated basket: No
Power Rating: ~280W
Energy eff.: 6.7 kWh/100lbs. of ice (Estimate)
Gravity Drain
Outdoor rating: No
Size:
17.52″ Width
15.96″ Depth
31.3″ Height
The Euhomy Commercial Ice Maker IM02 is my top pick for a few reasons. First, its capacity is 100lbs. per 24 hours, which is pretty good. Also, its ice production speed is high, as it can make 45 cubes in 20 minutes. Finally, it's a surprisingly budget-friendly model considering its decent performance. Due to its price, I won't include a budget pick, as the Euhomy is the cheapest on this list.
It has a water inlet to supply water via a hose at the back of the unit, which, if nothing else, gives you options for where you install it. It also has a drain connection, and the ice maker comes with the necessary hoses to set this up.
The ice basket can hold up to 30lbs. of ice depending on the cube size (there are 3 settings). However, it's not cooled, so you'll need to empty it regularly to stop the ice from melting. Read on if you're after a model with a refrigerated basket.
It has an LCD control panel, 24-hour timer and self-clean function. Its noise rating rating is 54dB, which is on the top end of our scale. However, it's comparable to other kitchen appliances, so it's not a massive issue.
You can have a listen at the sound level in this video review:
There's unfortunately no energy rating for the Euhomy. However, the machine is running at 2.2 amps when producing ice and 2.5 Amps when harvesting. At a voltage of 115V, a good estimate is that it would consume 6.7kWh per 100lbs. of ice. At this level of energy efficiency, the Euhomy is the best on our list.
Some users state the water connection equipment isn't great quality, and also doesn't connect to some inlet pipes. However, it connects fine to a sink tap. Depending on how you plan to add water, it might be worth checking whether you can buy the relevant adaptors elsewhere.
---
PROs
Good value for money.
Produces ice quickly.
Good value for money.
Very energy efficient
CONs
Water connection equipment isn't great quality.
Lack of refrigerated basket.
Top Premium Pick: Blaze Outdoor-Rated Ice Maker
Ice cap.: 50lbs per 24 hours
Ice size settings: 1
Ice basket: 25lbs
Refrigerated basket: Yes
Power Rating: ~280W
Energy eff.: 12.2 kWh/100lbs. of ice
Gravity Drain
Outdoor rating: Yes
Size:
14.63″ Width
24.88″ Depth
33″ Height
Despite having a lower capacity than the models above, the Blaze Ice Maker is my top premium pick for a few reasons. First, it's outdoor rated, which isn't the case for others on this list. In short, it includes extra insulation so it doesn't overwork the refrigeration system in higher ambient temperatures.
Second, its ice basket is refrigerated. This means it can actually hold the produced ice without it melting. However, as its production capacity is 50lbs. a day and the basket holds 25lbs., you'll need to empty it at least every 12 hours.
This ice maker is Energy Star certified. According to the product specifications, it uses 12.2kWh per 100lbs. of ice, which is on the higher end of the Energy Star certification list.
It connects directly to a water inlet but has a built-in filter, meaning it uses very clean water for making clear ice cubes. There's also a gravity drain to get rid of any waste water.
Unfortunately, we don't have any information about its noise rating. As it's an outdoor-rated model, it's fair to assume it'll be a bit louder than indoor models. That said, all the extra insulation should keep its noise down a bit.
I figured it was a bit difficult to get an idea of this premium model size and dimension. The video below should give you a good idea of how big it is.
The only other downside is that it doesn't have a self-clean function, which would be a helpful addition on such a premium model. Manually cleaning an ice maker isn't a massive issue, but it's a feature on much cheaper models.
---
PROs
Outdoor-rated insulation.
Refrigerated ice basket.
Energy Star certified.
CONs
No self-clean function.
No indication of noise rating.
Top Pick for High Capacity: Silonn Commercial Ice Maker
Ice cap.: 150lbs per 24 hours
Ice size settings: 1
Ice basket: 33lbs
Refrigerated basket: No
Power Rating: NC
Energy eff.: <10 kWh/100lbs. of ice (Estimate)
Gravity Drain
Outdoor rating: No
Size:
15.75″ Width
17.63″ Depth
31.41″ Height
While none of the ice makers on this list has a small capacity, the Silonn Ice Maker is even higher too. At 150lbs. a day, it produces noticeably more ice. Helpfully, it also has a bigger ice basket: 33lbs. It's a good alternative to the Euhomy top pick in terms of design and price if you want more ice.
Its production speed is faster, too. Depending on the cube size, it can produce a tray of ice in 8-15 minutes. Unfortunately, it only features an insulated ice basket, so you'll have to empty it fairly regularly to avoid melting.
The LCD control panel is easy to use and features a low water warning if you're filling using a bottle. However, you can also connect it to a water inlet – it features a hose for doing so. It also has a gravity-fed drain, so you'll need to put it somewhere this won't be an issue.
As with the other models, we don't have a decibel rating for this quiet ice maker. Users state it's quiet, although we don't have any comparisons to other household appliances. Based on the ranges given above, it's fair to assume the Silonn is comparable.
There's not much bad to say about this model. It would be great if it had a refrigerated ice basket considering its higher capacity. But as you can probably tell by now, this isn't a very common feature, even on undercounter ice makers.
Unlike more premium models, the Silonn doesn't specify its energy consumption. Looking at its higher capacity, it's fair to assume it'll be under 10kWh per 100lbs. of ice range (based on a conservative power consumption of 400W).
---
PROs
Massive ice capacity.
Fast production speed of 3 cube sizes.
Easy to use.
CONs
Would be helpful if the ice basket was refrigerated.
No energy rating in the specifications.
4. Duura DI50P Premium Ice Maker
Ice cap.: 65lbs per 24 hours
Ice size settings: 1
Ice basket: 25lbs
Refrigerated basket: No
Power Rating: 800 W
Energy eff.: 10.1 kWh/100lbs. of ice
Gravity Drain
Outdoor rating: No
Size:
14.6″ Width
23.4″ Depth
32.6″ Height
The Duura Premium Ice Maker is suitable as a built-in ice machine for home use. It produces 65lbs. of ice a day. While this isn't as much as other models on this list, it should be enough daily ice for a household.
Its ice basket holds 25lbs. of ice, and it has a water inlet and gravity drain. As with other models, it's not a refrigerated basket. However, it has a thick insulated door, which can keep ice frozen for a few hours. At least, this door will do 10 times better at keeping the calories outside than the Euhomy IM-02 and the Silonn.
Its energy efficiency is 10.1kWh per 100lbs. of ice, which is fairly efficient. It's Energy Star certified, so you can be confident that it won't use too much energy when working.
Unfortunately, there's no specified noise rating. Reviewers state that it makes noise when the sump pump is running, implying that the compressor is fairly quiet. It'll run the pump when it's drawing water into the ice tray, meaning it won't make too much noise for very long.
This is its only major downside according to users. They state it produces ice quickly and the machine is decent quality. Provided you can ignore the louder pump noises, this is a decent option for a built-in or freestanding ice machine.
---
PROs
Insulated door helps keep ice frozen.
Very energy efficient.
Users state it's generally quiet.
5. Euhomy Undercounter Commercial Ice Maker (IM-08S)
Ice cap.: 80lbs per 24 hours
Ice size settings: 1
Ice basket: 24lbs
Refrigerated basket: No
Power Rating: ~300 W
Energy eff.: 9 kWh/100lbs. of ice (Estimate)
Gravity Drain
Outdoor rating: No
Size:
15″ Width
20.3″ Depth
33.5″ Height
This Euhomy model is a good step up from the Euhomy top pick model. It's more of a built-in design, although it can also be freestanding. It has a higher daily capacity (80lbs.) but its ice basket is smaller (24lbs.). However, it's arguably more insulated, so should keep the ice frozen for longer.
Reviewers state it's easy to use and the LCD control panel is clear and functional. It has a self-clean function and a preset timer, so you can set the machine up to make ice in advance. You also get 2 water connection options, although the mains water inlet is arguably more convenient.
Although it's an insulated rather than refrigerated basket, users state it keeps the ice cold for a long time. One user states it's still frozen after a few hours, even in 90+ degree temperatures. This is pretty helpful, as you'd otherwise have to empty it constantly.
The specs indicate the Euhomy need a current input between 2.6 and 3 amps. At a voltage of 115V, it would give us a power rating of 300W. As such, we can expect an energy consumption of 9kWh per 100lbs. of ice.
Its biggest downside is that once the ice bin is around ¾ full, it tricks the basket sensor and stops the machine from making more ice. To combat this, you'll need to check it occasionally and move the ice around or empty it. If you don't, it won't start making more until some of the ice has melted, which is a waste of energy.
PROs
Easy to use.
Decent ice capacity.
Basket is well insulated.
CONs
Ice is dumped at the back of the basket – requires moving to keep it producing.
Factors Affecting Noise in an Undercounter Ice Maker
No matter whether ice makers are undercounter or countertop, they work in the same way. Here's a brief overview of how they make ice:
You add water, which is then fed into an ice tray.
The machine has a refrigeration system, which cools the water using refrigerant gas.
The gas then goes through a vapor-compression cycle. It means the gas takes heat from the evaporator and releases the heat outside of the ice maker..
The refrigerant keeps cycling in the system due to the pressure induced by a compressor.
The evaporator dips in water, meaning ice forms at its contact as it gets colder.
Once the ice is frozen, a solenoid valve triggers, which increases the temperature of the evaporator. The ice is not stuck to the evaporator and can be emptied into the basket.
The machine repeats with another tray of water.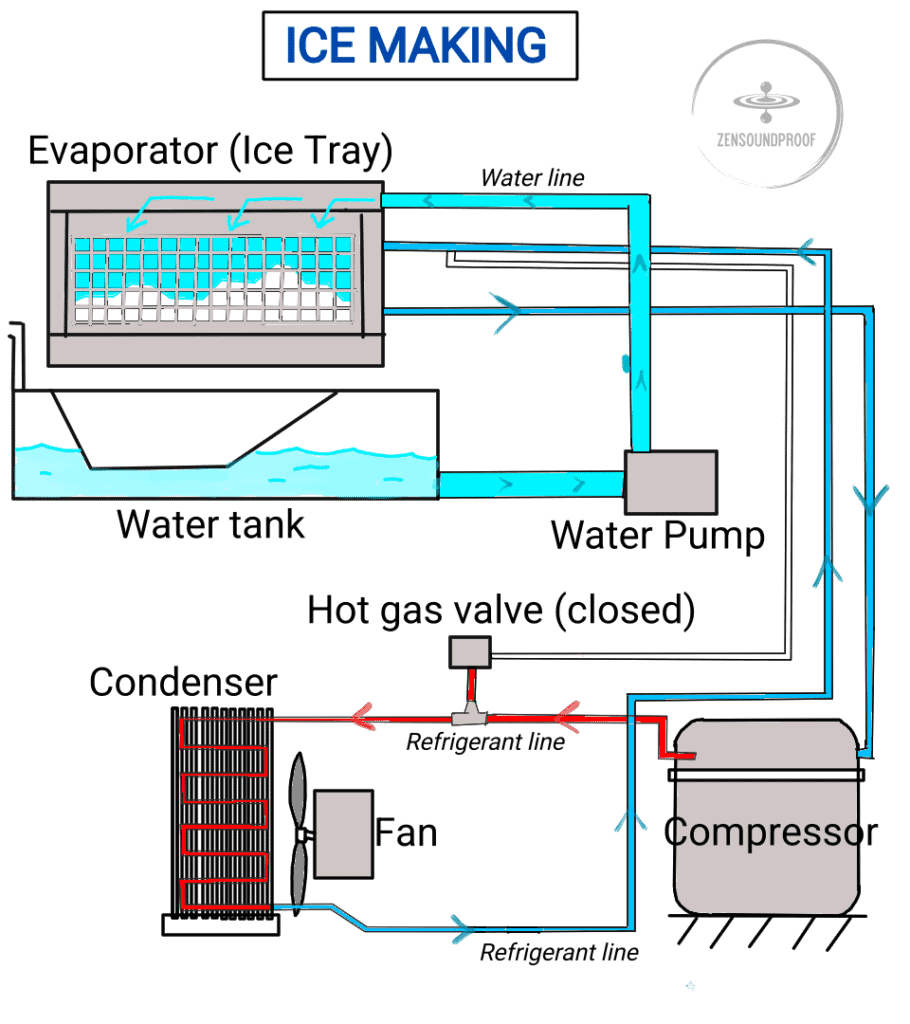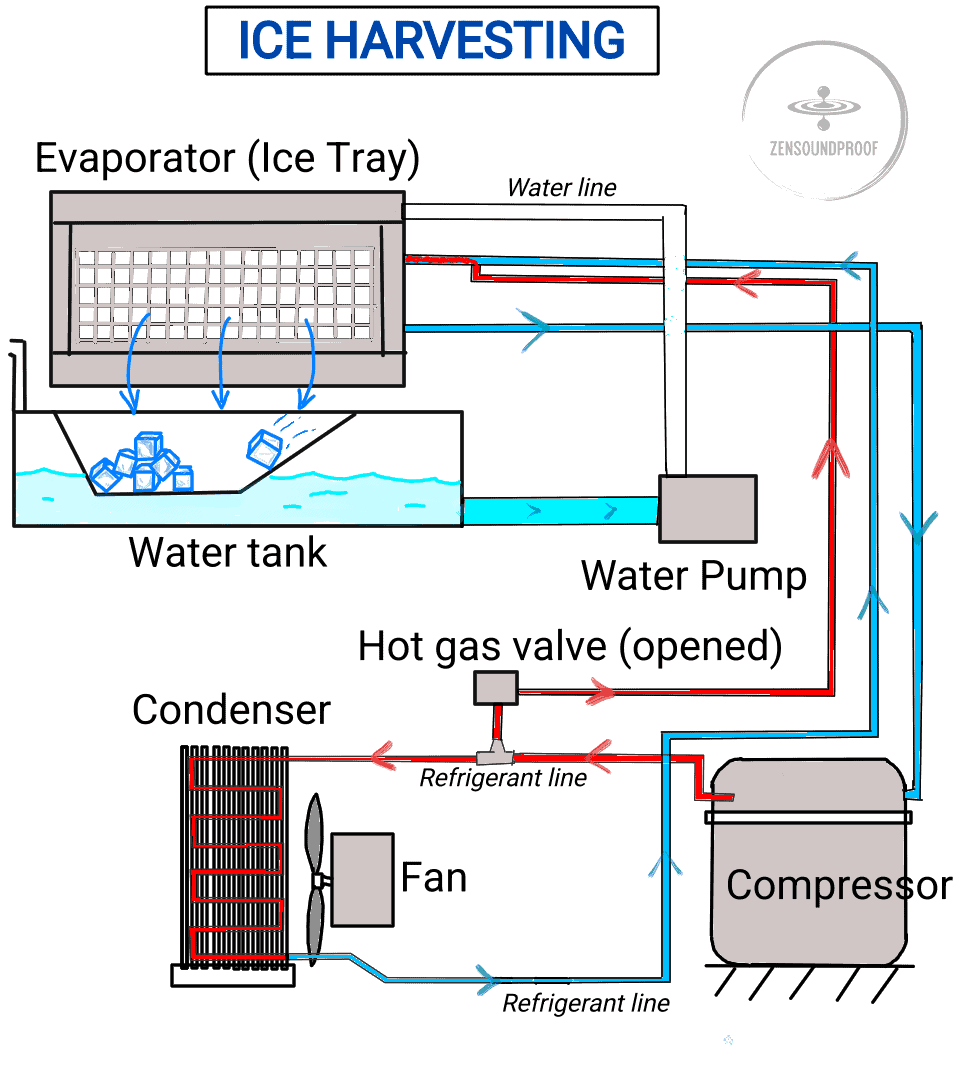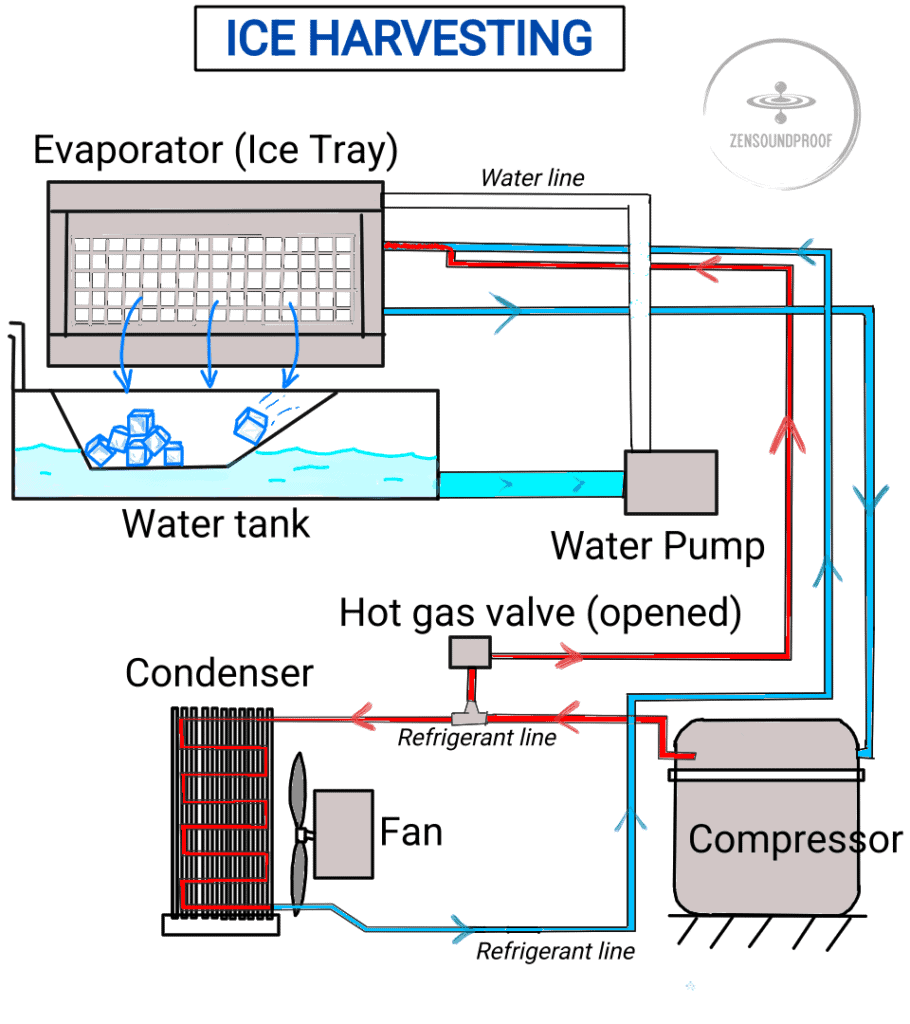 If you know a thing or two about refrigerant systems, whether in a quiet ice maker, AC unit or fridge, you'll know what the noise sources are here. We have:
The pump. This is what moves refrigerant around the system, and there'll also be a pump for moving water. It produces both airborne and impact sounds (in the form of vibrations).
The ice. Ice falling into the basket makes noise, specifically impact noise.
The fan. Ice makers have a fan for conveying outside air on the condenser. This is airborne noise.
The refrigeration system (mainly the compressor). The compressor produces airborne sound and impact noise due to the vibrations of the rotating parts. Usually, you'll find compressors mounted on dampers to mitigate vibrations passing on to the structure.
The best way to guarantee you're getting the quietest undercounter ice maker is to find one that's decent quality. There's not much we can do in terms of adding extra insulation (other than a sheet of foam in the ice basket).
As you can see, though, few undercounter ice makers have a specific decibel rating. We can assume that they operate around the same noise level as a household refrigerator because both appliances basically do the same thing.
Features that Matter in a Quiet Undercounter Ice Maker
So, when picking out the right undercounter ice maker for your needs, what should you consider? Here are what I believe to be the most important factors when making your decision.
Noise Level
There's not much more to say about noise output that I haven't covered already. If noise is more of a concern than ice production capacity, I'd recommend opting for a countertop ice maker instead. If nothing else, manufacturers state a decibel rating, allowing you to make a clearer decision.
Ice Maker Type
When looking at undercounter ice makers, we have 2 main types:
Built-In
A built-in ice maker slots into an empty space in a kitchen or countertop setup, theoretically taking the place of a cupboard or another appliance.
The most important factor here is to ensure the model has its ventilation on the front. This prevents it from overheating, which would happen if it was on the back or sides.
Built-in models are generally more expensive because they have higher-quality finishings on the front for a sleeker look. As such, the manufacturing costs are higher.
Freestanding
A freestanding ice maker doesn't have to be put under a counter. However, they fall into this category because they're typically the same size and design as built-in ones. All the undercounter ice makers on this list can be either freestanding or built-in.
The main differences are that freestanding models have finished sides and can have ventilation on any side. It's most common for freestanding models to also work as built-in ice makers, but just be sure to check the ventilation setup first.
Portable
Portable ice makers aren't usually undercounter models but are rather on-counter. They're lighter, often have handles, and their production capacity is much lower. However, they're ideal for occasional use or for taking to a cookout or in an RV.
I've done a complete article on portable ice makers, so check that out if you think they'd be more appropriate for your needs.
Capacity
An ice maker's capacity refers to how much ice it can make in a 24-hour period. Undercounter models usually have a high capacity – anywhere from 50-150lbs. Around 80-100lbs. seems to be the sweet spot for a household or small commercial ice making machine.
Depending on the size of the ice cube and the machine's capacity, this equates to 4,000 or so ice cubes a day. This should be more than enough for a family or party setting.
Ice makers have a decreased ice capacity in case:
The external temperature higher.
Or the water temperature is higher.
To illustrate the above check out these numbers from the Duura DI50P specs. With an increased of both the water air and water temperature of 20° F, the ice capacity decreased by 21%.
| | |
| --- | --- |
| 50° F water / 70 ° F air | Up to 65lbs of ice/day |
| 70° F water / 90 ° F air | Up to 51lbs of ice/day |
Extract of Duura's DI50P specs
Of course, you can get as technical as you want in terms of weighing a single cube, calculating how many you need per drink, and then working out your desired daily capacity. But this isn't really necessary. Assume 80-100lbs. should be enough for a family of 4 who enjoy a lot of ice.
Ice Type & Shape
An undercounter ice machine typically produces cubed ice – the shape and style we're most familiar with. However, if you want bullet ice (freezes faster) or nugget ice (better for blending), look at a portable ice maker machine.
Ice cubes take longer to freeze, but also melt more slowly. Undercounter ice makers produce cubed ice because they're generally more powerful than portable models. Crescent shaped ice is another option, but this is a style thing more than anything else.
It's pretty standard for undercounter ice makers to make 3 sizes of cube, ranging from small to large. This should give you enough flexibility for things like cooling bottled drinks, filling a cooler, blending, etc.
Water Filter
Not all undercounter ice makes have a filter fitted, but it's a useful feature if you're using mains water. Unsurprisingly, it filters impurities from the water before it properly enters the machine.
In theory, this means it'll produce clearer ice. However, this is an appearance thing more than anything, as it doesn't have a massive impact on how quickly cubes melt.
The more important benefit is that it keeps the ice maker's water pipes clean. Impurities in water, such as minerals, can build up in the pipes. Over time, this can cause blockages if not cleaned properly. A water filter is therefore an easier solution, although not a complete replacement for cleaning.
Water Supply & Drainage
Undercounter models typically have 2 water inlet methods: via a bottle or jug, or from a mains water connection. The latter could either be directly from a tap or connected to a water inlet pipe, such as what you might use for a dishwasher or washing machine.
This is a more convenient option because it means you don't need to be on hand to constantly refill the water reservoir. Ice makers should come with the relevant hoses and connectors, but check they're compatible with the inlet you plan to use.
As for drainage to remove melted ice, gravity drains are most common, as this avoids the need for an extra pump. Portable ice makers usually have a recycling system for meltwater, but undercounter models have a drain instead. Arguably, this is the safer and more hygienic options.
However, gravity drains need to be lower than the ice maker's outlet hole. This could limit where you set it up, so make sure you check this out first.
Energy Efficiency
Undercounter ice machines use more power than portable models. However, they also produce more ice, so their energy efficiency ratings are somewhat comparable.
We measure energy efficiency in kWh/100lbs. of ice. This is the amount of energy in kWh needed to make 100lbs. of ice. Luckily, some of the ice makers above produce 100lbs. of ice in 24 hours, making calculations using their rated power pretty easy.
There is an Energy Star category for ice makers, which is relevant here. It ranges from less than 4kWh to around 12kWh for ice makers that produce 500lbs. a day or less. Although we don't have energy consumption figures for all the models on this list, we can estimate energy consumption. In theory, all of them fall within the Energy Star guidelines.
Extra Features
Some extra features you might want to consider include:
Outdoor Rating
If you plan to use an ice maker outside, such as in a cooking area, be sure to choose an outdoor-rated one. It'll have more insulation, which prevents the refrigerant system from overheating and stops the ice from melting.
Cooling System
All household ice makers are air-cooled. In short, this means a fan extracts excess heat energy. However, high-end commercial models can be water cooled, and are quieter as a result.
Water is also a much better conductor of heat, making them more efficient. The price tag associated with these models is significantly higher, though, so probably isn't something you'd consider for an at-home model.
Self-Cleaning
It's vital that you clean an ice maker regularly, as the water typically sits between freezing and bacteria-producing temperatures. While manually cleaning a portable ice maker isn't too much of an issue, cleaning an undercounter model can be a pain.
As such, it's helpful to find a model with a self-cleaning function. In short, it runs a water cycle – to which you add cleaner – and then drains it to keep everything clean.
You can check out this video of a portable ice maker running a self-clean function. As you can see, you can use household products (vinegar, lemon juice) and it's pretty easy to set up.
Preset Timer
An ice maker's timer is pretty self-explanatory. You can set everything up a day in advance to decide when the machine comes on. While this isn't a necessary feature, it's helpful for businesses, and if you want to have some fresh ice for when you get home from work.
Final Thoughts
Hopefully, this article has given you some inspiration about the best quietest ice maker on the market.
My pick for the best undercounter ice maker is the Euhomy Commercial Ice Maker. It's got a decent capacity and production speed, and it's small and efficient enough for household use. Of course, if you need more ice or an outdoor rating, the other models on this list might fit better.
Do you have any other ice makers you think are best? If so, let me know in the comments below.