Choosing a quiet bed frame should be high on your list of priorities if you want a peaceful night's sleep. There's nothing more annoying than a squeaky bed, particularly one that wakes you up in the middle of the night when you switch positions.
If this is a problem you're all too familiar with, you're in the right place. In this article, I review my top picks for the quietest bed frames. I'll also cover some key considerations so you can pick a bed frame that's quiet and meets your needs.
What is the Best Quiet Bed Frame?
Quiet bed frames should be high quality and built as solidly as possible. My picks are based on these exact criteria, and I've included a few different style options, too.
1. Top Pick: Zinus Judy Upholstered Bed Frame
Platform Bed Frame
Wooden Slats
Wooden Legs
Structure: Steel
Headboard: Yes
Size: Twin, Full, Queen, King
This is my top pick for the quietest bed frame because it's simple but well built. It's a platform bed frame with wood slats, which support your mattress and cut down on squeaky noises.
Because it's a platform bed, there's no need for a box spring. As this is one of the loudest parts of a bed, it's a big help for keeping the noise level down.
It's a metal platform bed frame made from steel, which is upholstered. There's a headboard but no footboard, although this isn't a big loss. The upholstered platform bed is padded with foam, so you don't need to worry about banging your head or shins!
The video below gives an overview of the Zinus Judy assembled. The reviewer shows the build with close-up shots while explaining he's very happy with the quality for the money.
The bed comes in twin to king sizes, which support between 350lbs. and 700lbs. depending on the size. This means all sizes will be suitable for most couples, although the twin bed would be a cozy fit.
Most reviewers state that the bed is very easy to assemble and even comes with the right tool. But, they also state that it's very heavy when packaged and is difficult for one person to handle alone. So, when you get this bed delivered, be sure to have a helper ready to carry it.
PROs
Easy to assemble.
Sturdy steel frame cuts down on noise.
Wooden slats provide plenty of support.
Just under 14 inch high – easy to get in and out.
2. Top Budget Pick: Olee 14" Heavy Duty Steel Bed Frame
Platform Bed Frame
Steel Slats
Steel Legs
Structure: Steel
Headboard: No
Size: Twin, Full, Queen, King
If you want a no-nonsense, budget-friendly quiet bed frame, this might be the one for you. It's a metal platform bed frame made from powder-coated steel. Its steel slat frame is quite sturdy too.
There's no headboard or footboard, but that's mainly to keep the cost down. As such, it's a good bed frame for minimalist or industrial room designs. You can fix your own headboard, but it'll likely create noise if not attached properly.
The frame is 14 inch high, meaning there's room for storage underneath. It's compatible with all mattress types, and the frame has a small lip to stop the mattress from slipping around.
It comes in twin, full, queen, and king sizes; the queen can support up to 600lbs. But it's a full steel frame, so its actual maximum weight allowance is probably much higher. Several reviewers state that it's incredibly sturdy, even during more intense activities.
The frame is easy to assemble and comes with anti-slip footpads. However, users state that after the first few years, its build quality starts to show. Specifically, the corner welds split on some models. But, this is to be expected on a budget-friendly bed frame.
Check out the video below to get an idea of what it looks like packaged, pre-assembled and assembled. It should give you a good sense of the sturdiness of the build.
The same users state that if it does start to squeak, tightening the bolts helps the issue. In fact, I recommend doing this at least twice a year anyway.
PROs
Budget-friendly quiet bed frame.
Room for storage underneath.
No need for a box spring.
Sturdy design (for the first few years, at least).
CONs
Bumping into the bed frame hurts.
Model's build quality shows after a few years.
3. Zinus Brock Japanese Bed Frame
Platform Bed Frame
Wooden Slats
Wooden Frame
Structure: Steel
Headboard: Yes
Size: Twin, Full, Queen, King
Having a low-profile bed isn't to everyone's taste, but it feels sturdier. This Japanese bed frame from Zinus is a perfect example. Of course, it helps that the frame is built from solid acacia wood with metal supports.
It's a wood platform bed frame with wood slats to support your mattress. The steel framework shows on the headboard, making this model suitable for boho, farmhouse, or shabby-chic room designs.
The frame is only 7" tall, and the sides are solid, meaning there's no room for storage underneath. But, on the plus side, it means you don't have to clean under the bed!
Check out the video below to get a sense of the steps for assembling the bed frame. The video can also help visualize why the low profile help lowers the center of gravity, thus reducing the wobbliness of the frame.
You can choose from twin, full and queen, or king. But, the manufacturer only provides a weight capacity measurement for the twin (350lbs.). It's fair to assume that the weight limits are comparable to the Zinus Judy above. As with other platform bed frames, you don't need a box spring.
While reviewers praise the design, some note that the solid wood makes it very heavy and difficult to assemble. The instructions are simple enough, but it's a challenge to lift the pieces on your own. Make sure you have a second pair of hands to build this bed.
PROs
Solid wood and steel bed frame.
Low-profile Japanese style.
Suitable for foam, latex or spring mattress.
Full size range.
CONs
Design makes it very heavy.
No room for storage underneath.
4. Olee Sleep Smart Wood Platform Bed
Platform Bed Frame
Wooden Slats
Wooden Frame
Structure: Wood
Headboard: No
Size: Full, Queen, King
If you're looking for frames that don't squeak, a wood platform bed is a good choice. There are no springs or metal parts in this Olee Sleep Smart, but it's still incredibly sturdy.
It has 11 legs to better distribute weight and uses wood slats to support the mattress. As with other designs, it has a small lip so the mattress is non-slip. The wooden frame will suit a wide range of room styles, too.
You can choose from full, queen, or king sizes, but there's no weight capacity mentioned. It likely can't support as much weight as a full metal frame but should be fine for most couples. Also, it doesn't require a box spring, which adds extra weight.
Although it doesn't state what wood the frame is made from, it's not a composite material like particleboard. One reviewer states that it feels very solid. As you can probably tell from the picture, it doesn't include a headboard and footboard. However, the manufacturer gives some brief guidance on how to attach them.
The bed frame is easy to assemble, but you might find you have to tighten the screws regularly. Also, some users state it slides around on wooden floors because the feet are wood. You can prevent this by sticking some non-slip furniture pads on them while you're building it.
PROs
Elegant wooden bed frame.
Noise free thanks to lack of springs and metal.
Under bed storage.
Suitable for all mattress types.
CONs
No stated weight limit.
Slides around on wooden floors (easily fixed).
5. Noillats Metal Bed Frame
Platform Bed Frame
Steel Slats
Steel Frame
Structure: Steel
Headboard: Yes
Size: Twin, Full, Queen
This metal platform bed frame is a more traditional design, but it's still squeak-free. It's made from sturdy steel, including the slats, and it's powder-coated black.
It has a headboard and footboard that look great and help keep the mattress in place. There are 12 legs for extra support, and each comes fitted with a non-slip pad. This means it's suitable for hard and carpeted floors.
You can choose from twin, full, and queen size options, but there's no king size. The queen size frame holds up to 500lbs, which should be plenty for most couples. But, some users state you should choose your mattress carefully, as the steel slat can press through thinner, cheaper mattresses. I recommend choosing one more than 6" thick.
The frame is pretty easy to assemble – it shouldn't take longer than 30 minutes. Plus, the boxes aren't too heavy, meaning this job should be possible for one person. As with other metal bed frames, make sure you tighten the bolts regularly.
Users' main complaints are about the mattress sliding around, as there's no lip to keep it in place. The easiest way to prevent the mattress from slipping is by applying some foam padded tape to the slats or using a dedicated mattress slide stopper.
PROs
Heavy-duty steel frame.
Easy to assemble.
12 legs for support.
Room for storage underneath.
CONs
Needs a thicker mattress.
Mattress can slip around on the slats.
6. Ziyoo Box Spring High Profile Bed Frame
Box Spring Frame
Steel Slats
Steel Frame
Structure: Steel
Headboard: No
Size: Twin, Full, Queen, King, California King
This is the only box spring frame on this list, but it's designed to be squeak free. Importantly, it has a faux suede zip cover that stops parts from rubbing together. Better yet, it helps keep the mattress in place.
Also, it comes in California king, which none of the others does. As you can imagine, the California king supports more weight than the other frames, making it suitable for larger people. That said, the manufacturer doesn't actually state its weight capacity, but plenty of reviewers back this up.
The bed is a steel frame with an upholstered cover. It doesn't have a headboard and footboard, though, and unlike wood frames, there isn't an option for attaching one. But, this is a minor issue if you place it against a wall.
The frame is 9" tall, which isn't really as high profile as it claims to be. Compared to the Zinus Judy, which is 14" high, it's actually quite low.
Some reviewers state that the frame is quite difficult to assemble due to its weight and the length of the screws. One step tells you to adjust the screws, but this is difficult because they're not quite long enough. To solve this, you'll need help assembling the bed, even if it's just some support while you tighten things.
PROs
Comes in California king size.
Heavy-duty steel frame.
Faux suede cover stops the mattress from sliding around.
CONs
Difficult to assemble on your own.
7. Zinus Super Heavy Duty Platform Bed Frame
Platform Bed Frame
Steel Slats
Steel Frame
Structure: Steel
Headboard: No
Size: Twin, Full, Queen, King
This frame from Zinus can support up to 8 times the weight of normal bed frames. In real terms, this is 4,400lbs! It's a great option for those who need far more support from their frame and is obviously a pretty sturdy bed.
Importantly, it's still got all the functionality you need from a quiet bed frame. It's an entirely metal frame and is made from heavy-duty steel. If you're looking for frames that won't squeak, this is a great option.
The frame is 12.8" high, so has plenty of room for storage underneath. It's also easy to build and doesn't require any tools. You can choose from twin, full, queen, and king sizes, so there should be an option for everyone.
It works with any kind of mattress, but you might want to add a non-slip mat. The frame doesn't have a lip like other models, so your mattress could slip around. Consider a non-slip pad to prevent it from sliding around.
Some users critique the fact that the support beams cut down on storage space underneath. They reduce the space by about 4", which isn't loads, but could impact what you can store under there. However, it's a fairly minor issue.
PROs
Supports 8 times the weight of normal bed frames.
Steel construction makes it durable.
Has storage space underneath.
CONs
Support beams reduce storage capacity.
What is the Quietest Type of Bed Frame?
The quietest bed frames are platform bed frames. It provides a sturdy foundation for your mattress, and its solid frame means there is less movement and fewer squeaky parts. Material-wise, your best options are metal and wood.
That said, build quality is perhaps more important than the type of bed frame you buy. A poorly built frame will begin to sag or stretch, which in turn can lead to squeaks and other noises. A good quality bed will remain noise free for years.
Also, proper maintenance is key. You should tighten your frame's bolts at least twice a year. Loose bolts are a major cause of squeaks and will increase stress and wear on the frame's joints.
So, although you can narrow down your options by choosing a platform bed, there are plenty of more important factors to consider.
What to Look for in a Quiet Bed Frames
Choosing the quietest bed frames involves more than just frame type. Below are my top tips for making the right decision when it comes to a bed. Granted, not all of them relate to noise, but they're important nonetheless.
Material
Choosing the right material for your bed frame is vital. Generally, your options are metal or wood. A metal bed frame is usually a steel construction, as it's durable and can withstand a lot of weight.
Steel bed frames have the advantage over wood bed frames of withstanding more assembly-disassembly cycles. Over time, the screw holes will loosen more easily on wood bed frames.
Steel material is more durable because it's more elastic than wood when submitted to stress. So, wood bed frames look much better but aren't as durable. Provided you maintain them properly, you can keep them noise free for years, though.
Steel bed frames are often upholstered so they look a bit nicer. Your options include fabric, faux leather, and faux suede. Of course, this has little impact on performance but does affect longevity.
None of these materials is that easy to maintain. Fabric is perhaps the easiest but isn't stain resistant. While faux leather doesn't stain, it doesn't age particularly well. Also, faux leather rips more easily and is a challenge to maintain.
Which option you choose for your upholstered platform bed largely depends on how long you want it to last.
Slats
Once you put your mattress on the bed, there's no difference between metal and wooden slats. The difference, again, comes down to longevity.
If you have a heavy mattress, wooden slats can bow over time, causing them to pop out of the frame. Few beds with wooden slats fix them in place, whereas metal slats are attached to the frame.
But, if neither option appeals, you can always choose a divan bed. These are a bit outdated now though.
Weight Limit
Weight limit is obviously a vital factor when choosing a quiet bed frame. The weights listed above include people and mattresses. Bear this in mind when making your choice.
The average mattress weighs between 50lbs. and 150lbs. Memory foam mattresses are typically heavier than spring mattresses, but all should advertise their weight.
Then, you must factor in the people sleeping on the bed. Couples will need a higher weight limit, but the Zinus Judy, for example, can hold up to 700lbs. This is probably more than enough for most couples.
Also, overweight people are fine on slatted beds. There shouldn't be any issues with sagging, although metal slats are more durable. With wooden ones, your biggest issue is sudden or uneven weight distribution. If you're unsure, just opt for metal slats.
Bed Frame Height
Most bed frames are 14" high, which is suitable for most people. There are numerous factors involved in choosing the right bed height, and you must also factor in your mattress's thickness.
Lower beds are generally a design choice more than anything else. Low-profile and Japanese style beds are great if you don't have a problem getting down into them.
Seniors and people with mobility issues need to be very careful about their bed height selection. You should be able to sit on the edge of the bed with your feet on the floor for easiest access.
Headboard
Generally, headboards are more of a design choice than anything else. Their main practical function is to stop your pillows from slipping off the bed, but this won't happen if your bed is against a wall.
Headboards can impact the bed's overall noise level, though. First, they can bang against the wall when you move. Second, they add more joins where screws can come loose and squeak.
If your perfect frame doesn't have a headboard, you can attach your own. Check out this video for how to attach a headboard to a wooden platform bed or this one for how to mount a headboard on the wall.
Storage
Again, this is a fairly minor factor when choosing a quiet bed frame. Higher profile beds have room for storage underneath, which is helpful in smaller bedrooms.
A 14" high bed frame has plenty of room underneath, allowing you to store clothes, shoes, and other items. But, it does come with the downside of you having to clean down there.
How to Make a Bed Frame Less Noisy
If you're not in the market for a new quiet bed frame, or your budget doesn't cover it, you have options for making your bed quieter. Here are my top tips for making your bed frame less noisy.
Step 1: Find the source
You should start by identifying the source of the noise. It could be the mattress, the box spring, or the frame. If you have a memory foam mattress, move on.
Hybrid and spring mattresses can make noise. To test it, take it off the bed and lie on it. Move around, and if it squeaks, you've found the problem. Unfortunately, the main solution is to buy a new one.
The box spring is also easy to test: move around on it. Again, the solution is to buy a new one, or not. Most mattresses no longer need a box spring.
If it's none of the above, the cause of noise is likely the frame. You can test it, but it's best to just move on with the solutions.
Step 2: Tighten screws
A bed frame is held together by screws and bolts. Over time, these come loose through repeated movement, even if it's just getting on and off the bed.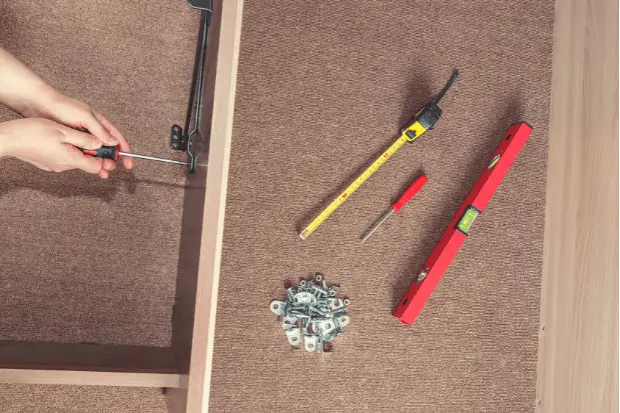 On slatted beds, your most likely sources are the middle support joist and the frame's corner joins.
That said, it's easy enough to go around the whole bed frame tightening everything. You'll need a screwdriver and a wrench.
To get everything tighter, consider adding some nylon washers. They also prevent metal parts from rubbing together, which is a common source of squeaking noises.
If you have a wooden bed frame, you won't want to tighten the screws too hard, as this could cause the wood to split. If you notice some joints are loose or wobbly, stuff some small bits of cork into them.
Cork works great as a cushion that takes up some of the extra room. Wax can also help lube joints instead of WD-40.
Step 3: Lubricate the joints
Along with tightening everything, it can help to add some lubricant. It stops metal from making noise when it rubs together, so it masks the problem rather than solves it.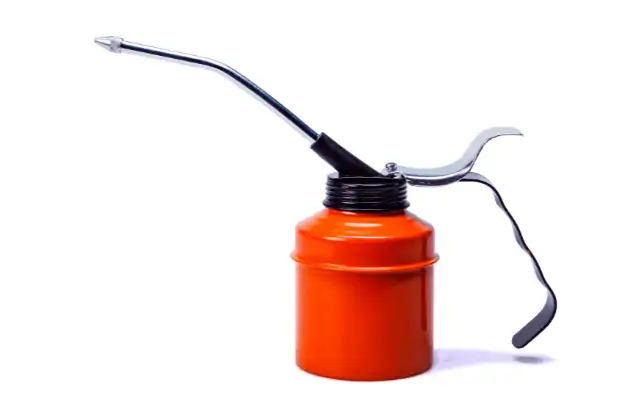 But, this is fine if it means a peaceful night's sleep! Just use some WD-40 and squirt it into screw holes and any other metal joints you can see. Repeat this roughly twice a year.
Step 4: Add some cushioning
Another source of noise is friction between the mattress and bed frame. Luckily, this is also easy to fix. Just add a layer of cushioning around the mattress – something like a blanket or a non-slip pad will be fine.
Finally:
Make sure it's not a floorboard that's squeaking, as this is another thing entirely.
Check whether your bed has non-slip pads on the bottom. If not, add some.
If your bed frame is on wheels, use caster cups to stop it from rolling around and to reduce noise.
Final Thoughts on the Quietest Bed Frames
Hopefully, this article will help you have a quiet, noise free night.
If you need a quality quiet bed frame, my top pick is the Zinus Judy. It's heavy duty, looks great, and will last for years.
Of course, the budget-friendly Olee Sleep Frame will do the job if you're in a pinch.
If you're looking to drown noise in your bedroom, check out my article about white noise machine for a better night of sleep. You can also consider wearing earplugs for sleeping. Earplugs have come a long way to provide comfort when in bed. Check out my selection of the best earplugs for sleeping here.
Do you have any other tips for making a bedroom quieter? I'd love to hear from you below!