When choosing a generator, noise output should be one of your main considerations. After all, if you're running it near your home, RV or campsite, the last thing you want is to be deafened by a loud generator!
So, in this article, I'll answer the question, what is the quietest 7000 watt generator? I'll run through my top picks before looking at other important factors to consider.
By the end, you should have a good idea of what constitutes an effective (and quiet) 7000 watt generator.
I've also covered the generators with lower and higher power output in my other related articles:
How Many dB is a Quiet 7000 Watt Generator?
A quiet 7000 watt generator can go as low as 55dB. On the other hand, a standard 7000 watt generator could output 75dB or more of noise. For a real-world comparison, this is the difference between a normal conversation and a loud vacuum cleaner.
Noise levels appearing in manufacturers' specs are measured 23ft away from the generator. This is standard practice for generator units. In my selection of top picks, I cross-checked as much as possible the noise from the manufacturers with measurements from users. My conclusion: manufacturers appear pretty accurate with their data.
Factors such as build quality do have an impact on noise level, but more powerful generators typically make more noise. If you want a much quieter generator, I recommend going for a less powerful model if you can get away with it. However, a 7000W would be good for power outages.
Top 5 Quietest 7000 Watt Generator
In my top picks below, I use noise output as the main factor. Of course, I won't overlook other important aspects, such as functionality. So, here are my top picks for the quietest 7000 watt generator.
Top Pick: GENMAX GM9000iED Portable Generator
Noise level: 62 dB min
Starting Power: 9000/8550 W (gas/propane)
Running Power: 7600/7200 W (gas/propane)
Inverter: Yes
Start: Electric & Recoil
Dual fuel: Yes
Run time: On gasoline, 10 hours (50% load)
Tank capacity: 6.9 gal
Outlet / port:
4 x 120V 5-20R [20A] – (Household type)
1 x 120/240V L14-50R [50A]
1 x 120/240V L14-30R [30A]
2 x USB
Wheels: Yes
Handle: Yes (Foldable)
Dry Weight: 243.6 lbs.
The GENMAX GM9000iED is my top pick because it strikes a good balance between noise output and power level. At 62dB, it's not the quietest on this list (it's third, in fact), but its running wattage of 7600 is much more powerful than the quieter models.
It has a surge wattage of 9000W, giving you a nice boost of power to start up demanding appliances. There's also a Low Idle mode, which is the equivalent of eco-modes on other generators. As it's an inverter generator, it's fairly efficient anyway.
Better yet, it's a dual fuel generator. The gas tank is 6.9 gallons, which will give you up to 10 hours of runtime at 50% load. It gives 0.69 gallons/hour, which is average. When connected to a propane tank, your only limitation is how much propane you have!
In terms of outlets, it's got you pretty well covered. There are 4 x 120V, 20A outlets, 2 x 120/240V with 30A and 50A fuses, and a 5V USB adaptor. Unlike other generators, you can run both 120V and 240V at the same time, which is a big bonus.
Perhaps the only downside (and it's not a massive one) is that the generator weighs 280lbs. This means it'll be pretty difficult to take camping or in your RV, but the wheels and handle do make it a bit more maneuverable.
Check out the video below for a quick noise emission measurement. It's a measure 23ft away from the generator. The noise recorded was 55dB and actually below the 62dB mentioned in the specifications.
PROs
Dual fuel generator.
Fairly quiet.
You can run 120V and 240V power at the same time.
Inverter: low harmonic distortion.
CONs
Heavy.
Fuel efficiency is average.
Top Budget Pick: Westinghouse WGen 7500DF
Noise level: 62 dB min
Starting Power: 9500/8550 W (gas/propane)
Running Power: 7500/6550 W (gas/propane)
Inverter: No
Start: Electric & Recoil
Dual fuel: Yes
Run time:
On gasoline, 11 hours (50% load)
On propane, 8 hours (50% load)
Tank capacity: 6.6 gal
Outlet / port:
4 x 120V 5-20R [20A] – (Household type)
1 x 120/240V L14-30R [30A]
2 x USB
Wheels: Yes
Handle: Yes (Foldable)
Dry Weight: 201 lbs.
The Westinghouse WGen 7500DF produces 74dB of noise, so it's on the higher end of our scale. But it's also noticeably cheaper than the other options, meaning it might be worth choosing if price is more important than noise output.
Its surge wattage is 9500, which is the highest on this list. The running wattage is 7500, which is only marginally lower than the GENMAX. Considering this is a more budget-friendly model, it packs a decent punch.
This generator is dual fuel, which can be helpful if you plan to use it as backup at home for a power outage. Its propane wattage stats are 8550 surge and 6750 running. The gas tank is 6.6 gallons, which can give you up to 11 hours of runtime.
One of the best features of this generator is its remote control start switch. It means you can start the generator from a distance, which isn't a massive bonus but is definitely convenient.
In terms of downsides, it's not great regarding the cleanliness of the signal. With a total harmonic distortion of around 20%, it's not ideal for sensitive electronics. Some users reported that some of their appliances couldn't power up. As for the second downside, it lacks a 120/240V, 50A outlet, which is useful for power-hungry appliances like a stove or an oven. Since this is a generator meant for home backup, it's not a scenario to rule out.
The video below shows a noise measurement of 92dB at around 2.5 ft. If you deduce the noise at 23ft away, which is the standard noise rating appearing in specs, you'd get 72.7dB. This deduction is possible because there's a loss of 6dB per doubling of the distance from the source. Check out this calculator.
PROs
Inexpensive yet powerful generator.
Dual fuel.
214.5 lbs. – it's fairly light for a generator.
CONs
No 120/240V, 50A outlet.
Harmonic distortion can be troublesome.
3. Honda EU7000iS Portable Generator
Noise level: 52 dB min
Starting Power: 7000 W
Running Power: 5000 W
Inverter: Yes
Start: Electric & Recoil
Dual fuel: No
Run time: 16 hours (25% load)
Tank capacity: 5.1 gal
Outlet / port:
4 x 120V 5-20R [20A] – (Household type)
1 x 120V L5-30R [30A]
1 x 120/240V L14-30R [30A]
Wheels: Yes
Handle: Yes (Foldable)
Dry Weight: 263.2 lbs.
It should come as no surprise that a brand like Honda has the quietest generator on this list. At 52dB operating noise, the Honda EU7000iS is one of the quietest 7000 watt generators you'll find. Even at full load it only produces 58dB of noise, which isn't far off the output of a 4000 watt generator.
Here's a clip of the noise measured at different power levels. On eco mode, the user measured 52dB (at 23ft) which matched the specs of the Honda EU7000iS. This is extremely quiet. It compares to the noise of my gaming laptop at full fan speed!
Its fuel tank capacity is 5.1 gallons, which gives you up to 16 hours of runtime. It also features an eco-throttle that helps control fuel consumption, giving you maximum fuel efficiency during operation.
The running wattage is 5500W, which is noticeably lower than the competition. Its surge wattage is 7000W. This is the main reason it missed out on the top spot. If noise output is your top priority when choosing a more powerful generator, it will mean sacrificing some power. That said, if your budget stretches to 2 generators, you can run them in parallel for up to 14,000W of power.
It has 2 x 120V outlets, a 120/240V outlet, and a 120V 30A outlet. This is enough to run pretty much all appliances in an RV or home setting because it gives you flexibility with voltage and amperage. Although because of its 263.2lbs, it appears more suitable for at-home use.
The biggest downside to this generator is that its carbon monoxide detector is very sensitive. While this is obviously a good thing, it can shut itself down even when running in an open space. To avoid this, consider adding an exhaust extension pipe. It has an air cooled engine, which is where part of the problem arises (it can suck in CO when cooling the engine).
Also, it's pretty expensive compared to other entries on this list, so your money might be better spent elsewhere.
PROs
By far the quietest generator on this list.
Good fuel capacity.
Can be hooked up in parallel.
Clean power output.
CONs
Carbon monoxide detector is sensitive.
Running watt capped at 5500W.
Very Expensive.
Heavy for only 5500W.
4. DuroMax XP8500EH Portable Generator
Noise level: 72 dB min
Starting Power: 8500/8075 W (gas/propane)
Running Power: 7000/6650 W (gas/propane)
Inverter: No
Start: Electric & Recoil
Dual fuel: Yes
Run time:
On gasoline, 11.5 hours (50% load)
On propane, 8 hours (50% load)
Tank capacity: 7.9 gal
Outlet / port:
4 x 120V 5-20R [20A] – (Household type)
1 x 120/240V L14-30R [30A]
2 x USB
1 x 12V Automotive
Wheels: Yes
Handle: Yes (Foldable)
Dry Weight: 204 lbs.
The DuroMax XP8500EH has a noise output of 72dB, which is about average for a quiet 7000 watt generator. But with a surge wattage of 8500, it's got an extra kick to power devices with starter motors. As you can probably guess, its running wattage is 7000.
Another useful feature is that it has a dual fuel mechanism. This means you can run it on either gasoline or propane. The latter is helpful for use at home because propane is easier to store and can be kept indefinitely. It's worth noting, however, that wattage is lower with propane: 8075 surge and 6650 running.
It's got 4 x 120V, a 120/240V, a 12V automotive and 2 x 5V USB (type A and C) outlets. As such, there's plenty of flexibility for what you can power using this generator. The addition of a DC 12V outlet means it can be used for charging batteries, too.
There's a wheel kit included, which is useful considering the generator weighs 204lbs. when empty. That said, it's lighter than other 7000W generators. You also get an electric start button to save you from throwing your back out every time you start it.
The generator's biggest downside is its fuel efficiency. At 50% load, its 7.9-gallon tank will give you about 11.5 hours of runtime. This is a fuel consumption of 0.69 gallons per hour, which is correct but not amazing. It's on par with the GENMAX above.
Just like the Westinghouse above, it doesn't have an inverter, which can cause issues if you mainly plan on powering high-end electronics. But at this price range, you can't expect an inverter model.
PROs
Plenty of outlets.
Lighter than most comparable generators.
High surge wattage.
CONs
Not a very fuel efficient generator.
Expect distortion in power signal.
5. Powerhorse 7500i Inverter Generator
Noise level: 55 dB min
Starting Power: 7500 W
Running Power: 6500 W
Inverter: Yes
Start: Electric & Recoil
Dual fuel: No
Run time: 16 hours (25% load)
Tank capacity: 6.6 gal
Outlet / port:
2 x 120V 5-20R [20A] – (Household type)
1 x 120V L5-30R [30A]
1 x 120/240V L14-30R [30A]
1 x 120/240V L14-50R [50A]
2 x USB
Wheels: Yes
Handle: Yes (Foldable)
Dry Weight: 287 lbs.
The Powerhorse Inverter Generator has a noise output of 55dB. This is incredibly quiet for a 7000 watt generator and is thanks, in part, to its insulated housing. Closed generators will always be quieter than open frame ones, and the Powerhouse is a testament to this fact.
Interestingly, it's competing directing with the Honda model. It's 3dB louder than the Honda, yet it's cheaper and outputs 1000 watts more.
With a surge wattage of 7500 watts and a running wattage of 6500 watts, it's one of the less powerful models on this list. However, as mentioned with the Honda, if noise level is your main concern, you might have to sacrifice some power output.
The Powerhorse has plenty of outlets, too. There are 2 x 120V, a 120V 30A, and 2 x 120/240V with 30A and 50A fuses. You also get 2 x 5V USB outlets, meaning you can use the generator directly to charge your phones and tablets.
It has a 6.6-gallon fuel tank with a digital gauge. Runtime at 25% load is 16 hours, which puts it on par with the Honda. The Powerhorse is less fuel efficient, though, as its GPH is close to the likes of the GENMAX and DuroMax.
The Powerhorse sits almost on par with the GENMAX. At 287lbs., it's only portable in the sense that it has wheels and a handle. It's pretty heavy, so might not be the most suitable option for taking in an RV.
Check out Gavin's Garage content for an in-depth review of this model. He measured noise emission from 23ft away (standard distance) on eco, normal and max mode. The minimum measured was 50 dB (eco mode), which is way below the 55 min dB advertised.
PROs
A better option than the Honda.
Second quietest 7000-watt generator.
Plenty of outlets.
Distortion under 1.5%.
CONs
Very heavy.
Fuel efficiency is average.
Features that Matter in a Quiet 7000 Watt Generator
Generators need to have some basic functions to be worth purchasing. Here are what I consider to be the most important factors to consider when picking a 7000 watt generator.
Power
A 7000 watt generator can comfortably run a typical set of kitchen appliances at the same time. For example, in an RV, you could power a refrigerator, microwave, oven, and even a low BTU air conditioner at the same time.
The devices listed above have the following approximate wattages:
Oven: 2150W
Refrigerator: 700W
Microwave: 1000W
10,000 BTU AC: 1500W
These are just their running watts. You must also consider their surge watts, which are the extra power needed to start electric motors. To calculate the required wattage for your appliances, you must add the highest surge watt to the total running watts.
In this instance, it would be the AC, which has a surge wattage of 4500. The combined running watts of the devices is 5350W. With the AC's surge watts, the total is 9850. This means you wouldn't be able to run everything while starting the AC, but once it's in use, you'll be fine.
Use this list to come up with some rough figures for what size generator you'll need. If you want to run the appliances above and still be within the generator's power level, consider choosing a 10000 watt generator instead. Or maybe you're on a budget and you don't need the extra power, if so consider a quiet 4000-watt, or 5000-watt model.
Runtime
A generator's runtime is how long it'll last on a full tank of gas. The values you'll see when looking up generators refer to different loads. Typically, this'll be 25%, 50%, and full load.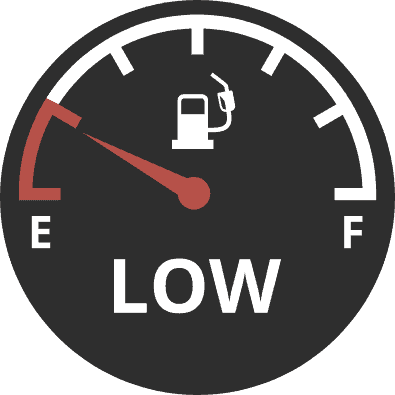 In short, this means how much of the generator's power is being consumed at the time. For example, 25% load on a 7000 watt generator would be 1750W. Manufacturers give this as the maximum runtime because, unsurprisingly, a full tank of gas will last longer if it's not outputting as much power.
Runtime is generally a matter of preference and convenience. It simply means how often you'll need to fill up the tank. So, if you're running a generator at your RV, a longer runtime might be preferable so you can leave it overnight. On the other hand, a jobsite generator can be filled up whenever and probably won't run for more than a working day.
A bigger fuel tank doesn't always mean a longer runtime. Fuel efficiency is a factor in this, but it's not usually necessary to work it out. Instead, look at the generator's runtime stats and decide what'll suit your needs the best.
Inverter
Some generators are inverter generators, which differ from conventional generators. In short, an inverter generator produces cleaner power in that the frequency and current are more stable. It does this by throttling the engine to control its RPMs.
This is a useful feature if you plan to connect devices with sensitive electronics, such as smartphones, tablets, etc. Inverter generators are also usually quieter and more fuel-efficient thanks to their greater control over engine speed.
But they're also more expensive. Expect around twice more money for an inverter model. It's not super necessary to get an inverter generator, although they provide more benefits than a traditional one.
It's also worth noting that there's a correlation between inverter generators and casing. This contributes to their lower prices levels but also their higher price, so it's a pretty equal tradeoff. A conventional generator will often be open, but this makes it cheaper (and louder).
Harmonic Distortion
How clean a power signal can be is referred to as Total Harmonic Distortion (THD). Higher levels of distortion increase the chance that sensitive electronics will not recognize the power signal, or your lights could flicker.
An inverter generator will generally have a distortion below 3%, like the GENMAX GM9000iE.On the other hand, a generator without an inverter will have a THD around 20%, like the Westinghouse.
Starting Mechanism
All generators will feature a manual starter in the form of a recoil cord. This is basically a rope that you pull to start the engine and is the same system used on chainsaws and lawnmowers.
However, plenty of generators also have electric starters, typically in the form of a switch or button. These use a battery to power a starter motor, which then powers the ignition using electronic fuel injection technology.
An electric starter is definitely more convenient and saves a lot of effort. If you've ever had a lawnmower that won't start, you'll already know how annoying a recoil cord can be.
Unsurprisingly, an electric starter is more expensive. However, it's worth the money because it's an easier option. Considering all electric start generators will have a recoil cord, you're covered if the starter's battery runs out, too.
I noticed some users complaining they had a hard time replacing the battery. It can be something worth checking out before making your buying decision.
Noise
I've already highlighted the importance of noise levels when picking a generator. But it's worth going over what actually makes noise so you can make an informed decision using more than just a decibel rating.
The motor is what makes most of the noise. It's got a lot of moving parts, and sound is one of its waste products (along with heat and fumes). Some of this noise will exit through the exhaust while some of it will escape through the engine itself.
You can combat the second issue by choosing a closed generator. These have a housing around the engine, which helps to muffle some of the noise pollution. Unfortunately, there's no definitive answer about how much it'll reduce noise output, but it's fair to say it does help.
Another issue is vibrations passing into the surface on which the generator is sat. Vibrations become sound waves or they can continue passing into a structure, which can be distracting. Wheel kits can make this issue worse if the wheels are rigid.
Even if you find a quiet generator with enough power, I recommend checking out my article on how to quiet a generator. It includes some helpful tips for avoiding things like exhaust noise and impact noise.
Outlets
Along with power, outlets are one of the most important factors when picking a generator. After all, you're buying it to power things. At the very least, a generator will come with a 120V 20A outlet (Nema 5-20R), which is the same as the ones in your home. Alongside, you'll often find a 120V, 30A variation (Nema L5-30A) meant for high amperage 120V power tools.
You might also want to look for ones with a 240V outlet. This is for more energy-intensive appliances, such as an AC unit or sump pump. A 240V outlet could be rated 20, 30 or 50A depending on the current needed by the device, so respectively L14-20R, L14-30R, and L14-50R.
Also, factor in current. Generators all produce alternating current (AC), which is what your home appliances will use. Inverter generators can also supply direct current (DC) for low-voltage devices. These include battery chargers, mobile devices, etc.
As such, some generators will have 12V and 5V outlets for these purposes. Some generators also have several 120V outlets, giving you greater flexibility with how many devices you power at once. While you could run several devices off a multi plug adaptor, this risks drawing too much current and blowing the 20A fuse.
Portability
How we define a portable generator is relative. All the ones on this list are technically portable because they have wheels, meaning they can be moved. However, a nearly 300lb. generator isn't the most convenient option for throwing in your RV.
If you plan to take your generator camping, aim for one around 200lbs. While this is still heavy, it can at least be moved by 2 people. Less powerful generators are lighter and, by extension, more portable.
Of course, this isn't as important for a power backup generator at home. You'll want to still be able to move it, but dragging a 3000lb. generator around occasionally isn't too much of a problem.
Extra Features
Some other features to consider in your generator include:
Warranty. A warranty of at least 3 years is best for a generator as you might not use it all the time.
Remote start. This comes in the form of a switch that turns the generator on remotely.
Dual fuel. Dual fuel generators can run on propane or gasoline, which is helpful for fuel storage at home.
Carbon monoxide detector. This shuts the generator off if it detects too much carbon monoxide in the area.
Weatherproof outlet covers.
Digital screen to monitor fuel consumption, watt output, etc.
Automatic low oil shut off to protect the engine from damage.
Final Thoughts on 7000 Watt Quiet Generators
Hopefully, you can now make an informed decision about the best 7000 watt generator for your needs.
My top pick is the GENMAX GM9000iED Portable Generator. It's a quiet generator that balances functionality and price. Of course, there are quieter options, but you sacrifice some power output.
Do you have any other recommendations for 7000 watt generators? Let me know in the comments below.