Trying to find peace and quiet in a large open space can be challenging. One option that offers some success is freestanding soundproof room dividers.
While these will never fully block noises, they provide some sound absorption and reduction properties. In most situations, this is all you really need.
In this article I'll review my top picks for the best portable soundproof walls. First, I'll cover some important information to consider when making your decision.
Hopefully, by the end you'll have a good idea of the best product for your needs.
What Works and What Doesn't in Portable Soundproof Walls?
When soundproofing 2 distinct spaces, we rely on a combination of the main principles of soundproofing. In short, these are:
Decoupling
Mass
Absorption
Dampening
In a portable soundproof wall,, a combination of more mass and sound-absorbing materials is the most common way to reduce sound transfer. The 2 other principles (decoupling and dampening) can't be applied to portable walls.
On the other hand, in a constructed wall, decoupling is used to mechanically isolate the wall from the structure of the building, in addition with mass and absorption.
Doing so prevents the sound waves from spreading through the structure and being heard throughout the building. This method is very effective especially against impact noise, which I detail below.
Sound dampening is not used in portable soundproof walls. But in classic building construction, it's common. Dampening relies on neutralizing a frequency of sounds by inserting a layer of soft compound in between the heavy layers of walls.
Types of Noise Pollution
Noise pollution can be divided into 2 main types. These are:
Impact sounds – footsteps, furniture moving, etc.
Airborne sounds – TV sounds, talking, music, etc.
Generally speaking, when soundproofing a wall in your home, the goal is to block airborne sounds and impact sounds.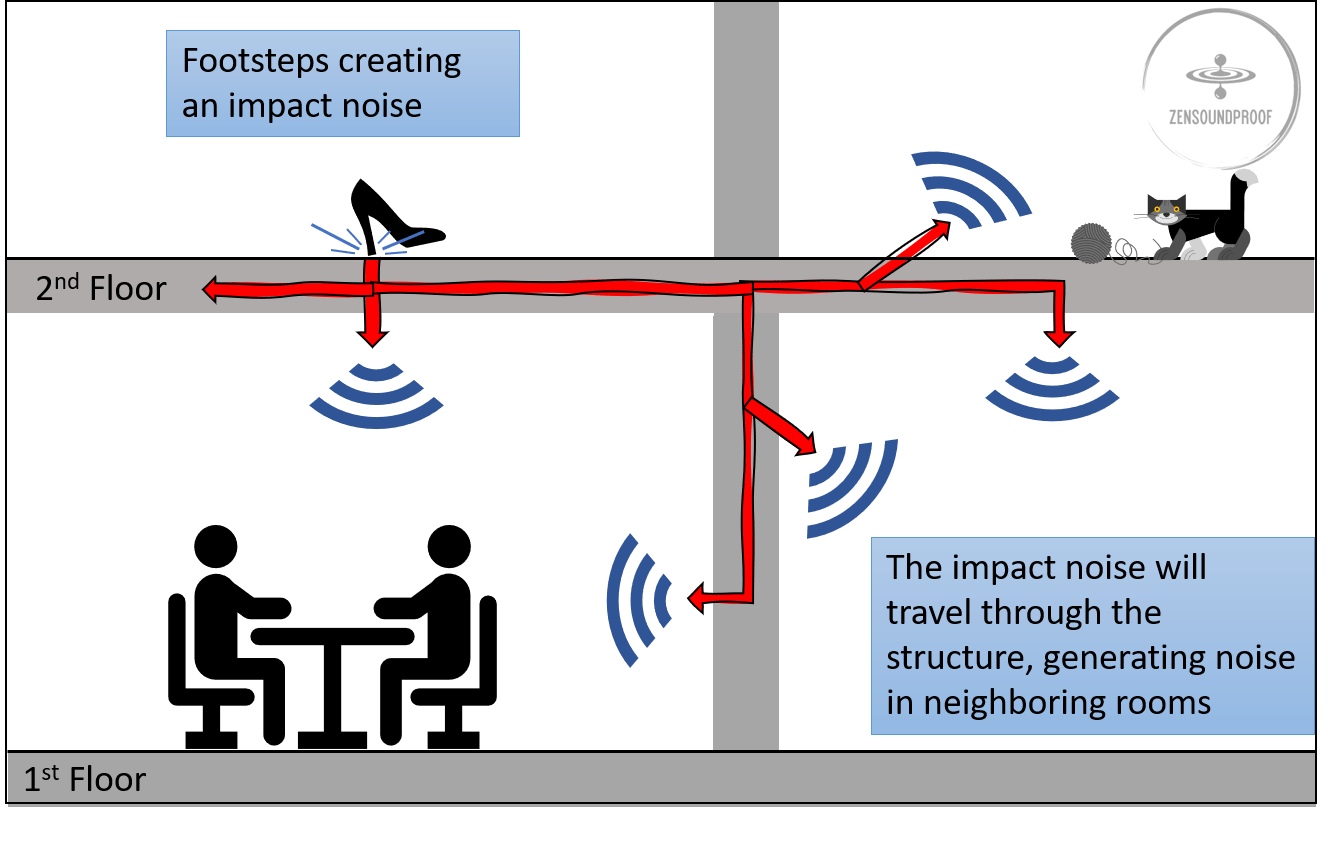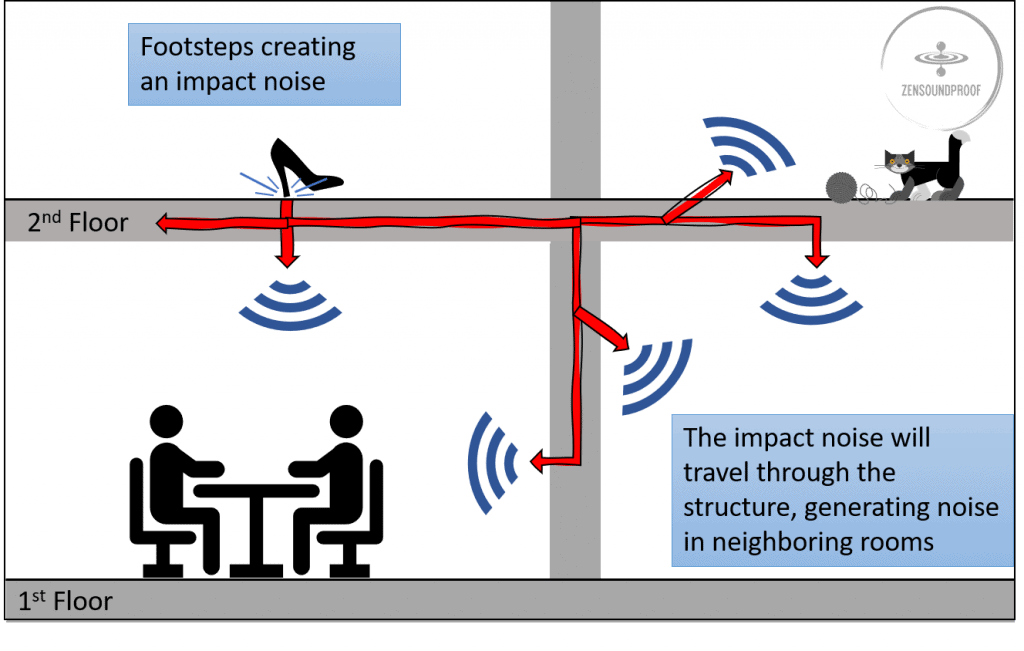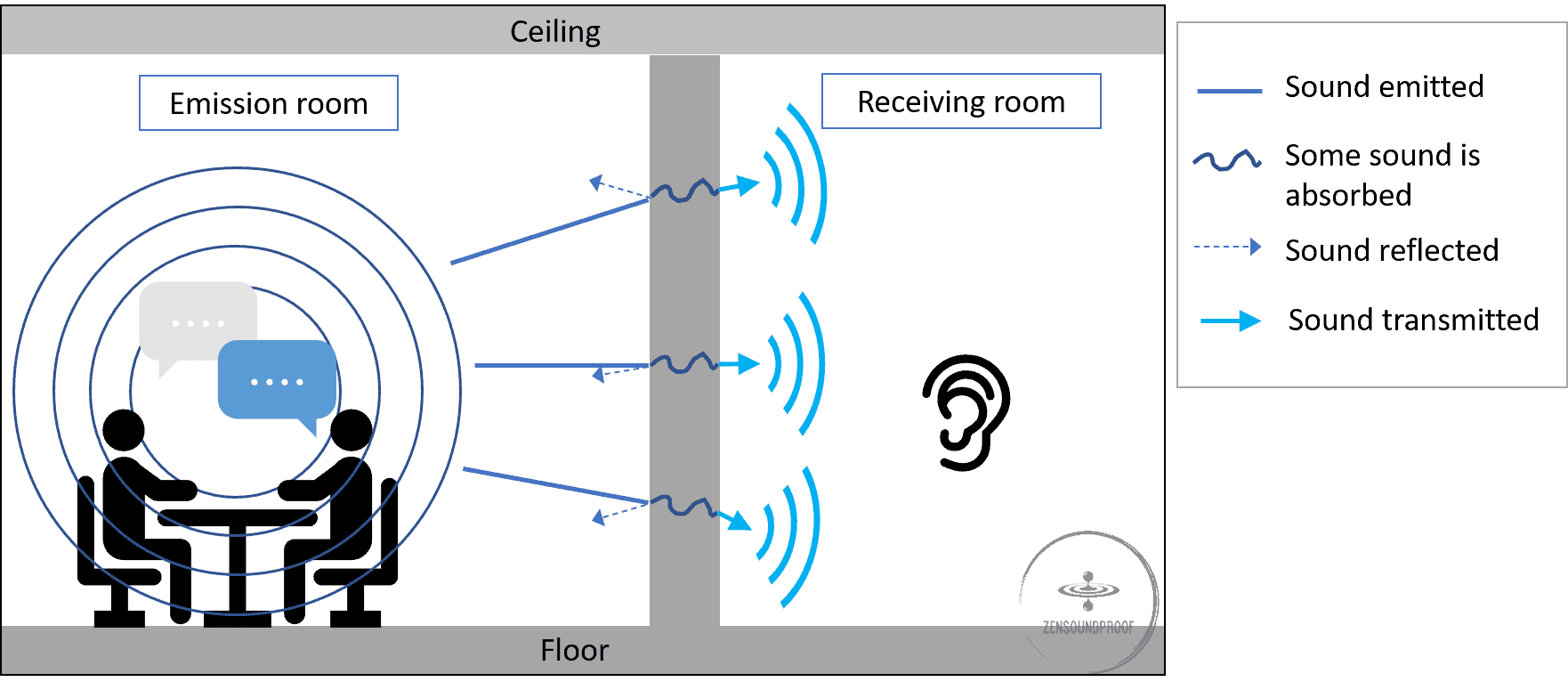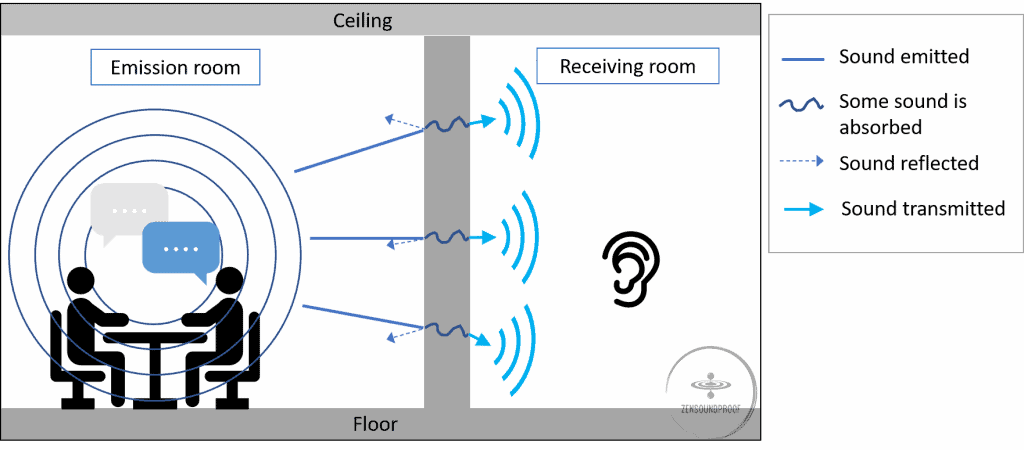 In freestanding soundproof room dividers, you'll focus on countering airborne noises. To do so a combination of mass and absorption will be the most effective.
Limitations of Soundproofing with Room Dividers
To sum up the above, freestanding room dividers can fight against airborne noise via sound blocking (mass) and sound absorption.. That's why they'll usually contain a combination of heavy and sound-absorbing materials with the convenience of a movable frame.
But, soundproof partitions have several weak points. The most notable is that they don't reach from floor to ceiling like a permanent wall does.
Even if you have a low-ceiling room, there'll always be a gap at the bottom to accommodate the wheels or legs.
Also, most freestanding wall dividers will favor absorption over sound blocking. This is because blocking requires mass, which makes the product heavy. And the heavier the product, the more difficult it is to move.
When I talk about heavy, you can just look at professional products that include a sound blocking layer. For example, this panel of soundproofing sheet weighs 21lbs and measures 34.5" x 82". It wouldn't be veryconvenient to move around a portable divider that weighs more than 20lbs.
If this sounds like a deal breaker, consider using soundproof room divider curtains instead. I've previously written an article on the best options.
Of course, a good quality soundproof screen will do something to reduce noise levels; so don't discount them completely.
Where to Use a Freestanding Room Divider
A soundproof partition has numerous uses around the home or office. Some of the best include:
Home theater to improve sound quality
Temporary recording studio – podcasting, streaming, video recording, etc.
Home office – helps with concentration
Office – greater privacy and sound quality
Obviously, you'll notice more benefit from a room divider in larger spaces, as they help to break it up into smaller areas.
But having a freestanding sound-absorbing panel somewhere like a home theater or recording studio allows you to adjust them as needed.
For example, if you occasionally do sound recording work, freestanding panels offer a good option because you don't have to permanently fix them in place.
In short, they're a good choice because they offer flexibility and don't require any invasive DIY.
What to Look for in a Soundproof Room Divider
As with any soundproofing product, the end results are dictated by the overall quality. Here are the main things to consider when choosing the best sound absorbing room dividers for your needs.
Material
Good acoustic partitions will contain quality absorbing materials. Typically, this'll be some kind of foam coated in fabric. The foam might have a honeycomb structure, which helps with absorption.
The outer material matters less, but it shouldn't be too tightly woven so sound waves can reach the absorbing materials inside.
Weight
As mentioned, most partition walls favor absorption over blocking, although you'll still find variation in weight.
A heavier panel typically contains denser material, which is better at absorbing.
You'll want to balance its weight against its portability. A panel that's too heavy will be difficult to move, which renders it almost useless.
Size
Size is as important as material. You'll want it to be as tall and wide as is appropriate for the space because this allows it to absorb more sound waves.
A panel that's too short will simply not cover enough area, which is essential in reducing noise.
This factor is less important if you're sitting at a desk in a home office. But if you're in an open-plan office, you'll want a taller panel because people are more likely to be standing up.
Extra Features
While these aren't necessarily extra features, they're not specifically related to the panel's sound absorbing ability. You'll want to consider:
Wheels
Wheels obviously make the panel easier to move. This is a must-have for heavier panels.
Folding
A folding panel gives you greater flexibility for how much space it covers. This would make the same panel applicable to different applications.
Modular
Some panels have a modular option where they can be attached together. This would be useful for office spaces where you might need a much larger soundproof partition wall. Of course, it gives you plenty of flexibility, too.
Top Picks for Freestanding Soundproof Room Dividers
Now that we know what to look for, here are my top picks for freestanding soundproof room dividers.
1. Top Pick: Versare Room Divider
This room divider from Versare is a good option if you need flexibility from your panel. It uses an accordion design, as each panel is on a 360-degree hinge.
The setup allows you to position it in various shapes from a straight line to a C-shape. This also makes it suitable for both home and office use.
Each panel is made from fiberglass acoustic panels that have good sound dampening properties. This makes these dividers great acoustic partitions for a recording studio. Don't worry about safety though, as the panels are covered with fabric.
Its overall size is 7'6" high and 8'6" long. Its height might make it too tall for some residential properties, but it should be fine in offices. The frame is aluminum, so doesn't add much weight, and it's on wheels.
My main issue is that it's quite a high price point, which might not make it the best option for home use. Also, the panels are only 1" thick, which isn't a lot of absorption material.
PROs
Great overall height and width.
Fiberglass panels are dense.
Flexibility in setup.
CONs
High price point.
Panels only 1" thick – greater thickness would help.
Stand Up Desk Freestanding Acoustic Room Divider
Stand Up Desk has gone with a modular design. Its room divider panels zip together, which gives you plenty of flexibility when setting them up.
The interior is made from dense acoustic foam that offers an NRC of 0.85. In short, it absorbs 85% of incoming sound waves.
The exterior is made from recycled fabric and doubles as a pin board. The panel's frame is aluminum tubing, meaning it's durable but lightweight.
My biggest critique is that the panels aren't on wheels, making them a hassle to move around. Of course, you'll have to unzip them, too, which adds another step.
Speaking of zips, they're put under a lot of stress and some users reported they broke quite quickly.
Finally, the panels measure 6' x 5.5', meaning they might not be big enough for office applications. They should be fine for home use, though.
PROs
NRC of 0.85.
Modular design offers flexibility.
Aluminum frame is lightweight and durable.
CONs
Might not be tall enough for open-plan offices.
Zippers can break due to stress.
Top Budget Pick: VaRoom Acoustic Desktop Divider
Granted, this isn't a freestanding soundproof room divider, but it's a good option if you don't want to spend hundreds of dollars. This desktop acoustic divider simply acts as a partition panel that clips to your desk.
It's made from dense acoustic foam that has an NRC of 0.85. The exterior is made from polyester fabric that comes in several colors.
The panel measures 18" high and 23" wide. While this isn't as big as the room dividers above, it'll be suitable for improving sound quality at your desk and offering a level of privacy. You might find it useful if you work on the phones, for example.
The downsides of this choice are obvious. One, it doesn't offer the same absorption levels as a full-size panel, and two, it's only really suitable for separating desks in an office.
PROs
Small and easy to fit on your desk.
NRC of 0.85.
Affordable option.
CONs
Won't absorb as much noise pollution as a full-size panel.
Only really suitable for office applications.
Final Thoughts on Soundproof Wall Dividers
Hopefully this article has given you some inspiration for the best portable soundproof walls.
My top pick is the Versare Room Divider because it's large, has a flexible design, and is well made.
If its high price and you simply need to increase privacy with your desk neighbour, consider the VaRoom Desktop Divider as a quick, easy, and affordable option.
If you're not satisfied with the noise reduction performance, consider picking a room divider curtain. It'll be a better option to increase privacy between spaces because it covers a much greater area.
Have you found a go-to soundproof room divider in the era of homeworking that I haven't mentioned? Let me know below.