Like many of you reading this, I've dealt with numerous washing machines during my adult life. They're a necessary appliance in our homes that, unfortunately, can be a nuisance. Whether it's the noise level or vibrations during the spin cycle, there's a lot that can be annoying about a washing machine.
But that doesn't have to be the case because quiet washing machines exist. They're a good option for anyone that desires peace and quiet in their home but still wants to do laundry!
To find the quietest washing machines, we must balance several factors. Along with build quality (the most important), we need to consider load type, wash cycles, capacity, and design.
These are what I review below in my top picks. I also provide a buyer's guide and explanation of common noise sources to help you know what to pick.
Noise Level of a Quiet Washing Machine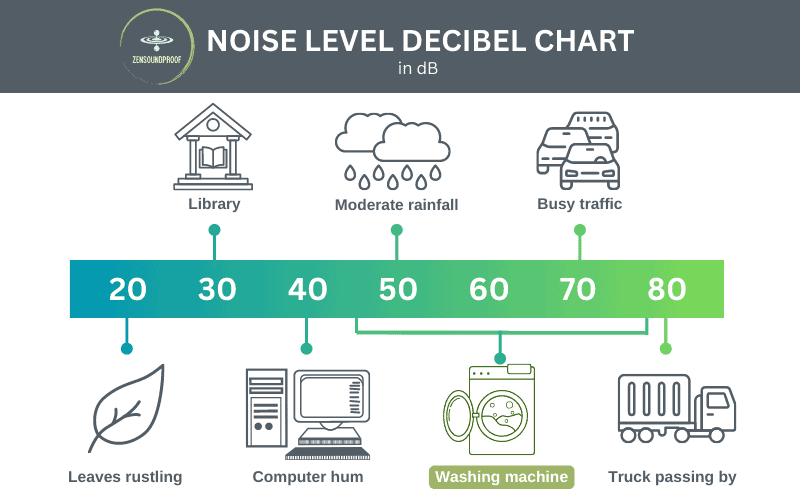 A typical loud washing machine can produce up to 80dB. But it all depends on what cycle the machine is performing. Spin cycles are noisier than wash cycles.
Below are examples of the standard noise emissions for both:
Cycle
Noise Level (dB)
Description
Wash Cycle
45-70
Quiet models are at below 50dB
Typical models hover around 55-60 dB
Spin Cycle
70-80
Quiet models are at 70dB
Typical models hover around 75-80 dB
With that in mind, let's jump into our selection of quieter washing machines.
Our 4 Best Quiet Washing Machines on the Market
In my picks below, I provide explicit noise levels where available. If we don't have these, we can look at other factors to come up with a rough idea of each washing machine's noise output.
1. Top Pick for Front Load Washing Machine: Bosch 800 Series Compact Washer
Noise level: 50 dB (wash), 71 dB (spin)
Capacity: 2.2 cu. ft.
Energy Efficiency: 84 kWh/yr
Max spin speed: 1400 RPM
Unbalance control feature: Yes
Hot water cycle: Yes
Load sensing for water filling: Yes
Scheduled start: Yes
Dimensions: 23.5″ x 33.25″ x 24.25″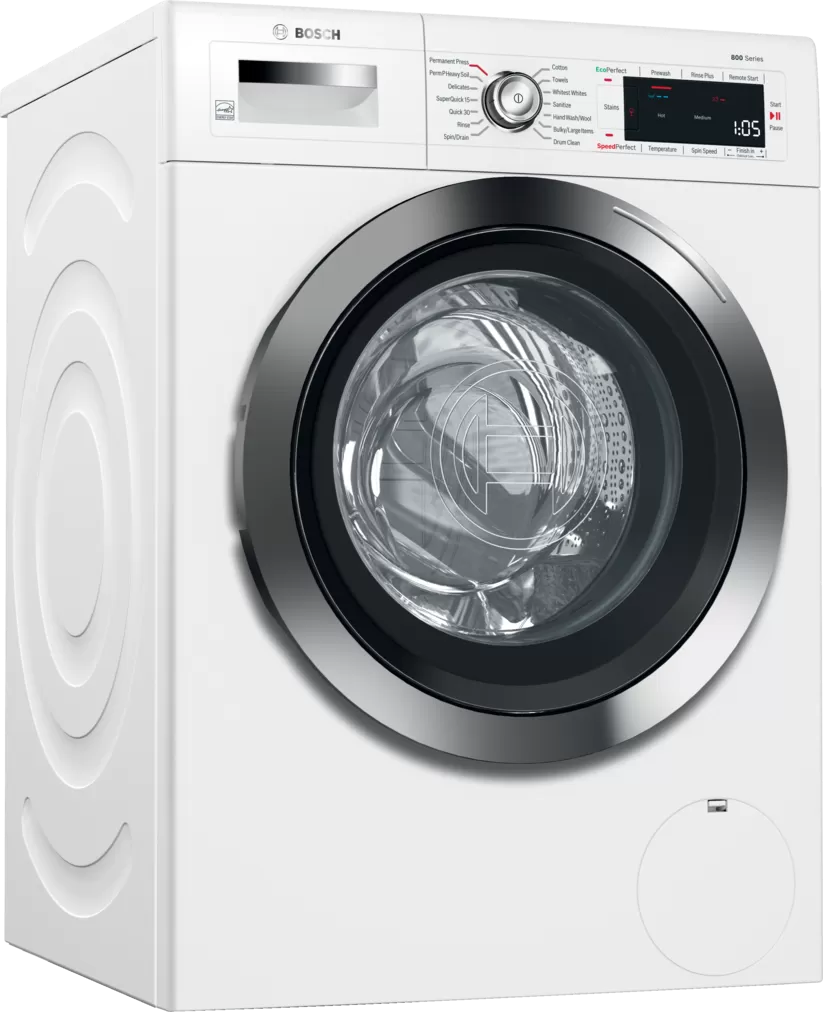 The Bosch 800 Series Compact Washer has 2.2 cu. ft. of capacity, which is pretty decent for its size. As such, it's a good compromise between space-saving and drum size, meaning you can get more laundry done than comparable washers.
Noise Level Rating
The Bosch is rated at 50dB during the wash and 71dB during the spin cycle. It's right at the top of my quiet washing machine boundary. Its EcoSilence motor helps keep the noise level down, although evidently not by loads. It's a direct drive, inverter motor.
Load Type and Capacity
This is a front load washer with 2.2 cu. ft. capacity. While there are certainly larger front loading washing machines on the market, the Bosch has a large drum size in relation to its body (it's 23.5" wide). This makes it a good option for apartments or small houses that want more drum capacity than normal.
Wash Cycles and Options
This washer has 14 wash cycles, including an EcoPerfect cycle for reduced energy consumption. Its quick wash cycle is only 15 minutes, which is great if you just need to refresh something.
Its spin speed is 1400 RPM, although it only has 2 options rather than full adjustability. It's not a massive deal but does mean it's more difficult to wash things like wool and delicates.
Design and Build Quality
The build of this washing machine is decent – it's pretty much what you'd expect from a washing machine. One nice (but unnecessary) feature is the interior LED light. It means you can see your laundry while it's washing!
With an Energy Star certification, this $1700 washer is as eco-friendly as you'd expect.
The Home Connect app lets you control it remotely – a smart move for minimizing noise disruption. Just schedule your wash when no one's home and you have the perfect solution for a quiet, efficient washer.
Downsides
There's really not much bad to say about this washing machine. It would be nice if it came with more washing features for the price. For example, more than 2 spin speeds, customizable cycles, a detergent sensor, or an automatic fabric softener dispenser. However, it does all the basics very well, plus some extras like load adjustment for better water use.
---
PROs
Fairly quiet front load washer.
Energy Star certified.
Good capacity for its size.
CONs
Could do with more features.
2. Top Pick for Top Load Washing Machine: LG WT7100CW
Noise level: 46 dB (Wash), 70 dB (Spin)
Capacity: 4.5 cu. ft.
Energy Efficiency: 120 kWh/yr
Max spin speed: 1300 RPM 12
Vibration control feature: Yes
Hot water cycle: Yes (Sanitary cycle)
Load sensing for water filling: Yes
Scheduled start: Yes
Dimensions: 27″ x 44.5″ x 28.375″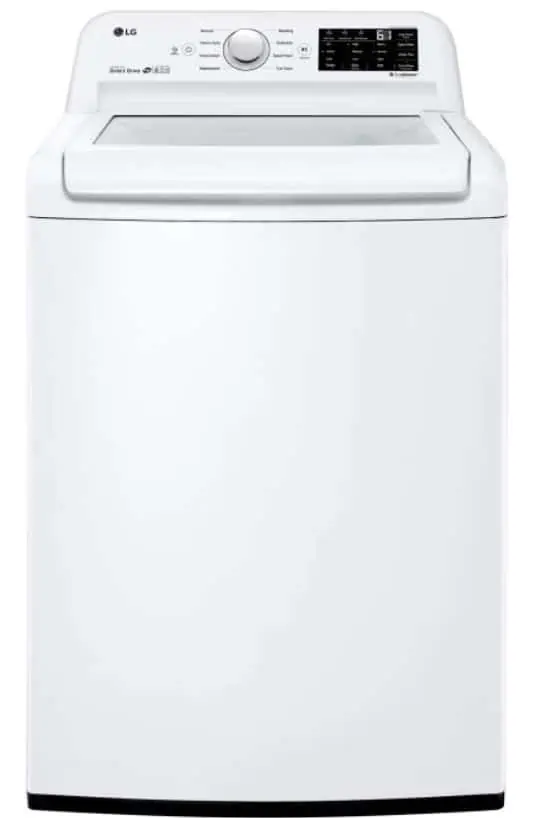 The LG WT7100CW is an extra large top load washing machine. With a capacity of 4.5 cu. ft., it's big enough for family-sized laundry but doesn't compromise on noise output or energy use.
Noise Level Rating
Although LG doesn't give a decibel rating itself, a Best Buy Q&A states it's rated for 46dB. Presumably, this is for its wash cycle, meaning its spin cycle is probably around 65-70dB.
It has something called LoDecibel Quiet Operation. While LG doesn't specify what this is, it's probably an inverter motor, vibration reduction technology, and drum sound insulation among other things.
Load Type and Capacity
This is a top load washing machine with 4.5 cu. ft. capacity. It'll hold a decent amount of laundry (up to 20 lbs.) and should be suitable for family use. There's an impeller for moving the clothes around, which creates less motion and noise than an agitator.
You get a load sensing function for weighing your laundry, which helps reduce water and energy use. As I discuss below, this also contributes to lower noise emissions.
Wash Cycles and Options
With 8 wash programs, 10 options, and 3 spin speeds, this washer handles various clothing types and dirt levels. It offers 3 water temperatures, including a hot wash option—an essential feature I regretted missing in my previous washer.
Though many machines offer variable water levels, this budget-friendly option doesn't include that feature, which isn't too surprising considering its price point.
However, you have a cold wash option, which again helps to cut down on energy use. Its maximum speed is 950 RPM, which is faster than the Comfee model below.
Design and Build Quality
This washer has a stainless steel drum and glass-paned lid. While this isn't necessary, it can be nice to watch your laundry. It has an LED display and dial for selecting the wash functions. It's pretty straightforward in terms of functionality and ease of use.
Downsides
Some users state they don't like how little water the machine uses. Due to its load sensing technology, it keeps the water levels to a minimum, and some feel this doesn't wash their clothes properly. To get around this, these users recommend using the deep wash function.
---
PROs
Quiet operation – 44-46dB.
Decent energy conservation technology.
Large capacity – ideal for families.
CONs
Some feel it doesn't use enough water when washing.
3. Top Pick for Portable Washer: Comfee 1.6 cu. ft. Portable Washing Machine
Noise level: 62 dB (Wash)
Capacity: 1.6 cu. Ft
Energy Efficiency: 63 kWh/yr
Max spin speed: 840 RPM
Vibration control feature: Not specified
Hot water cycle: Yes
Load sensing for water filling: Not specified
Scheduled start: Yes (Delay Start)
Dimensions: 20.7 x 20.3 x 36.6 inches
The Comfee 1.6 cu. ft. Portable Washing Machine is a decent option for apartments, dorms, RVs, or anywhere else you might not be able to have a plumbed-in washer. While it hasn't got the most amazing functionality, it's got all the basics covered.
Noise Level
The Comfee washer is rated at 62dB, which is in the middle of the range I've given above. In my experience, this is different enough from a standard washer that you'll actually notice the difference.
It's not got any features that contribute to its low noise level, other than its low spin speed. At 840 RPM, it's noticeably slower than a normal washing machine.
Load Type and Capacity
This model is a top load washing machine with a capacity of 1.6 cu. ft. However, there are also versions with 2 and 2.6 cu. ft. of capacity. Comfee advises it'll hold 11 lbs. of clothes, which equates to a small load of laundry.
It claims to have a high-efficiency motor that can save up to 84% of the energy used by similar models. However, there's no information about the motor type or how it achieves this energy efficiency.
Wash Cycles and Options
As mentioned, the Comfee is a bit barebones in terms of cycles. But this is to be expected on a portable model. It has 6 programs: normal, heavy duty, quick, bulky, delicate and spin. You can also add an extra rinse to whichever program you're using.
The machine has 3 water temperatures, labeled as hot, warm and cold. While this should be fine for standard clothing, it's probably not enough flexibility for delicates or items that require complex washing cycles.
You get a delay start option that can be set up to 24 hours. There's also a pause button so you can throw in anything you've forgotten.
Design and Build Quality
The Comfee is a freestanding, compact washer that requires access to a tap and drain. The body is made from plastic and metal, which is pretty standard for portable washing machines. Overall, there's nothing noteworthy about its design.
Downsides
The main downside of the Comfee is that it connects to a tap rather than a water inlet pipe. While this isn't a massive problem, it means you'll need to sacrifice a sink every time you want to do laundry, or you need to clamp an extension hose or adapter.
---
PROs
Quiet operation – 62dB.
Good all-round compact washer.
Barebones but covers all the main functions.
4. Top Pick for Washer Dryer Combo: GE Compact Washer and Dryer
The GE Compact Washer and Dryer includes tumble dryer functionality without a massive difference to the overall noise output. I've reviewed this model in more detail in my full article on quiet washer dryers, so make sure you check that out.
Generally, I recommend avoiding a combo washer and dryer if you can. They're notorious for not actually drying clothes too well, and they often take ages to do so. Of course, if you don't have the space for separate units, it's better than hanging your clothes everywhere to dry!
What Causes Noise in a Washing Machine?
All washing machines are going to emit various types of noise during their operation. Quiet models will help reduce the loudness of these noises, but they'll still happen. During a standard wash cycle, you can expect to hear:
Vibrations caused by the drum spinning, transmitting excess energy into the washing machine.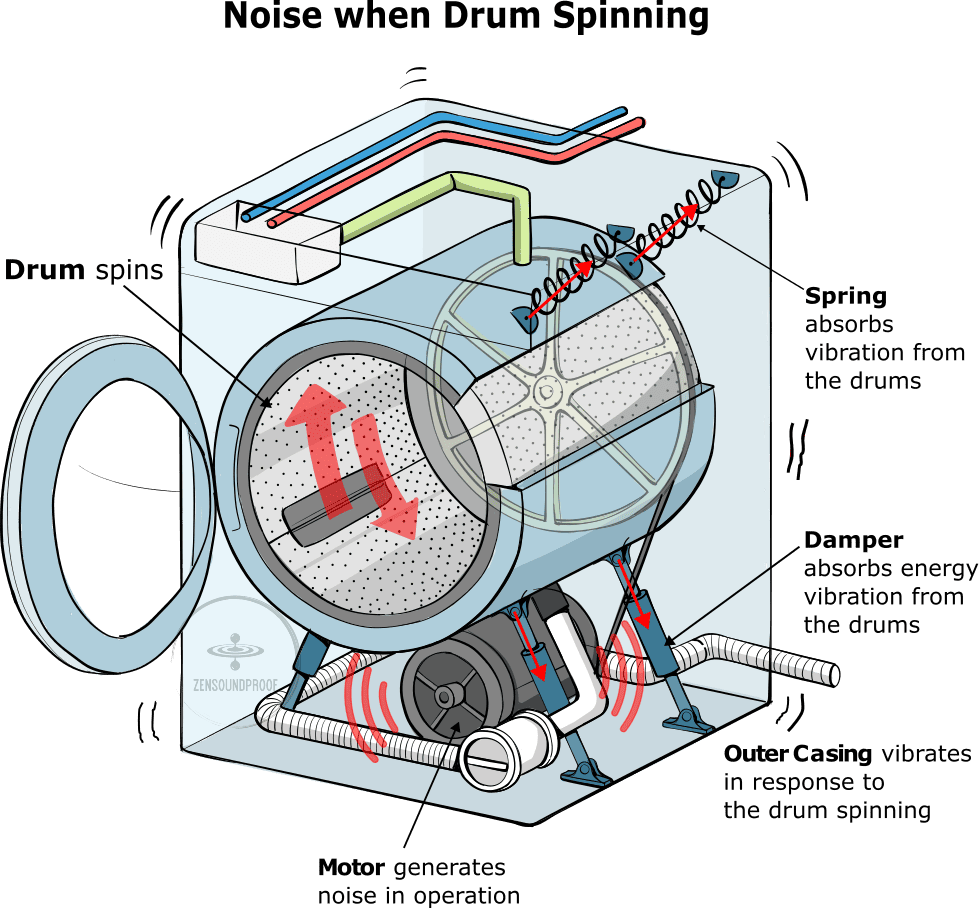 Spinning during both the wash and spin cycle. Higher drum speeds are noisier than slower ones.
Draining as the water leaves the machine. While not a loud noise, it's certainly noticeable.
Beeping to signal the end of a cycle or washing phase.
Non-Standard Noise Sources in a Washing Machine
The noises above are what we would consider to be standard. However, you might find your washing machine is making other noises. These can be signs of wear and tear or potential mechanical faults. Some include:
A broken motor shaft or cog on the agitator shaft, causing a whining or grinding noise during the spin cycle. Look for signs that the agitator or impeller can rotate freely when not in operation.
A spring failure or damaged shock absorber that causes the drum to sag and make a loud noise. The imbalance in operation turns so bad that it often results in a puncture of the drum door seal.
You might find these noises harder to diagnose because the causes aren't immediately obvious. What's more, they might require you to take the machine apart, which you should only do if you know what you're doing.
If your washing machine is making an unusual noise and it's worth trying to fix, consider contacting a professional to inspect it.
How to Choose a Quiet Washing Machine
Although choosing a washing machine requires a bit of research, it shouldn't be difficult to narrow down your options. The guide below should give you some help in doing so, as it covers the factors to consider when choosing a quiet washing machine.
Noise Level
I've already mentioned what I consider to be a quiet washing machine (below 70dB). For context, 70dB is roughly equivalent to a vacuum cleaner. I consider a washing machine at 60dB to be really quiet, which is around the same as normal conversation.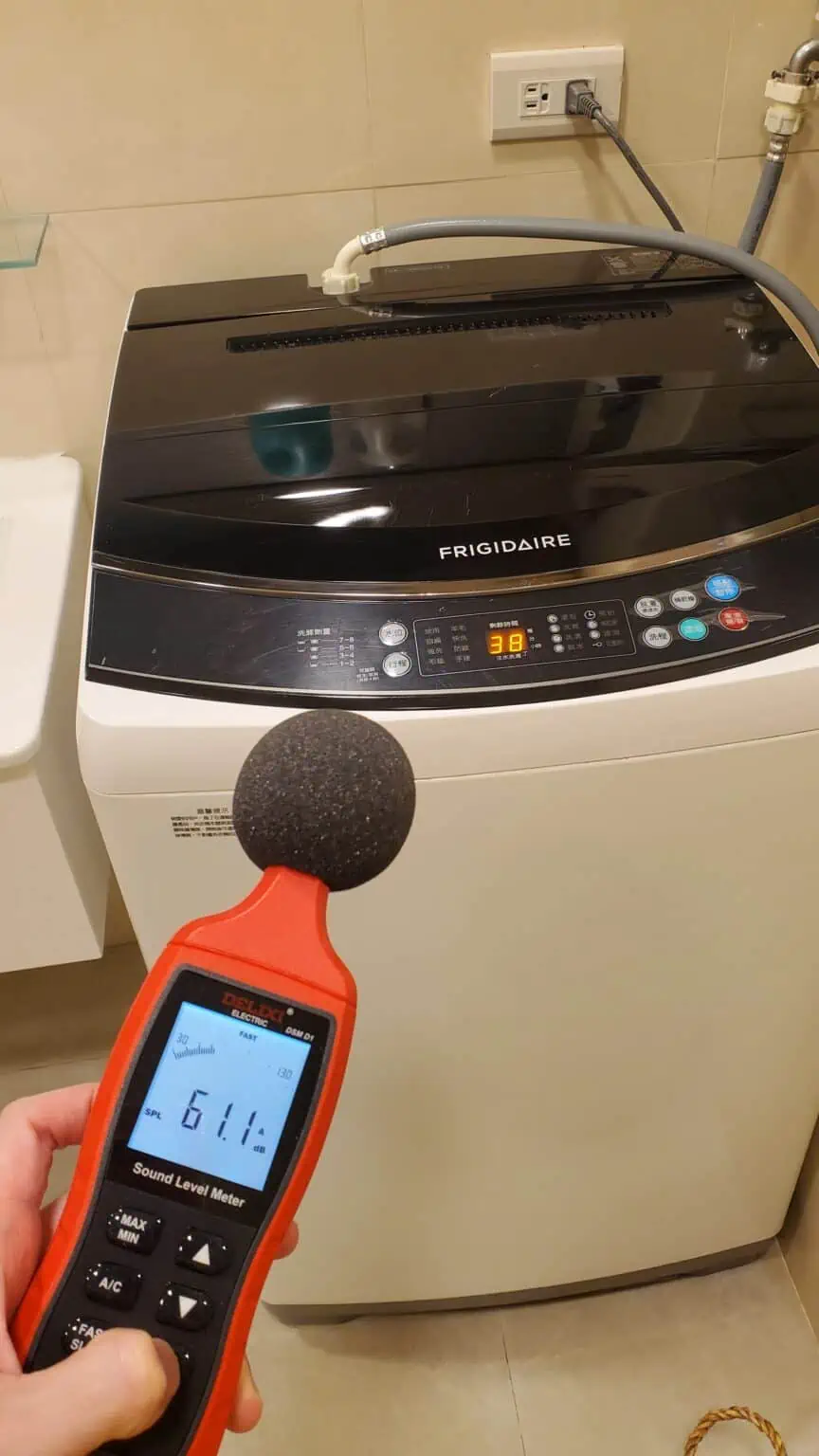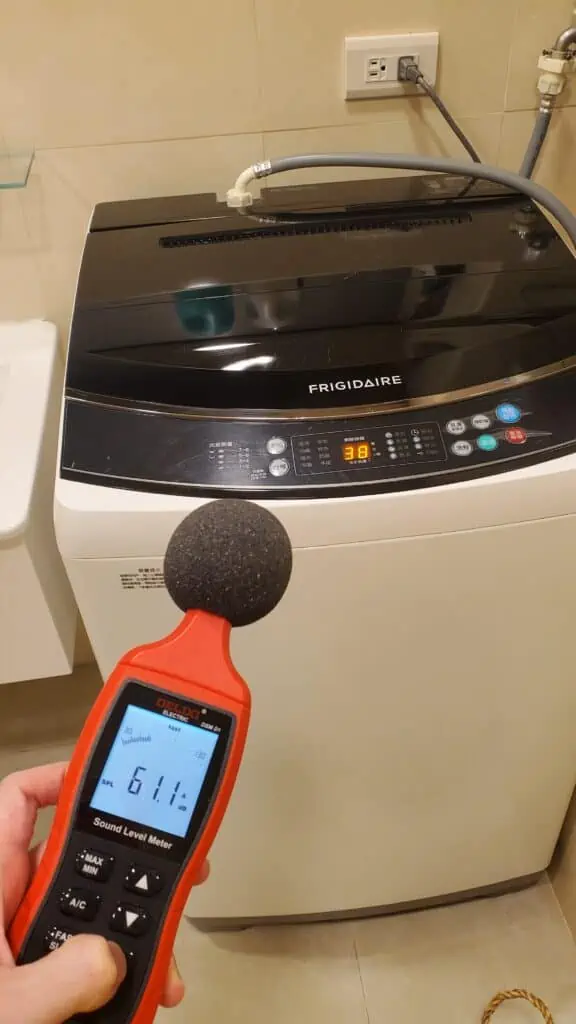 To break this down, 70dB or less should be for the spin cycle – the loudest part. The wash cycle should be 50dB or less, as this is much quieter in operation.
If the manufacturer lists this information (which is less common than you'd expect), it should be in the product specifications. You can find these on the product's web page or in its user manual.
However, if there isn't a decibel rating, look out for the following features that can help reduce noise level:
Eco mode. It usually reduces the spin speed, meaning it shouldn't make as much noise.
Delay start. This can indirectly reduce noise levels by allowing you to start the washing cycle at a time when you won't notice it as much.
Vibration reduction. Most manufacturers won't specify what this includes, but it'll usually be insulation or decoupling around the motor and drum.
Soft close lid. Only relevant to top load washers, a soft close lid shuts slowly. This means you won't risk dropping it and creating more noise. It may also have extra damping properties to reduce vibration transmission in operation.
Load Type
Washing machines come in top load or front load options. This can have an effect on overall noise output, along with other functions. Here's a quick roundup of the differences.
Front Load
Front load washers have a horizontal drum, which you fill from the front. In turn, they use gravity to agitate the clothes, meaning less friction. They also achieve higher spin speeds than top load washers.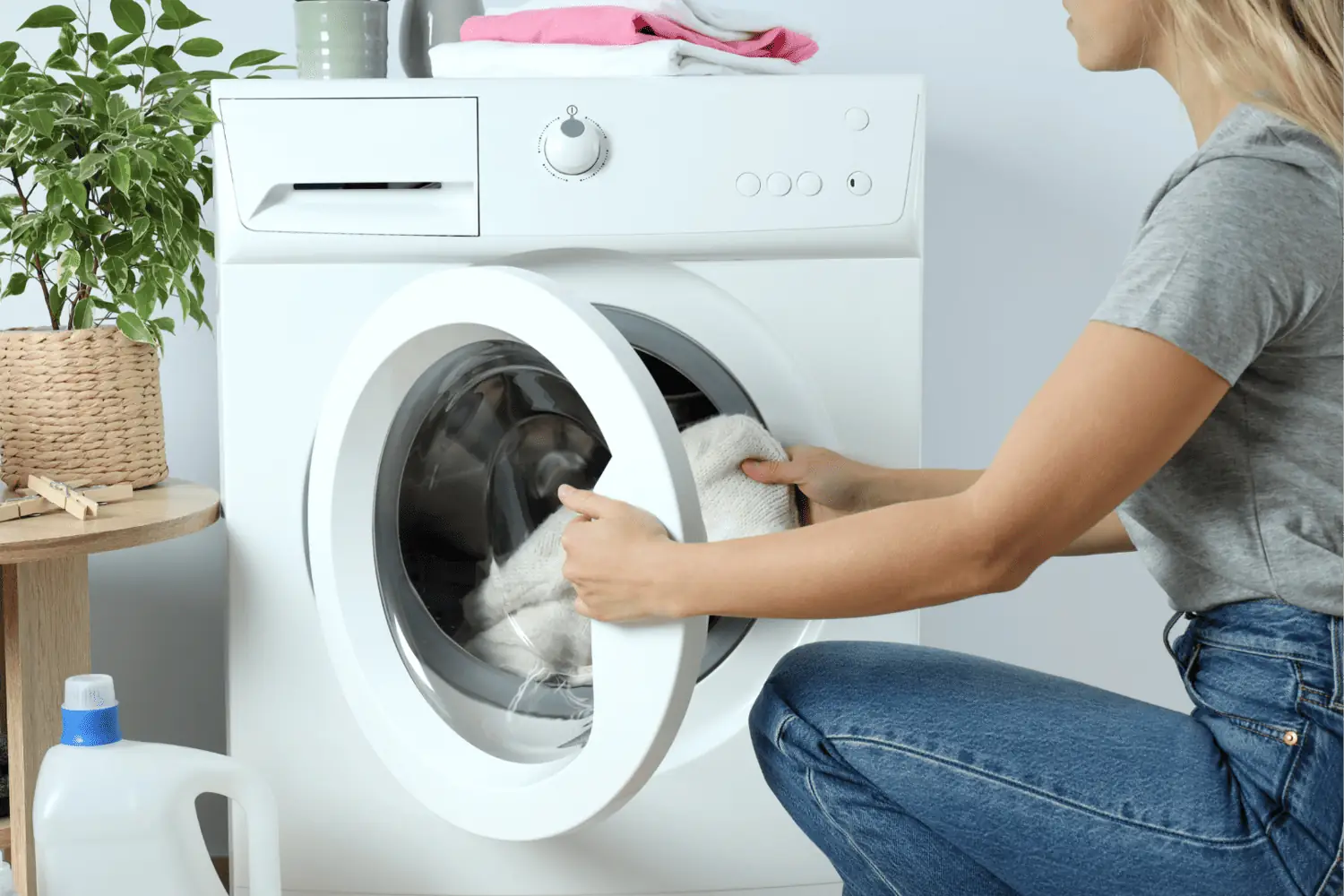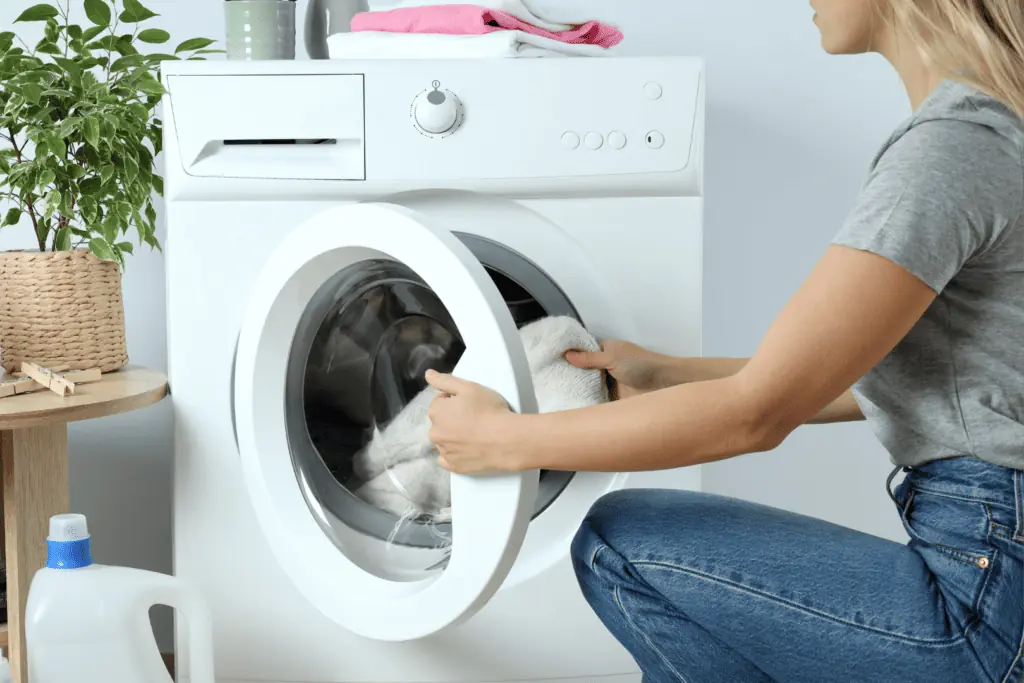 Front load washing machines are:
Quieter. The door has a waterproof seal that provides insulation and the washing cycles creates less friction.
More efficient. Front load washers use less water because the drums are smaller. In turn, less water means less sloshing noise.
Less space efficient. The front door requires more room than a top load washer. However, you can balance this against them being stackable units.
Higher spin speed. The RPM of front load machines ranges from 1000-1400. It removes more water, meaning your clothes are drier when you take them out.
Top Load
Top loading washing machines have a hatch door on top. You put the clothes into the vertical drum, and the machine uses an agitator or impeller to move them through the water.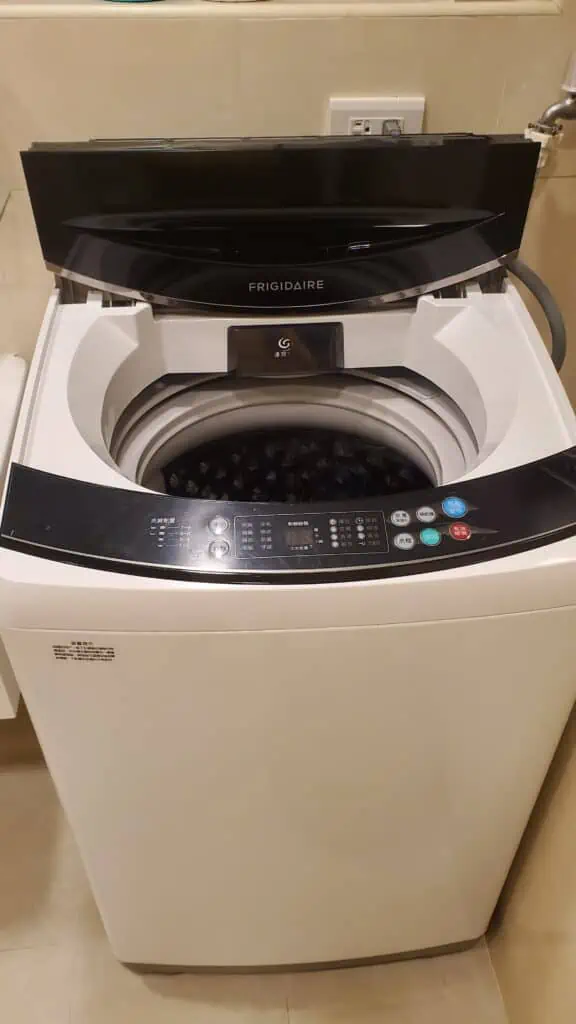 As such, top load washing machines are:
Noisier. The movement of the clothes is more forceful because it's working against gravity. This means more friction and more noise.
Quicker. Generally, top load washing machines are quicker than front load (excluding quick wash cycles).
Easier to pause. Unsurprisingly, it's much easier to add clothes mid-cycle in a top load washer than a front load.
Lower spin speed. A top load's spin speed ranges from 400-950 RPM and removes less water as a result.
Capacity
We measure a washing machine's capacity in cubic feet, which refers to the size of the drum. Some appliances might list a weight capacity too. To put this in context, here's a table that explains capacity in cubic feet and pounds of laundry:
| Washing Machine Size | Cubic Feet | Pounds of Laundry |
| --- | --- | --- |
| Compact | 1.5-3.4 | 4-8 |
| Standard | 3.5-4.4 | 8-16 |
| Large | 4.5-5 | 16-20 |
| Extra Large | 5.1-6 | 20-25 |
Another way to look at it is in relation to the number of people you'll be washing for. A single person or couple should be fine with a compact or portable machine, although it might mean doing more loads.
A family of 4 will probably want a large machine at least. While you could get away with smaller machines, you could end up running it every day, which will obviously cost.
Wash Cycles
The types of wash cycles you need will depend on what you plan to wash. Most machines will have at least 6 to cover normal, quick, and heavily soiled loads. Other options can include eco modes, delicates, wools, whites, etc.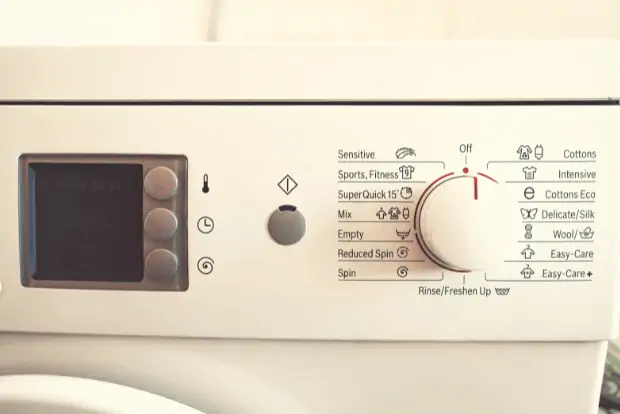 In terms of noise reduction levels, eco mode is a helpful one. As explained above, it usually reduces the spin speed and water level, which will reduce noise. It may take longer, however, although it works out cheaper overall.
Smart Load Sensing
Put simply, smart load sensing weighs the amount of laundry you've added and lets in the appropriate amount of water. Along with being more efficient, it helps to reduce vibrations and noise levels.
Too much water, an uneven repartition of the laundry or an improper water-to-laundry ratio can create imbalance.
An unbalanced load generates a force proportional to the product of the laundry mass (m), the distance from the rotation axis (r), and the square of the spin speed (ω²):
F (unbalanced load) = m (unbalanced load) . r . ⍵²
Smart load sensing adjusts the water level (m), spin speed (⍵) and wash time accordingly based on your laundry weight. By reducing both m and ω, the unbalanced forces generated during rotation are minimized, leading to a more stable and efficient washing process.
Motor Type
Washer motors can be brushed or brushless. Brushless are way quieter because they don't require brushes to rub against the rotor to activate the magnetic field. Hence, they induce less friction and noise.
Drive type
Washing machines will have either direct drive or belt drive motors. Direct drive means the shaft of the motor is directly connected to the drum. On the other hand, belt drive means the motor is connected to a belt that's then connected to the drum.
Direct drive is both quieter and reliable, because it has one less moving part. The advantage isn't obvious though, as belts nowadays are very reliable, easy to replace and match the power efficiency of direct drives.
While it's not common for manufacturers to list these features, higher-end models are usually brushless, direct drive motors.
Energy Efficiency
Washing machines often provide quite a bit of information on their energy use. Considering they heat water and have various spin and wash cycles, energy usage can vary massively.
As with other appliances, washing machines can be Energy Star certified. This means they're as energy efficient as possible, saving you the most money compared to similar, less efficient models.
We measure energy use in kWh (kilowatt-hours) per year. An Energy Star model can use as little as 50kWh/year depending on its capacity, but around 100-250 is standard for a large domestic model.
Washing machines should come with an energy guide label, which lists its kilowatt hours per year and cost. They're easy to compare, so check them out when searching for an appropriate model.
For example, the LG model uses 220kWh/year at a cost of $31. On the other hand, the Bosch uses 84kWh/year at a cost of $12. As you can see, there's plenty of variation but none is particularly expensive.
How to Make Your Existing Washing Machine Quieter
Buying a new quiet washing machine is a good way to reduce noise output. However, there are options for making your existing model quieter. This is a better choice if your noisy washing machine isn't that old or it's obvious what's causing the noise.
Consider the following tips:
Put it on a Soft Surface
This is pretty self-explanatory. Put your washing machine on a soft surface, such as a rug or mat, on the laundry room floor. This helps absorb and dampen some vibrations, making it slightly quieter.
I've explained how resilient materials (like mats) can do some noise decoupling in my article about how to soundproof floors, check that out for more info.
Level its Feet
Washing machines have adjustable feet. If they're not properly level, the machine can vibrate more easily, making it louder. Ensure they're level by using a spirit measure and adjusting them accordingly.
Use Anti-Vibration Pads
Anti-vibration pads do the same job as a rug but better. They're usually made from foam and are designed for this purpose. While they'll cost a bit more than a rug you might already own, they're far more effective at dampening vibrations.
Clean the Filter
Cleaning the washing machine filter will help make your appliance quieter. If there's too much lint or any foreign objects in it, the water drainage noise will be louder. It's a good idea to clean the filter regularly anyway, but it can help cut down on noise output.
Final Thoughts
I hope this article has helped you narrow down your options for a quiet washing machine. While there are plenty out there, not many of them state an explicit decibel rating.
Of course, if your washing machine still has some life in it, there are plenty of ways to reduce noise levels without resorting to buying a new machine.
Do you have any tips for making a washing machine quieter, or do you have any other models to suggest? Let me know in the comments below.