For those in a hurry, we designated the Weston Sound Shield Pro as the best value for money quiet blender (see review below).
Choosing a quiet blender is pretty much a no-brainer for anyone using one regularly. After all, you don't want to wake the rest of your household up with your pre-gym smoothie making!
Of course, there's more to choosing the best quiet blender than simply noise level. We must also consider power, usability, and more.
So that's exactly what I do in this article. Below, you'll find my top picks for the best quiet blenders, specifically considering how well they fare against smoothie making. First, let's look at noise levels so we're armed with the facts when making our picks.
How Many dB is a Quiet Blender?
A standard blender has a noise rating of around 90dB, which is about the same noise level as a lawn mower. By contrast, a quieter blender can sit anywhere from 64-80dB. In real terms, this is a range between normal conversation and loud traffic.
Because the decibel scale is logarithmic, a 10dB reduction is equivalent to a halving in perceived loudness. So, despite the top range of a quiet blender being 80dB, this is still half as loud as a normal blender. While it's still fairly noisy, it's a considerable difference when you're making those 5am smoothies!
If noise levels are important to you when buying a blender, you'll obviously want to go as low as possible. By extension, this could mean having to pay quite a lot more, particularly if you're looking at professional blenders (which are usually the quietest).
Professional Blender, is It Worth It?
A professional blender is designed to withstand far more frequent use. In a café, for example, a commercial blender can perform 200 cycles per day. On the other hand, a home use blender covers around 1-5 cycles a day. More frequent use increases how fast the mechanical components will deteriorate over time.
This deterioration pace also directly translates to the length of the blender's warranty.
Pick a commercial blender and you can expect your warranty to last from 1-3 years.
Pick a home use blender and you can expect a 5-10 years warranty.
Commercial blenders offer timers and programmable controls to optimize labor time for repetitive tasks, and they can handle pretty much any recipe. On the other hand, home blenders focus on the essentials in terms of customization and you'll usually need to shop around for a model that meets your specific needs.
A commercial blender is more reliable, powerful, durable, and versatile. Thus, they are more expensive. However, they're also usually quieter. This is because of the environments in which they're used (restaurants or cafés), where excessive noise levels can be unpleasant and/or dangerous. Some will feature sound shields to help reduce noise levels even further.
But what does this mean for you? In short, a personal blender will be fine for most people, as you likely won't be using it more than a few times a day. However, if extreme power and noticeably lower noise levels are your most important buying criteria, consider opting for a commercial blender.
Balance this against the fact that a commercial blender will typically be 2-3 times more expensive than a quiet personal blender.
Our Top 6: Best Quiet Blenders
Now that we have a rough idea of appropriate noise levels for blenders, let's go over my top picks. Below are what I consider to be the best quiet blenders currently on the market.
Among other things, I'll specifically mention whether or not each is suited to making smoothies. While this isn't the only reason people buy blenders, it's arguably the most demanding thing you can make with a blender at home (mainly because of the need to break down ice cubes).
1. Best Overall Pick: Vitamix 36019 Quiet One Blender
Motor Power: 2200 W
Jar (BPA free) Capacity: 48 oz. (1420 mL)
Speed settings: 93
Pre-registered programs: 34
Warranty: 3 years (see conditions here)
Noise level: ~64dB
The Vitamix Quiet One is my overall pick because, at around 64dB, it's essentially the quietest blender we can expect. But let's get this out of the way early: at this high price point, it's not going to be for everyone.
Although it's aimed at a commercial market, nothing is stopping you from using it at home if you're comfortable with the price tag. It's powerful and versatile, so you won't struggle with hard ingredients like nuts or ice cubes. It's also effective to blend fibrous ingredients such as spinach or kale. In short, smoothies will be easy, as will just about anything else you might want to blend!
It has a whopping 93 speed settings, which is frankly more than anyone could ever need. But, combined with the 34 programs, it gives you loads of flexibility over its settings. Despite this massive range, it's surprisingly easy to use. Also, the Vitamix is easy to clean (in the dishwasher). It has the highest ease of cleaning rating on this list.
The Vitamix Quiet One is about as close to a silent blender as you can get. It's got an encased blender jar and dampening feet to reduce noise emissions. The stainless steel blades and polycarbonate jar are durable, meaning this blender can handle pretty much anything.Other than the price, the only real downside is the warranty. You get a 3-year warranty on the motor and a 1-year warranty on everything else. I would advise you consult the warranty on the Vitamix website if you're interested in this model.
PROs
Really easy to use considering how many settings it has.
Commercial-grade noise reduction technology.
It'll easily handle smoothies, soups, fibrous ingredients, and more.
CONs
Expensive.
Not a great warranty for home use.
No tamper included
2. Best Value for Money: Weston Sound Shield Pro Series Blender
The Weston 58919 blender is the same blender as the popular Jamba Quiet Shield blender.
Motor Power: 1200 W
Jar (BPA free) Capacity: 32 oz. (950 mL) & 20 oz. (600 mL)
Speed settings: Infinite
Pre-registered programs: None
Warranty: 5 years (home use)
Noise level: ~80 dB
Despite having Pro Series in the name, the Weston Blender is an acceptable price level for an at-home blender. But at 80dB, it's at the top end of the quiet shield blender scale. Compared to the Vitamix, it's a perfect example of the difference between professional and at-home technology.
It features a 1200 W power motor. The speed setting is controlled via a continuous speed setting knob, similar to a volume knob. This makes it super easy to use and gives you loads of flexibility over settings.
You'll find crushing ice or big chunks of fruit are easy tasks for this powerful motor, especially compared to the BLACK+DECKER model (see below). It comes with a tamper, the default jar (32 oz.) and a smaller jar (20 oz.) to take your drinks on the go.
The BPA free plastic jars, tamper and sound enclosure are dishwasher safe. Be aware that there's no handle on the bigger jar (32 oz.). While this isn't a massive issue, it can make handling difficult in some situations. The Weston is tied with the Vitamix on ease of cleaning score. While it's not dishwasher safe, you can blitz some soapy water in it, which does the job fine.
Overall, I really like this model. It performs well, and it's compact and versatile. The noise reduction provides the minimum we should expect from a quiet blender. It also comes with a 5-year warranty. At this price range (around 5 times cheaper than a commercial blender), I wouldn't have expected that much.
Its only real drawback is that the standard jar is smaller than its competitors, but this is due to the sound shield. Considering it's a decent price for the included features, I'd say it's an acceptable tradeoff.
PROs
Includes a sound shield.
Comes with tamper and 2 jars.
Motor will make easy work of smoothies and more.
CONs
Standard jar is smaller than its competitors.
80dB is about as loud as we want for a quiet blender.
3. Best Budget Quiet Blender: BLACK+DECKER BL1300DG-T PowerCrush Blender
Motor Power: 900 W
Jar Capacity: 48 oz. (1420 mL) & 18 oz. (530 mL)
Speed settings: 3
Pre-registered programs: 3
Warranty: 2 years
Noise level: NC
The BLACK+DECKER BL1300DG-T is my best budget pick because even if it lacks some power, it does a good job at this ultra competitive price point. Frustratingly, it's labeled as 40% quieter than traditional blenders but we don't get an explicit rating. Decibels are logarithmic, so it would cut off around 2.2 dB. Knowing that traditional blenders emit around 90dB, it means the Black+Decker is at around 88 dB. It's not as low as a quiet shield blender, but it's much cheaper.
Either way, users regularly state it's surprisingly quiet, and, considering the price, a lack of decibel rating is an acceptable sacrifice. It has a 900W motor, which is less powerful than other blenders but probably contributes to the lower noise level. Even so, it'll still handle smoothies, soups, and purees better than mini blenders, which are generally under 600W.
It has 3 speed settings and a pulse function. While this is significantly fewer than the Vitamix, it's enough to make pretty much anything. It features a 4-tip stainless steel blade that should make light work of any ingredients you put in it.
Along with the standard blending jar, you get an 18oz. personal jar specifically for smoothies and other drinks. It even has a snap-on lid so you can make your drinks and then just take it with you. You can wash both jars in the dishwasher, which is pretty convenient.
Its major downside is that the motor can struggle with ice-heavy drinks. It'll still blend them, but you might need to stop it and mix things around to get an even blend. Unfortunately, it doesn't come with a tamper either, so this'll mean mixing it about with a spoon. However, for the price point, it's possibly an acceptable sacrifice.
PROs
Decent budget quiet blender.
Includes personal jar for smoothies.
Enough functions for at-home use.
CONs
No explicit decibel level.
Motor can struggle with ice-heavy drinks.
4. Cranddi Quiet Commercial Blender (K-90B)
Motor Power: 2200 W
Jar (BPA free) Capacity: 80 oz. (2200 mL)
20 oz. travel bottle
Speed settings: 15
Pre-registered programs: None
Warranty: 1 year
Noise level: ~80 dB
The Cranddi K-90B is equipped with a powerful 2200 W motor and all the features required for a home blender. Although it is advertised as a professional blender, it is definitely not. It lacks all the preset programs needed for commercial purposes.
It's nearly double the price of the Weston, but it claims that its sound shield reduces noise levels to around 70dB within 1 meter. For the difference in price, this is a considerable improvement.
The jar has been designed with care. First, it comes with a handle (which the Weston lacks), making it more suitable for those who might have difficulty picking things up. Also, the measurements are graduated from bottom up to the 2.2L, whereas most other models start about halfway up the jar. Moreover, there's no need to remove the sound shield to use the tamper.
And finally it comes with a travel bottle to take out your freshly prepared drink. This small detail makes the Cranddi K-90B a nice quiet blender for smoothies on the go. The blender has a 3HP motor, which is nearly twice as powerful as the Weston. It'll make quick work of ice cubes, frozen fruit, and much more.
If you need a more powerful alternative than the 2 previous models, I would recommend this model. For this price range, it's hard to find a powerful, ergonomic and quiet model. However, it only has a 1-year warranty, which isn't great for home use.
PROs
Noise emissions of around 70dB is decent for a home blender.
Highly functional jars and speed settings.
You don't need to remove the sound shield to use the tamper.
Includes a self-clean setting – no dishwasher needed.
CONs
Bulky
Only has a 1-year warranty.
5. Blendtec Professional 800 with WildSide
Motor Power: 1800 W
Jar (BPA free) Capacity: Total 90 oz. (2660 mL)
Speed settings: 11
Pre-registered programs: 6
Warranty: 10 years (applicable to home use only)
Noise level: ~67 dB
The Blendtec Pro 800 is a professional-grade blender at a (theoretically) lower price point. As such, it's a decent alternative to the Vitamix Quiet One at a lower price point. One of the areas where this is most obvious is in the blades, which Blendtec claims are 80% thicker than 10x stronger than at-home blenders. In turn, this means it'll make light work of even the hardest ingredients.
Importantly for us, the Blendtec sits at around 67dB. For an at-home blender, this is pretty quiet (it's almost on par with the Vitamix model above). It's got an easy-to-use interface that provides 11 speed settings and 6 preset programs. These save you from having to watch the blend time, as you could just set "smoothie" and leave it be.
The 1800W motor and blades easily blend anything you put in it. Unlike other blenders, it doesn't have blades in the literal sense. Instead, they're blunt pieces of metal. While this might sound counter-intuitive, they help to blitz the ingredients more easily. Plus, it means you can clean the jar without worrying about hurting yourself.
Its only real drawback is that it doesn't come with a tamper. However, Blendtec claims it doesn't need one because of the blades and motor. Some users have reported struggling with some recipes, such as ice cream, so bear this in mind depending on what you plan to use it for.
PROs
67dB noise level.
90oz. jar is big enough for pretty much anything.
Jar is easy to clean and dishwasher safe.
Good Alternative to the Vitamix Quiet One.
CONs
No tamper included.
Still expensive but more affordable than the Vitamix Quiet One
6. Hamilton Beach Pro Quiet Shield Blender (58870)
Motor Power: 1500 W
Jar (BPA Free) Capacity: 32 oz. (950 mL)
Speed settings: Infinite
Pre-registered programs: 4
Warranty: 5 years (home use)
Noise level: ~82 dB
The Hamilton Beach Pro might not be the quietest model on this list, but it's a decent balance of power and price. Specifically, it's a more powerful version of the Weston listed above. The wattage is a major factor in noise emission, so expect a few decibels more than the Weston. You can check out this video for an example of its noise output.
However, everything else about it is decent. The jar is 32oz., which is a standard size. Users state the jar is easy to clean and can be put in the dishwasher. The blender also has a self-clean function, so you can just use some warm water and dish soap.
Like the Weston, the blender container doesn't have a handle. However, you can lift the sound shield off to get to the jar, so it shouldn't be a massive issue. It comes with a tamper, but you need to remove the sound shield to use it.
The 1500W motor has 4 speed settings and can handle frozen and hard ingredients. A potential downside is that the Hamilton Beach doesn't come with a personal jar, whereas the Weston does. It's also pricier than the latter. Despite that, the Hamilton Beach is still a worthwhile alternative in the mid-range at-home blender category but it doesn't look as much of a good deal compared to the Weston.
PROs
Compact enough to not take up loads of space in your kitchen.
Enough programs for everyday use.
Sound shield reduces noise to an acceptable level.
CONs
Lack of handle on jar could be an issue for some.
Quite expensive for the noise emission.
What Makes a Blender Quiet?
To understand what makes blenders quiet, we have to look at their features. The construction of the blender includes design features to reduce sound.
Dampener under the blender. The foot or the base of the blender are equipped with dampening materials such as rubber pads. This added material dampens vibration and sound caused by the motor operation.
Sound shield or enclosure. A cover made of plastic encapsulates the blender, blocking and absorbing some sound waves. Some shields cover only the jar. While others cover the whole machine (including the motor), making it more efficient.
These are the 2 most explicit features that make a blender quiet. By this, I mean they're things manufacturers add specifically to reduce noise emissions from the blender. However, there are various construction features that can reduce noise levels indirectly:
Weight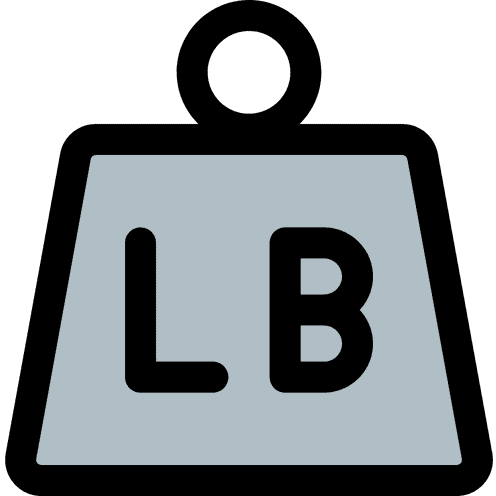 A heavier blender will wobble less because it has more inertia, making it difficult for the motor to affect the balance. In simple terms, the more mass something has, the more difficult it is to vibrate. Generally, blenders with larger motors will be heavier, but we can offset this slightly by looking for ones with suction cups for feet. These fix the blender to the surface, reducing wobble somewhat.
However, you must weigh this against usability. For example, if you store your blender when not in use, a heavier blender is more inconvenient because of how often you'll be lifting it out of the cupboard.
Motor Power
Motor power is a more indirect factor in reducing noise levels. A low-power motor will struggle with hard ingredients, which in turn will produce more noise. On the other hand, a powerful motor will breeze through them, making it quieter.
We can summarize motor power into 2 points:
A less powerful motor will generate less noise. However, you'll have a longer blending process, which could offset the noise reduction. Alternatively, buy a more powerful model and run it at a lower speed for a suitable balance of power and noise.
A more powerful motor will blitz ingredients more quickly, which reduces noise exposure duration. We calculate power as the motor's RPM multiplied by its torque, which I discuss below.
Blade Sharpness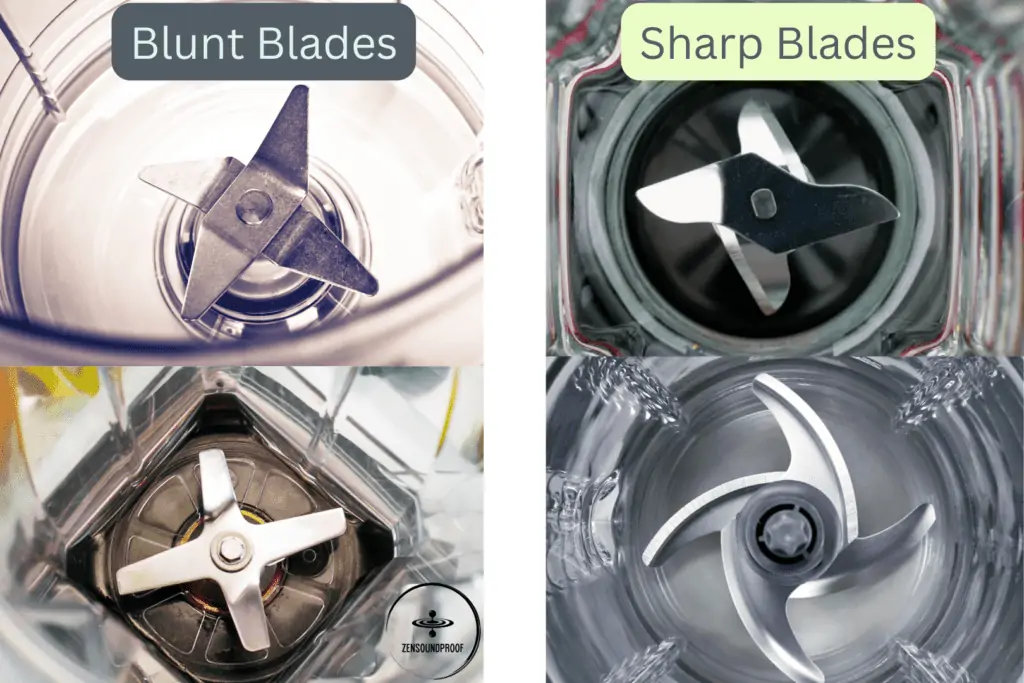 The same logic is true for blade sharpness. Stainless steel blades shouldn't have much difficulty with ice. On the other hand, blunt blades will basically throw the ice cubes around rather than blending them, making it louder.
Enclosure Material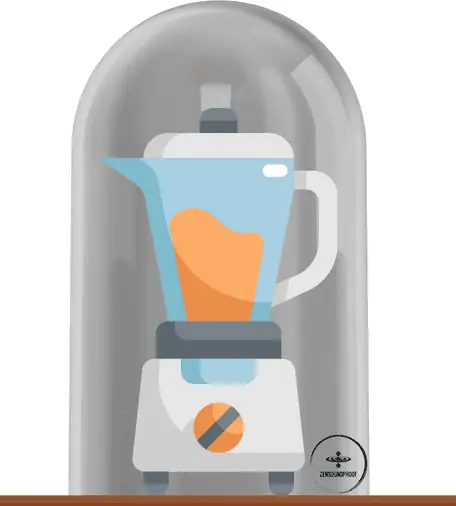 Generally, sound shields for blenders are plastic. This is because it's shatterproof, meaning you can have a more powerful blender. However, glass is a better sound blocker because it's heavier, so if this is important, consider opting for it over plastic.
The rule of thumb is that there's a 6dB reduction for every doubling of the mass. So, where possible, opt for a heavy sound enclosure for noiseproofing. However, this does impact ease of use.
A blender without any of these features has almost no chance of being quiet. But as a consumer, the best way to assess the noise performance is by looking at noise ratings (in dB).
What Features Matter When Buying a Blender?
Now that we've looked into some detail about blender noise levels, let's look at what other factors matter when making your pick. After all, a silent blender is effectively useless if it can't make the recipes you want!
Noise Level
There's not much else to say about this. A mid-range home-use blender can sit around 70dB (such as the Cranddi K-90B). This is the equivalent of a vacuum cleaner, making it a good balance between noise emissions and price.
If you need to go much quieter, accept that you'll likely have to opt for a professional model.
Sound Shield
A sound shield is a useful feature for keeping noise levels down. As is evident from the blenders I've reviewed above, it does make a difference to noise emissions. Luckily, it's a fairly ubiquitous technology, so you shouldn't struggle to find a suitable model.
However, it might mean sacrificing standard features such as a jar handle or tamper. If these are things you need, you might be restricted in the options you have.
Motor Power
We can break motor power down into 2 factors: torque and speed. Speed is an easy one to understand. It measures how quickly a blender turns ingredients into a liquid, and is usually measured in RPM (rotations per minute).
RPM can range from 15,000 to upwards of 38,000. Unsurprisingly, a higher RPM will blend soft ingredients more quickly.
Torque is just as easy to understand but more difficult to measure. It's a unit of force that causes rotation. For a blender, this metric refers to its ability to blend hard objects like ice or nuts.
However, you won't typically find a torque measurement in a blender's specs. As a general rule, a higher wattage (more powerful motor) will have higher torque. Failing that, opt for a model that specifically states it's for smoothies. You should also look at user reviews to see what they say about its blending ability.
Jar Size
A blender's jar size refers to its liquid (or solid) ingredient capacity. For standard personal blenders, 31-48oz. is the most common size, which equates to between roughly 900 and 1400ml. If you plan to make soup, you'll probably want to go bigger.
Some blenders come with an extra personal jar, which you use to make single servings of smoothies. Anywhere between 12 and 16oz. (350-600ml.) will be fine for this.
Again, there's no "best" size for a blender jar, as it depends on what you plan to make. Commercial blenders are generally larger because they're designed for bulk recipes.
Another thing to consider is the material used for the jar. They're almost always plastic (because it's shatterproof), so look for ones that are BPA-free.
Speed
As mentioned, blender speed directly correlates to how fast your ingredients will turn to liquid. It's common for personal blenders to have 3 speed settings and a pulse function, which is enough for most people's needs. The actual speeds you get from a blender will depend on its motor power and RPM.
Commercial blenders will have more speed settings and likely programmed functions. These are helpful for specific recipes, such as smoothies and soups, because it'll blend for a certain time based on what you're making. While this isn't entirely necessary, it does remove some of the guesswork.
How you control the blender's speed is perhaps a more important consideration. Basic models will have buttons, while others will have a dial. I'd recommend going with a speed dial if possible, as it gives you greater control over speed. That said, it's an ease-of-use consideration over anything else.
Cleaning
Cleaning is a pretty important consideration for blenders, particularly if you're switching between soups and smoothies. Aside from affecting taste, you'll want to avoid cross-contamination and bacterial growth through proper cleaning.
At the very least, the jar will be removable. Some will let you take out the blades for easier washing, which can be a big help. However, plenty of blenders have a clean cycle, which involves spinning hot water and dish soap. It's enough to remove stuck food.
Check whether the blender is dishwasher safe. Some won't be due to the materials used, but cleaning by hand can be a pain. Where possible, opt for a dishwasher safe model (provided you've got a dishwasher, of course).
Blades
There's not loads to say about blades. Most are stainless steel, which will stay sharp for as long as the blender lasts. Some feature hardened stainless steel, which is even more durable.
Thicker, sharper blades will make quicker work of ingredients, so bear that in mind. Maintaining blender blades is generally as simple as cleaning them, as they won't need sharpening.
One other thing to consider is the potential ease of replacement. If, for example, the blades break, it's usually more cost effective to buy new ones instead of a whole new blender.
For this to be true, you'll need to make sure the manufacturer sells spare parts. This should be the case for larger brands (e.g., Vitamix, BLACK+DECKER, Ninja, etc.). However, it's probably not worth using this as a major buying factor, as the chances of you needing to replace the blades is fairly low.
Tamper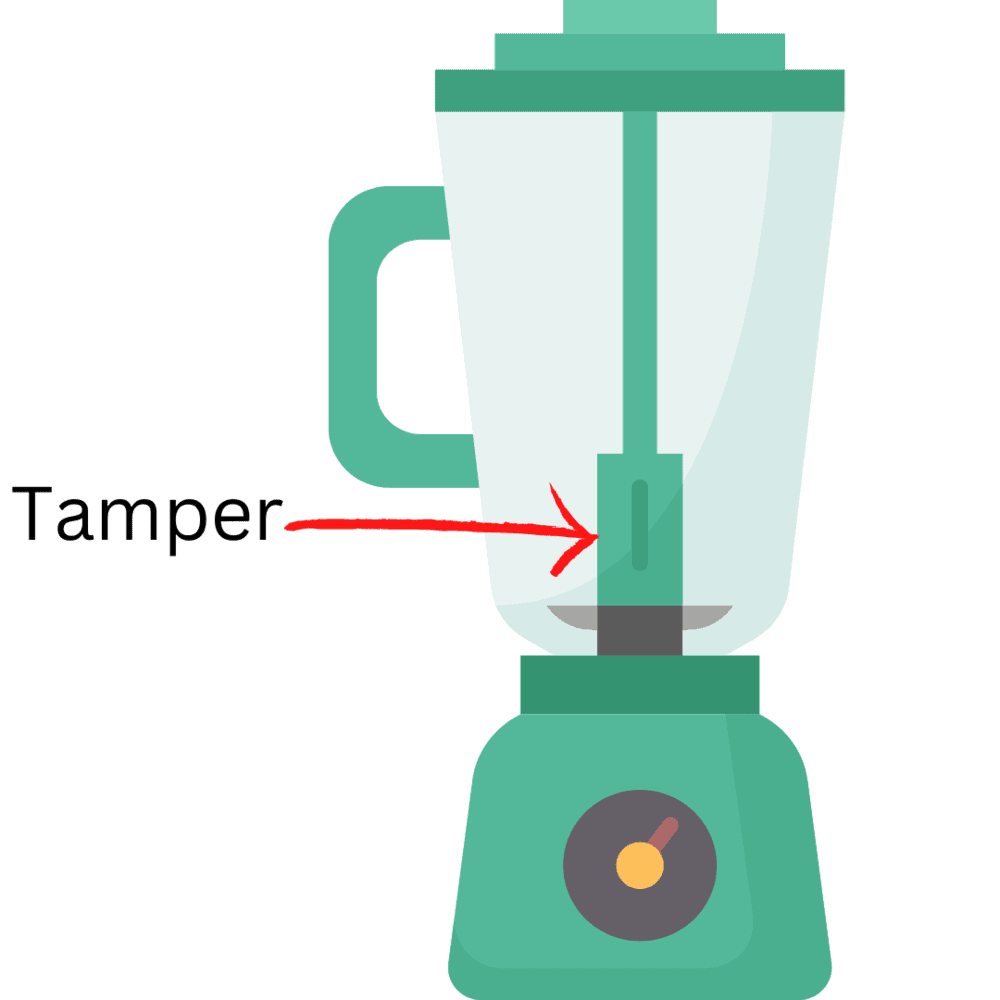 A blender tamper is essentially a stick that you use to push ingredients around. It's not a must, but can be helpful for thick smoothies or soups. The alternative is to turn the blender off and use a spoon, whereas a tamper can be used while the blender is on.
Warranty
Blenders can be a pretty big investment, so it's worth thinking about warranties. As mentioned, the warranty could be anything from 1-10 years depending on the brand. For more expensive models, you'll want a longer warranty to justify spending the money initially.
What Matters for a Quiet Blender for Smoothies?
As you can probably tell, making smoothies is an important consideration when picking a blender. This is mainly because they require more power than other recipes due to the presence of frozen and hard ingredients.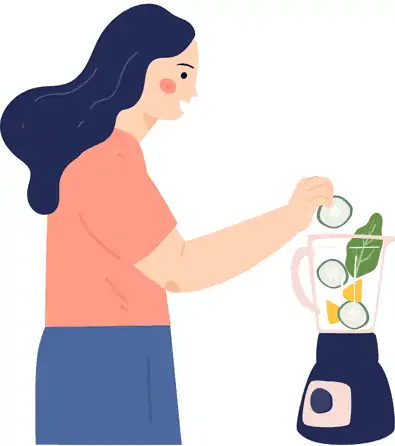 So, what specific factors do you need to consider when buying a smoothie blender?
Power and speed are probably the most important things in smoothie making. A high-power blender will make quick work of ice cubes and nuts, in turn reducing your blending time.
While you could still use a regular blender instead of a high-speed one, it'll simply take longer. When thinking about blender power, we use watts. We could consider anything below 1,000 watts to be a low-power blender.
A high-speed model, on the other hand, can be 2,200 watts or more. For a personal blender, you won't need to go higher than 1,500-1,800 watts.
Blender power aside, how you prep and layer your ingredients can have a big impact on noise emissions and blending speed. With enough prep, even a standard blender could handle a smoothie without much issue.
Specifically, cut fibrous ingredients (such as kale) into smaller chunks before you even fill the blender. You could also try blending these ingredients with the liquid for a bit before adding everything else.
Then, follow this layering pattern for easier blending (starting closest to the blades):
Liquids
Powders
Greens (leafy ingredients)
Chunks of fruit and veg
Frozen ingredients
Doing it this way gives your blender time to work through the easier ingredients, meaning they get mixed in properly before it gets to the chunkier bits. Doing it the other way could mean you have leaves and powder sat on top of a poorly-blended mush.
How to Reduce Noise from Your Blender
Whether you have a quiet blender or not, there are some things you can do to mitigate some amount of noise emissions. These will have varying levels of success depending on your blender's location, age, speed, etc.
1. Put an absorbing material under the blender
To absorb even more vibrations, you could position a towel or a silicon mat under the blender. You could even try using a thin sheet of EVA foam.
However, you must be careful not to unbalance the blender. If it's wobbly on your new damping base, it could fall over once it starts blending.
2. Add distance between the blender and the walls
Aside from the noise the blender actually makes, where it's located in your kitchen can impact the perceived loudness of the sound. If it's near a wall (or worse, in a corner), it noise will bounce on the wall and reverberate.
The further from the wall, the less amplitude the sound waves have when they make contact with it. In turn, the noise is perceived as less. Ideally, put some soft elements (like fabric or acoustic foam) on the wall to absorb sound at the bounce.
3. DIY sound enclosure
You could either build your own quiet shield or improve the one provided with your purchase.
Simply build a box made of OSB or MDF. You could also stick acoustic foam inside to dampen the noise soundwaves intensity. To learn more about sound absorption, check here.
You could stick OSB/MDF panels on an existing sound shield on the outside. And cover acoustic foams on the walls inside.
This is essentially a case of building a large sound shield like the ones included above. The benefit of making your own is that you can include dedicated soundproofing materials, such as acoustic foam.
Thick plastic (such as that used in sound shields) is acceptable at blocking noise, but there are far better products. For some inspiration, check out my method for building a soundproof generator enclosure. This might seem like overkill, but it's the same principle of blocking sound.
4. Buy a dedicated sound enclosure
Sound enclosures are very effective. They provide promising results as they encase the whole blender (motor included). A lot of sound shields built into blenders only cover the jar, so it adds a bit more soundproofing.
Those shields don't come cheap. You should expect to pay around $200 for a Whisper Blend model. However, as this video shows, it makes a surprising difference to the noise emissions of a blender.
In theory, buying a sound enclosure such as these could allow you to buy a budget blender and still have decent noise reduction results. Is it more cost-effective than just buying a quiet blender? Possibly, if you don't actually need a brand new blender but want to make your existing one quieter.
5. Use a towel
For a quick fix, consider just putting a towel around your blender while it's in action. Wrap a thick towel around the motor housing and the bottom of the jar, and it should reduce noise emissions.
Of course, this won't be as effective as a sound enclosure, but it's certainly cheaper. Be aware that using the blender for too long could cause the motor to overheat if it's wrapped in a towel. That said, it'll take a long time for it to reach this point, so it's not a massive concern.
Final Thoughts on the Best Quiet Blenders
So there we have it, everything you could need to know about quiet blenders. Hopefully, one of the models suggested will suit your needs.
My overall top pick is the Vitamix Quiet One. It's about the quietest you'll find in the blender world, but this comes at a price (quite literally).
If you can't justify spending over $1,000 on a blender, either the Weston Blender or the Cranddi K-90B are good balances between noise levels and price.
One thing worth mentioning is that you can prepare your morning beverage with less noise using a masticating juicer. Obviously, the result will be different but that's an alternative to blenders if your goals is to get more vitamins in your diet.
Do you have a go-to blender that I haven't mentioned? Or do you have any other tips for making a blender quiet? If so, let me know in the comments below.
Peace & Zen-up